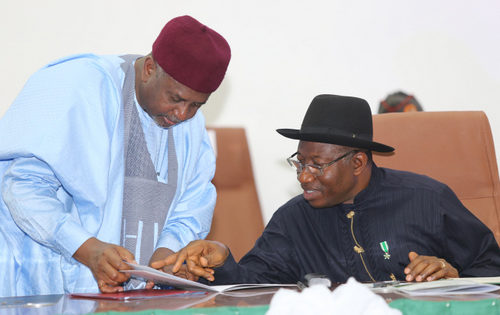 By Ebitonye Akpodigha
There are strong indications that the immediate past President of Nigeria, Mr Goodluck Jonathan, will appear in court to stand as witness in favour of his former National Security Adviser (NSA), Mr Sambo Dasuki, who is standing trial on allegation of diversion of funds meant to procure arms.
Last week, Mr Jonathan, at a gathering in the United Kingdom, said there was no way Mr Dasuki would have stolen about $2.2 billion under him as being claimed by the Economic and Financial Crimes Commission (EFCC).
"We bought warships, we bought aircraft, and we bought lots of weapons for the army. It's not possible that he stole $2.1 billion," Mr Jonathan had said.
Mr Dasuki is expected to be re-arraigned on November 16, 2016, by the anti-graft agency.
News emanated a moment ago that the former NSA said he would want the former President to stand as witness in court.
On Tuesday, according to Vanguard, counsel to Mr Ahmed Raji (SAN), disclosed "Dr Goodluck Jonathan will testify in court. He is one of those who will testify and that the statement he made in London appears to be the first phase of the war chest of the ex-NSA."
"You know the ex-NSA said he acted on Jonathan's instructions in disbursing some of the cash, and from the look of things, the ex-President is now ready to accept responsibility for whatever Dasuki did.
"So far, we have secured the consent of Jonathan to appear in court for Dasuki. This will make the trial worth it," he added.
He further said, "Dasuki has a list of highly-placed beneficiaries from the arms cash. A particular traditional ruler got about N500 million as a gift from the government through the Office of NSA.
"There are many hidden beneficiaries whom Nigerians must know. Nigerians will be shocked by some revelations. Nothing short of open trial will let Nigerians know the truth. We are ready for this."