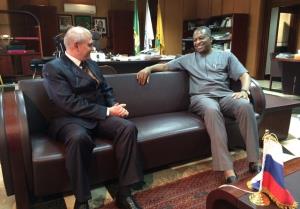 By Dipo Olowookere
A regular session of the Intergovernmental Russian-Nigerian Joint Commission on economic, scientific and technical cooperation will be held in Abuja on November 11, 2016, Business Post has learnt.
The Russian Side of the Commission will be led by the Minister of Agriculture, Mr Alexander Tkachev, while the Nigerian Side will be headed by the Minister of Foreign Affairs, Mr Geoffrey Onyeama.
In the course of the visit to Abuja, Mr Tkachev will have meetings with the Nigerian leadership, in the Ministry of Foreign Affairs and the Ministry of Agriculture and Rural Development, ECOWAS Commission, with prominent Nigerian businessmen.
Both countries, during the meeting, are expected to further strengthen ties between them.