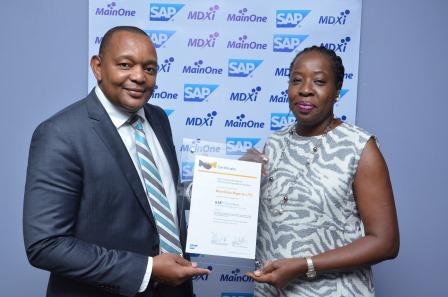 By Dipo Olowookere
A partnership deal has been signed between SAP and MainOne on the provision of enterprise solutions in West Africa.
SAP is a leader in enterprise applications for software and software-related service, while MainOne is West Africa's premier connectivity and data centre solutions provider.
Announcing the agreement in Lagos recently, it was revealed that partnership covers the provision of high-quality cloud and infrastructure operations services for customers running SAP solutions in West Africa.
Managing Director of SAP West Africa, Mr Kudzai Danha said more than ever, SAP Africa was excited about the certification of MainOne's Data Center as the first Infrastructure Operations Services partner in Nigeria.
"This means MDXi is now SAP HANA ready and well positioned to support SAP customers who want to innovate and redesign their business processes. The current market demand attractive business applications that are simple and fast and cloud technology presents the market with such great business opportunities," he said.
Also, Chief Executive Officer of MainOne, Ms Funke Opeke, noted that the company's MDXi, which was recently certified by SAP for Infrastructure Operations Services solutions, will now be able to host the German firm's applications for Nigerian businesses by utilizing the company's in-Country enterprise cloud platforms, across its private, public and hybrid cloud solutions, on a pay-as-you-go basis.
She said the ability of MDXi to host and run SAP applications in-country was a game-changer for Nigerian businesses as it would reduce the barriers to leveraging world-class technology during this economic recession, when it is most required.
Ms Opeke further explained that this would greatly improve the ease of deployment and ongoing availability of SAP's suite of enterprise applications to Nigerian companies, with the added advantage of paying in Naira.
She said, "Previously, businesses that required enterprise applications from software manufacturers such as SAP had to purchase and install their own hardware in their own data centre or run the software in data centres outside the country with the attendant issues of FOREX scarcity and application latency among others.
"With our partnership with SAP, Businesses in Nigeria can now host their SAP applications in the cloud, locally and on our MDXi SAP Certified platform. This will speed up time to deploy SAP applications, guarantee a robust operational environment from Day 1 and assure cost effective subscription charges, backed by premium customer support."