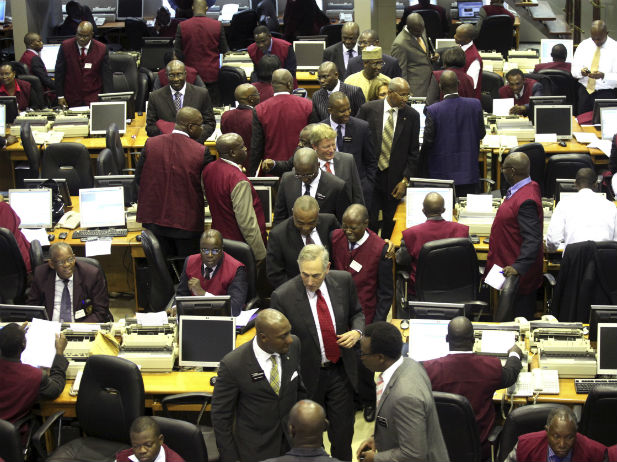 By Modupe Gbadeyanka
Trading activities on the Nigerian equities market closed on a positive note on Friday with the market capitalisation appreciating by N51 billion.
Likewise, the all-share index grew by 148.09 absolute points or 0.56 percent to finish at 26,707.10 absolute points.
Business Post correspondent reports that the market was very busy on Friday. It was gathered that investors transacted 874.3 million shares worth N4.4 billion in 3,387 deals against the 200 million units sold yesterday at N1.5 billion in 3,313 deals.
Also, Union Bank emerged the most transacted equity on the floor of the Nigerian Stock Exchange (NSE) today after selling 612 million units valued at N2.7 billion executed in 49 deals. The stock recorded a 20k-rise to close at N4.56k per share.
The price movement chart showed that 17 equities appreciated in price against 23 stocks that declined and 14 equities that remained flat.
The rising stocks at the market on Friday were led by Dangote Cement, which went up by N4.98k to close at N170 per share and ETI, which improved by 89k to end at N12.4k per share.
Furthermore, CCNN gained 20k to close at N4.24k per share, Union Bank also rose by 20k to finish at N4.56k per share, while Custodian and Allied Plc added 18k to end at N3.96k per share.
On the contrary, Forte Oil, which led the losers' chart, fell by N12.54k to close at N116.24k per share, Unilever lost N4.27k to finish at N39.57k per share and Mobil slumped by N4.5k to end at N280 per share.
In the same vein, Beta Glass depreciated by N1.60k to finish at N30.40k per share, while International Breweries sank by 94k to close at N18 per share.
Investors are upbeat that the market will continue its bullish trend on Monday when it resumes. Friday's gain is the seventh in a row.