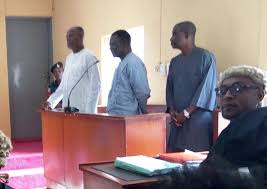 Dipo Olowookere
The case of conspiracy, stealing, abuse of office and obtaining under false pretences filed against the trio of Mr Adeseye Ogunlewe, Pro Chancellor, Federal University of Agriculture, Abeokuta (FUNNAB); the Vice Chancellor, Prof. Olusola Oyewole; and the Bursar, Mr Moses Olusola Ilesanmi did not hold on December 16, 2016 because the presiding judge, Justice O.O. Majekodunmi was bereaved.
At the resumed hearing on December 19, 2016, counsel to the first defendant, Mr Wale Adesokan (SAN), approached the court through a motion on notice filed and served on the prosecuting counsel on December 15, 2016, to quash the charges against his client, Mr Ogunlewe, on the ground of lack of jurisdiction, information is bad for duplicity, misjoinder, lack of evidence and contradictory in terms. And for that reason the court should strike out the name of Mr Ogunlewe, since the proof of evidence did not disclose any offence against him.
The motion served on the prosecuting counsel earlier was responded to accordingly by the prosecuting counsel stating that the EFCC received a petition dated July 19, 2016 from three stakeholders of FUAAB complaining about the criminal conduct of the 1st accused and his co-accused persons in the running of the affairs of the said university. That when the 1st accused was invited in respect of the said allegation, and he volunteered his statement in response to the petition. And that a careful perusal of his statement as contained in the proof of evidence, shows the level of his culpability and direct link and positive to the information against him.
That contrary to the motion on notice the information pending before the court is not bad for alleged duplicity, neither are they ambiguous. The said count does not offend the rules of drafting as regards joinder of parties in a charge, as they are certain and not contradictory.
The matter was adjourned to January 27, 2017 for the hearing of application and commencement of trial while 9th and 10th are for continuation of trial.