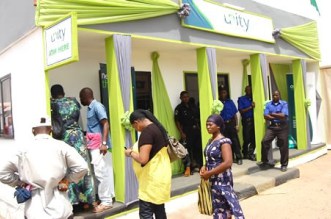 By Modupe Gbadeyanka
The 2016 economic challenges experienced in Nigeria may have taken its toll on Unity Bank Plc as the financial institution, during the year, suffered a slump in its post-tax profit by 53.4 percent.
In the audited financial statements released by Unity Bank on Wednesday for the year ended December 31, 2016, the bank declared a drop in its profit after tax to N2.184 billion from N4.689 billion in 2015.
In the vein, its profit before tax depreciated to N1.816 billion in the year under review in contrast to N2.343 billion it declared 12 months earlier.
But the bank's gross earnings, majorly driven by growth in transaction-based income, rose by 7.5 percent to N84.013 billion from N78.174 billion in 2015.
During the year, the firm cut its operating expenses by 3 percent to N26 billion from N29 billion in 2016.
However, its total assets grew from N443.3 billion in 2015 to N492.7 billion as at December 31, 2016.
Managing Director of Unity Bank, Mr Tomi Somefun, while commenting on the result, stated that, "The key performance indicators point to increasing resilience in the face of challenging economic headwinds that characterised the operating environment in 2016.
"Despite the harsh operating environment, the bank remains stable having driven strategic choices to inspire greater market confidence and leveraging cost optimisation strategies, presence in the Northern markets which served as a bulwark, just as the deepening of our presence in Lagos/Southwest also balanced its outlook in the Southern markets."
He said further that, "The proactive steps and efficiency gains arising from major business decisions produced encouraging results that elicited double digit growth in deposit portfolio of the bank during the year.
"The direction for the bank in the coming years is to diversify the earnings base and target growth in double digit territory by aggressive pursuit of new business opportunities in the retail & Small and Medium Enterprise (SME) businesses, agribusiness, financial inclusion, digital banking, increase portfolio mix and drive more traffic to our channels with strong collaboration from our institutional and financial investors that are poised to add a new phase of business revolution to our growth model."