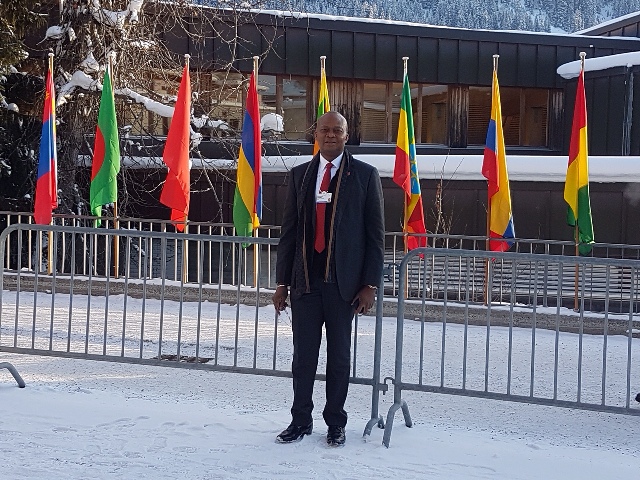 By Dipo Olowookere
Group Managing Director/Chief Executive Officer of United Bank for Africa (UBA) Plc, Mr Kennedy Uzoka, has expressed the determination of the top Nigerian lender to continue to take its leading role in the African banking space.
Speaking recently when the pan-African financial institution was crown by the Banker Magazine as 'African Bank of the Year 2017,' Mr Uzoka disclosed that UBA will continue to impact lives through its services as well as funding to individuals, businesses and government.
The UBA chief said the honour bestowed on the bank was a testament of the diligent execution of the bank's strategic initiatives on customer service.
"Being recognized as Africa's best bank complements positive feedback from customers and is a recognition of our improving efficiencies, service quality and innovation.
"I therefore dedicate it to our growing loyal corporate and retail customers, who are our essence.
"Given our heritage commitment to Africa's development, we continue to impact lives through our service as well as funding to individuals, businesses and government," he said.
Mr Uzoka said further that, "The bank remains focused on its goal of democratizing banking in Africa, leveraging on new technologies and our rich pool of talent.
"It is satisfying that our efforts towards leadership are yielding great results. We continue to gain market share across our chosen markets, as we deepen financial inclusion, meeting basic and complex financial service needs of the growing African population.
"We are Africans and determined to change the narrative of financial services in Africa and this is just the beginning."
UBA has a huge strength and dominance in the financial sector on the continent, operating across 19 markets in Africa and serves more than 14 million customers.
Last year, its earnings reached N384 billion, signalling 22 percent growth from its 2015 performance while profit before tax also grew by 32 percent to reach N91 billion.
At the end of 2016, the lender's capital adequacy ratio stood at 20 percent, while its non-performing loan ratio was a healthy 3.9 percent.
In the digital space, UBA has made impressive strides, and in terms of internet banking, the financial institution processed 7 million transactions valued at more than N600 billion in 2016, while its mobile banking platform processed transactions valued at N70 billion over the same period.
UBA has also launched eMailMoni, a service that lets customers transfer funds via e-mail, while Chat Banking allows clients to perform basic transactions through social media platforms.
UBA was incorporated in Nigeria as a limited liability company after taking over the assets of the British and French Bank Limited who had been operating in Nigeria since 1949.
The bank merged with Standard Trust Bank in 2005 and from a single country operation founded in 1949 in Nigeria – Africa's largest economy – UBA has become one of the leading providers of banking and other financial services on the African continent.
The Bank provides services to over 14 million customers globally, through one of the most diverse service channels in sub-Saharan Africa, with over 1,000 branches and customer touch points and robust online and mobile banking platforms.
UBA was the first Nigerian bank to make an Initial Public Offering, following its listing on the NSE in1970. It was also the first Nigerian bank to issue Global Depository Receipts.
The shares of UBA are publicly traded on the Nigerian Stock Exchange (NSE) and the bank has a well-diversified shareholder base, which includes foreign and local institutional investors, as well as individual shareholders.