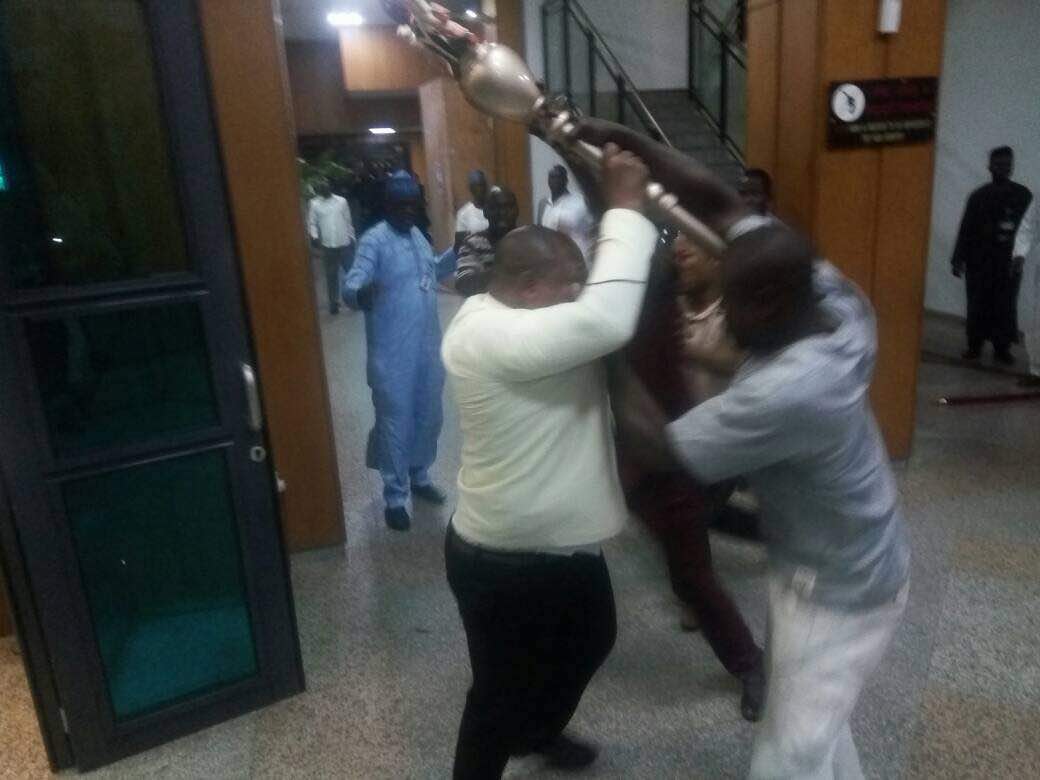 By Dipo Olowookere
Inspector General of Police, Mr Ibrahim Idris, as well as the Director-General of the State Security Service (SSS), Mr Lawan Daura, has been given 24 hours to retrieve the mace stolen this morning by some suspected thugs.
The directive was given in a statement signed by Mr Aliyu Abdullahi, Chairman, Senate Committee on Media and Public Affairs.
On Wednesday morning, after returning from an executive session, some thugs invaded the upper parliament and went away with the mace.
A statement issued by the Senate spokesman accused suspended Senator, Mr Ovie Omo-Agege, of leading the hoodlums to steal the mace.
"Today, some hoodlums led by suspended Senator Ovie Omo-Agege walked into the Senate plenary and seized the symbol of authority of the upper legislative chamber, the mace.
"This action is an act of treason, as it is an attempt to overthrow a branch of the Federal Government of Nigeria by force, and it must be treated as such.
"All security agencies must stand on the side of due process and immediately mobilise their personnel to retrieve the mace and apprehend the mastermind and the perpetrators of this act.
"This action is also an affront on the legislature and the leadership of the House has come to express their support against this action," the statement earlier released said.
Minutes later, the Senate said after the incident, it entered into another "executive session where the earlier incident of forceful removal of the mace was deliberated upon."
Mr Abdullahi said in the statement that, "The session is holding with the mace, the official symbol of authority firmly in place and Deputy Senate President, Ike Ekweremadu, presiding."
He said, "The Senate also decided that it will get to the roots of this sad assault on democracy and an obvious act of treason which the seizure of the mace by some armed hoodlums represents."
"The Senate has mandated the Inspector General of Police, Mr Idris Kpotum Ibrahim, and Director General of the State Security Services (SSS), Mallam Lawan Daura, to retrieve the mace stolen by the hoodlums within 24 hours.
"At the moment, some House of Representatives members led by Deputy Speaker, Mr Yusuf Lasun, are in the Senate chambers in solidarity visits. The session is presently live on NTA Channel 10," the statement said.
Concluding, the statement quoted the Deputy Senate President as saying that, "We are determined to conclude all matters slated on the Order Paper for today, even if it means sitting until 6pm."