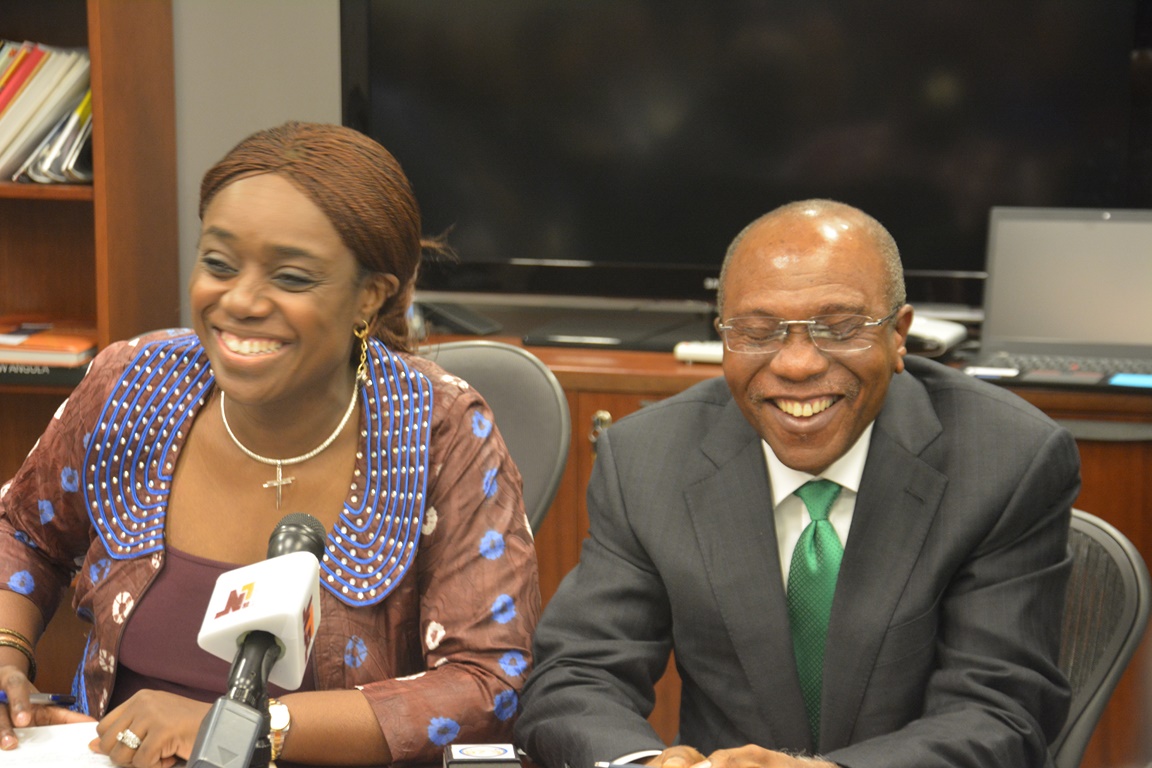 By Dipo Olowookere
Efforts by the Federal Government to increase the tax base of Nigeria seem to have yielded the needed results.
This is because the nation's taxpayer base has now risen to 17 million from about 13 million it was in 2015.
This information was revealed by the Minister of Finance, Mrs Kemi Adeosun, at a briefing with the media in the United States.
Mrs Adeosun addressing the media alongside Governor of the Central Bank of Nigeria (CBN), Mr Godwin Emefiele.
Both key officials of the administration of President Muhammadu Buhari were at the just-concluded 2018 International Monetary Fund (IMF) and the World Bank Group Spring Meetings.
During the briefing, the Minister said government had "succeeded in building macroeconomic resilience for Nigeria, particularly revising funding mix, rebuilding fiscal buffers, enhancing foreign exchange reserves and focusing on import substitution strategies."
She said the present administration would continue to efficiently and effectively manage public sector costs and plug leakages, and make sure that every money that is earned comes in and delivers full value to the Nigerian people.
"We are refinancing our inherited debt portfolio from short-term treasury bills to longer tenured debt, which has resulted in huge savings and reduction in costs of funds for the government. We will continue along this path," the Minister stated.
Mrs Adeosun further said, "The President Muhammadu Buhari administration has raised Nigeria's taxpayer base from 13 million in 2015 to 17 million currently."
She added that, "The sum of $322.5 million Abacha funds recovered from the Swiss government and deposited into a special account in Central Bank of Nigeria (CBN) has been earmarked for the National Social Safety Nets programme of the government."
Also addressing newsmen at the briefing, the apex bank chief, Mr Godwin Emefiele, disclosed that the nation's external reserves have recorded a significant rise, nearing $48 billion.
According to him, at the moment, the foreign reserves stood at $47.93 billion from $47.37 billion as at April 5, 2018.
Both the Minister and the CBN Governor jointly affirmed that Nigeria's positive growth outlook will be sustained.
"We have come a long way from 2015/16. Inflation rate is slowing; foreign reserves are rising and by 2019, Nigeria's growth will be far more robust than the present level.
The central bank is targeting to grow the external reserves to $50 billion before the end of this year and drop the inflation rate to a single digit also in 2018.