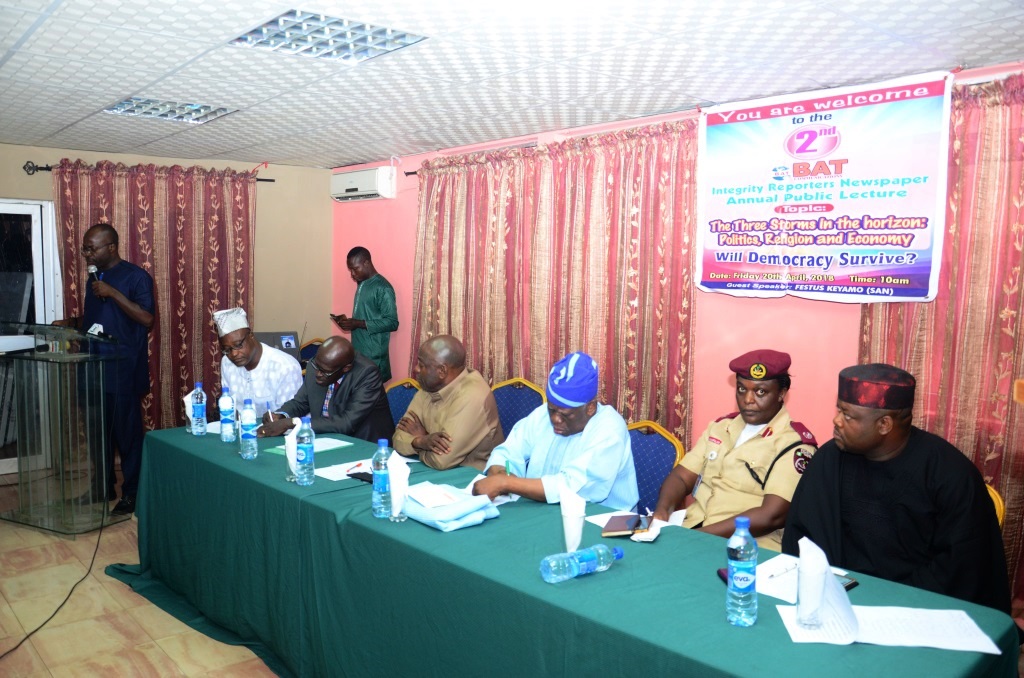 By Dipo Olowookere
It is no doubt that Nigeria is presently going through one of its toughest times in recent history and the political leaders seem to be lost, not knowing what step to take to steer the ship of the nation in the right direction.
The All Progressives Congress (APC) led government, which promised Nigerians change, since coming into power in the past three year, has been blaming the past government of the Peoples Democratic Party (PDP) for the woes of the country.
But at the second annual public lecture of Integrity Reporters themed 'The Three Storms in the Horizon: Politics, Religious and Economy, Will Democracy Survive?' speakers dissected the problems facing Nigeria, proffering solutions them.
Lead Speaker, Col. Anthony Nyiam (Rtd), disclosed that players in the political arena in the country today are just tacticians who are not holding public office to serve the people.
According to him, his vision for the Nigerian society is to see restoration of principle of justice, liberty, equity, compassion, good conscience, good governance and strong electoral system where the votes of the people count.
On his part, Chairman of the occasion, Chief Tunde Fanimokun, said that if Nigerian democracy must survive, 10 conditions must be fulfilled.
These conditions, according to him, are good leadership, good followership, empowerment, enlightenment, demography, sustainability, anticipated corruption crusade, authentic voting model, restructuring and revolution.
He called on the Federal Government to give Lagos the much talked about Special Status, claiming the state was being deprived of the recognition unjustly.
To Gabriel Akinadewo, another speaker at the lecture, when the attitude of the leaders is wrong, the attitude of the followers will also be wrong. He said age has nothing to do with holding public offices in Nigeria, but sincerity of the politicians to the people matters most.
He berated politicians for talking too much to impress, but fail to deliver in their promises to the people.
Former Special Adviser on Media to the late President Musa Yar'Adua Mr Boaji Adebiyi, said Nigerians should hold their leaders responsible and accountable. He believed that the best approach to restructuring is giving more responsibilities and more resources to local governments across the country, adding that more attention should be paid to local authorities than it is being done now.
For Jumoke Owoola, the problems facing Nigeria are cultural in nature. She noted that Nigerians have lost touch with their rich cultural values irrespective of their ethnic and religious backgrounds. To her, modernisation has robbed Nigerians of their cultural values.
In all, the speakers were unanimous in saying that the myriad of problems confronting the nation are man-made and efforts must be made to holistically confront these woes to solve them.
At the event, Chief Fanimokun was honoured with an Integrity Award by the management of Integrity Reporters.