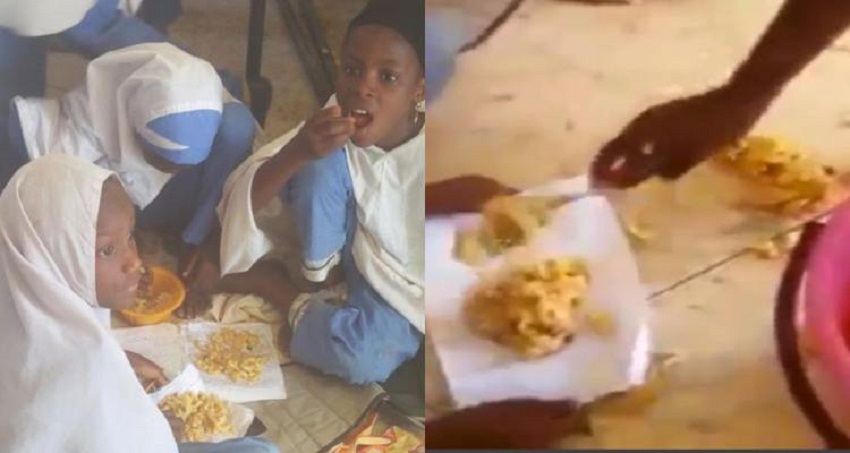 By Dipo Olowookere
The Kano State government has been urged to address issues surrounding the unhygienic way some pupils in the state were fed recently under the federal government's school feeding programme.
Few days ago, a disturbing video surfaced on the social media showing pupils of a public school in Kano State being served their daily meals in a sheet of paper on the floor.
This sparked wild criticisms from Nigeria, who condemned the unhygienic way the kids were served their food.
Reacting to the issue, the National Social Investment Programme Office (NSIO), which handles the National Home Grown School Feeding Programme (NHGSFP), said in a statement that Kano State government to "urgently address all hygiene and sanitation issues related to the implementation" of the programme.
In the statement signed by the Programme Manager of NHGSFP, Abimbola Adesanmi, it was disclosed that the state government has promised to look into the matter.
This was after a meeting with the Kano State government, which assured that immediate steps would be taken to ensure that plates and cutlery are provided for serving the children their meals according to prescribed standards.
"Indeed, the State Governor and the Deputy Governor are overseeing this process and we have received the necessary assurances that these lapses shall be addressed before primary schools resume after the Eid break," the statement said.
The NHGSFP is currently offering free meals to almost 8.3 million school children in 24 states across Nigeria.
Under the scheme, it is the responsibility of the state governments to facilitate the provision of sundry items such as plates and cutlery for the pupils, as the role of the federal government is to pay the cooks directly into their accounts after they have been carefully selected and on-boarded onto banks, and the data verified by NIBSS.
The NSIO, in the statement obtained by Business Post, reiterate that the sanitation of the environment and hygienic standards in serving the pupils with the cooked food remain critical and cannot be compromised as the health and safety of the children are of paramount importance to the FG.
"We wish to assure all stakeholders that the Programme Monitoring team shall continuously visit Kano State primary schools unannounced to monitor compliance with set standards after the resumption of the school term, educational institutions having closed this week for the Eid holidays in that State.
"Monitoring visits shall continue unabated in other states also, to ensure compliance with set standards.
"We, however, appreciate feedback from the public as concerned citizens since Nigeria is such a diverse country and our teams are not able to be everywhere at the same time," the statement said.