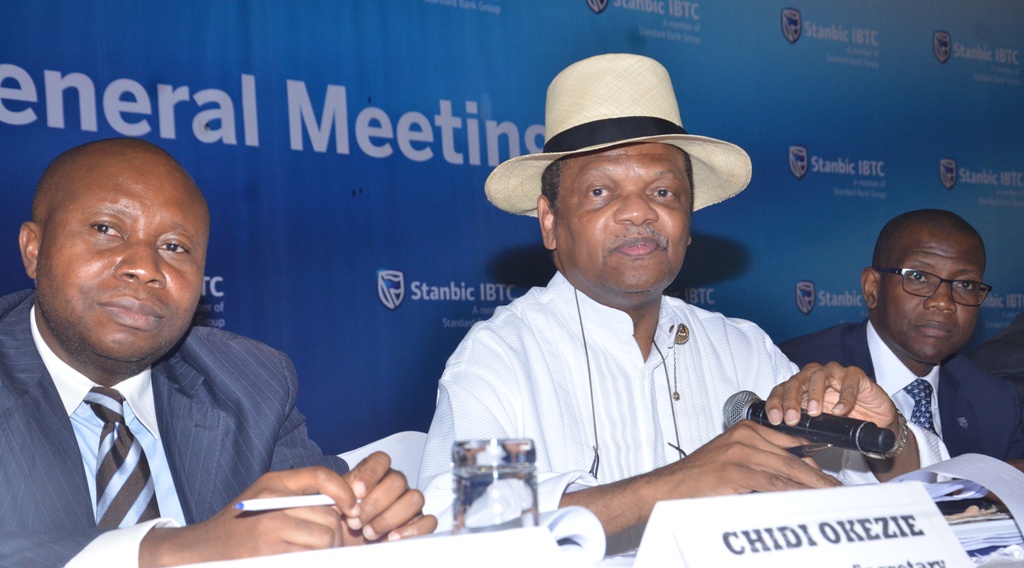 By Dipo Olowookere
The board of Stanbic IBTC has proposed the payment of N10 billion as interim dividend to shareholders for the period ended June 30, 2018.
This announcement was made on Thursday in a notice filed to the Nigerian Stock Exchange (NSE) after the firm released its half year financial results.
Stanbic IBTC disclosed that this amount represents N1 per ordinary share of 50 kobo each, payable to shareholders whose names appear in the Register of Members as at the close of business on Tuesday, August 28, 2018 and also subject to deduction of appropriate withholding tax and regulatory approval.
The financial institution disclosed also that the Register of Shareholders would be closed from Wednesday, August 29, 2018 to Tuesday, September 4, 2018.
The firm also said in line with the authority granted by shareholders to the board of directors at the Extra Ordinary General Meeting held on August 6, 2015, it has authorised that shareholders will have the option of electing to receive their interim dividends by way of New Ordinary Shares (Scrip Dividend).
"In view of this, and in order to allow ample opportunity for shareholders who may wish to exercise the option of receiving Scrip Dividend instead of Cash Dividend, the Dividend Payment date in respect of this interim dividend shall be on Wednesday, September 26, 2018.
"On the above payment date, shareholders who have not elected to receive their interim dividend by way of Scrip Dividend, will have their Cash Interim Dividend paid electronically (provided that they have completed the e-dividend registration and mandated the Registrar to pay their dividends directly into their bank accounts), or have dividend warrants dispatched to them (for those without e-dividend mandates).
"This interim dividend (whether cash or scrip) is only applicable to shareholders whose names appear on the Register of Members as at close of business on Tuesday August 28, 2018," the statement said.
It stated further that, "The reference price to be used in determining any scrip dividend allotment shall be the volume weighted average price (VWAP) of the company's shares on the NSE for the five business days commencing on the day the ordinary shares are first quoted ex-dividend."
"Accordingly, the Scrip Dividend Allotment Price will be communicated to all shareholders through the NSE on Wednesday, September 5, 2018.
"Shareholders will thereafter be given until Tuesday, September 18, 2018 to make their election should they wish to receive Scrip rather than Cash Dividend," it added, urging all shareholders to contact their stockbrokers and the Registrars for further details.