How to Save Money for College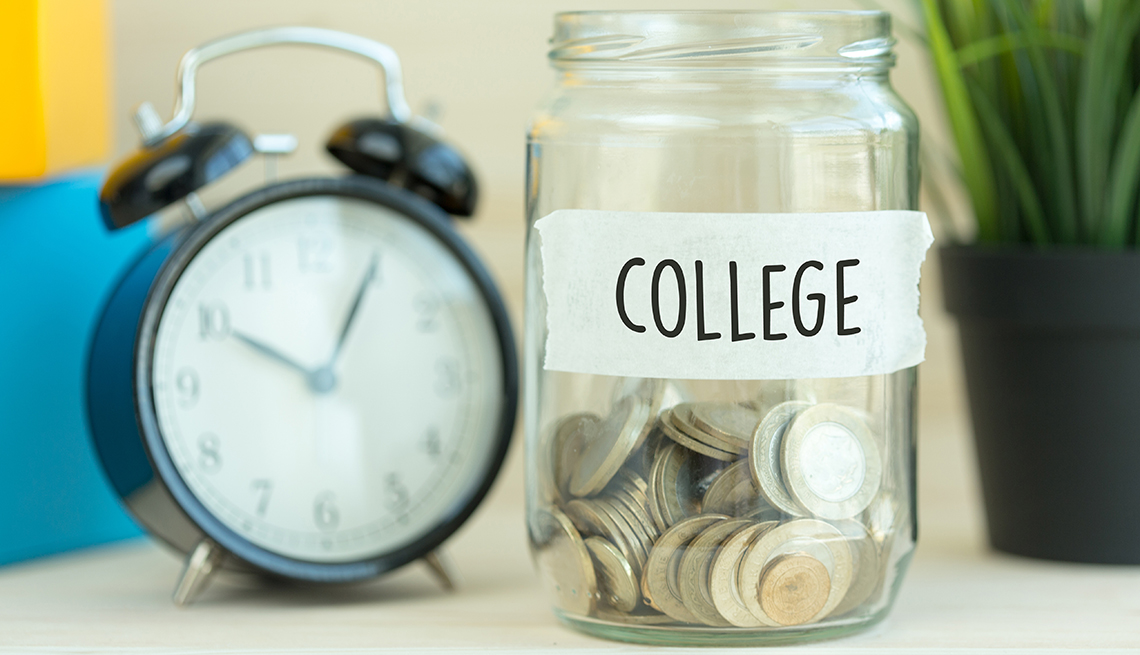 Everyone knows that college is an important step in the life of any person. It is one of the main goals, the accomplishment of which offers high hopes for a successful future.
However, it is not a big surprise that higher education comes at a considerable cost, with tuition fees getting higher each year.
Forward-looking parents who want to ensure future prosperity for their children usually start saving for college as soon as their babies have managed to make the first step.
Even more prudent parents are sure to have a definite plan of making savings for their offspring's studies. Even if you haven't started yet, and your child is about to mail out application letters, it is never too late.
Nevertheless, a good plan is always a beneficial strategy, especially in financial endeavours. Here are some tips on how to save money for college.
Set a Definite Goal
That is the place to start from. To plan something, you need to know what exactly you are planning for. Assess your needs and define what sum is required for them. Answer some questions:
For how many children are you going to pay?
How much time is left before they go to college?
For how many years will they study?
Are you going to fund all this period or only half?
What college do you have in mind? Public, private, or community? In- or out-of-state?
What are the projected expenses for accommodation and transportation?
Of course, some of these questions may have no definite answer so far. Thus, it would be prudent to have several possible scenarios. But in any case, at least approximate calculations can help to see the final picture and define the further plan. Conduct some research based on your goals derived from the answers and make use of online financial calculators to help you with estimates and budgeting.
Define the Way of Saving
When the definite goal is set and you know what sum (at least approximate) you'll need to cover, you have to decide on the saving and investment vehicle that will help you achieve your objectives. There are a number of options, some of which offer rather attractive tax-saving benefits.
As some of the examples, you may use section 529 plans, Coverdell Education Savings Accounts (ESAs), Individual Development Accounts (IDAs), or taxable mutual fund or brokerage accounts. Each of them comes with its pros and cons, of course. Make some online research to learn more about each available option to decide which one is the most beneficial for you.
Start Saving
Of course, it is more than obvious that the earlier you start saving, the more money you will get at the end. But even if you started a bit late, you still have good chances with an advantageous plan. Just remember to keep discipline in setting aside some amount regularly.
Make it a part of your monthly household budget like utility bills or sign up for automated regular contributions to the savings account if needed. By the way, some savings plans may be open for other parties, so do not hesitate to involve other relatives or friends who want to contribute.
Consider cutting on your daily expenses. Analyze your family budget and think about where you could save more without creating a considerable strain on your everyday lives. Make use of all the possible bonuses, loyalty programs, and wage rises. Every penny matters for your precious child and their prospects in life.
Consider Financial Aid
Undoubtedly any assistance from outside will be useful, so consider all the possible options.
Scholarships and grants take the first position on the list. If your children do not qualify for need-based ones, pin your hopes on merit-based awards. Encourage your kids to strive for higher achievements in studies and extra-curricular activities and help them succeed at every step they take. Explain to them that this is a good helper in planning for their future, but do not get overly demanding though. Psychological traumas will not pave their way into college.
Student loans are another way of financial aid that you as a parent may get for your children's college education.  Start with filling out the Free Application for Federal Student Aid (FAFSA) at the Department of Education, which will consider if and how much federal aid you may qualify for.
If you have no other way out but for borrowing, try all the possible federal loan options in the first place. Banks and credit unions offer private student loans but usually with much higher rates. In any case, you should research and study this issue thoroughly and carefully before signing any deals, assessing the sum you can afford to borrow, and examining all the possible repayment options.
One more viable option to help you save for your children's college is engaging them in the endeavour and encouraging them to get a part-time job. While still in high school and after having been admitted to a college, your kid can perform a myriad of jobs. They can work in a local library, store, or cafeteria, write Pro-papers for their peers, deliver mail or pizza, or even get employed as a junior assistant in your company.
In addition to helping you bridge the financial gap, such a move will teach them independence and responsibility from a young age. They should understand that investing in their future and relieving their parents from the burden at least partially is very honourable.
Bottom Line
Of course, college for your children demands a lot from the parents. It is not a surprise for anyone that ensuring your kids' bright future is a costly pursuit. However, a security plan and your firm resolve can help you remove mountains. Plan and start saving as early as possible to get more opportunities for yourself and your children.
Reps Order IGP to Prosecute Dowen Student Killers
By Aduragbemi Omiyale
The Inspector-General of Police (IGP), Mr Usman Alkali Baba, has been ordered by the House of Representatives to prosecute the killers of one Sylvester Oromoni, a student of Dowen College, Lekki, Lagos.
The death of the Dowen student has sparked reactions on social media for some days. This was triggered by the video of the painful dying moment of the boy released by his family.
Sylvester was allegedly beaten to death by five students of the school over his refusal to join a cult group, according to the family of the deceased.
The Lagos State Police Command had issued a statement over the weekend to say that the matter was being investigated.
But at the plenary on Tuesday, the green chamber of the National Assembly directed the police chief to take over the investigation and prosecution of the case with immediate effect.
The lawmakers also said the IGP must also investigate other similar killings and human rights abuses earlier reported in boarding schools across the country and see to the prosecution of the perpetrators.
Sylvester's death, the rising cases of abuses and cult-related activities in boarding schools in the country, came up in the House under matters of public importance on Tuesday.
A member from Akwa Ibom State, Mr Idem Unyime, who moved the motion, urged his colleagues to strongly condemn such abuses, which he noted could ultimately destroy the future of young people.
"The victims of these abuses are our constituents. They are the people we represent here.
"We have to rise up to defend them and safeguard their future.
"Cases of bullying in the Nigerian boarding school system have been on the increase.
"The federal government should launch a national campaign against bullying and killings in boarding schools," he stated.
In passing the resolution, the House also called on the Federal Ministry of Education to "set out proper guidelines on the operation of boarding schools in Nigeria."
Members, who contributed to the motion, observed that the absence of proper guidelines had exposed the operation of the boarding school system to the discretion of the owners, particularly private operators.
The resolution was unanimously endorsed by members at the session, which was presided over by the Deputy Speaker, Mr Ahmed Idris Wase.
How to Check WAEC Results 2021 Via Text Message
By Adedapo Adesanya
On Monday, the West African Examination Council (WAEC) released the 2021 Secondary School Examination (SSCE) results with about 82 per cent achieving five credits in five subjects, including Mathematics and English Language.
This number came from a total of 1,560,261 candidates that sat for the exercise in five countries – The Gambia, Ghana, Liberia, Nigeria, and Sierra Leone, out of which 1,274,784 candidates achieved the benchmark grades.
According to the regional examination body, candidates can check their results via their mobile phones.
Candidates are to send an SMS as below:
WAEC*ExamNo*PIN*ExamYear to the short-code 32327 (MTN, Airtel & Glo subscribers)
For example – WAEC*4250101001*123456789012*2021
NB: Candidates are advised to follow the format listed above. This means there is no need for space in the message.
After sending the SMS, the result will be delivered via mobile phone at a cost of N30.
Alternatively, candidates can check their results via the WAEC portal.
They are to go through this format as stated by the examination body:
Enter your 10-digit WAEC Examination Number.
(This is your 7-Digit centre number followed by your 3-digit candidate number eg. 4123456789)
Enter the 4 digits of your Examination Year eg. 2021
Select the Type of Examination
Enter the e-PIN Voucher Number
Enter the Personal Identification Number (PIN) on your e-PIN
Click "Submit" and wait for the results window to come up.
Torilo Launches Bizedge to Help SMEs Navigate Business Management
By Adedapo Adesanya
Torilo Nigeria has launched its Bizedge platform to enable business owners to manage all their operations in one place.
The service will help personalise businesses by onboarding various operational tools that will help to simplify management for owners and teams, all in one place.
Speaking at the launch event, Bizedge Experience the Future of Work, Mr Oluwaseun Farinre said that following its passion for identifying tech talents through its Torilo Academy, the company was taking a step further to see how it can grow business for Nigeria's booming population.
"Banking on resourcefulness, resilience, and creativity, we looked at how we can help businesses make better outputs and how we can aid entrepreneurs and ailing businesses in the country.
"This led to the creation of the Bizedge to eliminate the constraints in businesses."
He expressed that the business will help identify some opportunities, cut down on modalities, identify gaps, and eliminate all constraints in human resources, finance, sales, management, and service provision.
"We didn't just build this for building sake, we saw something and we tapped into it. What we are about to witness is a revolution in the business world.
"It is set to bring a different feel to your business. We are talking assets, payroll, people, and data management all in one."
The Product Manager, Torilo Nigeria, Mr Aderinola Adebanjo, said the uniqueness of the Bizedge solution is the consolidation of all the applications towards solving problems in businesses in order to make them thrive.
Head of Human Resources, Torilo Nigeria, Mrs Gbemisola Asa said, Bizedge comprises a group of applications that seeks to simplify business processes.
"Although there are other applications to solve problems facing businesses in single phases, Bizedge brings all the applications together to enable business owners to resolve the challenges facing their businesses in the technology world.
"You don't have to pay for multiple applications to get these features, you can get everything in Bizedge.
"Bizedge is here to make life easier for every professional out there. It helps bridge the gap of paper works. It will prevent businesses from liquidating because processes are one of the problems most startups have presently and this solution will manage these processes and reduce work stress," she explained.
Latest News on Business Post