30 Win N10m in Unity Bank Corpreneurship Challenge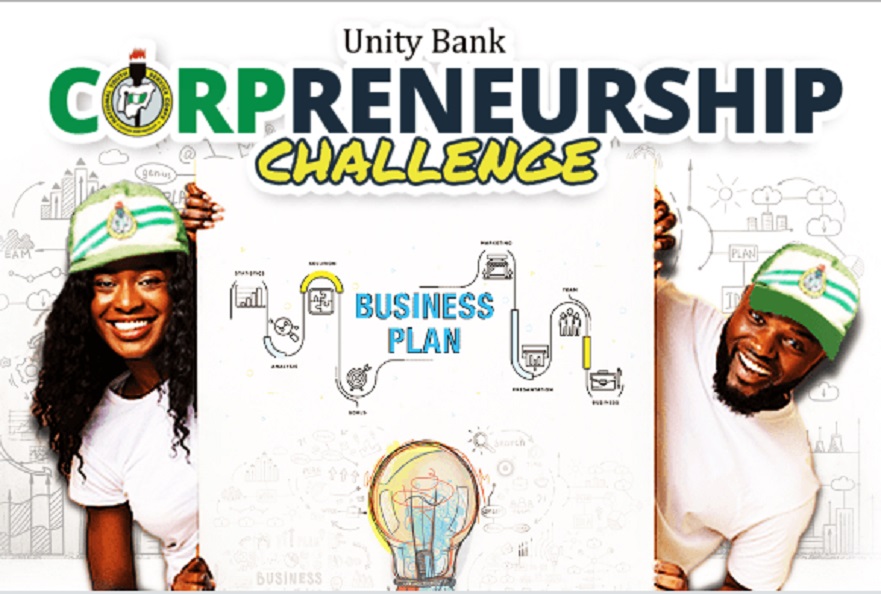 By Modupe Gbadeyanka
Business grants worth N10 million have been given to 30 members of the National Youth Service Corps (NYSC) by Unity Bank Plc.
The funds were shared to the corps members by the lender through its flagship business plan competition known as Corpreneurship Challenge, which is in its 6th edition.
The Unity Bank Corpreneurship Challenge has been an avenue to support the fresh graduates from the various tertiary institutions across the country serving their fatherland.
Unity Bank is currently in 10 states of the federation where three winners each emerged from the Batch B Orientation. The winners emerged last week from Lagos, Ogun, Benin, Abuja, Akwa Ibom, Kano, Sokoto, Enugu, Osun and Kwara States.
As in the previous editions, the cash prizes included a N200,000 business grant for third place winners; a N300,000 business grant for second place and a star prize of N500,000 for the winners.
Some of the winners included Yahaya Muhammad, Alade Ayinde and Omolola Kehinde in the Kano NYSC camp, while Chiamaka Nweke, Nduke Oduobuk and Victoria Adesope emerged as the winners in the Enugu State camp.
In Lagos, Aliu Haira Abimbola, Uzoechi Ihuoma Augustus and Adesanolu Lukmon Abiodun emerged winners to claim the cash prizes.
One of the winners in Abuja, Ebingha Ogbe John appreciated Unity Bank for the opportunity, saying the initiative has helped her to showcase her business to the world.
"I thank Unity Bank for making my project, Mama's Ally Crashfish to come alive in this Abuja," she said.
The scheme continues to attract increasing interest among the corps members, as over 2000 applications were received but only 100 were shortlisted for the pitching sessions where the thirty winners emerged.
The contestants' business plans which ranged from software solutions, fashion, fish production, poultry farming, bee farming, retail chains, piggery to beverages were assessed on originality, marketability, future employability potential of the product and knowledge of the business.
Speaking during the finale in the FCT NYSC camp, the Divisional Head, Retail, SME Banking and E-Business Directorate, Unity Bank Plc, Mr Olufunwa Akinmade, said the competition has proved to be a great tool for empowering fresh graduates in the country.
"The corpreneurship challenge is a creative entrepreneurial development initiative by Unity Bank in conjunction with the National Youth Service Corps, NYSC. It is aimed at driving job creation through entrepreneurship.
"With rising youth unemployment in the country, it is just common sense to consider the entrepreneurship alternative"
"As the corps members join the labour market after their youth service, not every one of them will get the opportunity for a paid employment. But with what Unity Bank is doing, many of them will get the support they need to start a small business and even become employers of labour.
"We encourage the corps members to take seriously the opportunity that the Unity Bank Corpreneurship has provided. And to those that have emerged as the winners today, we ask them to utilise their grants judiciously. Unity Bank remains committed to empowering the youth through initiatives such as this, as we know that the bedrock of the economy is entrepreneurship," he said.
The Zonal Head, North West, Unity Bank Plc, Mr Mustapha Idris Baba, implored the winners to judiciously utilise the funds to support the business venture that got them the grant.
This edition follows the expanded Corpreneurship Challenge which started in the 5th edition in June this year. The programme looks set to expand nationwide, empowering corps members to explore entrepreneurship alternatives in the face of rising youth unemployment in the country.
Recall that Unity Bank started the Entrepreneurial Development Initiative in 2019, to specifically target corps members, as part of efforts to contribute to job creation in Nigeria. It continues to gain traction, growing bigger and better in grooming corps members having successfully run several editions of the scheme in partnership with the NYSC Skill Acquisition and Entrepreneurship Development (SAED).
Unity Bank has invested over N80 million in the initiative, which has now produced 58 winners since it was launched.
Heritage Bank Wins Five Awards at People Magazine, FICAN Awards
By Modupe Gbadeyanka
Heritage Bank has again shown that it is one financial institution in Nigeria many will aspire to be like and this was demonstrated at two notable awards ceremonies, where the lender went home with five different awards.
The bank, which prides itself as Nigeria's most innovative banking service provider, was the cynosure of all eyes at the 2021 Human Resource (HR) People Magazine Awards and at the Finance Correspondents Association of Nigeria's (FICAN) 30th-Anniversary Conference and Awards.
The firm was given the HR Champion Award (for MD/CEO, COO), Most Outstanding Engagement Strategy for over 1000 Employees and the HR Leader Award (for Heads of HR).
It was also awarded at FICAN with Platinum Awards presented to the MD/CEO, Mr Ifie Sekibo and Heritage Bank for Outstanding Support towards FICAN and Financial Reporting.
The bank further won the prestigious awards in recognition of the leadership of Heritage Bank in Human Capital Development (HCM) for putting employees first and ensuring that its people management and engagement strategies are second to none and in celebration of its MD/CEO's leadership style. The bank was also recognised for Outstanding Support towards Financial Reporting in Nigeria.
This was Heritage Bank's first time participating in such an event as HR practitioners, as the financial institution had the opportunity to enter three award categories.
Over 20 established brands from different industry sectors were also said to have participated in the several keenly contested award categories, which cut across various areas of people management and development. Despite the formidable competition and the very rigorous screening process, Heritage Bank emerged as the winner in the series of awards won.
Commenting on the awards, the Divisional Head, Human Capital Management, Ms Abike Wesey, expressed gratitude to the organisers for believing in Heritage Bank and the leadership of the bank for their support to employees' welfare.
"We are ecstatic to have received this honour and are extremely grateful for the leadership of Executive Management, for giving us wings to fly right in our corner and always willing to listen.
"It was indeed a remarkable moment for us, as we strutted up the dais, with heads held up high and proud, amidst the cheer and accolades from the HR community, well represented at the event; especially in an event of such calibre, being recognized in a gathering of doyens & captains of Industries for our exceptional accomplishments in a widely acclaimed, challenging year – it was definitely no small feat," Ms Wesey said.
According to her, "The award and commendations go a long way to show that our people management & engagement strategies are truly working, and we are committed to doing more in our world to keep the Heritage flag flying. We identify with our Heritage, because, winning is our heritage."
The HR Awards is very unique because of its process and organisation. The organisers are usually not aware of the winners till the day of the event, the same time the results are revealed per category and award submissions are made on a peculiar website – comparable to none in West Africa.
The judges are respected & prominent former heads of HR, selected from five different countries and from various industries, with cutting-edge experience who judge the contestants on global best practices.
FairMoney Gets BBB/A3/Stable Ratings from GCR
By Adedapo Adesanya
MyCredit Investments Limited, which trades as FairMoney, has been assigned an investment grade issuer rating (BBB/A3/Stable) from Global Credit Rating (GCR).
The digital bank obtained investment-grade ratings, BBB (NG) Long Term, and A3 (NG) Short Term with a stable outlook driven by its ungeared position, robust liquidity, resilient balance sheet, sound underwriting practices, and a strong growth trajectory since its inception.
According to the agency, this stable outlook rating reflects expectations that MyCredit Investments Limited is evolving and will show strong overall performance metrics over the medium term.
GCR further noted that cash flow and leverage was a positive rating factor and business growth is expected to remain steady over the next 12 – 18 months.
Over time, FairMoney Nigeria has significantly grown its loan book whilst showing strong profitability.
Non-performing loans (NPLs) have been maintained at a stable yet declining rate over the last year of operations. This is a testament to the company's advanced underwriting practices which has positioned it as the leading digital lender in Nigeria.
Commenting on the ratings, co-founder/CEO of FairMoney, Mr Laurin Hainy, affirmed that the ratings reflect FairMoney's resilient business model, international best practices, strong management team and a diversified employee base.
"The milestones achieved since our incorporation within the digital banking space indicates that the Group is on track to achieving its vision of building the leading Neo-bank in emerging markets," he stated.
Mr Laurin added that the company was focused on superior customer satisfaction and ensuring enhanced value for investors.
"As a customer-first organisation, we are proud that this rating will create yet another win-win situation in the Nigerian market. FairMoney will be able to further serve our customers while providing a solid and secure investment target to institutional investors in our home market Nigeria," he said.
FairMoney was incorporated in 2017 and has wholly-owned subsidiaries in Nigeria (FairMoney Nigeria) and India (FairMoney India). Both companies are owned by the Paris-based parent company Predictus SAS.
Recently, FairMoney raised a $42 million Series B round with international participation.
The company also launched a N10 billion Private Note programme. The first series of the private note was launched successfully earlier this year and saw participation from a number of the leading reputable institutional investors in Nigeria.
The Investment-Grade rating places FairMoney in a favourable position to access funding from the Nigerian capital markets to finance its strong loan book growth.
The company also plans on launching the second series of the Private Note shortly.
FairMoney Nigeria is a digital consumer and SME lender, and provider of digital financial services in Nigeria. The company recently obtained its Microfinance Bank License from the Central Bank of Nigeria (CBN).
FairMoney has created a product that offers near-instant digital loans 24/7 directly via its mobile app. It offers transfer and payments solutions, including bill-pay and airtime purchase, debit cards and other digital banking services.
First Bank Partners NIBSS to Promote Digital Payment Convenience
By Sodeinde Temidayo David
Nigeria's top first-generation financial institution, First Bank of Nigeria Limited, has announced its partnership with the Nigeria Inter-Bank Settlement System (NIBSS) on its recently launched Nigeria Quick Response (NQR) Payment Solution, in a bid to improve customer digital payment experience.
This was revealed by the Chief Executive Officer (CEO) of First Bank, Mr Adesola Adeduntan, who noted that the NQR is an innovative payment option implemented for all financial service providers.
"We are delighted with the adoption of the Nigeria Quick Response (NQR) payment solution, an initiative by Nigeria Interbank Settlement System plc (NIBSS) which has been instrumental to easing and promoting payment convenience with the use of mobile phones," the CEO expressed.
As stated by Mr Adeduntan, the NQR is designed to promote quick and fast transactions by scanning the code on one's mobile device.
He noted that the NQR is set to promote the vision of the bank, embracing technology to deliver quality and satisfactory services.
"At First Bank, we recognise the indelible role technology plays in promoting businesses across diverse frontiers and we remain committed to reinventing our technology infrastructure to meet global standards whilst being committed to staying true to our mantra in always putting You, our customers First," he stated.
This new initiative reduces costs for merchants and banks in delivering instant value for a person to business (P2B) and person to person (P2P) transactions by simply scanning to pay.
Unlike other QR schemes, the NQR is implemented with reduced charges that are cheaper for merchants.
The initiative is accessible on the bank's payment infrastructure as the NQR code can be used to make payments through one's FirstMobile App and it is also available for the merchant in facilitating their business activities.
The touchpoint and use cases of the NQR payment solution include convenience stores, supermarkets, shopping malls, pharmacies, ride-hailing or taxi payments, bus fares, tolling booths payments, vending machines, e-commerce sites, online businesses amongst many others.
To access the service, customers are expected to launch the FirstMobile App and select QR payment. Afterwards, NIBSS can be chosen as a payment provider, then the seller's NQR barcode can be scanned.
The amount is inputted for the transaction would be followed by a request for personal identification number (PIN) validation to generate an instant confirmation of the transaction successfully.
On the other hand, merchants are to visit any First Bank branch closest to them for service enrollment.
Latest News on Business Post