Union Bank's Acquisition: Titan Trust Bank Aims for Market Dominance, Targets Tier 1
By Oluwafemi Adeoye
With the recent acquisition of Union Bank of Nigeria (UBN) Plc by Titan Trust Bank Limited (TTB), a deal that took stakeholders by surprise last year, the latter is now positioned to maintain its lead as a technology-driven tier-1 bank, OLUWAFEMI ADEOYE writes.
When Titan Trust Bank Limited (TTB), one of the three newest entrants into the Nigerian banking industry, began operations in October 2019, many people gave it just a passing glance, but after a few years, the achievements of the lender have taken industry watchers by surprise.
Established on the 12th of December 2018 with a solid post-capitalization financial base in real cash, the bank has proven that it is ready to compete with long-standing and well-rooted Nigerian banks.
In pursuit of an expansionary course with the objective of building a stronger brand capable of taking on a larger market share of a continent striving for financial inclusion, the lender which is on a mission to take advantage of the identified gaps in the banking sector and address the unmet needs of the retail mass market, SMEs and corporates, again took the industry by surprise after it announced its acquisition of 89.4% interest in 104-year-old Union Bank, but later upped the stake to 93.4%, in barely four years of its existence.
Its expansionary drive could not have come at a better time with Tier-1 banks moving to HoldCo structures, FinTech standing as the next big thing, and the African economy desperately in need of strengthened financial systems.
The deal, regarded as one of the largest acquisition deals in the history of Nigeria's banking industry, with an off-market deal worth N191 billion, was however formalized recently with Tropical General Investments Limited (TGI Group), the parent company of TTB, becoming majority shareholder and core investor in Union Bank.
The acquisition stands as the biggest in recent years, dwarfing the N120 billion Crown Mills paid to acquire Dangote Flour Mills and the N91 billion NIPCO paid for a majority share in Mobil Nigeria, capital market analysts noted. Also, this is the biggest deal in the banking space since the N72 billion merger between Access Bank and Diamond Bank Plc.
This is, however, not the first time that a smaller bank will acquire a bigger one in Nigeria, it is however the first time that an unlisted bank, which is barely four years old, will be acquiring a listed, century-old bank.
It is worthy to note that TGI Group, having been in Nigeria for over 3 decades with an established track record of successfully establishing and profitably running all their subsidiaries, is the perfect investor for Union Bank as they are evidently here for the long run rather than short term investors. This will obviously provide Union Bank with a lot of stability and the established expertise of TGI and the team that they have put together to make Union Bank a bank of the first choice for Nigerians in the very near future. Business analysts have, however, described the deal as a win-win for Nigerians and the Nigerian economy.
The completion of the Titan-Union deal has also seen the exit of the former board and management team of Union Bank and the emergence of Mr Farouk Mohammed Gumel and Mr Mudassir Amray as its board chairman and new Chief Executive Officer (CEO) respectively, effective June 2, 2022. Other board appointments under the new ownership of the bank include Mr Andrew Ojei, Alhaji Abubakar Mohammed, and Mr Lawrence Mackombo – all Non-Executive Directors.
But unknown to many, since the inception of TTB in October 2019, the bank has been on an upward trajectory and has further positioned itself as a challenger bank.
At the start of its operations, the management team led by Mr Mudassir Amray, the current chief executive of Union Bank, and Mrs Adaeze Udensi (current acting managing director of TTB), drew up a holistic and integrated approach to business modernization, which has formed the foundation for the bank's superior customer-centric experience.
The impact of this strategic decision led to a positive impact on the bank's performance within its first three months of operations where the bank recorded a profit after tax (PAT) of over N600 million.
In its determination to take financial services to every household in order to drive effective inclusion and participation in the recovery and growth of Nigeria's economy, TTB invested substantially in technology and developed fully integrated service models that enable its customers to enjoy banking services through a wide range of channels. The bank believes in innovation, creativity, and the use of technology to enhance the lives of its customers while it also strives to ensure that its products and services are meeting the changing needs of its customers.
Recently, TTB launched and deployed the latest version of Oracle's FCCM module, powering our AML/CFT infrastructure, used in over 120+ sites by top global banks. It has also invested in top-notch infrastructure for AML/KYC, as well as the Oracle Financial Services Analytical Application (OFSAA) to ensure rigorous analysis and measurement of its risk-performance objectives.
In less than three years of operation, TTB has grown to earn the confidence of the banking public, offering quality banking services with cutting-edge technology that enables its customers to enjoy banking services through a wide range of channels.
Therefore, with its recent acquisition of Union Bank, one of Nigeria's long-standing and most respected financial institutions with a network of over 293 sales and service centres and over 937 ATMs spread across Nigeria, analysts believe the deal may trigger a fresh competition among money deposit banks in the country.
The lender has exhibited a grand ambition to mature to a Tier-1 bank in the next five years and is banking on its vast digital banking, strength to disrupt a space where the big five banks commonly known by their initials as FUGAZ hold sway.
The acquisition eases the path for TTB to become Nigeria's sixth biggest lender, with Union Bank's assets climbing in valuation to N2.6 trillion at the end of 2021 and Titan's standing at N246 billion as of December 2021.
According to Mr Tunde Lemo, chairman of Titan Trust Bank, with the combination of TTB, a tier-3 bank, and UBN, a tier-2 bank, "we are going to see the emergence of a tier-1 bank."
"Union Bank is one of the largest in terms of network. But we think that after 104 years of operation, it can be rejuvenated by a bank like Titan Trust Bank that has cutting-edge modern banking skills.
"We believe that by combining fintech strength with the brand value of UBN, we can make an impression in Nigeria by deploying modern banking to every nook and cranny of the country.
"The deal represents a unique opportunity to combine Union Bank's longstanding and leading banking franchise with TTB's innovation-led model, which promises to enhance the product and service offering for our combined valued customers.
"So, there will be a significant synergy between the two institutions," he said.
With the new development, the bank is poised for market dominance in the financial services industry, especially in the retail segment.
Polaris Bank in Safe Hands, No Need to Panic—Management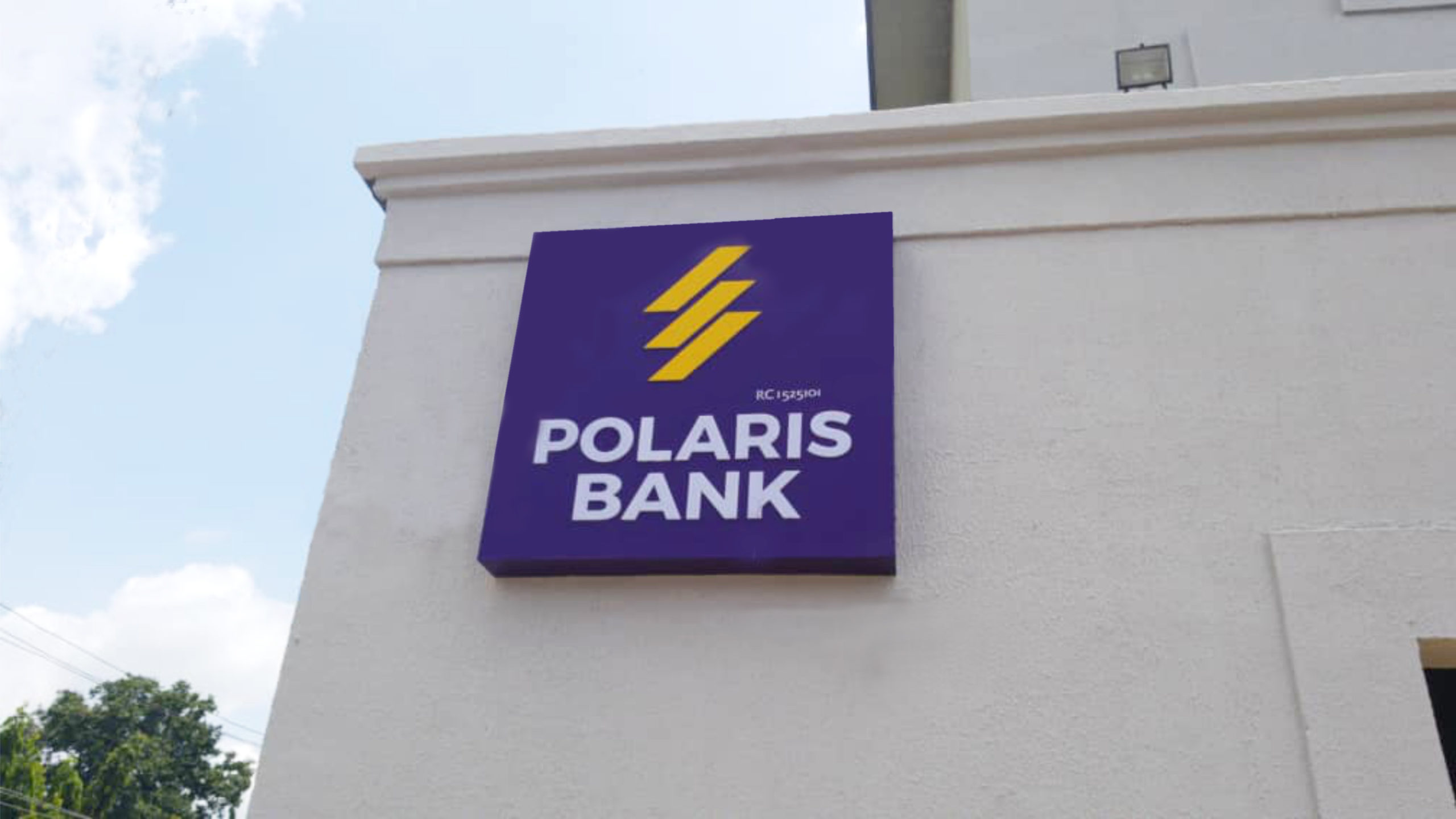 By Aduragbemi Omiyale
The management of Polaris Bank Limited has urged its customers and members of the public not to panic over reports that the financial institution has been sold to a new investor, Mr Auwal Gombe, in the sum of N40 billion.
It was recently reported that efforts are being made to hand over the lender to the businessman, who is said to be an ally of former military president, Mr Ibrahim Babangida, after the Central Bank of Nigeria (CBN) nationalised the defunct Skye Bank Plc into Polaris Bank in 2018.
In a statement issued on Friday in Lagos, the bank described the report of the purported sale as not only "speculative" but done to deliberately "create panic" among its customers and the banking community.
The company said the CBN established it and injected funds for its operations, it has bounced back to profitability, with a solid balance sheet, saying there is no cause for alarm as the bank was in safe hands.
"Stakeholders may recall the regulatory intervention in the erstwhile Skye Bank by the CBN and the subsequent injection of capital via the Asset Management Corporation of Nigeria (AMCON) through a bridge bank process, which birthed Polaris Bank in 2018.
"The bank has since stabilised its operations following the intervention; improving its balance sheet, customer base and profitability," a part of the notice today said.
Continuing, Polaris Bank noted that, "Whilst the intention has always been to return the bank to private ownership, such a sale would occur following regulatory approvals with formal notification to all relevant stakeholders," expressing its commitment to "ensuring timely communication to the public in such an event."
 "The board and management hereby reassure its customers, staff and the general public that Polaris Bank remains a stable, strong and credible financial institution, positioned to deliver sustainable value to all its stakeholders," the statement concluded.
Wema Bank Refutes Dud Cheque, Forgery Allegations
By Aduragbemi Omiyale
The management of Wema Bank Plc has rubbished an allegation that it issued a dud cheque in connection with a garnishee proceeding for the payment of a judgement debt on behalf of the Bayelsa State Government.
A legal practitioner, Mr George Haliday, had accused the financial institution of issuing dud cheques but in a statement issued on Wednesday, the lender explained that the cheques have only not been cleared for payment because of the subsisting appeal at the Court of Appeal sitting in Abuja on the garnishee proceeding which has now been decided in its favour.
According to the statement, the lawyer only ran to the Magistrate Court in Abuja to lodge a complaint about the issuance of dud cheques after he lost his case at the appellate court.
"It is very worthy of note that the judgement debt against Bayelsa State Government, which Barrister George Haliday attempted to enforce by a garnishee proceeding, thereby leading to the issuance of the cheques in question had been settled by Bayelsa State Government via a Terms of Settlement between Barrister George Haliday and the Bayelsa State Government at the Supreme Court," a part of the statement.
Recently, there were reports that the Managing Director/CEO of Wema Bank, Mr Ademola Adebise, was issued an arrest warrant, but the bank dismissed this, saying its leader was not given a fair hearing in the matter.
"Wema Bank wishes to state that the warrant for the arrest of Mr Ademola Adebise is in violation of his fundamental rights to fair hearing as he was never personally served with any process to appear before the magistrate court nor was he represented in court.
"We are a law-abiding corporate citizen; if there was any court summons properly served on the Managing Director for his appearance in court, he would have done so without fail.
"But in this case, there was no such service extended to him or any court processes personally served on him to appear in court until a warrant of arrest was issued in absentia. We view the arrest warrant as being an infringement on his fundamental rights," the statement said.
Concluding, the lender emphatically refuted and dismissed "in their entirety, the allegations of dud cheque and forgery levelled against our bank and the Managing Director. We also dismiss the inappropriate issuance of a bench warrant on our Managing Director.
"We are already engaging in legitimate actions to seek redress and bring all the perpetrators of these unprofessional conducts and heinous criminal acts against our Managing Director and the bank to book."
Advans Nigeria Becomes Most Innovative Microfinance Bank
By Aduragbemi Omiyale
More big feathers have been added to the colourful cap of Advans La Fayette Microfinance Bank, cementing its leadership position in the small lending business in Nigeria.
Recently, in recognition of its customer-centric credentials and innovation in product development, service delivery and brand management, the financial institution was named the Best Microfinance Bank in Nigeria at the Financial Derivatives Awards 2022.
Also, the company emerged as the Most Innovative Microfinance Bank in Nigeria in the Global Brands Magazine and World Economic Magazine Awards 2022.
The Managing Director/CEO of Advans La Fayette Microfinance Bank, Mr Gaetan Debuchy, while reacting to the accolades bestowed on the firm, dedicated the awards to the working management and staff of the bank, promising that the bank would continue to break boundaries.
"We are excited to win these awards. It further validates our innovative approach to providing customer-centric, affordable and transparent financial services," Mr Debuchy said.
Also, the Head of Marketing and Communication at Advans La Fayette Microfinance Bank, Mr Kayode Abraham, stated that, "Over the years, we have centred our business on customer needs and feedback, which has helped us develop financial solutions from scratch to completion. We are pleased to be recognised as the most innovative and best microfinance bank in Nigeria."
Earlier in the year, Advans Nigeria upgraded its mobile banking app 'Adspire' to include users' ability to request bank statements and control their daily transaction limit. Through the app, clients can receive notifications and share by referring their friends and loved ones.
The bank recently introduced a micro-health insurance product and an education loan to facilitate financial inclusion.
The health insurance product was designed to ensure existing and prospective clients have access to high-quality and affordable health care services, while the education loan was designed to provide working and investment capital for school owners and to assist parents in paying their children's school fees with ease.
Latest News on Business Post