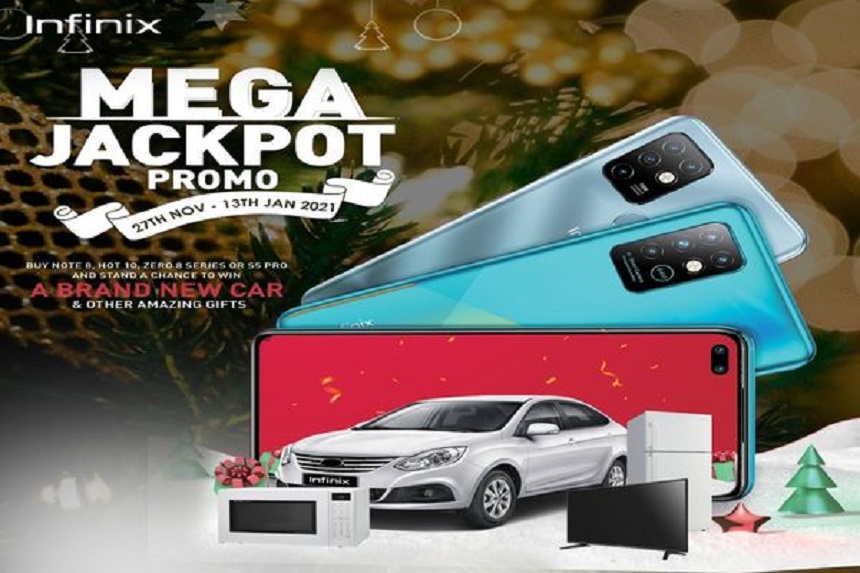 By Ahmed Rahma
Leading smartphone company, Infinix, will be giving out a brand new car to a lucky winner in its ongoing Mega Jackpot Promo.
The initiative is part of ways to appreciate its customers for their unwavering support and constant patronage every year. The promo started on November 27, 2020, and is expected to end on January 15, 2021.
It was disclosed that since the beginning of the campaign, many Nigerians have walked away with several amazing gift prizes after participating in the jackpot. The most recent winners walked away with twin tub washing machines and refrigerator.
As of December, Infinix has rewarded seven lucky winners from different regions in Nigeria with home appliances after they bought one of a select range of Infinix smartphones from designated Infinix stores.
Awoniyi Rasak from Ibadan, Abdullahi Ibrahim from Kaduna, Mike from Lagos, and Aminu Abdulwab have won washing machines in the Infinix Mega Jackpot Promo after a raffle draw.
Also, Danjuma from Kano, and PTSA from Onitsha won refrigerators, while Ukim Anefiok from Portharcout walked away with a brand new home theatre.
To be part of the amazing promo offline, the company has urged customers to purchase any of the Infinix Note 8 series, Zero 8 series, Hot 10 series, or the S5 pro from any of the authorised retail store to stand a chance to win branded gift items like bags, flasks, umbrellas, etc.
Customers are expected to collect a raffle ticket purchases are made on any of the aforementioned devices from the offline stores to qualify for the raffle draw.
After the purchase, they are requested to go on social media to follow @Infinixnigeria to get more updates on the promo and watch out for the announcement of the lucky raffle ticket number.