A Complete Guide To Launching A Successful SMS Marketing Campaign
Today, many people use smartphones, which have already become an extension of their bodies. Also, they're becoming more comfortable communicating with businesses via mobile devices.
So, you better start SMS marketing now, or you'll miss many opportunities to make sales. It can be a great way to improve your social marketing, allowing you to reach potential and existing customers in real time via targeted messaging. But first, what's SMS marketing?
SMS marketing refers to how marketers deliver marketing messages via text message. It's an opt-in campaign requiring people to subscribe to receive notifications. Common types include the following:
Remarketing
Surveys
Personalized promotions
Exclusive deals and discounts
SMS marketing also has higher open rates than other forms of marketing, particularly email marketing. The average open rate of the latter is around 15-30%, while SMS exceeds 90%. And you can even reach up to 100% with the help of tools such as Unlimited Ringless voicemail.
So, where should you start? This post will show you a step-by-step process to guide you in implementing a successful SMS marketing campaign. Read on to learn more!
Pick The Right SMS Platform
The first step is all about deciding which SMS engine is best suited for executing marketing campaigns. There are plenty of solutions out there in the market. However, not all of them are created the same.
Worse, some solutions may cost you more in the long run without delivering the desired ROI. And how do you distinguish real gold from fake ones? Consider the following when choosing an SMS provider:
Message Delivery: A message should be sent at the right time—not too late, especially when there's time-sensitive information involved. Also, it should be accurate, meaning there's little to no chance of sending a message to incorrect phone numbers.
Ease Of Use: Do you find it easy to create custom messages? Can you schedule messages and attach files easily? If you agree to these questions, you might've found the SMS engine your business needs.
Integration: You might have a few business tools in place, and one of them is probably a customer relationship management (CRM) system. Ensure your SMS engine can integrate with your CRM so that you can access it while on the go.
A Test Drive: Never go for a solution that remains undiscovered. Make sure you can try it out for free to see if it's worth your time and money and how the system works under the hood.
Good Reputation: Last but certainly not least, check the SMS provider's reputation. Visit their website, read some testimonials, or dig into the conversation through their social media accounts. This is to find out whether they're dedicated or not.
You may also consider using additional supporting tools like an auto dialer. It aims to turn your existing system into a powerful business dialing platform.
Getting a dedicated SMS marketing number sets you up for success. SMS providers often require businesses to invest in a virtual number to prevent multiple brands from using the same number.
 Here are your options:
Toll-Free Numbers: These are standard numbers for most brands for convenience and deliverability. They're easy to activate and promote mass texting.
10-Digit Long Codes (10DLCs): 10DLCs are a new option for businesses. They're ideal for non-time-sensitive messaging and low-volume texting.
Short Codes: These numbers are a consumer favorite because they're easy to remember. However, they're expensive and have a lengthy approval process.
Set Up Your SMS Subscriber List
Without a solid and targeted SMS subscriber list, all your marketing efforts will likely go down the drain—something you wouldn't want to happen.
Encouraging potential and existing customers to opt in can be difficult, time-consuming, and costly. Even without an SMS program, collecting opt-ins is a great jumpstart for any brand that needs to do it.
Here are a few tips to encourage customers to join your subscriber list:
Create an offer that's exclusively available to subscribers.
Give subscribers a time-sensitive promotion (e.g., Buy One, Get One).
Deliver information essential to customers.
Introduce new items to grab the attention of potential and existing customers.
However, setting up an SMS subscriber list isn't easy. Unlike other forms of marketing, particularly social media, SMS requires consent. What does this mean? You have to ask customers and prospects for permission before adding them to your list and sending them marketing messages.
In the U.S., SMS marketing is regulated by the Federal Communications Commission. This enforces laws like the Telephone Consumer Protection Act (TCPA) of 1991, which protects consumers from intrusive and abusive telemarketing practices.
Create An Automated SMS Welcome Message
Do you believe in the saying 'first impression lasts'? You should be! That's why building an automated welcome message is crucial. This way, you're ready when customers and prospects start opting in.
A good welcome message educates new subscribers about your products and services, familiarizes them with your content, and encourages them to make their first purchase. Out of all automated tools, the welcome message often generates the most revenue for many brands.
Here are some tips to follow when creating an SMS welcome message:
Set it up and make sure it sends a welcome message as soon as someone subscribes to your list.
Don't forget to include the name of your company. This is a way of introducing yourself to your customers and prospects.
Make sure your messages are personalized and cater to your customers' specific needs. Address them using their first name for a personalized touch.
Thank subscribers when they join your list.
Aside from these tips, ensure your SMS welcome message has a clear call to action (CTA). CTAs are words or phrases that encourage audiences to take the action you want them to do (e.g., 'Subscribe now and get a 15% discount on your first purchase!').
Expand Your SMS Subscriber List
Once you have a solid SMS subscriber list, you'll need a strategy to grow and expand it. Always look for opportunities to encourage customers and prospects to opt in without compromising their experience. Here are some tips that may help you accomplish that:
Leverage The Check-Out Experience: Including the check-out step in your SMS consent collection allows customers to receive SMS campaigns while processing their orders. This is a non-intrusive way to motivate customers to subscribe to your list.
Incentivize Website Visitors: When creating an SMS sign-up form for your site, ensure you target those already part of your email list, provided you have one. Then, include eye-catching discounts or freebies to encourage them to subscribe.
Follow these two simple tips to motivate your audience to subscribe to your SMS list without sounding intrusive.
Measure Initial Performance Rates
Do you want to find out which strategy works best for your business? If you do, you need to measure your initial performance rates on a regular basis.
You need to set your eyes on the following key performance indicators (KPIs):
Delivery Rate: This refers to the percentage of SMS messages delivered successfully to your contacts. Also, this is one of the most crucial KPIs SMS marketers have to monitor. The average delivery rate for SMS marketing is 98%.
Click Through Rate (CTR): CTR is the foundation of your campaign's success. It refers to the percentage of link clicks to the SMS messages you delivered. The average CTR for SMS marketing is 36%.
Opt-Out Rate: This vital KPI refers to the percentage of subscribed contacts who unsubscribe to your SMS list. It shows that some of your subscribers aren't interested in your content.
Conversion Rate: This critical KPI refers to the percentage of subscribers who made a purchase. The average conversion rate for SMS marketing is 29%. It'd be best to aim higher than this to ensure a steady flow of revenue.
If your SMS messages get subpar digits, consider making necessary adjustments through A/B testing. Focus on elements like message type, number of messages, and timing.
Once you're done collecting subscribers for your SMS list, you may start your first SMS campaign. Make sure you include the following details:
Company name
One time-sensitive CTA
The first name of the subscriber and other details that'd make the message more personalized
A friendly and conversational tone
Value
Here are some examples you might want to consider for your first SMS campaign:
'Blue Green Flask: These products are getting retired, which means you can get a 30% discount while supplies last! Start shopping now: www.bluegreenflask.com/clearancesale30. Reply STOP to opt out.'
'Noun: 30% off on ALL dry shampoos and conditioners! Use the code SHAMCON at check-out to avail of the discount. Excludes custom kits and value. Shop: www.noun.com/shamcom. Reply STOP to opt out.'
'Borough Linen: We're grateful to you! And as a way to give you thanks for your recent purchase, we're giving you USD$50 credit on your next order using the code: GIFT50. Shop now: www.boroughlinen.com/gift50. Reply STOP to opt out.'
What makes these examples effective is that they can show clarity and conciseness while conveying the message they want to deliver.
If you want to improve your messages, add a GIF or image below 600KB. This converts SMS to MMS (multimedia messaging service), which limits you to 1,600 characters. However, remember that MMS costs more than SMS under many plans.
Recover Abandoned Shopping Carts
Experts believe that over 50% of online shoppers leave their carts unattended. This is an opportunity to recover lost revenue. What's great is that SMS is one of the most effective ways to motivate customers to complete their orders.
Here are some examples of SMS campaigns for cart abandonment:
'Hey Jan! I noticed you left some items in your cart. Here's 20% off to help you complete your checkout now! Check it out here: mycookingfantasy.com/potsandpans.'
'Hi Mark, you left some great items in your shopping cart. Here's a free shipping voucher just for you: bit.ly/5Fg4B. This exclusive offer will expire in three days. Reply STOP to opt out.'
Use SMS To Announce New Products
Keep your subscribers updated by sending them an SMS message whenever you release new collections, products, and services. And to make everything more special, consider offering them early access when new items drop.
Here are some examples of SMS messages announcing new products and services:
'KITE: Thank you for subscribing! You'll be among the first to shop for our upcoming product launch! Before anything else, here's a 25% discount, so shop now!'
'Banana Floss: New Coco Collection! You'll surely fall head over heels for our tropically luscious Coco Daiquiri and sunny Beach Copacabana set! Grab some before they're gone! Shop now: bananafloss.com/cococollection.'
Engage Customers Using Time-Sensitive Messages
Reaching customers at the right time can take your SMS campaign to the next level. This is where time-sensitive campaigns, such as a price drop or back-in-stock alert, come in.
Price drop alerts are ideal for SMS, as it requires contacts to act as fast as possible. Send these messages to people on your list to make them exclusive to mobile users. Here's an example of a price drop alert:
'CookingWare: PRICE DROP ALERT! The 15-pc stainless steel premier set was USD$760—now USD$380! Get yours now before they're gone: cookingware.com/12Ho11goiT23.'
Back-in-stock alerts inform subscribers that the items previously out of stock are back and ready to ship. Here's an example of a back-in-stock alert:
'Hey, Martin, our 15-pc stainless steel premier set is back in stock! Make cooking more fun with nothing but the best. Shop now before they're gone: cookingware.com/12Ho11goiT23.'
Use SMS For A Great Post-Purchase Experience
SMS marketing is effective not only for increasing sales but also for improving post-purchase experiences. Including transactional SMS messages, like billing updates, appointment reminders, and shipping delay alerts, may help you reach and exceed customer expectations.
Once you complete the delivery, you may use SMS to send valuable details directly to a customer's phone instead of their email inbox. These may include the following:
Share tips and tricks on how to use the product in the best way possible
Share a link (e.g., how-to guides or tutorial videos)
Highlight customers who use the product
Send reminders regarding their loyalty points or VIP status
Final Words
SMS marketing is one of the most effective ways to reach and interact with potential and existing customers. They also have one of the highest open rates, around 95-98%. This means that for every 100 successfully delivered SMS, almost all are opened.
To ensure the success of your SMS campaigns, follow the best practices discussed above. These include building a subscriber list, creating welcome messages, measuring performance, delivering time-sensitive information, and personalizing messages.
I am Leaving Nigeria Better in 2023 Than in 2015—Buhari
By Adedapo Adesanya
President Muhammadu Buhari has claimed that he is leaving Nigeria better in 2023 than when his administration came into power in 2015.
The outgoing president said this when he addressed the nation in a farewell broadcast on Sunday morning, ahead of his exit from power on Monday, May 29.
President Buhari will on Monday hand over power to the president-elect, Mr Bola Ahmed Tinubu, who was declared the winner of the February 25 election by the Independent National Electoral Commission (INEC).
In his address, the President expressed his gratitude to Nigerians and explained the thinking behind some of his administration's key decisions.
Read the full text of his broadcast below:
FAREWELL SPEECH BY HIS EXCELLENCY, MUHAMMADU BUHARI, PRESIDENT AND COMMANDER-IN-CHIEF, FEDERAL REPUBLIC OF NIGERIA.
My fellow Nigerian brothers, sisters and friends of Nigeria.
2. I address you today, in my last assignment as a democratically elected President of our great and well endowed nation, with a deep sense of gratitude to God, a great deal of appreciation to the Nigerian people and a modest sense of fulfilment.
3. Today we mark and celebrate another peaceful transition of power from one elected government to another in our steady march to improve and sustain Nigeria's democracy.
4. This year we witnessed the most keenly contested presidential elections since the First Republic and this demonstrates that our democracy is getting better and more entrenched with each election.
5. We must as a nation improve and sustain gains we make in the electoral process, on an incremental basis for Nigeria to take its rightful place among nations.
6. Our democracy provides for, allows and encourages seeking redress for any perceived injustices, enabling some candidates and political parties that did not agree with the results to go to court.
7. Irrespective of the outcome of the various cases, I urge all parties involved to accept the decision of our courts and join hands to build a better Nigeria.
8. I salute the doggedness and resilience of all the Presidential Candidates and their political parties for believing in our judicial system by taking their grievances with the election results to court.
9. In the course of the campaigns, we had argued and disagreed on how to make Nigeria better but we never disagreed or had any doubts that Nigeria has to be better.
10. As your President, I call on all of us to bring to bear the strength of our individualism, the power of our unity, the convictions of our beliefs to make Nigeria work better and together with one spirit and one purpose.
11. To my brother, friend and fellow worker in the political terrain for the past ten years – Asiwaju Bola Ahmed Tinubu -, I congratulate you on the realisation of your dream, which was propelled by a burning passion to put Nigeria amongst the leading nations of the world.
12. You have indeed worked for this day and God has crowned your efforts. I have no doubt that your passion for excellence, reliance on competence, fairness in relationships, commitment to equity, loyalty to the country and desire for Nigeria to be globally relevant would come through for you, under God's guidance, as you lead our country to levels higher that I am leaving.
13. You are the best candidate among all the contestants and Nigerians have chosen well.
14. The last eight years have been an exciting experience in my desire and commitment to see a Nigeria in which public goods and services are available, and accessible within a united, peaceful and secure nation.
15. Fellow Nigerians, on the strength of your over-whelming support for me and my political party, I started this journey with a great deal of promise and expectation from you. I never intended to be just politically correct but to do the correct things that will make meaningful impact on the lives of the common Nigerian.
16. This high expectation was not misplaced because, like the ordinary Nigerian, I had grown tired of watching the country progressively moving away from the path of correctness.
17. To ensure that our democracy remains resilient and our elected representatives remain accountable to the people, I am leaving behind an electoral process which guarantees that votes count, results are credible, elections are fair and transparent and the influence of money in politics reduced to the barest minimum. And Nigerians can elect leaders of their choice.
18. We are already seeing the outcome of this process as it provided an even playing field where persons without any political God-Father or access to money defeated other well-resourced candidates.
19. The Nigerian economy has become more resilient due to the various strategies put in place to ensure that our economy remained afloat during cases of global economic downturns.
20. You would all recall the supply chain disruptions and economic downturn that the world witnessed between 2020 and 2022 as a result of the COVID-19 pandemic. The deftness of our response to the pandemic still remains a global best practice.
21. Furthermore, we increased the ability of the poor and rural Nigerians to earn a living, provided more food for millions in our villages and gave our women opportunities to earn a living.
22. Young men and women in urban centres were also supported to put their skills into productive use. Our administration also provided an enabling environment for the private sector to engage in businesses for which their return on investments is guaranteed.
23. The private sector proved a strong partner in our drive to build a resilient and sustainable economy as evidenced by the growing number of turn-key projects in various sectors of the economy.
24. In the course of revamping the economy, we made some difficult choices, most of which yielded the desired results. Some of the measures led to temporary pain and suffering for which I sincerely apologised to my fellow countrymen, but the measures were taken for the overall good of the country.
25. Mindful of the need to ensure adequate infrastructure to drive economic growth, we completed age-long projects and processes notably amongst which are the Petroleum Industry Act, completion of some power projects, completion of the second Niger bridge and various important roads linking cities and states.
26. Our battle to ensure that all Nigerians live in a safe and secure environment has achieved considerable results. As I complete my term in office, we have been able to reduce the incidences of banditry, terrorism, armed robbery and other criminal activities considerably.
27. To sustain the gains made so far, I call on all Nigerians to be more vigilant and support the security agencies by ensuring that our values defined by being your brothers' keeper govern our actions.
28. Up-till now, I still grieve for our children still in captivity, mourn with parents, friends and relatives of all those that lost loved ones in the days of the senseless brigandage and carnage. For all those under unlawful captivity, our security agencies are working round the clock to secure their release unharmed.
29. Fellow Nigerians, you know how dear the desire in my heart to rid the country of corrupt practices that had consistently diminished our efforts to be a great country.
30. I did pursue this commitment relentlessly, in spite of the expected pushback. I am happy that considerable progress had been made in repatriating huge sums of money back to the country and also taking over properties illegally acquired from our commonwealth.
31. To improve service delivery, we began the implementation of a number of reforms aimed at producing an Efficient, Productive, Incorruptible and Citizen-oriented (EPIC) Federal Civil Service and the results are beginning to show.
32. On the international scene, Nigeria's influence continues to grow as exemplified by notable Nigerians occupying headship and leadership positions in renowned global bodies.
33. Our democracy is built on and continues to thrive on the principles of separation of powers. The leadership and members of the National Assembly deserve my appreciation for their patriotism which did not detract from their roles as a check to the executive arm.
34. I also want to use this opportunity to express my appreciation to a good number of Nigerians who provided their support and encouragement to help me navigate the exciting journey in moving Nigeria forward.
35. I cannot and will not forget the millions who prayed for me during my illness in my first term of office. I am constantly praying for you and for Nigeria to thrive in peace.
36. As I retire home to Daura, Katsina State, I feel fulfilled that we have started the Nigeria Re-Birth by taking the initial critical steps and I am convinced the in-coming administration will quicken the pace of this walk to see a Nigeria that fulfills its destiny to be a great nation.
37. I am confident that I am leaving office with Nigeria better in 2023 than in 2015.
38. I thank you all. And may God Bless the Federal Republic of Nigeria.
Nigerian Exchange Rebounds by 0.20% on Renewed Bargain Hunting
By Dipo Olowookere
Renewed bargain hunting triggered a 0.20 per cent rebound on the floor of the Nigerian Exchange (NGX) Limited on Friday as investors look forward to Monday's swearing-in of Mr Bola Tinubu as the next President of Nigeria.
Investor sentiment improved yesterday as the stock exchange finished with 42 price gainers and 11 price losers, indicating a positive market breadth index.
NASCON topped the gainers' chart after it appreciated by 10.00 per cent to N15.40, Conoil rose by 9.98 per cent to N47.95, NEM Insurance improved by 9.95 per cent to N4.75, NCR Nigeria increased by 9.68 per cent to N3.06, and FTN Cocoa chalked up 9.68 per cent to 68 Kobo.
On the flip side, Sovereign Trust Insurance lost 7.69 per cent to finish at 36 Kobo, Mutual Benefits depreciated by 5.56 per cent to 34 Kobo, NGX Group declined by 4.04 per cent to N27.35, Royal Exchange depleted by 4.00 per cent to 48 Kobo, and Tantalizers fell by 3.85 per cent to 25 Kobo.
The insurance counter recorded the biggest gain during the session after it closed 2.40 per cent higher, the banking sector rose by 2.14 per cent, the energy index rose by 1.05 per cent, the consumer goods counter expanded by 0.41 per cent, while the industrial goods sector depreciated by 0.88 per cent.
Consequently, the All-Share Index (ASI) increased by 152.28 points to 52,973.88 points from 52,821.60 points, and the market capitalisation grew by N83 billion to N28.845 trillion from N28.762 trillion.
During the session, investors transacted 461.8 million stocks worth N7.7 billion in 6,520 deals compared with the 377.1 million stocks worth N9.2 billion traded in 5,879 deals on Thursday, representing a decline in the trading value by 16.30 per cent and an increase in the trading volume and the number of deals by 22.46 per cent, and 10.90 per cent apiece.
UBA sold the most stocks on Friday (59.4 million units), Access Holdings traded 51.5 million shares, Zenith Bank exchanged 50.0 million equities, GTCO traded 41.0 million stocks, and Transcorp transacted 29.7 million shares.
Geo-Fluids Triggers 0.12% Appreciation at NASD OTC Bourse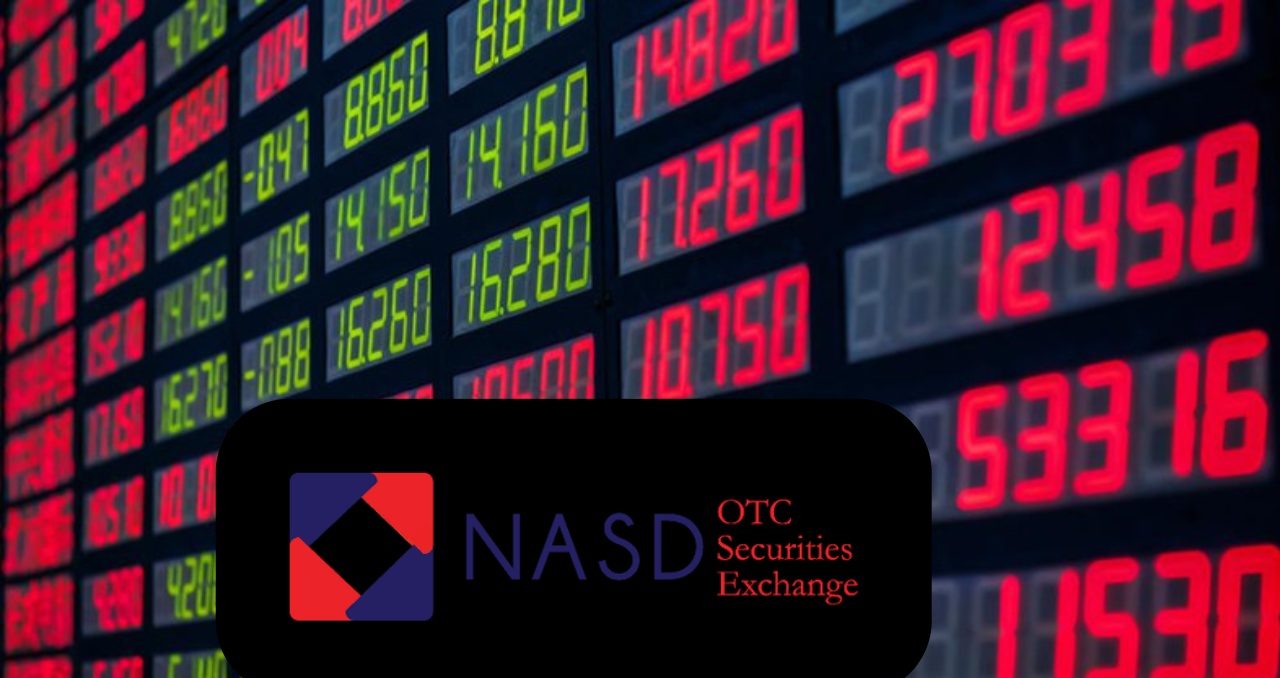 By Adedapo Adesanya
The NASD Over-the-Counter (OTC) Securities Exchange appreciated by 0.12 per cent on Friday, May 26, following the upward movement in the price of Geo-Fluids Plc.
The company, which is the most traded stock by volume at the exchange in the year so far, closed the session as the sole price mover after it gained 28 Kobo to finish at N3.08 per share versus the previous closing price of N2.80 per share.
This pushed the total value of the NASD OTC bourse higher by N1.19 billion at the close of business to N1.002 trillion from N1.001 trillion, as the market index, NASD Unlisted Securities Index (NSI), increased by 0.86 points to wrap the session at 724.12 points compared with the 723.26 points recorded at the previous session.
There was a surge in the volume of securities traded at the bourse by 125.6 per cent at the final trading session of the week, as investors exchanged 117,100 units, in contrast to the 51,910 units traded at the preceding session.
In the same vein, the value of shares traded yesterday went higher by 1,603.4 per cent as the total equities traded amounted to N4.2 million versus the N245,560.00 recorded a day earlier.
These transactions were completed in six deals compared with the seven deals carried out in the previous trading session, representing a decline of 14.3 per cent.
Geo-Fluids Plc remained the most traded stock by volume (year-to-date) with 832.1 million units valued at N1.3 billion, Industrial and General Insurance (IGI) Plc stood in second place with 627.7 units worth N49.4 million, while UBN Property Plc was in third place with 390.9 million units valued at N332.0 million.
Similarly, VFD Group Plc was the most traded stock by value (year-to-date) with 10.6 million units worth N2.4 billion, Geo-Fluids Plc followed with 832.1 million units valued at N1.3 billion, as FrieslandCampina Wamco Nigeria Plc remained in third place with 12.4 million units worth N874.5 million.
Latest News on Business Post