Buhari to Present 2022 Budget to NASS on Thursday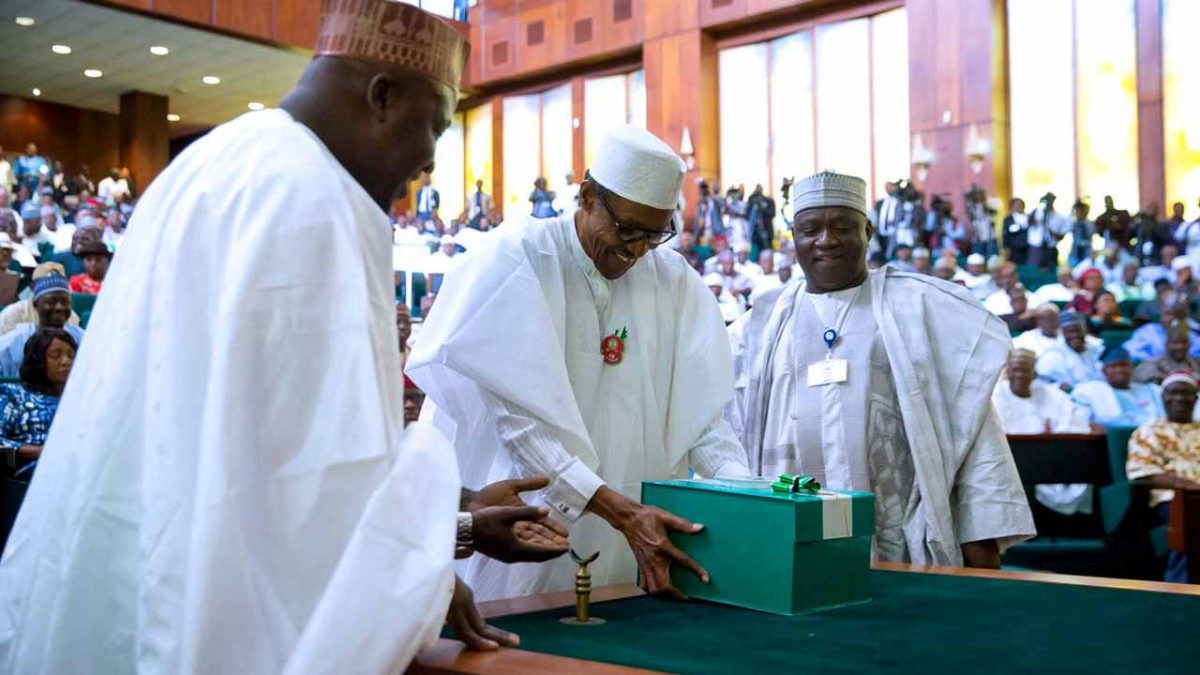 By Adedapo Adesanya
President Muhammadu Buhari will on Thursday, October 7, 2021, present the 2022 budget proposal to a joint session of the National Assembly.
The Deputy Senate President, Mr Ovie Omo-Agege, dropped this hint on Tuesday after reading and referring the President's submission of the revised 2022-2024 Medium Term Fiscal Framework to the Committee on Finance for legislative input.
President Buhari in a letter to the upper chamber dated October 4, 2021, explained that the revision was necessitated to reflect the new fiscal terms in the Petroleum Industry Act, 2021, as well as other critical expenditures in the 2022 budget.
According to him, the underlying drivers of the 2022 fiscal projections, such as oil price benchmark, oil production volume, exchange rate, GDP growth, and inflation rate reflect emergent realities and the macroeconomic outlook and remain unchanged as in the previously approved 2022-2024 MTEF/FSP.
"The PIA established a progressive fiscal framework aimed at encouraging investment in the Nigerian Petroleum Industry.
"This significantly alters the Oil and Gas fiscal terms and has necessitated changes in the 2022-2024 Medium Term Fiscal Framework.
"The fiscal effects of PIA implementation are assumed to kick in by mid-year 2022. The revised 2022-2024 Fiscal Framework is premised on a hybrid of January-June (based on the current fiscal regime) and July-December (based on PIA fiscal regime), while 2023 and 2024 are now fully based on the PIA," a part of Mr Buhari's letter had said.
Accordingly, President Buhari listed the changes to the 2022 Fiscal Framework projections to include a reduction in the gross revenue projection by N341.57 billion from N8.870 trillion to N8.528 trillion; decrease in deductions for federally funded upstream projects costs and 13 per cent derivation by N335.3 billion and N810.25 million respectively; and a cut in the net oil and gas revenue projection by N5.42 billion from N6.540 trillion to N6.535 trillion.
It was also revealed that Mr Buhari added that also to be modified in the fiscal framework is an increase in projected FGN's retained revenue from N8.36 trillion to N10.13 trillion.
Giving a breakdown of the projected increase in the federal government's revenue, he said N837.76 billion was from an increase in revenue of Government-Owned Enterprises (GEOs); N697.6 billion from MDAs Internally Generated Revenue; the introduction of Education Tax of N306 billion and dividend of N8.3 billion from the Bank of Industry (BOI) as revenue lines; and FGN share of oil price royalty of N96.9 billion which is expected to be transferred to the Nigerian Sovereignty Investment Authority (NSIA) based on the provisions of the PIA.
He added that the FGN Aggregate Expenditure (including GOEs and Projected-tied Loans) is projected to increase by N2.47 trillion, from N13.98 trillion to N16.45 trillion.
Mr Buhari noted that the increase in expenditure was due to N100 billion additional provision to INEC to cater for the 2023 general elections; and the provision of N54 billion to NASENI, which represents one per cent FGN share of the federation account.
Others are the additional provision of N510 billion in the service-wide votes to cater for National Poverty Reduction with growth strategy (N300 billion), police operations fund (N50 billion), hazard allowance for health workers (50 billion), public service wage adjustments (additional N80 billion), and MDAs' electricity bills debt (additional N37 billion); and additional capital provision of N1.70 trillion.
Airtel Africa, 17 Others Lift Stock Exchange by 0.46%
By Dipo Olowookere
Nigeria's stock exchange closed positive on Friday by 0.46 per cent following a renewed bargain hunting in Airtel Africa, Guinness Nigeria, Sterling Bank, Ardova and 14 others.
This pushed the All-Share Index (ASI) of the Nigerian Exchange (NGX) Limited by 199.52 points to 43,308.29 points from the previous day's 43,108.77 points and jerked the market capitalisation higher by N104billion to N22.598 trillion from N22.494 trillion.
Royal Exchange and ABC Transport grew by 10.00 per cent each at the trading session to finish at 55 kobo and 33 kobo respectively.
AIICO Insurance gained 9.38 per cent to close at 70 kobo, University Press appreciated by 8.89 per cent to N2.94, while Regency Assurance jumped 7.69 per cent to 42 kobo.
On the other hand, UPDC REIT topped the losers' table of 24 members with a price depreciation of 9.82 per cent to settle for the day at N5.05.
Champion Breweries retreated by 5.90 per cent to N2.55, UPDC moderated by 5.07 per cent to N1.31, FTN Cocoa eased by 4.76 per cent to 40 kobo, while Veritas Kapital contracted by 4.55 per cent to 21 kobo.
Unlike the preceding day, the level of activity was mixed yesterday with the trading value declining by 15.15 per cent to N3.6 billion from N4.2 billion, while the trading volume rose by 14.73 per cent to 305.3 million units from 266.1 million, with the number of deals rising by 13.96 per cent 4,450 deals from 3,905 deals.
FCMB finished the day as the most active stock with 81.1 million units worth N247.9 million, trailed by GTCO with 29.5 million units valued at N738.3 million.
Further, Access Bank transacted 28.1 million units valued at N253.9 million, Honeywell Flour sold 16.8 million units worth N70.2 million, while Zenith Bank exchanged 13.2 million units for N320.2 million.
At the market on Friday, the insurance sector gained 1.98 per cent, while the quartet of the consumer goods, banking, energy and industrial goods counter lost 0.89 per cent, 0.33 per cent, 0.03 per cent and 0.01 per cent respectively.
Naira Closes Week Flat as Cryptocurrencies Suffer Heavy Loss
By Adedapo Adesanya
The local currency closed flat against the US Dollar at both the Investors and Exporters (I&E) and the interbank segments of the foreign exchange (forex) market on Friday, November 26.
At the I&E segment of the market, the domestic currency retained the preceding session's rate of N415.07/$1 amid an upshoot in the turnover for the trading session, according to data from the FMDQ Securities Exchange.
At the market window, the turnover achieved at the final session for the week was $215.47 million, 119.7 per cent or $117.4 million higher than the $98.07 million recorded the day before.
At the interbank window, the Naira halted its depreciation against the American currency as it remained unchanged at N411.64/$1 at the close of transactions yesterday.
In the same trend, the local currency was flat against the Pound Sterling to sell for N548.55/£1, while the Nigerian currency stuck to N462.07/€1 as it was sold at the preceding session.
Bears Rampage Cryptocurrencies
Meanwhile, cryptocurrencies witnessed a bearish outcome on Friday as all the 10 cryptos monitored by Business Post weakened and analysts attributed the dip to the rout that gripped global investments following the discovery of a new coronavirus variant.
The World Health Organisation (WHO) said the new variant known as B.1.1.529 may contain more than 30 mutations. The United Kingdom and other nations have temporarily suspended flights from six African countries in response.
At the market, Bitcoin (BTC) recorded a 6.7 per cent depreciation to sell at N30,862,885.94, Ethereum (ETH) fell by 1.7 per cent to trade at N2,388,999.00, while Ripple (XRP) witnessed a 6.3 per cent fall to N543.44.
Furthermore, (DASH) dropped 5.9 per cent to trade at N109,054.38, Litecoin (LTC) slumped by 7.2 per cent to N111,931.77, Tron (TRX) made a 7.6 per cent loss to close at N52.66, Cardano (ADA) retreated by 5.0 per cent to N918.72, Binance Coin (BNB) witnessed a 4.2 per cent loss to sell at N242,540.63, Dogecoin (DOGE) also followed with a 4.2 per cent slide as it traded at N123.87, while the US Dollar Tether (USDT) moved down by 0.7 per cent to sell for N569.90.
Unlisted Stocks Trade Flat Friday Amid Low Investor Appetite
By Adedapo Adesanya
The NASD Over-the-Counter (OTC) Securities Exchange closed in the flat territory on Friday as the interest of investors in unlisted stocks waned during the session.
According to data from the exchange, the level of activity declined as there was a 99.9 per cent fall in the volume of securities transacted by market participants as only 288 units exchanged hands compared with the 371,600 units traded at the previous day.
In the same vein, there was a decrease in the total value of shares transacted by traders on Friday and this depleted by 99.0 per cent as securities valued at N65,088 transacted in contrast to the N6.5 million exchanged on Thursday.
Business Post reports that the number of deals executed during the last trading session of the week waned by 50.00 per cent as only two deals were recorded as against the four deals carried out at the preceding trading day.
At the close of transactions, the major performance indicators of the exchange remained unchanged, with the NASD Unlisted Security Index (NSI) flat at 744.90 points as the market capitalisation remained intact at N615.42 billion.
The unlisted securities market was without a price gainer or a price loser as the equity price of all the stocks on the exchange remained unchanged.
Also, the most traded stock by volume on a year-to-date basis remained Food Concepts Plc as it has transacted a total of 11.4 billion units of its shares worth N14.4 billion. Lighthouse Financial Services Plc has traded 1.1 billion units worth N546.32 million to occupy the second spot, while Geo Fluids Plc, which claimed the third place, has traded 1.0 billion units worth N700.1 million.
By value, on a year-to-date basis, Food Concepts Plc was also on top of the chart with the sale of 11.4 billion units worth N14.4 billion, followed by Nigerian Exchange (NGX) Group Plc with 456.5 million units valued at N9.2 billion, and VFD Group Plc with 10.4 million units valued at N3.5 billion.
Latest News on Business Post