Choppy Trading on Wall Street Amid Mixed Economic, Geopolitical News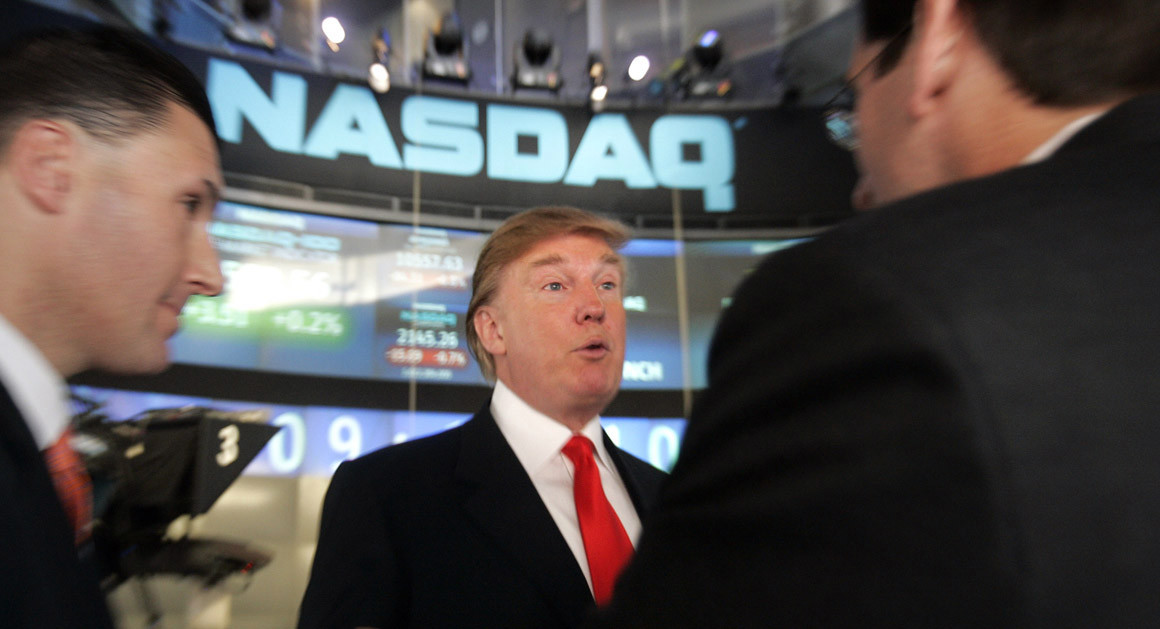 By Investors Hub
The major U.S. index futures are currently pointing to a roughly flat opening on Thursday, with stocks likely to continue to experience choppy trading.
Traders may be reluctant to make significant moves as they weigh better than expected U.S. economic data against disappointing news out of the summit between President Donald Trump and North Korean leader Kim Jong Un.
The futures recovered from earlier weakness following the release of a report from the Commerce Department showing U.S. economic growth slowed by less than expected in the fourth quarter of 2018.
Meanwhile, traders are also digesting news that the Trump-Kim summit ended abruptly without an agreement on the denuclearization of the Korean peninsula.
Trump told reporters the North Korean dictator wanted the U.S. to lift all sanctions without having to give up all of his weapons of mass destruction.
?Basically, they wanted the sanctions lifted in their entirety and we couldn't do that,? Trump said. ?They were willing to de-nuke a large portion of the areas that we wanted, but we couldn't give up all of the sanctions for that.?
?So we continue to work and we'll see, but we had to walk away from that particular suggestion,? he added. ?We had to walk away from that.?
The president noted that the two sides will continue to work toward an agreement, although the lack of a deal at the summit may add to recent uncertainty on Wall Street.
Stocks once again recovered from an early move to the downside on Wednesday but showed a lack of direction over the remainder of the session.
The major averages spent the afternoon lingering near the unchanged line before closing mixed. While the Nasdaq inched up 5.21 points or 0.1 percent to 7,554.51, the Dow fell 72.82 points or 0.3 percent to 25,985.16 and the S&P 500 edged down 1.52 points or 0.1 percent to 2,792.38.
The early weakness on Wall Street came as comments from U.S. Trade Representative Robert Lighthizer partly offset recent optimism about the U.S.-China trade talks.
Lighthizer, who is described as "hawkish" on trade, told members of the House Ways and Means Committee that China needs to go beyond pledging to buy more U.S. goods to reach to a long-term trade agreement.
"We can compete with anyone in the world, but we must have rule, enforced rules, that make sure market outcomes and not state capitalism and technology theft determine winners," Lighthizer said.
The reaction to Lighthizer's remarks reflected the lingering uncertainty about a potential U.S.-China trade deal even after President Donald Trump decided to postpone an increase in tariffs on Chinese imports.
Selling pressure waned as the day progressed, however, as traders kept an eye on Trump's second summit with North Korean leader Kim Jong Un, looking for more concrete signs of progress toward the denuclearization of the Korean peninsula.
"Kim Jong Un and I will try very hard to work something out on Denuclearization & then making North Korea an Economic Powerhouse," Trump said on Twitter this morning. "I believe that China, Russia, Japan & South Korea will be very helpful!"
On the U.S. economic front, the National Association of Realtors released a report showing pending home sales rebounded by much more than anticipated in the month of January.
NAR said its pending home sales index spiked by 4.6 percent to 103.2 in January after tumbling by 2.3 percent to a downwardly revised 98.7 in December. Economists had expected pending home sales to rise by 0.4 percent.
A pending home sale is one in which a contract was signed but not yet closed. Normally, it takes four to six weeks to close a contracted sale.
Meanwhile, a government shutdown-delayed report released by the Commerce Department showed new orders for manufactured goods rose by much less than anticipated in the month of December.
The Commerce Department said factory orders inched up by 0.1 percent in December after falling by a revised 0.5 percent in November. Economists had expected orders to climb by 0.5 percent.
Most of the major sectors ended the day showing only modest moves, contributing to the lackluster performance by the broader markets.
Gold stocks showed a significant move to the downside, however, with the NYSE Arca Gold Bugs Index plunging by 1.9 percent. The weakness among gold stocks came amid a decrease by the price of the precious metal.
Considerable weakness was also visible among semiconductor stocks, as reflected by the 1.2 percent drop by the Philadelphia Semiconductor Index.
On the other hand, biotechnology stocks moved sharply higher over the course of the session, driving the NYSE Arca Biotechnology Index up by 2.4 percent. The index jumped to its best closing level in over four months.

Osinbajo Opposes CBN Cryptocurrency Ban, Backs Regulation
By Aduragbemi Omiyale
Vice President Yemi Osinbajo has disagreed with the Central Bank of Nigeria (CBN) on the ban on cryptocurrency trading in the country.
A few weeks ago, the apex bank directed financial institutions in the country to close all bank accounts of persons or organisations trading the digital currencies.
It was speculated that the central bank prohibited crypto trading because the youths used the means to fund the 2020 EndSARS protests across the nation.
Speaking at a one-day economic summit, the Vice President advised the CBN to take a critical look into the policy and come up with ways to regulate the system.
According to him, rather than adopt a policy that prohibits cryptocurrency operations in the country, "we must act with knowledge and not fear" and develop a robust regulatory regime that is thoughtful and knowledge-based.
"I fully appreciate the strong position of the CBN, Securities and Exchange Commission (SEC) and some of the anti-corruption agencies on the possible abuses of cryptocurrencies and their other well-articulated concerns. But I believe that their position should be the subject of further reflection.
"There is a role for regulation here. And it is in the place of both our monetary authorities and SEC to provide a robust regulatory regime that addresses these serious concerns without killing the goose that might lay the golden eggs.
"So, it should be thoughtful and knowledge-based regulation, not prohibition. The point I am making is that some of the exciting developments we see the call for prudence and care in adopting them, but we must act with knowledge and not fear," Mr Osinbajo said at the event organised by the CBN, the Banker's Committee and the Vanguard Newspaper.
At the summit themed Bankers' Initiative for Economic Growth, the Vice President emphasised the need for monetary authorities to rethink their stand on cryptocurrencies.
"There is no question that blockchain technology generally and cryptocurrencies, in particular, will in the coming years challenge traditional banking, including reserve (central) banking, in ways that we cannot yet imagine. So, we need to be prepared for that seismic shift and it may come sooner than later," he added.
"Already, remittance systems are being challenged. Blockchain technology will provide far cheaper options for the kind of fees being paid today for cross-border transfers.
"I am sure you are all aware of the challenge that the traditional SWIFT system is facing from new systems like Ripple which is based on the blockchain distributed ledger technology with its own crypto tokens.
"There are, of course, a whole range of digital assets spawned daily from block-chain technology. Decentralized finance, using smart contracts to create financial instruments, in place of central financial intermediaries such as banks or brokerages is set to challenge traditional finance.
"The likes of Nexo finance offer instant loans using cryptocurrency as collateral. Some reserve banks are investigating issuing their own digital currencies," Mr Osinbajo stated.