Domestic Unlisted Stocks Finish Stronger by 0.05%
By Adedapo Adesanya
The second trading session of the week on the floor of the NASD Over-the-Counter (OTC) finished on a positive note on Tuesday as traders prepare for the Sallah holidays this weekend.
Business Post reports that the domestic unlisted stocks closed higher by 0.05 per cent yesterday amid renewed interest in the market, which suffered a 0.07 per cent loss the previous session.
The Niger Delta Exploration and Production (NDEP) Plc and CitiTrust Holdings Plc were responsible for the upward movement during the session, weakening the losses printed by Nipco Plc, FrieslandCampina Wamco Nigeria Plc, and Central Securities Clearing System (CSCS) Plc.
NDEP Plc appreciated on Tuesday by N7 to settle at N217.00 per unit compared with Monday's N210.00 per unit, while CititTrust Plc grew by 65 Kobo to sell at N7.50 per share in contrast to the previous day's N6.85 per share.
However, Nipco Plc lost N1.85 to trade at N58.85 per unit versus the preceding day's N57.00 per unit, FrieslandCampina Plc decreased by 27 Kobo to N101.73 per share from N102.00 per share as CSCS Plc lost 10 Kobo to end the session at N14.30 per unit versus N14.40 per unit.
During the session, the market capitalisation expanded by N550 million to N1.019 trillion from N1.018 trillion as the NASD Unlisted Securities Index (NSI) increased by 0.42 points to 773.89 points from 773.47 points.
The trading volume yesterday was 535,515 units, 4,904.8 per cent higher than the 10,700 units achieved on Monday, the value of shares traded yesterday rose by 5,979.1 per cent to N33.4 million from N548,900, while the number of deals went up by 800 per cent to 27 deals from 10 deals.
AG Mortgage Bank Plc remained the most traded stock by volume (year-to-date) with 2.3 billion units worth N1.2 billion, CSCS Plc stood in second place with 674.4 million units valued at N14.1 billion, while Food Concepts Plc was in third place with 146.5 million units valued at N127.1 million.
CSCS Plc, with 674.4 million units exchanged for N14.1 billion, was the most traded by value (year-to-date), followed by VFD Group Plc with 10.9 million units valued at N3.2 billion, and FrieslandCampina Plc with 9.7 million units valued at N1.3 billion.
Nigeria Records N269.34bn in Trade Surplus in Q3 2022
By Adedapo Adesanya
Nigeria's exports exceeded the total imports in the third quarter of this year as the country recorded N5.93 trillion in total exports, while total imports hit N5.66 trillion in the same period, indicating a trade surplus as the country's exports exceeded its imports.
This happened amid a decline in total trade as Nigeria's total trade stood at N11.59 trillion in the period, lower than the value recorded in the second quarter of 2022 (N12.84 trillion) but higher than the value recorded in the corresponding period of 2021, which stood at N10.47 trillion.
In the quarter under review, total exports declined by 19.9 per cent when compared to the second quarter of 2022 (N7.40 trillion), but increased by 15.5 per cent of the value recorded in the third quarter of 2021 (N5.13 trillion).
On the other hand, total imports increased by 4.22 per cent in the third quarter of 2022 when compared to the value recorded in the second quarter of 2022 (N5.44 trillion) and also grew by 6.2 per cent when compared to the value recorded in the corresponding quarter of 2021 (N5.34 trillion).
The value of Re-Exports in the third quarter of 2022 stood at N25.04 billion, showing an increase of 160.2 per cent compared to the value recorded in the second quarter of 2022 but declined by 86.1 per cent compared to the corresponding quarter of 2021 (N179.81 billion).
In the quarter under review, the top five re-export destinations were Cote d'Ivoire, Ghana, United Kingdom, China, and The Netherlands, while the most re-exported commodity were Vessels and other floating structures for breaking up with N8.05 trillion, followed by 'Floating or submersible drilling or production platforms' valued at N4.97 trillion and Aeroplanes and other aircraft, of an un-laden weight exceeding 15,000 kg, amounting to N3.43 trillion.
The top five export destinations in the third quarter of 2022 were Spain with a share of 14.7 per cent, followed by India with 10.4 per cent, France with 7.3 per cent, the Netherlands and Indonesia with 7.1 per cent and 7.0 per cent, respectively. Altogether, the top five countries accounted for a share of 46.5 per cent of the total value of exports (N5.93 trillion).
The commodity with the largest export values in the period under review was Petroleum oils and oils obtained from bituminous minerals, crude with N4.66 trillion representing 78.5 per cent, followed by Liquefied Natural Gas (LNG) with N757.36 billion accounting for 12.8 per cent, and Urea (whether or not in aqueous solution) with N133.17 billion or 2.2 per cent of total exports.
In terms of Imports (CIF), in the third quarter of 2022, China, The Netherlands, India, Belgium, and the United States of America were the top five countries of origin of imports to Nigeria. The value of imports from the top five countries amounted to N3.3 trillion, representing a share of 58.8 per cent of the total value of imports.
The commodities with the largest values among the top imported products were Motor Spirit ordinary (N1.19 trillion), Gas Oil (N261.60 billion), and Durum wheat (Not in seeds), amounting to N252.62 billion.
Panelists Discuss How To Grow Your Money In Difficult Times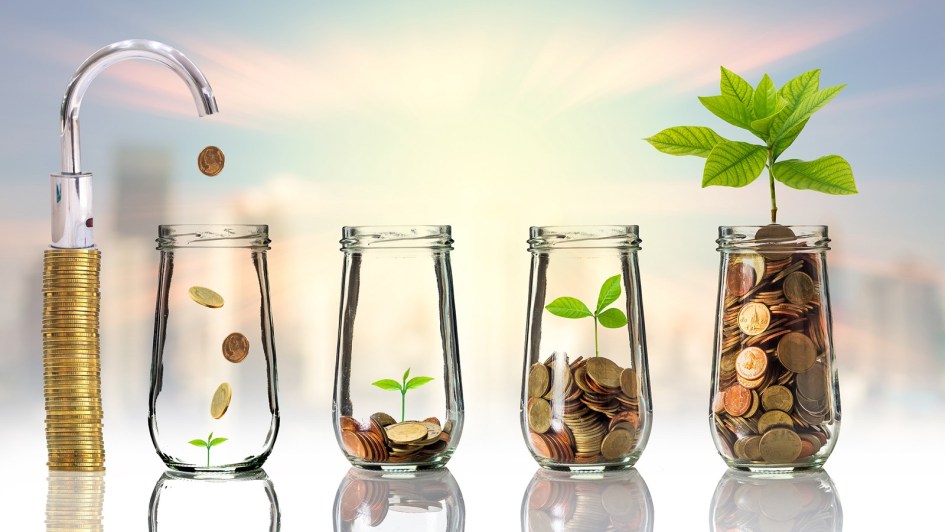 By Modupe Gbadeyanka
Investors have been advised by financial experts to avoid holding on to idle assets but must quickly deploy them to ventures that would yield returns.
This was one of the solutions and strategies discussed at a webinar organised recently by DLM Asset Management, a subsidiary of a leading investment firm, DLM Capital Group.
The event, which was themed How to Grow Your Money in Difficult Times, was put together to guide participants on how to find growth and value in a volatile economy.
It was also designed to educate clients, prospective clients, and the entire public on how to grow and preserve their wealth in difficult times.
The virtual session was necessary given the urgent circumstances in Nigeria at the moment, where unemployment and inflation are at all-time highs and insecurity is posing a severe danger to economic growth and stability.
"In critical times such as this, investors must avoid holding idle assets. In fact, all assets must be actively deployed with optimal efficiency in order to avoid asset deterioration due to inflation.
"As such, a typical solution to this is the DLM Fixed Income Fund, a mutual fund that provides investors with the opportunity to earn decent returns from their funds that ordinarily should yield so little when left in a typical bank account," the Head of DLM Asset Management, Mr George Aniegbunem, stated.
On her part, the Vice President at DLM Advisory, Ms Ekanem Etim, spoke about investing opportunities, associated risks, and the significance of seeking advice from an investment professional, mostly in uncertain times like this.
"It is important for investors to understand the underlying risks of an investment opportunity before taking any investment decision. As such, individual Investors will benefit greatly from seeking professional advice as they grow their wealth, mostly in challenging moments like this," she remarked.
Interswitch, FIRS Highlight Benefits of Digital Tax Remittance System
By Modupe Gbadeyanka
Taxpayers in Nigeria have been encouraged to embrace digital tax remittance because of the several benefits that come with the system.
At a programme themed Sustainable Tax Management: Exploring Digital Remittance held on Thursday, November 24, 2022, stakeholders agreed that this system allows for transparency and effective use of the funds.
At the event, which took place at the Victoria Crown Plaza Hotel, Lagos, it was stated that the digital tax remittance initiative also makes payment of the obligatory levy and allows for a convenient tax filing and payment system by private citizens, tax managers, accountants, tax auditors, tax consultants, bankers, and business owners.
Recall that the Federal Inland Revenue Service (FIRS), to make tax payment and filing easier, introduced the Tax-Pro Max e-filing platform.
At the programme held last month to increase awareness of the benefits of adopting the digital tax remittance system, FIRS explained that the Paydirect solution, which is integrated with the TaxPro Max system, adds to the seamlessness in the filing and remittance of taxes, boosting the efficiency of the collection system and facilitating compliance.
Remarking on the sensitisation of the critical mass on the need for the uptake of digital remittance in the country, the Assistant Director in charge of the Taxpayer Service Department at FIRS, Manasseh Otega, noted that there was a significant growth in the number of taxpayers as it continues in its awareness drive.
Also, one of the major partners of the workshop, Interswitch, noted that the rise of technology-led processes has led to the improvement of service delivery, and Interswitch, as a technology-driven and user-focused company.
The Group Head of Government at Interswitch, Osasere Atohengbe, assured that the company would continue to work with the collection agency to ensure that taxpayers have access to easy tax filing and payment systems while also boosting government revenue and national development.
"Not only is it important to pay taxes to improve infrastructural development, but the system of tax payment also needs to be addressed to ensure that its collection is sustainable, seamless, transparent and effective.
"To do this, taxpayers need to be in the loop, and we at Interswitch will continue our work with the FIRS to provide the necessary infrastructure that promotes the adoption of digital tax payments among taxpayers," Atohengbe added.
Latest News on Business Post