NASCON Leads Gainers' Chart as Index Crosses 38,000 Points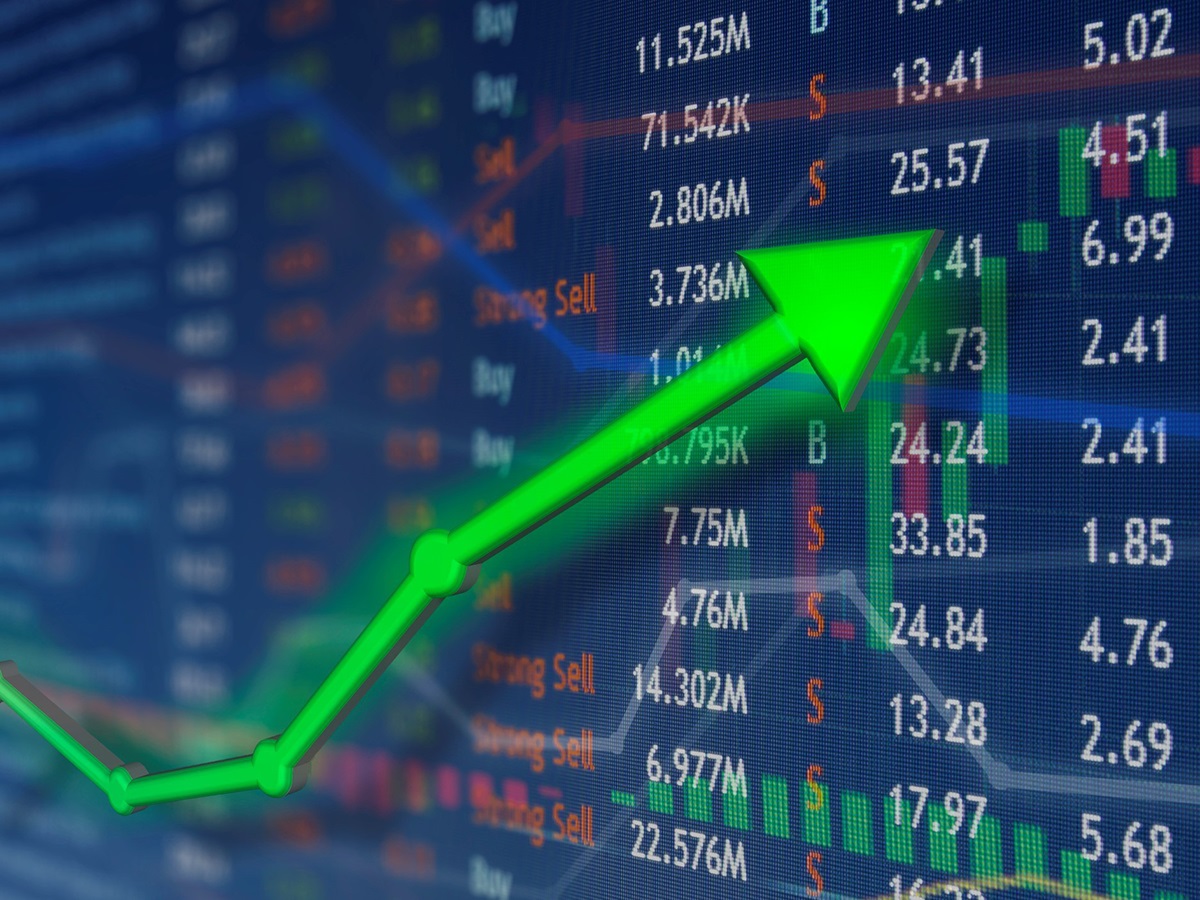 By Dipo Olowookere
The All-Share Index (ASI) of the Nigerian Exchange (NGX) Limited again crossed the 38,000 points on Friday, days after slipping below the threshold.
The market appreciated by 0.83 per cent yesterday on the back of bargain hunting in large-cap equities like Dangote Cement, Zenith Bank, Seplat and others.
Business Post reports that the demand for these stocks lifted the stock market as investors are beginning to return to take shares trading at cheap prices.
At the close of transactions, the industrial goods sector appreciated by 2.02 per cent, the energy index rose by 0.73 per cent, the banking counter appreciated by 0.73 per cent, while the insurance index dropped 0.68 per cent, with the consumer goods counter closing flat.
The gains printed by the industrial goods, energy and banking sectors pushed the benchmark index, the ASI, higher by 313.42 points to 38,212.01 points from 37,898.59 points and expanded the market capitalisation by N163 billion to N19.919 trillion from N19.756 trillion.
NASCON led the gainers' chart on the last trading session of the week after its equity value went up by 9.76 per cent to N15.75 and was trailed by Ikeja Hotel, which rose by 9.59 per cent to N1.60.
Berger Paints appreciated by 9.52 per cent to trade at N9.20, Academy Press grew by 9.38 per cent to sell for 35 kobo, while Tripple Gee gained 9.09 per cent to quote at 84 kobo.
Conversely, University Press led the losers' chart with a price depreciation of 8.98 per cent to N1.52 and was trailed by Linkage Assurance, which lost 7.61 per cent to quote at 85 kobo.
FCMB depreciated by 7.46 per cent to trade at N3.10, Lasaco Assurance went down by 6.33 per cent to N1.48, while FTN Cocoa declined by 6.06 per cent to 31 kobo.
At the close of business, the market recorded 23 price gainers and 15 price losers, indicating a positive market breadth and positive investor sentiment.
However, the activity level was mixed as the trading volume increased by 1.82 per cent to 209.2 million shares from 205.5 million shares, while the trading value decreased by 26.26 per cent to N2.0 billion from N2.7 billion, with the number of deals reducing by 9.07 per cent to 3,240 deals from 3,563 deals.
Wema Bank finished the session as the most traded stock with the sale of 36.1 million stocks worth N24.7 million and was trailed by Courtville, which sold 20.8 million stocks worth N4.3 million.
Fidelity Bank traded 19.1 million shares valued at N44.4 million, Access Bank transacted 18.4 million equities valued at N157.1 million, while Zenith Bank exchanged 17.9 million shares for N429.5 million.
AfDB Grants FSDH $25m Loan to Help Nigerian SMEs
By Adedapo Adesanya
The African Development Bank (AfDB) Group has approved a $15 million trade finance line of credit and a $10 million transaction guarantee for FSDH Merchant Bank in Nigeria to provide loans to local enterprises.
AfDB estimates the trade finance gap for the continent at $82 billion, saying this is particularly worse for small and medium-sized enterprises (SMEs) and other domestic firms, which have greater difficulty accessing trade finance than multinational and large local corporates.
The $25 million package will help to reduce the trade finance gap in Nigeria by making financial resources available to SMEs in the industrial sector.
The lender will also guarantee up to 100 per cent of non-payment risks arising from letters of credit and similar trade finance instruments issued by FSDH under the guarantee portion. This will allow confirmation of trade transactions originated by FSDH, benefiting local import and export businesses.
Overall, over the next three years, the facility will catalyse more than $200 million of trade finance transactions across multi-sectors, including agriculture, manufacturing, and energy.
The bank's Director General for Nigeria, Mr Lamin Barrow, while commenting on the loan deal, said: "The availability of trade finance instruments to drive post-pandemic economic recovery efforts cannot be overemphasized. Hence, the bank's financing will help eligible Nigerian SMEs to take advantage of existing and emerging opportunities in the domestic and regional markets."
Mr Barrow noted that the Covid-19 pandemic and other factors had led global banks to reduce their correspondent banking relationships in Africa or to exit completely.
The facility aligns with the lender's Financial Sector Development Policy and Strategy to deepen Africa's financial systems. It also aligns with two of the bank's High 5 strategic priorities, Feed Africa and Industrialize Africa.
On his part, the bank's Director for Financial Sector Development, Mr Stefan Nalletamby, said, "We are excited about finalizing this facility with FSDH as having the Bank as a partner will aid FSDH in scaling up its trade finance offerings in Nigeria to help meet the ever-increasing trade finance gap.
"This partnership is expected to catalyze more than $200 million of trade finance transactions across multi-sectors such as agriculture, manufacturing, and energy over the next 3.5 years."
The facility is part of AfDB's strategy in Nigeria, which aims to support infrastructure development and promote social inclusion through agribusiness and skills development. The bank believes there are numerous opportunities for the youth and women from its financing and non-lending activities.
Rising External Borrowing Costs of Nigeria, Others Worry World Bank
By Adedapo Adesanya
The World Bank has expressed worry over the rising external borrowing costs of Nigeria and other African countries, especially those in sub-Saharan Africa (SSA), noting that in the last 12 years, the region has used about 16.5 per cent of revenue to service debts as against 5 per cent in 2010.
In a press release titled African Governments Urgently Need to Restore Macro-Economic Stability and Protect the Poor in a Context of Slow Growth, High Inflation, the global lender said, "Debt is projected to stay elevated at 58.6 per cent of GDP in 2022 in SSA.
"African governments spent 16.5 per cent of their revenues servicing external debt in 2021, up from less than 5 per cent in 2010. Eight out of 38 IDA-eligible countries in the region are in debt distress, and 14 are at high risk of joining them.
"At the same time, high commercial borrowing costs make it difficult for countries to borrow on national and international markets while tightening global financial conditions are weakening currencies and increasing African countries' external borrowing costs," it stated.
According to the bank, it is crucial to increase the effectiveness of current resources and to maximize taxes in light of the current difficult situation.
The biannual analysis of the near-term regional macroeconomic outlook showed that economic growth in Sub-Saharan Africa (SSA) is set to decelerate from 4.1 per cent in 2021 to 3.3 per cent in 2022, a downward revision of 0.3 per cent.
This is mainly due to the  slowdown in global growth, including flagging demand from China for commodities produced in Africa.
Due to decreased corporate investments and consumer consumption, the war in Ukraine is impacting on economic activity and aggravating already high inflation.
The report that 29 of the 33 SSA nations having information as of July 2022 had inflation rates exceeding 5 per cent, while 17 nations experienced double-digit inflation.
The bank said, "Global headwinds are slowing Africa's economic growth as countries continue to contend with rising inflation, hindering progress on poverty reduction. The risk of stagflation comes at a time when high-interest rates and debt are forcing African governments to make difficult choices as they try to protect people's jobs, purchasing power, and development gains."
Due to recent economic shocks, instability, and war, and extreme weather, hunger has drastically grown throughout SSA.
The World Bank spoke about the growing debt to GDP ratio, particularly in the high inflationary environment.
Geregu Power Listing Will Attract Other Electricity Firms to Stock Exchange—Mahmood
By Dipo Olowookere
The chairman of the Nigerian Exchange (NGX) Limited, Mr Abubakar Mahmood, has described the listing of the shares of Geregu Power Plc on the platform as a good development as it will attract other electricity firms to the stock market.
On Wednesday, October 5, 2022, Geregu Power listed its stocks on the bourse, increasing the market capitalisation of the exchange by N250 billion following the listing by introduction of 2.5 billion ordinary shares at N100 per unit.
Business Post gathered that the NGX placed Geregu Power under the Utilities sector and Electric Power Generation sub-sector, with the trading symbol GEREGU.
The Geregu Power listing today made the company the first power generation company (GenCo) in Nigeria to be listed on the NGX main board, a listing segment for well-established companies with demonstrable records of accomplishments.
"We are particularly pleased that Geregu Power has joined the prestigious group of companies listed on our main board, which will differentiate it as a professionally run power company with high standards, having met NGX's listing criteria.
"The main board listing is a sign of commitment to strong corporate governance, excellence, professionalism, service delivery efficiency, and increased returns to shareholders.
"We expect that the Geregu Power listing will encourage other power generation and distribution companies to list their shares on the exchange, thereby opening the sector up to cheaper, long-term capital that will boost infrastructural development and value creation," Mr Mahmood said in his speech to welcome the new company on board.
On his part, the Chief Executive Officer of NGX, Mr Temi Popoola, described the listing of Geregu Power as "a promising development in the country's power sector."
"We are delighted to welcome Geregu Power Plc to the exchange. Having Geregu listed in our market proves NGX's commitment to building a robust and inclusive market and creating avenues for sustainable investment.
"This listing will enhance liquidity for Geregu, increase its visibility among global investors, elevate its value and boost transparency, as our marketplace is a sterling platform for raising capital and enabling sustainable growth for national development.
"As a listing platform of choice, we are committed to working with companies at various stages of growth to explore the different opportunities in the capital market to meet their business objectives," Mr Popoola added.
The chairman of Geregu Power, Mr Femi Otedola, stated that, "The listing of the company was the actualisation of a vision to bring world-class standards in governance, sustainability, and business processes to the company and the Nigerian electricity sector."
He added that "listing on the exchange's main board will ensure that the long-term growth of the company is assured and its benefits will be passed on to our esteemed shareholders."
Latest News on Business Post