Nigerian Bourse Records Low Turnover as Appetite for Stocks Wanes
By Dipo Olowookere
Transactions at the Nigerian bourse last week were bearish as the appetite for stocks waned, with investors reacting to various happenings around them, causing some of them to take a second thought on investments in the asset class to try less risky investments like bonds, treasury bills and others.
In the four-day trading week due to the public holiday on Monday to celebrate June 12 Democracy Day, the Nigerian Exchange (NGX) depreciated by 2.68 per cent week-on-week as the All Share Index (ASI) finished at 51,778.08 points compared with the previous week's 53,201.38 points while the market capitalisation depreciated to N27.914 trillion from the preceding week's N28.681 trillion.
Similarly, all other indices finished lower with the exception of the growth index which appreciated at 2.79 per cent, while the Asem index closed flat.
The week was marred with low trading activities as traders only transacted 940.892 million shares worth N11.494 billion in 20,077 deals in contrast to the 1.831 billion shares worth N19.494 billion transacted in 21,723 deals a week earlier.
Like in the preceding weeks, financial stocks dominated the activity chart with the sale of 692.325 million units worth N6.220 billion in 10,615 deals, accounting for 73.58 per cent and 54.12 per cent of the total weekly trading volume and value respectively.
Conglomerates equities trailed with 89.872 million units worth N246.063 million in 764 deals, while consumer goods shares posted a turnover of 54.227 million units worth N1.232 billion in 2,923 deals.
UBA, Sterling Bank and Transcorp were the busiest stocks in the week, trading 304.837 million units valued at N1.285 billion in 2,103 deals, contributing 32.39 per cent and 11.18 per cent to the total trading volume and value respectively.
A look at the price movement index showed that only 13 equities were on the gainers' table compared with the previous week's 29 equities. The losers' gang had 51 stocks in the week under consideration as against the 36 stocks of the earlier week, while 92 shares remained unchanged, higher than the 91 shares of the preceding week.
Learn Africa posted a 15.74 per cent gain to sell for N2.50, Sunu Assurances appreciated by 9.37 per cent to 35 kobo, Tripple Gee rose by 9.20 per cent to 95 kobo, Ellah Lakes increased its value by 8.40 per cent to N4.00, while Livingtrust Mortgage Bank grew by 5.26 per cent to N1.20.
At the other end, Livestock Feeds lost 16.88 per cent to trade at N1.33, International Breweries depreciated by 14.97 per cent to N6.25, Cutix dropped 10.74 per cent to N2.41, Meyer fell by 10.00 per cent to N2.79, while Conoil also decreased by 10.00 per cent to N28.80.
Nigeria Needs 10 Years to Meet Yearly Sugar Production Target—Adedeji
By Adedapo Adesanya
Nigeria needs another 10 years to meet its yearly sugar production target of 1.7 million metric tonnes, capable of stemming the rising tide of sugar importation while creating jobs, generating electricity and producing ethanol for industrial purposes.
The Executive Secretary of the National Sugar Development Council (NSDC), Mr Zacch Adedeji, disclosed this yesterday while briefing journalists on the state of sugar production in Nigeria.
Mr Adedeji revealed that a total of 250,000 hectares would also be required for cane cultivation while 28 factories are expected to be established even as over 100,000 direct and indirect jobs are expected to be created within the 10 years time frame as encapsulated in the Nigeria Sugar Master plan (NSMP) phase 2.
Nigeria is the largest and fastest growing economy in Africa, and the African Development Bank (AfDB) projects that the average growth rate for the country's economy will increase by 3.2 per cent this year, but many factors have impacted the possibility of this leading to dwindling revenue.
The country has thus been exploring many options to raise revenue, especially through non-oil exports, which include sugar.
However, the shortage of foreign exchange, technology for production, required land mass, and skilled labour poses serious challenges to the success of the sugar sector.
Mr Adedeji noted, "With phase 1 of the master plan, which began in 2013 reaching its crescendo in the first quarter of 2023, the federal government, in a rare show of commitment to its economic diversification policy through the promotion of industrialization, has approved Phase 2 of the policy with actual implementation to begin in 2023 through 2033," he said.
He noted, "I am pleased to also announce to you today that we have two new investors who are set to come on board in a week or two from now, and we are going to sign a Memorandum of understanding (MOU) between the Nasarawa State government and one of the investors, as well as another between the Oyo State government and the second investor.
"All the necessary policies and technology guidelines have been concluded. These new investors would focus on the field and agricultural aspect of the NSMP, which is the engine room of the master plan."
He then explained that the good news is that, presently, four companies have signed on to the Backward Integration Programme (BIP) of the NSMP. These companies are Dangote Sugar Refinery, BUA Sugar Refinery, Golden Sugar Refinery, and Kia Africa Group.
Naira Appreciates on Dollar at P2P, Black Market, Drops at I&E
By Adedapo Adesanya
The Naira appreciated against the US Dollar at the black market and the Peer-to-Peer (P2P) arms of the foreign exchange (forex) market on Wednesday but recorded a marginal loss at the Investors and Exporters (I&E) window.
In the parallel market, the domestic currency gained N3 against the greenback to sell at N727/$1 compared with the previous day's value of N730/$1.
Also, in the P2P window, the local currency appreciated against the American Dollar by N9 to trade at N751/$1 compared with the previous day's rate of N760/$1.
Business Post reports that the Naira eased off the scare that arose from the move by the Central Bank of Nigeria (CBN) to limit cash withdrawals from next year.
However, in the I&E segment, the Naira depreciated by 3 Kobo or 0.01 per cent against the US currency to trade at N445.83/$1, in contrast to Tuesday's price of N445.80/$1, according to data obtained from FMDQ Securities Exchange.
This happened amid a 29.1 per cent or $52.51 million decline in the value of FX transactions at the stock exchange to $127.78 million from the preceding session's $180.29 million.
In the interbank window, the local currency appreciated against the Pound Sterling yesterday by N2.47 to sell for N544.68/£1 versus Tuesday's N547.15/£1 and against the Euro, the Naira gained N2.10 to close at N468.68/€1 compared with N470.78/€1.
Meanwhile, in the digital currency market, most of the tokens pointed south, with Litecoin (LTC) declining by 6.2 per cent to $75.07 and Solana (SOL) recording a 4.7 per cent slump to trade at $13.34.
Dogecoin (DOGE) went southwards by 4.5 per cent to sell at $0.0959, Cardano (ADA) lost 2.6 per cent to close at $0.3089, Ethereum (ETH) fell by 2.5 per cent to trade at $1,228.05, Binance Coin (BNB) slid by 1.8 per cent to $283.32, Bitcoin (BTC) fell by 1.1 per cent to $16,812.26, and Ripple (XRP) dipped by 0.1 per cent to $0.3874.
But the US Dollar Tether (USDT) and Binance USD (BUSD) closed flat at $1.00 each.
NASD OTC Market Closes Flat in Midweek Session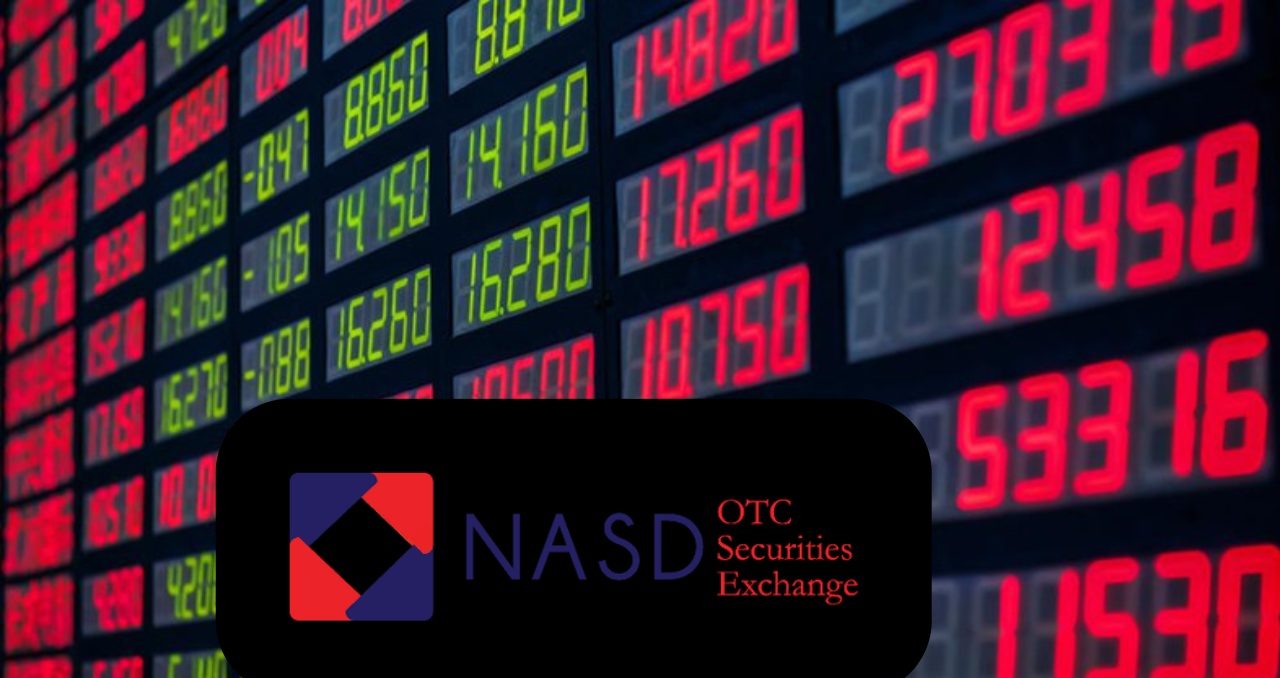 By Adedapo Adesanya
The NASD Over-the-Counter (OTC) Securities Exchange remained unchanged at the close of business on Wednesday, December 7, with the performance indicators closing flat.
Business Post reports that there was neither a price gainer nor a price loser at the midweek trading session, and this left the market capitalisation of the alternative bourse unchanged at N935.79 billion, as the NASD Unlisted Securities Index (NSI) also closed flat at 712.16 points.
However, the activity chart witnessed a downward movement during the session as the volume of transactions declined by 94.5 per cent due to the 56,370 units of securities traded by investors, in contrast to the 1.03 million units of securities transacted a day earlier.
Similarly, the value of shares exchanged by the market participants went down by 95.8 per cent yesterday as a result of the N1.3 million worth of stocks traded compared with the N31.0 million worth of stocks traded on Tuesday.
However, the number of deals carried out by traders increased by 30 per cent due to the 13 deals completed by investors as against the 10 deals executed in the preceding market day.
When trading activities ended for the day, AG Mortgage Bank Plc maintained its position as the most active stock by volume on a year-to-date basis with a turnover of 2.3 billion units valued at N1.2 billion, Central Securities Clearing System (CSCS) Plc stood in second place with the sale of 687.9 million units worth N14.3 billion, while Lighthouse Financial Services Plc was in third place with a turnover of 224.7 million units valued at N112.3 million.
Also, CSCS Plc retained its spot as the busiest stock by value on a year-to-date basis with the sale of 687.9 million units worth N14.3 billion, followed by VFD Group Plc with the sale of 29.1 million units valued at N7.7 billion, and FrieslandCampina WAMCO Nigeria Plc with a turnover of 17.6 million units worth N1.9 billion.
Latest News on Business Post