NNPC, Taleveras, AITEO, Ontario Oil Agree on $184m Crude Swap
By Dipo Olowookere
The Nigerian National Petroleum Corporation (NNPC) yesterday said it has reached a settlement agreement with Taleveras Group of Companies and two other companies involved in the $184 million crude oil swap.
The others are AITEO Energy Resource Limited, Ontario Oil.
NNPC commended Taleveras and other companies involved in the crude swap for reconciling their accounts and agreeing on a settlement plan to bring this long standing matter to a closure.
Taleveras has committed to an initial prompt settlement of $17 million payment and will further make further payments in $10million tranches.
Ontario is yet to submit its repayment plan, whilst AITEO has reconciled also leveraging on its global business position with NNPC.
The Group Managing Director of the Corporation, Dr Maikanti Baru, told journalists in Abuja that the settlement agreement was a product of ongoing extensive reconciliation process with the companies involved.
A statement on the outcome of the meeting by the Group General Manger, Public Affairs, Mr Ndu Ughamadu quoted Mr Baru as saying, "We have engaged them and positively too. So far, AITEO has been very cooperative and we had extensive reconciliation across all our chains of businesses where they are involved.
"In the case of Televaras, they have agreed to make tranche payment of $10 million while Ontario has also agreed to come to the table with our team and present their repayment schedule," Mr Baru said.
He also said Taleveras has already pledged to repay $17m and thanked the company for their cooperation so far.
The GMD said the ongoing recovery process is geared towards ensuring probity and accountability in the operations of the Corporation in line with current reforms in the industry.
Mr Baru emphasized the determination of the NNPC under his leadership to recover the outstanding stock of its missing petrol in Capital oil depot noting that MRS had complied.
Only last week, the NNPC announced aggressive measures to achieve full recovery of over 130 million litres of petrol stored in the facilities of two indigenous downstream operators, MRS Limited and Capital Oil & Gas Limited, under a throughput arrangement to ensure a robust strategic reserve.
Providing details of the infraction by the companies, Mr Henry Ikem Obih, NNPC Chief Operating Officer, Downstream explained that the violation was discovered earlier in the year when the Corporation had need to access the over 100 million litres of petrol stored at the Capital Oil & Gas depot for NNPC Retail and just over 30 million litres in MRS Limited depot all in Apapa area of Lagos.
He said though MRS had fully complied by returning the 30 million litres of petrol it expropriated, the Corporation was working assiduously to recover from Capital Oil & Gas the 82 million litres of petrol, valued at N11b, out of over 100 million litres.
Stock Market Rebounds by 0.29% as GTCO, Others Enjoy Patronage
By Dipo Olowookere
A 0.29 per cent growth was recorded by the Nigerian Exchange (NGX) Limited on Thursday on the back of renewed demand for stocks after the Central Bank of Nigeria (CBN) aggressively cut down the stop rate of treasury bills on Wednesday.
The disappointment resulted in investors looking for alternative investment instruments, and equities were the next point of call.
In the previous two trading sessions, the stock market was down, but it rebounded yesterday on the back of a fresh bargain-hunting, which consequently pushed the All-Share Index (ASI) higher by 153.31 points to 52,752.96 points from 52,599.65 points, and the market capitalisation increased by N83 billion to N28.733 trillion from N28.650 trillion.
According to data from the NGX, the banking and energy sectors appreciated by 1.58 per cent each, the insurance space rose by 1.01 per cent, and the consumer goods counter grew by 0.05 per cent, while the industrial goods index depreciated by 0.01 per cent.
During the session, investors traded 139.7 million shares worth N2.0 billion in 3,549 deals compared with the 119.8 million shares valued at N2.7 billion traded in 3,552 deals, indicating an increase in the trading volume by 16.61 per cent, a decline in the trading value by 25.93 per cent, and a drop in the number of deals by 0.08 per cent.
GTCO emerged as the most traded equity yesterday with the sale of 17.8 million units, followed by Access Holdings, which transacted 15.4 million units. Fidelity Bank exchanged 11.9 million shares, Mutual Benefits sold 6.9 million equities, and Dangote Sugar traded 6.7 million stocks.
The market breadth was positive on Thursday, with 25 price gainers and seven price losers, indicating a very strong investor sentiment.
Geregu Power gained 10.00 per cent to trade at N147.40, Coronation Insurance appreciated by 9.76 per cent to 45 Kobo, Chellarams improved by 9.70 per cent to N1.81, International Energy Insurance grew by 9.43 per cent to 58 Kobo, and Tripple Gee jumped by 9.09 per cent to 96 Kobo.
On the flip side, RT Briscoe lost 9.09 per cent to settle at 30 Kobo, Royal Exchange dropped 8.24 per cent to sell at 78 Kobo, Courteville depreciated by 7.84 per cent to 47 Kobo, Linkage Assurance fell by 4.00 per cent to 48 Kobo, and Transcorp shed 0.82 per cent to N1.21.
Crude Oil Prices Up on Positive US, Chinese Data
By Adedapo Adesanya
Crude oil prices rose more than 1 per cent on Thursday on expectations that global demand will strengthen following signals from the world's top two economies: the United States and China.
Brent futures increased by $1.35 or 1.6 per cent to settle at $87.47 a barrel, while the US West Texas Intermediate (WTI) crude improved by 86 cents or 1.1 per cent to settle at $81.01 per barrel.
The US economy grew faster than expected in the fourth quarter, but a measure of domestic demand rose at its slowest pace in 2½ years, reflecting higher borrowing costs.
The country's gross domestic product (GDP) increased at a 2.9 per cent annualized rate last quarter. The economy grew at a 3.2 per cent pace in the third quarter.
The Commerce Department's advance fourth-quarter report on Thursday showed half of the boost to growth came from a sharp rise in inventory held by businesses, some of which is likely unwanted.
Consumer spending maintained a solid pace of growth, supported by consumption early in the fourth quarter. Retail sales weakened sharply in November and December, and business spending on equipment contracted last quarter, the data showed.
China has been easing stringent COVID-19 restrictions this month, with the country reopening borders for the first time in three years.
Analysts noted that China's reopening is supporting demand prospects for oil.
Market participants are closely tracking the upcoming JMMC (Joint Ministerial Monitoring Committee) meeting of the Organisation of the Exporting Countries and its allies, OPEC+ and the European Union(EU) embargo on refined products.
The OPEC+ ministerial panel meeting on February 1 is likely to endorse the oil producer group's current output levels, OPEC+ sources reportedly said.
Prior to this, the US Energy Information Administration (EIA) reported an oil inventory build of 500,000 barrels for the week to January 20.
That was short of forecasts for a 1 million barrel rise, though the EIA says crude stocks are at their highest since June 2021.
The latest change in inventories compared with two sizeable weekly builds—one of 8.4 million barrels for the second week of January and a 19-million-barrel one for the first week of the month.
At 448.5 million barrels, crude oil inventories in the United States are 3 per cent above the five-year average for this time of year.
Jumia, Churches, POS Operators, Others Reject Old Naira Notes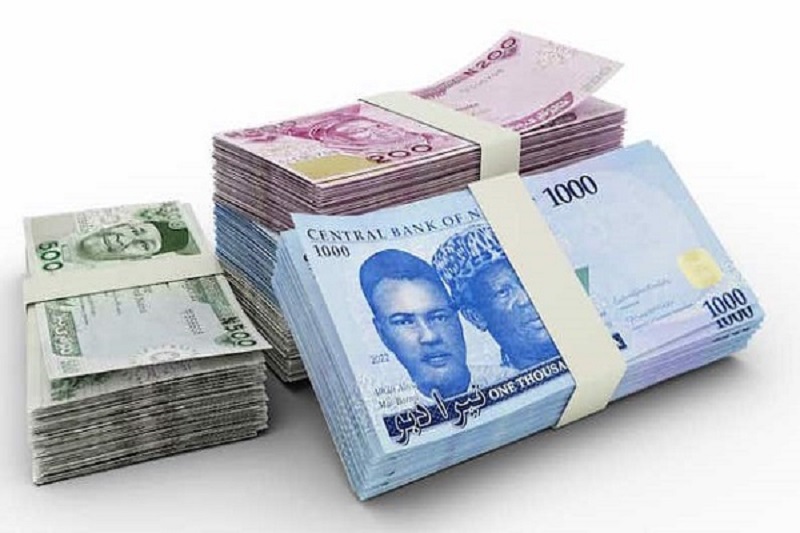 By Dipo Olowookere
One of the leading e-commerce companies in Nigeria, Jumia, has announced that from Monday, January 30, 2023, it will no longer accept the old Naira notes as a form of payment for goods purchased on the platform.
In a message to its customers on Thursday, the company said this action followed the decision of the Central Bank of Nigeria (CBN) to stop the use of the N200, N500, and N1,000 for financial transactions in Nigeria from February 1, 2023.
On October 26, 2022, the governor of the CBN, Mr Godwin Emefiele, announced that the three denominations would be redesigned. The new banknotes were introduced into circulation on December 15, and Nigerians were asked to return the old notes on or before January 31, 2023.
In order not to miss the deadline, and with the central bank insisting that it would not extend the deadline, Jumia has said its customers have till Sunday to pay for its goods and services with the old notes.
"From Monday, January 30, 2023, Jumia Delivery Associates will not be able to accept the old notes of N200, N500, and N1,000 sequel to the directive by the Central Bank of Nigeria (CBN).
"Should you wish to pay by cash, our delivery associates will only accept the new series of notes.
"Alternatively, you can find details on how to prepay on Jumia using JumiaPay or call us if there are any further questions.
"We will communicate further in case of any change from the federal government or central bank," the notice from the firm, which was seen by Business Post, stated.
Meanwhile, a few churches in Lagos have asked their members not to pay tithes and offerings with the old banknotes from Sunday, January 29, 2023, due to the CBN directive.
"In reference to CBN's directive and policy on old Naira notes, we hereby appeal to members not to come to church starting from this Sunday with old Naira notes (200, 500 & 1000).
"Please kindly make your payments (tithes, offerings, project donations and other payments) in new Naira notes.
"You can as well make an online transfer to the designated accounts (check the flier for details).
"Please share this message with members that are not on this platform," a message from one of the parishes of the Redeemed Christian Church of God (RCCG) said.
Also, checks by this reporter indicated that some POS operators have said they would no longer accept the old notes from their customers from Saturday, January 28, 2023.
"I will not accept cash deposits with the old notes from Saturday because I know the banks will be filled up next week with people who want to deposit their cash.
"This morning, I was at one of the banks to deposit the cash with me, but the crowd there scared me.
"The banks were still giving customers the old notes. I am just confused about the situation. We do not have the new notes. Almost all the ATM terminals in this area are not dispensing cash to customers," a POS operator in the Egbeda area of Lagos, Mrs Modupe Adediran, told Business Post.
Similarly, a trader at Computer Village, Ikeja, Lagos, Mr Ikenna Okechukwu, informed this reporter that he has stopped accepting the old banknotes from his customers.
However, some commercial bus drivers in Lagos said they will still accept the old banknotes next week.
"I don't have any issue with the money. I have a strong belief that the central bank will extend the deadline. The announcement will be made next week," a danfo driver in Ikeja, who identified himself as Mr Tajudeen, said.
Latest News on Business Post