Dufil Rewards Children for Heroism, Societal Contributions
By Adedapo Adesanya
Dufil Prima Foods Plc, makers of Indomie noodles, has rewarded some exemplary children as part of its Indomie Independence Day Awards (IIDA) initiative.
The IIDA is a corporate social responsibility (CSR) initiative of Dufil aimed at recognising and celebrating children below the age of 15, who have exhibited extraordinary acts of heroism in the face of danger or societal challenges.
The initiative has so far benefited 42 Nigerian children who have shown exemplary character and bravery.
For this year's edition, Joshua Agboola, Elijah Daniel Emenka and Favour Sunday won the Intellectual, Physical and Social Bravery categories of the award respectively and were honoured with appreciable scholarship prizes.
In his address, Chief Executive Officer of Dufil Prima Foods Plc, Mr Adhi Narto stated that IIDA "reflects the belief of the organization" in the extraordinary qualities of the Nigerian child that needed to be appreciated.
He said: "As a brand, we feel the need to celebrate our unsung heroes- Nigerian children, who are doing an extraordinary job, without being celebrated.
"This year, we received hundreds of entries and when we went through those entries, we were amazed to see the kinds of work Nigerian children are doing. They have displayed bravery that even 40-year-old persons would have to think twice before doing them. We salute those children."
Also present at the function, Executive Permanent Board Member, Lagos State Universal Basic Education Board, Mr Dayo Israel emphasized the role of quality and scientific-oriented education. He described IIDA as the biggest and most inspiring programme for children in Nigeria.
He said, "It is commendable for an organisation like Dufil Prima Foods to have stayed consistent with social responsibility programme in its way, thus making a substantial contribution to the growth and development of Nigerian children, without necessarily getting something in return."
Emenka, 11 from Akwa Ibom evoked emotions from the audience with his heroic exploits that saved his sister's life. He saw his sister gasping for breath from an asthmatic attack and ran to get her inhaler while breaking through the louvres. This poked his eye leaving him partially blind in his left eye. He won the physical bravery category of the award.
On her part, 14-year-old Sunday from Lagos won the social bravery category for being able to positively transform lives in her community by dedicating her time and passion to teaching children in her community, while 12-year-old Agboola from Lagos won the intellectual bravery category as a programmer, future skills activist, Youtuber and speaker on technology topics who started coding as early as six.
Agboola has built capacity in the use of HTML, CSS, Javascript, Jquery, Bootstrap, Java, Python, C++, C#, PHP, Laravel, Love 2D and unity.
Another award of the night was the honourary award for Mrs Olajumoke Matilda Otitoloju, better known as Iyaniwura, being an advocate of children with disabilities and community development.
Also honoured were frontline workers -Dr Iorhen Akase and Mrs Awolumate Rachel Olayinka both from the Infectious Diseases Unit of Lagos University Teaching Hospital as well as Nigerian rapper cum singer, Late Olanrewaju Fasasi (Sound Sultan).
ASUU Strike: Gbajabiamila Presents Recommendations to Buhari
By Modupe Gbadeyanka
As part of efforts to resolve the ongoing strike by the Academic Staff Union of Universities (ASUU), the Speaker of the House of Representatives, Mr Femi Gbajabiamila, has met with President Muhammadu Buhari to present to him the recommendations from the meeting he had with stakeholders in the past few days.
Mr Gbajabiamila held meetings with the leadership of ASUU and top officials of the federal government, including the Minister of Labour and Productivity, Mr Chris Ngige, who walked out of the gathering over comments by the ASUU president, Mr Emmanuel Osodeke, that Nigerians should not vote for those who kept their children at home for months.
Immediately after the plenary on Tuesday, the Speaker led a delegation of principal officers from the green chamber of the National Assembly to the Aso Rock Presidential Villa in Abuja.
Addressing newsmen after his meeting with Mr Buhari, the Speaker said, "After a series of engagements with ASUU and with people on the executive side, we've been able to come to some kind of decisions and recommendations to be made to Mr President for his approval."
"As you know, what is on the front burner today, even beyond the politics, is that our universities, our lecturers, and our children are out of school.
"The House of Representatives decided to step in at that point four weeks ago, and we've had a series of meetings that lasted hours and we've been able to get both sides to shift ground to an extent, and that's what we came to discuss with Mr President about those recommendations," he added.
Mr Gbajabiamila also said he was hopeful that the crisis might soon be resolved as the delegation had a robust engagement with the President.
"Mr President, as usual, had a very good listening ear, he took the report of the House, accepted it. We discussed the details of the report at length, and he wanted to go through them himself.
"We have another meeting on Thursday between our good selves and Mr President for his final decision. We had a good engagement, with a very positive response.
"He asked us a couple of questions, in some grey areas which we clarified, and he accepted the reports, and he wanted a couple of days to go through it.
"We are working. We are hopeful that this (strike) will soon be a thing of the past. I know once this is agreed upon, the strike will be called off," he said.
Education Sector and Nigeria's Revolving Underdevelopment Doors
By Jerome-Mario Chijioke Utomi
One recent occurrence that typifies the nation's education sector as an area in urgent need of help is the current shoddy state of Ologbo Primary and Secondary Schools, Ologbo, Obarentin community in Ikpoba-Okha Local Government Area of Edo State, formerly called Rubber Research Institute of Nigeria Primary and Secondary School, Ologbo.
In addition to signalling the gory tale of poor leadership, neglect and outright abandonment of responsibility by the Edo State government, the pictures and accompanying commentaries diverted attention from real threat deserving of healthy and appropriate fear, the federal government's protracted inability to resolve their impasse with the Academic Staff Union of Universities (ASUU). It is more than anything else the ugly awareness at the school sowed confusion that portrays the Edo state as a state where leadership has drained people's will and is now left with weakened rational character.
Expectedly also, many have risen in staunch defence of the Governor; saying that blame in the present circumstance may not be the smart thing to do; for when the verdict is passed on someone, it blocks the possibility of knowing who the person is and definitely creates biases, sentiments, prejudice, and also makes the mind become impervious and closed towards either seeing the good sides of the person or the bad sides of the person.
To others, the Governor should in the interim be excused because when it comes to making decisions or pursuing purposeful initiatives, leaders naturally fall victim to the trap of unexpected limitations such as inadequate funds among others.
To the rest, achieving sustainable development in a sector such as education is a systemic thing that takes time. Therefore, the Governor needs to be allowed more time to perform before subjecting his performance to critical scrutiny.
Whatever the true position may be, the truth is this piece's latest condemnation of Governor Obaseki's poor leadership habit is both natural, neutral and perceptual.
The reason is simple. Experience via observation has shown that in Nigeria, particularly in the Niger Delta region, leaders are never mentally prepared for the task of leadership. They seem to forget that the more preparation, planning and activation of the execution process they make, the better they perform in the task of leadership.
Supporting the above assertion is the awareness that when one spends time thinking about how we approach leadership in Nigeria and asks important questions about how leaders in Nigeria set their priorities, time and funds, it becomes easy to situate the fact that the hallmark of poor performance in Nigeria is not Obaseki specific.
Take, as an illustration, a while ago, in a particular intervention, this author highlighted pictures of a similar shoddy state and wicked neglect of Oyoko Primary School, Abavo, Ika South Local Government Area of Delta state.
Like the Ologbo Primary and secondary schools situation, the referenced piece underlined disturbing pictures which showed visibly distressed structures with fallen ceilings, windows and doors. The piece concluded by concluding that from the pictures and accompanying commentaries, it cannot be characterized as an overstatement to describe such a 'scene' as deplorable, dehumanizing, troubling, in bad light bracingly in contravention of the international best standards and most importantly, a reality that all well-meaning Deltans including our dear Governor should worry about.
Broadly speaking, there are so many reasons why this author is particularly interested in bringing to the fore these poor courses of action/ inaction chosen ahead of logic by the public authority to address the nation's education sector; their definition of the problem, the goals to be achieved, or the means chose to address the problems and to achieve the goals.
By analysing each of these elements, in turn, it becomes easy to understand the essential ingredients that made great nations what they are today, as well as answer questions as to why others, such as Nigeria, are unsuccessful.
To explain this point, it is believed that policies, plans and strategies are fundamental to the progress and development of countries, yet, right from independence, the problem with education in the country very much lies with underfunding, payment of lip service to, and inconsistency in policies driven by several panels set up by the government to recommend measures to enhance the quality of education in the country.  This problem is not so much with the recommendations of the various panels but their poor implementation by those entrusted to do so.
If not bad policy and poor implementation, how do we explain governments' inability to heed the United Nations Educational Scientific, and Cultural Organisation (UNESCO) budgetary recommendation on education? What other expression shall we say of a country's education where researches are not adequately funded and yet, the President allowed hundreds of millions to go into replacing his plates and cutlery yearly? And what shall we expect from an educational ministry headed by someone who is not an educationist? This may however not be the only explanation.
As to what should be done, we must recognize two realities.
First and very fundamental, that is like in a business where no organization can grow consistently faster than its ability to get enough of the right people to implement such growth. likewise, we must admit that with the education sector's present state, it will be difficult if not impossible to develop disruptive or constructive concepts that can shatter set patterns of thinking and provide solutions to the nagging challenges in the country until policymakers consider education as the bedrock of development; that with sound educational institutions, a country is as good as made -as the institutions will turn out all rounded manpower to continue with the development of a hyper-modern society driven by well thought out ideas, policies, programmes and projects. But such a tendency is clearly different here.
Secondly, policymakers must admit the fact that our children enjoy the right to education as recognized by a number of international conventions, including the International Covenant on Economic, Social and Cultural Rights which recognizes a compulsory primary education for all, an obligation to develop secondary education accessible to all, as well as the progressive introduction of free higher education/obligation to develop equitable access to higher education.
The nation must stop playing 'casino' with funding of the sector, and in its place, come to the realization that it is our collective responsibility to ensure that our schools work and our children are properly educated at the right time and place.
As to closing the nation's revolving underdevelopment door, there is an urgent need to rework the university system to meet the manpower demand by the industrial sector as a strategic consequence of this failure has made Nigerian universities and other tertiary institutions in the country continue to turn out, every year several thousands of graduates that the industry does not need. This is made worse by the fact that there is a nation where uncalculated importance is attached to the possession of university degrees as against the possession of skills necessary for self-reliance and national development.
Utomi Jerome-Mario is the Programme Coordinator (Media and Public Policy), Social and Economic Justice Advocacy (SEJA), a Lagos-based Non-Governmental Organization (NGO). He can be reached via Jeromeutomi@yahoo.com/08032725374
Ericsson Backs Smart Africa Digital Academy for Digital Transformation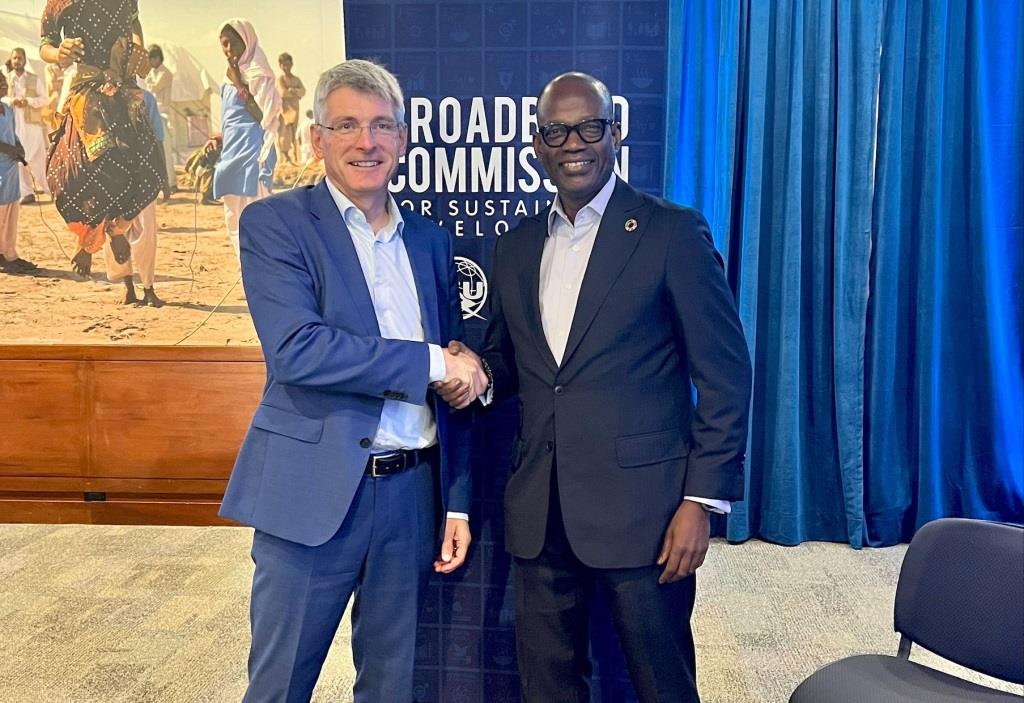 Ericsson has partnered with the Smart Africa Secretariat to promote digital transformation across Africa. The tech firm will use the Smart Africa Digital Academy (SADA) to achieve this goal.
The collaboration aims to enhance the digital skills of an initial target group of senior officials from ministries and regulatory authorities in charge of Information and Communications Technology (ICT) by availing the Ericsson Educate program. The program is expected to later extend to the youth, students, and professionals, particularly educators.
With SADA being an initiative of the Smart Africa Alliance, an alliance spanning 32 African countries that aim to accelerate sustainable socio-economic development in Africa, the collaboration will have a far-reaching impact across the continent.
It will equip the public administrations of each member state with the latest information to enhance their knowledge and competencies around emerging digital technologies, which will support them in establishing impactful digital skill development roadmaps and strategies.
The Ericsson Educate program has been curated and customized to support SADA's target audience's ongoing digital skills development.
With rich content on 21st-century technologies such as 5G networks, Internet of Things (IoT), Automation, Artificial Intelligence (AI), and Machine Learning (ML), the Ericsson Educate program will provide in addition to the digital skills portal developed by Ericsson, various series of live online workshops led by technology experts from Ericsson.
The Ericsson Educate program aims to empower the continent's policymakers to develop harmonized digital transformation frameworks that will ensure a prosperous future for Africa in the digital age.
Lacina Koné, the Director General and Chief Executive Officer of Smart Africa, commented: "We are committed to bridging digital skill gaps across Africa to ensure the inclusive digital development of the continent.
"We are confident that the Ericsson Educate program will support us in accelerating our mission and nurturing an ecosystem of ICT specialized training that will increase digital proficiency across our member states.
"Through the program, we look forward to empowering policy and decision-makers with adequate knowledge of the latest digital technologies to make informed decisions that propel the continent in the digital era."
Erik Ekudden, Senior Vice President, Chief Technology Officer, and Head of Strategy at Ericsson, says, "We strongly believe that mobile technologies have the potential to level the global playing field and contribute to the long-term and sustainable economic development of Africa.
"Collaborating with SADA to enhance the digital competencies of policy and decision-makers in each member state, we aspire to empower the development of a well-planned ICT policy and regulatory environment that increases Africa's competitiveness in the global economy."
Ericsson has been a private sector member of the Smart Africa Alliance since 2016, actively contributing to key projects aimed at the digital development of the continent. Through this latest collaboration with SADA, Ericsson reaffirms its commitment to Africa's digital inclusion and adoption to drive digital transformation and education across the continent.
Latest News on Business Post