KWASU Begins Aeronautical Engineering Programme
By Modupe Gbadeyanka
Kwara State University (KWASU) in Malete has received the nod of the National Universities Commission (NUC) to offer a degree programme in Aeronautical and Astronautical Engineering.
This makes KWASU the first Nigerian university to do such course.
According to a statement issued on Monday, Vice Chancellor of the institution, Prof Abdulrasheed Na'allah, said the institution has formally submitted an invitation to NUC for accreditation, and assured that the university is fully ready for the exercise.
Mr Na'allah congratulated and commended all the students and staff of the school's College of Engineering and Technology, particularly the Department of Aeronautical and Astronautical Engineering for "their hard work and patience.
KWASU's College of Engineering and Technology currently offers courses in Mechanical Engineering, Civil Engineering, Electrical and Computer Engineering, Food, Agric & Biological Engineering and Materials Science and Engineering.
Recall that the administration of Governor Abdulfatah Ahmed has completed the construction of an N800million Engineering complex for the university, which is part of the State government's efforts to promote engineering education.
With the International Aviation College (IAC) already situated in Ilorin, Kwara State is fast becoming the aviation hub in the country.
Education Sector and Nigeria's Revolving Underdevelopment Doors
By Jerome-Mario Chijioke Utomi
One recent occurrence that typifies the nation's education sector as an area in urgent need of help is the current shoddy state of Ologbo Primary and Secondary Schools, Ologbo, Obarentin community in Ikpoba-Okha Local Government Area of Edo State, formerly called Rubber Research Institute of Nigeria Primary and Secondary School, Ologbo.
In addition to signalling the gory tale of poor leadership, neglect and outright abandonment of responsibility by the Edo State government, the pictures and accompanying commentaries diverted attention from real threat deserving of healthy and appropriate fear, the federal government's protracted inability to resolve their impasse with the Academic Staff Union of Universities (ASUU). It is more than anything else the ugly awareness at the school sowed confusion that portrays the Edo state as a state where leadership has drained people's will and is now left with weakened rational character.
Expectedly also, many have risen in staunch defence of the Governor; saying that blame in the present circumstance may not be the smart thing to do; for when the verdict is passed on someone, it blocks the possibility of knowing who the person is and definitely creates biases, sentiments, prejudice, and also makes the mind become impervious and closed towards either seeing the good sides of the person or the bad sides of the person.
To others, the Governor should in the interim be excused because when it comes to making decisions or pursuing purposeful initiatives, leaders naturally fall victim to the trap of unexpected limitations such as inadequate funds among others.
To the rest, achieving sustainable development in a sector such as education is a systemic thing that takes time. Therefore, the Governor needs to be allowed more time to perform before subjecting his performance to critical scrutiny.
Whatever the true position may be, the truth is this piece's latest condemnation of Governor Obaseki's poor leadership habit is both natural, neutral and perceptual.
The reason is simple. Experience via observation has shown that in Nigeria, particularly in the Niger Delta region, leaders are never mentally prepared for the task of leadership. They seem to forget that the more preparation, planning and activation of the execution process they make, the better they perform in the task of leadership.
Supporting the above assertion is the awareness that when one spends time thinking about how we approach leadership in Nigeria and asks important questions about how leaders in Nigeria set their priorities, time and funds, it becomes easy to situate the fact that the hallmark of poor performance in Nigeria is not Obaseki specific.
Take, as an illustration, a while ago, in a particular intervention, this author highlighted pictures of a similar shoddy state and wicked neglect of Oyoko Primary School, Abavo, Ika South Local Government Area of Delta state.
Like the Ologbo Primary and secondary schools situation, the referenced piece underlined disturbing pictures which showed visibly distressed structures with fallen ceilings, windows and doors. The piece concluded by concluding that from the pictures and accompanying commentaries, it cannot be characterized as an overstatement to describe such a 'scene' as deplorable, dehumanizing, troubling, in bad light bracingly in contravention of the international best standards and most importantly, a reality that all well-meaning Deltans including our dear Governor should worry about.
Broadly speaking, there are so many reasons why this author is particularly interested in bringing to the fore these poor courses of action/ inaction chosen ahead of logic by the public authority to address the nation's education sector; their definition of the problem, the goals to be achieved, or the means chose to address the problems and to achieve the goals.
By analysing each of these elements, in turn, it becomes easy to understand the essential ingredients that made great nations what they are today, as well as answer questions as to why others, such as Nigeria, are unsuccessful.
To explain this point, it is believed that policies, plans and strategies are fundamental to the progress and development of countries, yet, right from independence, the problem with education in the country very much lies with underfunding, payment of lip service to, and inconsistency in policies driven by several panels set up by the government to recommend measures to enhance the quality of education in the country.  This problem is not so much with the recommendations of the various panels but their poor implementation by those entrusted to do so.
If not bad policy and poor implementation, how do we explain governments' inability to heed the United Nations Educational Scientific, and Cultural Organisation (UNESCO) budgetary recommendation on education? What other expression shall we say of a country's education where researches are not adequately funded and yet, the President allowed hundreds of millions to go into replacing his plates and cutlery yearly? And what shall we expect from an educational ministry headed by someone who is not an educationist? This may however not be the only explanation.
As to what should be done, we must recognize two realities.
First and very fundamental, that is like in a business where no organization can grow consistently faster than its ability to get enough of the right people to implement such growth. likewise, we must admit that with the education sector's present state, it will be difficult if not impossible to develop disruptive or constructive concepts that can shatter set patterns of thinking and provide solutions to the nagging challenges in the country until policymakers consider education as the bedrock of development; that with sound educational institutions, a country is as good as made -as the institutions will turn out all rounded manpower to continue with the development of a hyper-modern society driven by well thought out ideas, policies, programmes and projects. But such a tendency is clearly different here.
Secondly, policymakers must admit the fact that our children enjoy the right to education as recognized by a number of international conventions, including the International Covenant on Economic, Social and Cultural Rights which recognizes a compulsory primary education for all, an obligation to develop secondary education accessible to all, as well as the progressive introduction of free higher education/obligation to develop equitable access to higher education.
The nation must stop playing 'casino' with funding of the sector, and in its place, come to the realization that it is our collective responsibility to ensure that our schools work and our children are properly educated at the right time and place.
As to closing the nation's revolving underdevelopment door, there is an urgent need to rework the university system to meet the manpower demand by the industrial sector as a strategic consequence of this failure has made Nigerian universities and other tertiary institutions in the country continue to turn out, every year several thousands of graduates that the industry does not need. This is made worse by the fact that there is a nation where uncalculated importance is attached to the possession of university degrees as against the possession of skills necessary for self-reliance and national development.
Utomi Jerome-Mario is the Programme Coordinator (Media and Public Policy), Social and Economic Justice Advocacy (SEJA), a Lagos-based Non-Governmental Organization (NGO). He can be reached via Jeromeutomi@yahoo.com/08032725374
Ericsson Backs Smart Africa Digital Academy for Digital Transformation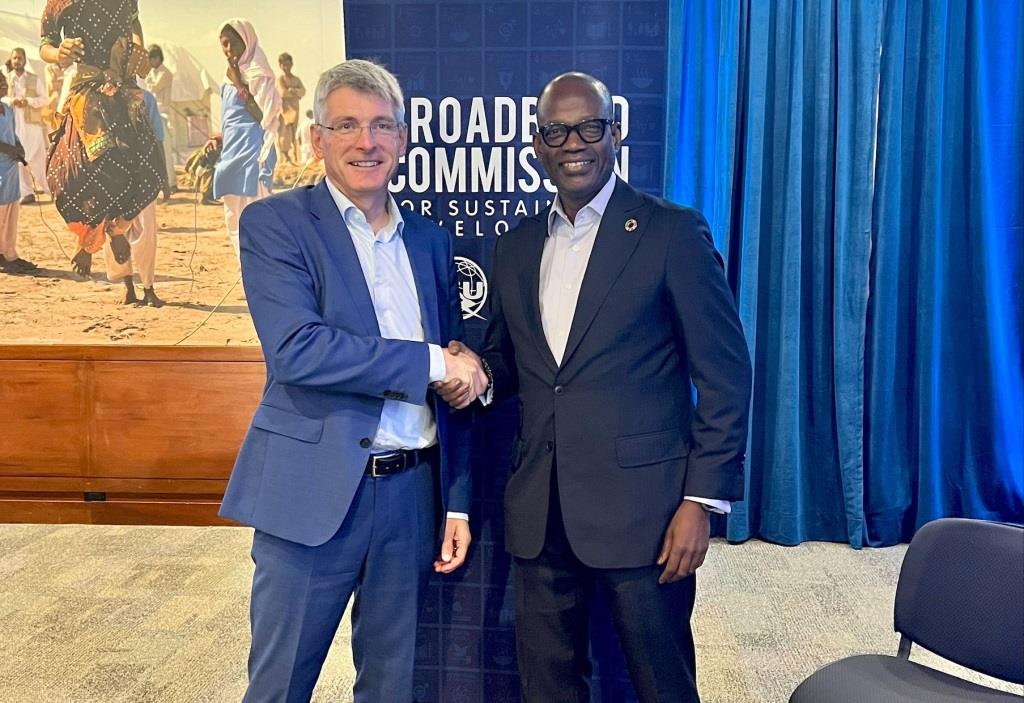 Ericsson has partnered with the Smart Africa Secretariat to promote digital transformation across Africa. The tech firm will use the Smart Africa Digital Academy (SADA) to achieve this goal.
The collaboration aims to enhance the digital skills of an initial target group of senior officials from ministries and regulatory authorities in charge of Information and Communications Technology (ICT) by availing the Ericsson Educate program. The program is expected to later extend to the youth, students, and professionals, particularly educators.
With SADA being an initiative of the Smart Africa Alliance, an alliance spanning 32 African countries that aim to accelerate sustainable socio-economic development in Africa, the collaboration will have a far-reaching impact across the continent.
It will equip the public administrations of each member state with the latest information to enhance their knowledge and competencies around emerging digital technologies, which will support them in establishing impactful digital skill development roadmaps and strategies.
The Ericsson Educate program has been curated and customized to support SADA's target audience's ongoing digital skills development.
With rich content on 21st-century technologies such as 5G networks, Internet of Things (IoT), Automation, Artificial Intelligence (AI), and Machine Learning (ML), the Ericsson Educate program will provide in addition to the digital skills portal developed by Ericsson, various series of live online workshops led by technology experts from Ericsson.
The Ericsson Educate program aims to empower the continent's policymakers to develop harmonized digital transformation frameworks that will ensure a prosperous future for Africa in the digital age.
Lacina Koné, the Director General and Chief Executive Officer of Smart Africa, commented: "We are committed to bridging digital skill gaps across Africa to ensure the inclusive digital development of the continent.
"We are confident that the Ericsson Educate program will support us in accelerating our mission and nurturing an ecosystem of ICT specialized training that will increase digital proficiency across our member states.
"Through the program, we look forward to empowering policy and decision-makers with adequate knowledge of the latest digital technologies to make informed decisions that propel the continent in the digital era."
Erik Ekudden, Senior Vice President, Chief Technology Officer, and Head of Strategy at Ericsson, says, "We strongly believe that mobile technologies have the potential to level the global playing field and contribute to the long-term and sustainable economic development of Africa.
"Collaborating with SADA to enhance the digital competencies of policy and decision-makers in each member state, we aspire to empower the development of a well-planned ICT policy and regulatory environment that increases Africa's competitiveness in the global economy."
Ericsson has been a private sector member of the Smart Africa Alliance since 2016, actively contributing to key projects aimed at the digital development of the continent. Through this latest collaboration with SADA, Ericsson reaffirms its commitment to Africa's digital inclusion and adoption to drive digital transformation and education across the continent.
Project Shelter Wakadogo Makes World's Best School Prize Final 3
An outstanding Ugandan school has been named a Top 3 finalist for the new $250,000 World's Best School Prizes, launched this year by T4 Education in collaboration with Templeton World Charity Foundation, Accenture and American Express.
Project Shelter Wakadogo in Gulu, Uganda, which was founded in the wake of war and now educates over 450 children with one of the highest student retention rates in the country, is a Top 3 finalist for the World's Best School Prize for Overcoming Adversity.
The five World's Best School Prizes – for Community Collaboration, Environmental Action, Innovation, Overcoming Adversity, and Supporting Healthy Lives – celebrate schools everywhere for the pivotal role they play in developing the next generation of learners and for their enormous contribution to society's progress especially in the wake of COVID.
The Prizes were founded by T4 Education in collaboration with Templeton World Charity Foundation, Accenture, American Express, Yayasan Hasanah, the Lemann Foundation, D2L, Mellby Gård, and Universidad Camilo José Cela, to share the best practices of schools that are transforming the lives of their students and making a real difference to their communities.
Vikas Pota, Founder of T4 Education and the World's Best School Prizes, said, "As the world looks to rebuild from the devastation of the COVID pandemic, far too many children will continue to be left behind unless we see urgent action on education. Leaders must learn from the knowledge and experience contained within our schools because those on the frontlines of education know better than anyone else the change we need to see.
"The World's Best School Prizes surface the expertise of inspirational schools from every corner of the globe. It's time for governments everywhere to listen to their voices.
"Congratulations to Project Shelter Wakadogo for being named a Top 3 finalist for the first-ever World's Best School Prizes. Teachers everywhere will be inspired by the example of this outstanding Ugandan school."
About the school:
Project Shelter Wakadogo in Gulu, Uganda, has flourished from a school with only two classrooms founded in the wake of war to now educating over 450 children with one of the highest student retention rates in the country.
In the aftermath of two decades of civil war and the violence committed by the Lord's Resistance Army, which displaced over a million people in Northern Uganda, families in the village of Pece Acoyo in Gulu were slowly returning to their homes. Amongst the wreckage left by the war, calls for a safe, quality school began to grow. Through a large community effort Project Shelter Wakadogo was born – land was procured, roads leading to the school were levelled and vegetables were planted to be used for school meals. In 2009, the school opened. The name Wakadogo reflects the school's mission to extend a duty of care to those who walked through its doors, meaning 'for the little ones' in Swahili.
Its commitment to provide free school meals, healthcare and a quality education for the surrounding community, has seen the school become a second home for many.
When Uganda imposed a long lockdown during the pandemic, Project Shelter Wakadogo quickly determined that online schooling wouldn't be possible for its students. In Uganda, only 2% of the population has access to personal computers and less than 9% of the rural population has access to the internet. Instead, Project Shelter Wakadogo pivoted to conducting 36,000 home-schooling lessons during the pandemic. This dedication to continue to provide education to its students was crucial as the school closures across Uganda saw children forced into the labour market, a rise in teenage pregnancy and gender-based violence.
If Project Shelter Wakadogo were to win the $50,000 World's Best School Prize for Overcoming Adversity, it will use the funds to set up a Computer Lab with 50 laptops and 50 tablets and solar technology to teach information technology and facilitate hybrid and remedial learning, in case schools should ever close again. Families and members of the community will be invited to access the Computer Lab after school, on weekends and during school holidays. Wakadogo will create a course timetable for community members to sign up to.  The school will also invite neighbouring schools to use Wakadogo's Computer Lab during school holidays and weekends.  A new ICT Teacher will be hired to provide training and support. Wakadogo expects to reach 3,000 students, teachers, parents and community members through this initiative.
Next steps:
The Top 3 finalists for each of the five World's Best School Prizes will now be entered into a Public Advisory Vote. Members of the public have until October 2 to tell judges who they think should win each prize at worldsbestschool.org/.
The Judging Academy, comprising distinguished leaders all across the globe including academics, educators, NGOs, social entrepreneurs, government, civil society, and the private sector, will be presented with the results of the public advisory vote and will assess the finalists  based on rigorous criteria.
The winners will be announced on October 19 2022 at World Education Week. A prize of US$250,000 will be shared equally among the winners of the five Prizes, with each receiving an award of US$50,000.
All shortlisted schools across the five Prizes will share their best practices during events at World Education Week and through School Transformation Toolkits that showcase their "secret sauce" to innovative approaches and step-by-step instructions on how others can replicate their methods to help improve education everywhere.
Latest News on Business Post