Dambazau and the Turbaning Ceremony
By Edwin Uhara
On May 11, 2018, the ancient city of Kano will witness an influx of people as the crème de la crème in Nigeria would be converging the city for the turbaning ceremony of one of its illustrious sons, retired Lieutenant General Abdulrahman Bello Dambazau (CFR) who has been conferred with the traditional title of 'Baraden Kano' by the Emir of Kano, His Royal Highness, Alhaji Muhammadu Sanusi II (CON).
The event, which will take place at the Emir's palace in Kano, is very spectacular because the former Chief of Army Staff and current Minister of Interior will be the first to be honoured as 'Baraden Kano' in recent times by the Emirate since the title was adopted from the Sokoto Sultanate.
According to tradition, the prestigious title is given to valiant soldiers who exhibited high level of bravery during wars, but since there are no more wars in Hausaland or any part of the country, a subject of the emirate or member of the royal family who excels in his chosen career is honoured with the traditional title.
General Dambazau's role in extinguishing the fireworks of terrorism as former Chief of Army Staff as well as spearheading efforts to winning the peace after the war against terror in Northeast Nigeria as Minister of Interior is one of the many reasons he is being considered for the great honour.
Besides the fact that General Dambazau is the first former Chief of Army Staff to be honoured with the title, his patriotic and heroic role in safeguarding and preserving our democracy when the entire nation was embroiled in deep constitutional crisis is another strong factor even though some book makers have ignored it.
Born on March 14, 1954, General AB Dambazau began his military career at the Nigerian Defence Academy (NDA) after successfully completing his secondary education at the famous Barewa College, Zaria in 1974. At NDA, he was member of the 17 Regular Combatant Course and was later commissioned as second Lieutenant in the Infantry Corps of the Nigerian Army in June 1977.
In 1979, General Dambazau attended the United States Army Military Police School in Fort McClellan, Alabama. Haven noticed that versatility is the key to overcoming the challenges posed by the realities of the 21th Century, in 1980, General Dambazau went to Kent State University in Ohio United States where he graduated with Bachelor of Science Degree (Bsc) in Criminal Justice. After completing his Master of Arts (MA) in International Relations as well as Master of Education (MEd) in Higher Educational Administration, between 1986 and 1989, General Dambazau was at the University of Keele in the United Kingdom to acquire his Doctor of Philosophy Degree (PhD) in Criminology from the renowned Institute.
Having served as Aide De Camp (ADC) to a former Chief of Army Staff in 1979 and  also commanded the Military Police Units as well as serving as Special Investigator at the Special Investigation Bureau of NACMP from 1984 to 1985, General Dambazau was appointed as Registrar (Academic Branch) of the Nigerian Defence Academy (NDA) from 1993 to 1999. Thereafter, he served as Chief Instructor, Support Weapon Wing of the Infant Centre and School from 1999 to 2001.
Later, he served as Directing Staff and Director, Higher Military Organization and Operations at the National War College now known as the National Defence College from 2004 to 2006. Thereafter, he was a Principal Staff Officer at Army Headquarters as the Chief of Army Standards and Evaluation before he was appointed the General Officer Commanding 2nd Division Ibadan from 2007 to 2008.
Having distinguished himself in various tasks handed down to him by the Federal Government, in August 2008, General Dambazau was appointed as the Chief of Army Staff; a position he held until his retirement in September 2010.
Also worthy of note is the fact that Dr AB Dambazau was once a part-time Lecturer (Gratis) at the Ahmadu Bello University (ABU) Zaria; where he taught his students Criminology at the Faculty of Law. Outside the military, Dr. Dambazau is also an erudite scholar and author of five widely read books as well as several academic articles in notable journals.
General Dambazau is also a member of several international and professional organizations such as the World Society of Criminology, World Society of Victimology, Academy of Criminal Justice Sciences, American Society of Criminology, British Society of Criminology, International Police Executive Symposium and Fellow, Institute of Public Relations.
Before his current national assignment, General Dambazau was the Board of Trustees Chairman and founder, Foundation for Victims of Child Abuse (VCAF) which is dedicated to the victims of child abuse in Nigeria.
In recognition of his several services to the nation at various levels, the Federal Government of Nigeria honoured him with a national honour of the Commander of the Order of the Federal Republic (CFR) and the National Productivity Order of Merit Award.
General Dambazau is also the Ochiagha 1 of Egbelu Umuekwune in Ngor Okpala Local Government Area of Imo State; a chieftaincy title earlier given to him in recognition of his excellent services to the nation.
Nevertheless, before his appointment as Minister of Interior, Dr. AB Dambazau was Senior Fellow of the Centre for Peace, Democracy and Development, University of Massachusetts, Boston. He was also a Fellow and Associate of the Weather head Centre for International Affairs, Harvard University, all in the United States of America.
As a Visiting Professor, General Dambazau had delivered several lectures including the famous one he delivered at the Department of International Affairs and Strategic Studies, Igbinedion University. He was Board Chairman of different organisations, notably Board Chairman, University Advancement Centre, University of Ibadan before his appointment as Interior Minister by President Muhammadu Buhari in 2015.
Let it be understood also that General Dambazau is one of the unsung heroes of our democracy because if he had not fully supported the circumstances that led to the adoption of what is now known as the 'Doctrine of Necessity' in 2010 even when there was no provision for that clause in our constitution at that material time, additional history pages or chapters would have been created or added to our democratic struggles.
But as  then Chief of Army Staff with high integrity, discipline and great respect for democracy and it's institutions, General Dambazau allowed 'Doctrine of Necessity' to come in to force before subsequent constitutional amendments incorporated the clause in to relevant sections of the constitution.
Finally, I want to end with a quote from Calvin Coolidge who said: "No person was ever honoured for what he received. Honour has been the reward of what we gave." Therefore, as the world converge in the ancient city of Kano to honour a man who has given all he has for the good and development of the nation, there is no better way to felicitate with him than saying 'Thank you and God bless you.'
Comrade Edwin Uhara writes from Abuja.
VP Slot: SMBLF, Okowa's Decision and Our Nation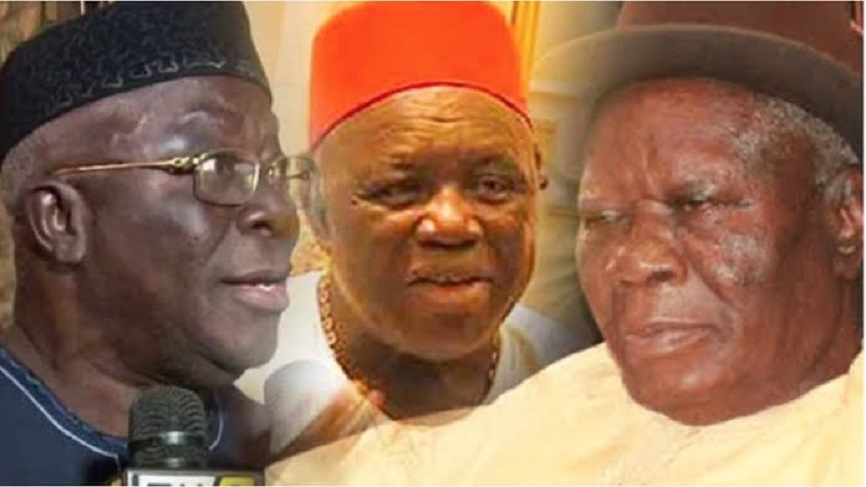 By Jerome-Mario Chijioke Utomi
One of the major booby traps placed on Nigeria's political route to a hyper-modern nation that will require masterly innovative/creative strategies to waltz through is the fact that each time electioneering season approaches in the country, the issue of where the presidential candidate and his running mate come from takes the centre stage instead of the capacity of the candidates to perform. More often than not, it is usually between the North and the South.
Take, for instance, on Tuesday, July 16, 2013, Ango Abdullahi, a professor and secretary of the Northern Elders Forum (NEF), addressed a press conference where he, among other things, stated that it was time for the North to take back the presidency.
He said: "I want to make it absolutely clear to you that the Arewa Consultative Forum (ACF) and all these other groups that have emerged in the recent past are committed to the interest that underlines Northern interest."
Before the dust raised by such comments about 9 years ago could settle, another that qualifies more as something new and different recently came up. This time around, it was generated by the Southern and Middle Belt Leaders' Forum (SMBLF) via a statement jointly signed by Edwin Kiagbodo Clark, leader of SMBLF/PANDEF; Ayo Adebanjo, leader of Afenifere; Pogu Bitrus, President-General of Middle Belt Forum; and Prof George Obiozor, President-General of Ohaneze Ndigbo Worldwide.
The group in that statement berated the Governor of Delta State, Ifeanyi Okowa, for accepting his nomination as the vice-presidential candidate to Atiku Abubakar, presidential candidate of the Peoples Democratic Party (PDP) in the forthcoming 2023 general elections.
The statement said in part, "It is unspeakable and quite disappointing that Governor Ifeanyi Okowa, who is currently Chairman of the South-South Governors' Forum, and a native of Owa-Alero in Ika North-East Local Government Area (one of the Igbo-speaking areas) of Delta State, would exhibit such barefaced unreliability. It bears recalling that the 17 Governors of the Southern States of Nigeria, both of the PDP and the All Progressives Congress (APC), under the chairmanship of the Governor of Ondo State, Rotimi Akeredolu, met in Asaba, the capital of Delta State on May 11, 2021, and took far-reaching decisions, including that, based on the principles of fairness, equity and justice, the presidency should rotate to the south at the end of the statutory eight years of President Muhammadu Buhari's tenure. And this very Governor Okowa was the host of that historic meeting."
Taken peripherally, no sane Nigerian will listen to this concern expressed by these fine groups/elders, without throwing his/her weight behind them particularly, as their analysis in the present circumstance appears as an objective concern.
However, there are also, in the opinion of this piece, reasons for concern this time around that what we are experiencing may no longer be the first half of a recurring circle but rather, the beginning of something new and dangerous. For one thing, if this ideology which openly qualifies as a war against our nation-building quest is not arrested, I predict that it will last for the rest of our lives.
To support the above assertion, this piece will highlight the errors as well as spread out the particulars that render an assault on reason, the latest declaration by SMBLF.
First, as rightly observed by the group, the meeting and decisions reached in Asaba by the Southern governors were applauded by all, given its significant representation and the gravity of the outcome. That fact notwithstanding, one point the association failed to remember is that we live in a country where the supremacy of political parties is in full operation.
Viewed from this prism, an important distinction to make is that decisions by political parties on issues such as this (zoning/power shift) stand superior to that of the umbrella association called the Southern Governors Forum.
Political parties as we know are not just another platform that can be controlled at will. Rather, it is a platform for pursuing policy objectives and decentralized creation and distribution of ideas. Just the same way the government is a decentralized body for the promotion and protection of the people's life chances, even so, is political parties a platform, for the formulation of policies that every member/politician must not vilify but partner with- PDP not an exception.
From the above flows another vital point that Nigerians, of course, SMBLF, need to understand and appreciate. It was the party (PDP) and not Governor Okowa or any other Governor that jettisoned the power rotation arrangement.
Following the party's decision, a presidential primary was a while ago conducted in Abuja, where Atiku Abubakar emerged as the party's presidential standard-bearer and as part of the nation's political requirements and in the spirit of justice, equity and fairness must pick a candidate of southern extraction as his running mate.
Going by the above, it can no longer hold water the argument that Okowa betrayed the trust reposed on him by his colleagues; the southern governors, the entire good people of southern Nigeria and all well-meaning Nigerians, and has made himself persona non grata, not only, with SMBLF but all citizens who treasure our oneness and hopes of a more united and peaceful Nigeria.
This piece also views as draconian the group's declaration that they cautioned political stakeholders from the South, including serving and former governors, ministers, senators, etcetera, not to, on any account, allow themselves to be appointed or nominated as running mate to any presidential candidate, if the presidency is not zoned to the south and that we will work against such person or persons.
If the above directive was allowed to fly, it will further elicit the following questions; what becomes the fate of citizens' freedom of expression and expression enshrined in the nation's 1999 constitution as amended? How come it took these elders this long a time to come up with this asymmetrical position even when it was obvious that the party's standard-bearer indicated his intention to pick a southern over a week ago? Why didn't they raise an objection at a time when the names of three southern governors were pencilled down for the position? Could they have been ignorant of such developments? Why is it that such a vanguard/threat is coming at a time when Governor Okowa was finally picked as the preferred candidate?
Why is the group coming up with such an argument laced in sentiment and coming at a time when the country has never been as divided as we are today or witnessed such magnitude of mistrust of ourselves and of our nation? Why must we promote such a position in a season when no nation-best typifies a country in dire need of peace and social cohesion among her various socio-political groups than Nigeria as myriads of socio-political contradictions have conspired directly and indirectly to give the unenviable tag of a country in constant search of social harmony, justice, equity, equality, and peace?  Why must we continue to think along these deformed political, ethnic and religious divides against considerations such as merit and leadership competencies?
Must we continue to live in a disunited Nigeria as well as fail the future generation by leaving them a nation more diminished when compared with what we inherited from our forbearers? As Okowa rightly argued, could we have expected that Atiku would be the candidate from the North and also have a vice-presidential candidate from the North? Will that not have led to further division?
While answers to the above are being expected, this is what this piece proposes; ethnicity, religion and all the other primordial sentiments which our elders have whipped up in the past to sway the choices of the people during election times must be hurriedly discarded as we prepare for the 2023 general election so that credible and competent leaders may rule the nation and advance our democracy.
Utomi is the Program Coordinator (Media and Politics) for Advocacy for Social and Economic Justice (SEJA), Lagos. He can be reached via jeromeutomi@yahoo.com/08032725374
Refugee Day 2022: Between War, Natural Disaster Made Refugees and Government Failures Induced Refugees
By Jerome-Mario Chijioke Utomi
It is no longer news that the world on Monday, June 20 celebrated the annual event tagged Refugee Day, an international day organized every year by the United Nations to among other aims celebrate and honour refugees from around the world. It is equally common knowledge that the day was first established on June 20, 2001, in recognition of the 50th anniversary of the 1951 Convention relating to the status of refugees.
However, as the world celebrated, what is in some way newsy is that while over 100 million people worldwide going by reports, find themselves displaced by wars, natural disasters and other forms of hostilities and unable to return home, and other refugees were forced to flee their homelands at a moment's notice, with little more than the clothes on their backs, there were even a larger number of people in today's world and Nigeria in particular that unmindful of the fact that they have fallen into this troubling refugee bracket/category, not as a result of war as currently witnessed in countries such as Ukraine, Sudan, Afghanistan, and other areas currently faced with a violent crisis or natural disaster-induced displacement. But as a result of factors that has to do with the government's failure to adhere strictly to the dictates of the global call for the implementation of the right to adequate housing which of course, is both a human right and one of the basic needs of a man borne out of a desire for security, privacy and protection from negative impacts of the environment.
Take Nigeria's case as an example, separate from powerful statistics which made it abundantly clear that Nigeria is currently faced with over 17 million housing deficit and may require about 700,000 new houses annually to close the gap, a September 2019 report findings and recommendations on Nigeria's housing challenge/deficit by Ms Leilani Farha, Special Rapporteur on adequate housing, made shocking revelations that every Nigerian of goodwill should be worried about. The report glaringly supports the belief in some quarters that we are not only casualties of housing deficit, but rather, in an applied sense, the majority of Nigerians even with roofs over their heads, still qualify as refugees in their home country.
The report, which has a goal of assessing, the housing conditions of people in Nigeria using international human rights law and standards, and to determine if governments are meeting their obligations in this regard, was based on housing-related data, laws, jurisprudence and policies in several communities in three major urban centres: Abuja, Lagos and Port Harcourt and focused on vulnerable populations whose rights are most precarious,
It did confirm what has been on the minds of Nigerians as it describes the conditions met in the informal settlements visited as inhumane and an assault on human dignity.
That was not the only sad commentary.
The report also confirmed the following; one, that economic inequality has reached extreme levels in Nigeria. Secondly, Nigeria's housing sector is in a complete crisis and there is no current national housing action plan or strategy. Thirdly, coordination and communication between federal and state governments seem lacking and private market housing is unaffordable for most, rental housing is scarce, requires tenants to have one to two years' rent in advance and there are no rent control or caps.
The report further established that in Nigeria, as in many other countries, real estate is used as a convenient place to launder corrupt money, park excess capital and as a means of financial security for the wealthy.
Leilani also remarked that the Nigerian government does not fully appreciate the nature and extent of the crisis on their hands, noting that internally displaced persons living in an informal settlement in the Federal Capital Territory live in appalling conditions. With over a hundred children attending a tiny, overcrowded one-room school run with little resources by an NGO despite living half an hour drive away from Abuja's city centre and the Federal Ministry of Education.
This inequality underlined by the report was widely attributed to several factors, including corruption and mismanagement of public funds and a failure to implement just tax policies, whereby low-income earners pay disproportionately more taxes than do high-earning corporations. Less than 6 per cent of registered corporate taxpayers are active, and only between 15-40% of the Value-Added Tax (VAT) is collected.
Separate from the report's expression of concern that state governments routinely ignore the rule of law in right to housing cases, what is in some ways an even more troubling manifestation of how seriously off track successive administrations have taken us as a nation, is the report's remark that Nigeria is blessed as one of the largest economies in the world, just behind Norway and well ahead of countries like Singapore and Malaysia-and considered as one of the fastest-growing economies in the world, albeit, reliant on the precarious oil market.
Yet, unable to meet the standard as set under international human rights law, which demands that states should spend the maximum of available resources toward the progressive realization of economic, social and cultural rights including the right to housing-this includes collecting and imposing taxes and developing mechanisms to prevent corrupt money from landing in residential real estate or other assets domestically or internationally.
This disgraceful treatment suffered by the vast majority of the vulnerable Nigerians in the hands of their leaders has created not just deep resentment and hurt the feelings of the nation but rendered all her citizens outside the government circle (corridors of power) as refugees.
Consider this example reported in-depth in the report.
There is a consensus that the legal framework for land administration, especially the Land Use Act (LUA), is exacerbating the pressures on the housing sector. The manner in which the LUA has been used has resulted in severe consequences for the enjoyment of the right to housing. The LUA vests State Governors with significant management and administrative power. Governors can grant rights of occupancy and also revoke them based on an "overriding "public purpose". 'I received many reports of Governors abusing their land administration powers, including granting occupancy rights to family members and friends; defining public purpose in a manner that results in forced evictions of impoverished communities inconsistent with international human rights law, including for luxury developments that often stand vacant – unsold or unused. The LUA also makes land title registration cumbersome and extremely onerous to perfect.'
The report observed something else.
None of the homes visited had running water, boreholes or portable water, thus most families have to pay high prices to access household and drinking water. Those who could not afford fresh water were using contaminated floodwater, resulting in cholera and other health issues. 'I saw a few houses with latrines.
According to UNICEF, diarrhoea kills more than 70,000 children under five years old annually in Nigeria, most of it caused by poor access to adequate water, sanitation and hygiene. Nearly one-quarter of Nigerians defecate in the open,' the report stated.
Going by the above, it may, in my view, be said that; there may be a sincere desire by the government to develop the political and socio-economic situations in the country.
However, it may also be thought audacious to talk of creating a better society without the government; whether state or federal, studying this report. Government must in addition tackle the problems of a battered economy arising from corruption, social vices, decayed institutions and homelessness. This must be done not for political reasons but for the survival of our democracy and nation.
Utomi is the Program Coordinator (Media and Policy) for Social and Economic Justice Advocacy (SEJA), Lagos. He can be reached via jeromeutomi@yahoo.com/08032725374
Road Projects Desertion, Potable Water Scarcity and Lagos State Government
By Jerome-Mario Chijioke Utomi
Like every new invention which comes with opportunities and challenges, when residents of Alapere/Ketu, Lagos got the news about the state government's decision to reconstruct/expand the Demurin/Agidi road, a major road within the community, it elicited two sets of reactions.
For some, joy flashed on their faces despite the awareness that the execution of such a project by the state will lead to the destruction of properties worth hundreds of billions of naira and terminate the stable means of livelihood of residents and business owners. This group was particularly happy because such a development, when completed, will reduce travel time and save man-hours that would have been otherwise lost to traffic on the road; provide a better riding surface, leading to reduced maintenance cost; boost interconnectivity and generally make life more meaningful to commuters in the area and the state as a whole.
To the rest, the development was viewed with scepticism and fear. The crux of their fears was predicated on reasons that come in double fold. First are the arguments that an average Nigerian government is reputed for project abandonment and exacerbated by regulatory/supervisory agencies' lackadaisical/nonchalant attitude to, and inability to go the extra mile in ensuring that given assignments are perfectly executed.
The second has to do with the state's continued non-recognition that sustainable development and the related notion of sustainability are becoming increasingly important policy objectives for government at different levels as well as the growing need to strengthen the conceptual understanding of different notions of sustainability and their implications or design effective policies that aim to achieve sustainability objectives, and more importantly, to analyse the implications of the proposed policies.
Presently, looking at the gamut of complaints and other instincts coming from Ketu, Lagos residents, the fears earlier raised can no longer be described as unfounded.
Aside from the fact that the road project slated for completion within 12 months has to the disappointment of residents, stretched for close to 3 years with the company doing nothing that could be characterised as substantial for reasons analysts believe is not unconnected with lack of funding on the part of Lagos State government, residents are particularly not happy with the current state of things.
The road, they argued, is not only worse but in a deplorable shape following months of abandonment by the contractor and coming after they (contractor/state government) destroyed people's houses under the pretext of a road expansion.
Tragically unique is the fact that the length and breadth of the road is now riddled with open/uncompleted drainages channels, potholes and undulations- no thanks to the ill-fated activities of the now 'departed' construction company.
Qualifying the situation as not just a crisis but a reality to worry about is the fact that the current state of the road daily leads to; traffic gridlocks, fatal accidents among various road users and in some cases miscarriage among pregnant women.
In fact, for those that hitherto praised the initiative, such praise has as the light faded and jeer has since overtaken the cheers while hatred for the initiative and fears about what becomes the fate of residents looms.
As a matter of fact, each passing day brings to mind the fact that the state is facing serious administrative emergencies-that demand immediate actions.
Out of so many other examples, the inability of the Lagos State government to address the protracted water scarcity in the state glaringly supports the above assertion.
Very lamentably, it is not in any way a good commentary that Lagos State, which prides itself as a mega city, has but sadly continued to wear the toga of a location where access to formal clean water is abysmally low, with the majority of its residents relying on the informal sector comprised of wells, boreholes, rivers and rainwater.
From Ketu to Ikorodu, Ogba Ikeja to Ajah, Surulere to Alimosho, the story is the same. Lagosians are made to celebrate this year's World Water Day without water.
Separate from the fact that this dangerous oversight is laced with the capacity to make non-sense of the current effort to better the life chances of Lagosians, if not given the urgency of attention that it deserves, there exist reasons why this development is troubling.
Going by the United Nations (UN) declaration, there is sufficient water to satisfy the needs covered by the right to water in virtually all countries of the world – it is much more a question of equitable distribution. On average, overall household water use accounts for less than 10% of total water use, while industry and agriculture are the largest water users. The right to water is limited to basic personal and domestic needs, which account for only a fraction of overall domestic use. Even in the context of climate change, which affects overall water availability, water for personal and domestic uses can still be ensured, if prioritized as required by human rights law.
Aside from the awareness that every Lagosian needs 20 litres per capita per day as a minimum quantity required to realize minimum essential levels of the right, making the situation a reality to worry about is that the water scarcity which started one morning has suddenly strolled into months. And have exposed residents to daily search for Water in sources that their level of hygiene could neither be ascertained nor guaranteed. This is not the only apprehension. The predicament is made worse by the awareness that residents of the area with private boreholes who would have helped ameliorate this suffering are daily frustrated by the poor electricity supply in the area needed to operate the borehole. No thanks to the electricity distribution company operating in the location.
Admittedly, Lagosians know that the government can't solve all their problems and they don't want to. But they (Lagosians) know that there are things they cannot do on their own but must require government support. A very good example of such responsibilities includes but is not limited to the supply of clean water to the citizenry, electricity and provision of schools in an environment that works.
One fact, going by the global demand that we must not shy away from is that it is true that investing in water and sanitation is costly. Yet, evidence has shown that the cost of not ensuring access to drinking water and sanitation is even higher in terms of public health and lost work and school days.
For each dollar invested in water and sanitation, on average there is a return of $8 in costs averted and productivity gained. Also, the human rights obligations related to access to safe drinking water and sanitation are subject to progressive realization. Thus, universal coverage does not need to be achieved immediately but every state must demonstrate that it is taking steps towards this goal to the maximum of its available resources and continually moving in this direction.
Now let's cast a glance at the consequences of these failures
First, apart from the fact that Lagos State with its mega city status ought to have outgrown a city where residents will in this 21st century rely on private water vendors for their daily water needs while those that have no resources to engage these vendors are forced to the derogatory level of scooping water from gutters. And, as we know, contaminated water and poor sanitation are linked to the transmission of diseases such as cholera, diarrhoea, dysentery, hepatitis A, typhoid, and polio. Absent, inadequate, or inappropriately managed water and sanitation services expose individuals to preventable health risks.
Away from health considerations to other consequences that are international/global in outlook.
Going by the Resolution A/RES/64/292, United Nations General Assembly, July 2010 and General Comment No. 15, UN Committee on Economic, Social and Cultural Rights, November 2002, the Human Right to Water and Sanitation is a principle that acknowledges that clean drinking water and sanitation are essential to every person's life. It was recognized as a human right by the United Nations General Assembly on 28 July 2010.
To further add a background, the resolution calls upon states and international organisations to provide financial resources to help capacity-building and technology transfer to help countries, in particular developing countries, to provide safe, clean, accessible and affordable drinking water and sanitation for all. Again, the Committee on Economic, Social and Cultural Rights adopted General Comment; Article I.1 states that "The human right to water is indispensable for leading a life in human dignity. It is a prerequisite for the realization of other human rights". Comment No. 15 also defined the right to water as the right of everyone to sufficient, safe, acceptable and physically accessible and affordable water for personal and domestic uses.
As to sufficiency, the water supply for each person must be sufficient and continuous for personal and domestic uses. These uses ordinarily include drinking, personal sanitation, washing of clothes, food preparation, and personal and household hygiene.
According to the World Health Organisation (WHO), between 50 and 100 litres of water per person per day are needed to ensure that most basic needs are met and few health concerns arise. On safety, the water required for each personal or domestic use must be safe, therefore free from micro-organisms, chemical substances and radiological hazards that constitute a threat to a person's health.
Talking about acceptability, water should be of acceptable colour, odour and taste for each personal or domestic use. All water facilities and services must be culturally appropriate and sensitive to gender, lifecycle and privacy requirements. Everyone has the right to a water and sanitation service that is physically accessible within, or in the immediate vicinity of the household, educational institution, workplace or health institution.
Utomi is the Program Coordinator (Media and Politics), Advocacy for Social and Economic Justice (SEJA), Lagos. He can be reached via jeromeutomi@yahoo.com/08032725374
Latest News on Business Post