How to Monetise Your Website or Blog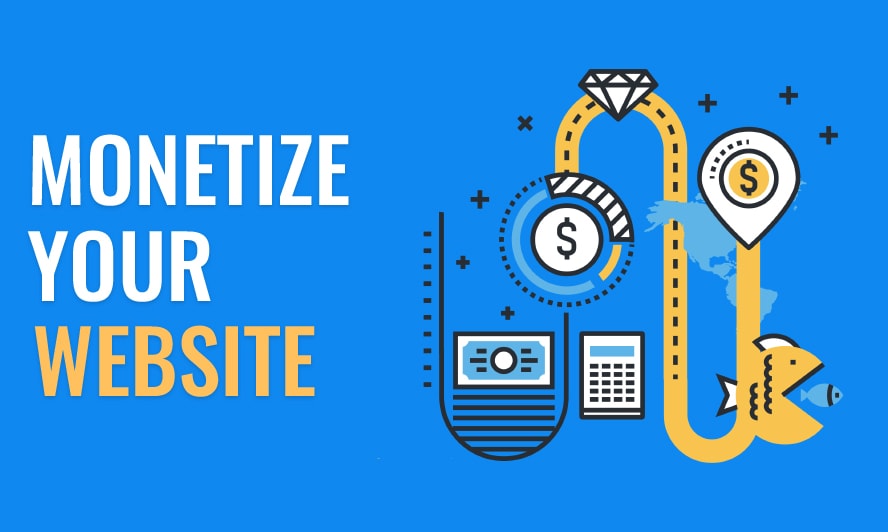 By Lead Web Praxis Media
That money can be generated from running a blog is no longer newsworthy. You must have heard several stories of individuals who have experienced significant economic turnover by simply owning a blog or a website. As rampant as those stories are, few of them attempt to fully explain how their blogs generate income in detail.
If you would like to know, running and managing a blog/site on its own is a demanding task. You have to continuously be on the lookout for the best Search Engine Optimisation (SEO) practices and also make sure that your website is friendly to all genres of visitors.
Considering the number of efforts needed to put a blog in an optimal condition at all times, generating income from it will go a long way in motivating the website/blog owner.
The inability to generate income from a blog/site makes it hard (but not impossible) to economically manage it. This alone can eventually discourage a blog owner from regularly updating the website with quality contents and current SEO practices.
It is noteworthy to mention that while the most popular way to earn money from blogs or websites is through advertisement placement i.e when business organisations pay you to feature their products on your blog/website; there are other alternatives to earn money from blogs/site as well.
This article will take you through some of the means and techniques that can be used to earn money from your blog and website.
Google Adsense: For a long while, Google has made it possible for website and blog owners to earn money from their site by pushing advert to a portion of their website page.
It gives a specific URL to website and blog owner which is then pasted at random spots on the website or blog page. With every click on that URL (which is a link to the Ad), a specific amount of cash would be deposited to the website owner's AdSense account. The more clicks you get from your website visitors, the more money that will be deposited in your AdSense account.
Getting a Google AdSense account is not rocket science; you can sign up under 5 minutes. However, you need to meet all of Google's terms of service before you can be eligible to open an AdSense account. One more thing, opening an AdSense account comes at no cost.
There are other amazing platforms as well that offers the same services as Google AdSense. Media.net and Monumetric are two other equally attractive alternatives.
Creating Unique Contents: In today's highly competitive digital world, unique content will forever be a rewarding strategy for website owners. You should devise means to constantly engage your visitors. For your website to stay relevant, you should try to enable comments, organize online polls and improvise where necessary.
When you constantly create high-quality contents for your web visitors, you automatically increase viewership on your website. The ever-growing viewership will, in turn, provide you with mouth-watering advert bids
Enabling the Visibility of Subscribers Listing: Website owners with a significantly high number of email subscribers can add web functionality that allows visitors and prospective business partners to see the number of subscribers who read their newsletter on a weekly or monthly basis. These numbers (especially when they are on the high side) influences prospective partners to collaborate with you and advertise on your platform. Please note that this method can only be fully milked by website/blog owners with regular high web traffic.
Create and sell a course: This is one of the techniques of earning money that is not reliant on the amount of traffic your blog/website generates. Present your ideas/service in a video/picture/audio format or convert them to a PDF file and offer them for sales on your blog.
Remember, your ability to succeed with this option greatly depends on your marketing techniques and the value contained in your courses. You will have a higher selling rate if you can decipher the exact course your web visitors will most likely buy.
If for example, you have a blog that is well-known for teaching people how to cook. Blogs like this will portray you as a good cook. If you decide to offer a premium course on how to make some foods, the reputation you have gained on your blog as a good chef will help in increasing your sales rate.
Another interesting thing about the creation of online courses on your blog is that it gives you the freedom to fix price. If you think you can offer a million naira value on your courses, the sky is your limit.
Most individuals/firm start a blog to grow and maintain an audience. However, the audience in themselves doesn't automatically generate income for blog owners. To make money from your blog/website, you need to see your audience as a means to an end and not an end in itself.
If you would like to learn more about how you can grow your website traffic and generate significant income from it, contact us at Lead Web Praxis Media Limited. We will walk you through the ropes and provide you with a step-by-step procedure.
Islamic Estate Planning: Protect Your Family and Leave a Legacy
By FBNQuest
Islamic estate planning involves the distribution of your assets that serve to preserve, manage, and distribute them after death according to the principles of the Shari'ah.
According to the Islamic ordinance, those principles are significant in planning for dependents and represent an investment in the afterlife.
Islamic inheritance laws organise your wealth ownership and assets to ensure fairness and justice after your passing. Instead of leaving the tough decisions to grieving family members, you can arrange the gifting of your assets in advance. This creates a streamlined process for the distribution of the inheritance to all family members.
Islamic estate planning is essential in the life of Muslim faithful. Indeed, if you pass away as a Muslim without a proper plan for your assets, you may be breaching the bequest guidance stated in the Holy Book, which serves as an instruction manual for a Muslim's life.
However, many are not concerned with making an inheritance plan, even though a failure to make one could trigger intense family debate and hinder the transfer of some assets to specific beneficiaries.
According to the guiding principles of Islamic estate planning, after covering the funeral expenses and debts owed by the deceased, a person may designate up to one-third of their wealth.
This discretionary giving is known as the Wasiyyah. However, there are limitations to this discretionary giving.
For example, Wasiyyah cannot be given to someone already receiving a share under the Islamic inheritance laws. The Wasiyyah is most commonly given to charity or to care for distant relatives who cannot provide for themselves.
The residual two-thirds is the Mirath and is reserved for the Islamic heirs as ordained in the Holy Book. Primary beneficiaries are those who will inherit some of your wealth, provided that they are alive and Muslim. These are your spouse, children, and parents, and they receive a fixed share of the wealth.
Secondary beneficiaries are those whose share of the inheritance is contingent on whether other primary beneficiaries are still alive. These may include siblings, grandparents, grandchildren, aunts, uncles, and other relatives. It is vital to appreciate the rights and obligations relating to an estate.
In preparing to bequeath an inheritance, it is crucial to organise your wealth in a manner that will make assets acceptable for consideration in an Islamic estate plan.
In this regard, investments should be screened for compliance with Islamic estate ethics, and investments in interest-bearing assets are disqualified.
Instead, it would help if you endeavoured to invest in increasingly popular Sukuk bonds. You should consider Mudarabah Investment accounts as substitutes to fixed deposit accounts and subscribe to a family takaful policy instead of a life insurance policy in your saving plans.
As for pension assets, you should opt for a multi-fund structure with an option to invest in Shari'ah-compliant instruments.
Zakat, the third pillar of Islam, is a compulsory giving required from every financially stable Muslim. Those who have acquired wealth are obligated to respond to people in need and give back to the community. This response could include sponsoring widows or the education students and organising in a charitable Trust as part of an Islamic estate plan.
Therefore, you must consult a professional estate planner to assist with setting up a Trust arrangement where 2.5% of your assets/wealth is set aside annually for Zakat.
Several other tools can be used to organise the transfer of assets to a specific beneficiary. They include Hiba (making gifts), Waqf (setting up an endowment or trust), Wasiyya (transfers by donation), and it is appointing a Wasi or guardian for living dependents. Getting it right requires a thorough understanding of the principles of Islamic estate planning and the various assets available to achieve compliance.
Governor Okowa's 2023 Presidency; an Objective Analysis
By Jerome-Mario Utomi
This piece stemmed from three recent developments in the country. First is the latest argument by development minded Nigerians that the nation's perennial leadership haemorrhage/crisis is aggregated by a successive deficiency in leadership vision and in some cases made worse by public officials' understanding and interpretation of problems with clarity but lacking in political will to see through or implement solutions. A development that has made the nation in dire need of a system that works, a government that caters for its citizens, especially the youths, secures lives and property while bolstering the economy.
The second and very germane is the Southern Governors Forum insistence that the presidency must shift to the southern part of the country come 2023, coupled with the recent decision by the main opposition party in Nigeria, the Peoples Democratic Party (PDP), to zone the position of the national chairman of the party to the north.
As we know, it is a political principle embraced by major political parties in Nigeria that each time the national chairman of a political party emerges from the north, the presidential candidate of the same party, usually, emerges from the south where the likes of Governor Ifeanyi Okowa of Delta State hails from.
Thirdly and most essential has to do with the fresh call by the Minority Leader of the House of Representatives, Mr Ndudi Elumelu, on Mr Okowa to contest for the presidency of the country in 2023.
The Minority Leader, who spoke at the installation of Rotary Club's 2nd President for 2021/2022 Rotary Club Year (Club of Asaba Downtown District 9141), pointed out that Governor Okowa should serve as the President of the nation so that he can replicate his achievements in massive infrastructural and human capital development in Delta State at the national level.
He stressed that Governor Okowa was endowed with the capacity and proficiency to rescue the nation from the misrule of the All Progressives Congress (APC) and reposition her to the path of peace, unity and economic prosperity.
"I must commend Governor Okowa for his selfless service and sacrifices that have led to unprecedented massive infrastructural development in our dear state as well as a better living standard for our people.
"Governor Okowa is a rare gift not only to Delta State but also to our nation Nigeria, at large. I firmly hold that he is endowed with the capacity and proficiency to serve our nation at the topmost level so that he can replicate the successes recorded in our state at the national level.
"I sincerely call on him to make him available to serve the nation again. He deserves to be the president of this country, come 2023," Elumelu stated.
However, despite the popularity of this opinion, it will be antithetical to support a movement based on sentiment or allow sentiment to determine our actions. Therefore, in line with the Christian Holy Book, the Bible, admonished in 1 John 4; 1 that we do not believe every spirit, but test the spirits to see whether they are from God because many false prophets have gone out into the world.
It will, for reasons, be of considerable significance to place this call under objective analysis to fundamentally help electorates make informed decisions 'as the ignorance of one voter in a democracy impairs the security of all'.
To perform this function well, it will necessitate the following posers; Is Governor Okowa capped with vital leadership capacity needed to tame the nation's perennial 'leadership haemorrhage/crisis aggregated by a successive deficiency in leadership vision and made worse by public official's understanding and interpretation of problems with clarity but lacking in political will to see through or implement solutions? Has Governor Okowa truly achieved massive infrastructural and human capital development in Delta State? Has he indeed and in truth demonstrated selfless service and sacrifices as claimed by Mr Elumelu?
Again, going by Elumelu's claim, another question would be at the federal level, are there signs of misrules on the part of the APC led federal government that calls for Okowa's attention to reposition the nation to the path of peace, unity and economic prosperity?
Again, on May 29, 2015, amidst cheers and jubilation from the marmot crowd that attended his swearing-in ceremony at the Cenotaph in Asaba, Okowa, going by media reports, told his audience that, "As a government, we are committed to the building and consolidation of a state in which there shall be more employment opportunities, a flourishing agriculture and agribusiness sector, effective health and educational systems, renewed urban infrastructure and enhanced security and peace to bolster economic growth and development."
Now, looking at the past six years of his administration, it will elicit the question as to how well has the Governor brought these promises to fruition? Also, at the national level, how relevant is Governor Okowa when it comes to issues of national urgent importance? As the current Governor of Delta State, what particulars can Okowa led government point at to convince Nigerians that he can effectively administer the federation?
In providing answers to these nagging questions beginning with the last question, it must be fundamentally underlined that separate from the fact that Delta State, to use the words of Governor Okowa, is a microcosm of Nigeria because she is populated by different ethnic nationalities and has had inter-ethnic conflicts/clashes, fatal boundary disputes, especially over oil-bearing land, and political tensions, a case that in my views qualifies a governor of such state to effectively lead the federation, Governor Okowa, as subsequent paragraph will show, since assumption of office on May 29, 2015, demonstrated that for the leader to distinguish himself, he has to be a shining light and as such, he should be in a position to break the retrogressive tendencies that subsist in doing what one does not wish to do.
To capture this claim well, this piece will further x-ray/classify the achievements of Governor Okowa's administration into two.
First, achievements at the state levels which has to do with policy objectives/programmes implementation aimed at creating jobs and wealth (wealth creation and employment generation), economic diversification, the democratization of the education sector, infrastructural development, re-jigging/provision of the state's security architecture in the state, engagement of the youths in productive enterprise, nurture of entrepreneurs and leaders, promotion of communal peace and development of a database of employment and unemployed youths for planning purposes. The second focuses on his unrelenting nation-building efforts at the federal level.
Evidence abounds that the Governor in pursuance of these objectives compressed his programmes into a five-point agenda which is encapsulated in the acronym SMART.
The SMART agenda means Strategic wealth creation projects and provision of jobs for all Deltans; Meaningful peacebuilding platforms aimed at political and social harmony; Agricultural reforms and accelerated industrialization; Relevant health and educational policies and; Transformed environment through urban renewal.
Take the wealth creation and employment generation, as an illustration, the Governor himself recently but succulently captured his achievements in this way; "we have a deliberate policy to tackle youth unemployment through skills training and entrepreneurship development programmes. I believe that the way out of the unemployment quagmire is to equip the youth with the technical know-how, vocational skills, values and resources to become self-employed, as distinct from one-off empowerment. This is what my administration has done by instituting various skills training and entrepreneurship development programmes, which include: Skills Training and Entrepreneurship Programme (STEP); Youth Agricultural Entrepreneurs Programme (YAGEP); Graduate Employment Enhancement Programme (GEEP); Rural Youth Skills Acquisition Programme (RYSA); Girls Entrepreneurship Skills Training (GEST); and Women Entrepreneurship Skills Acquisition Programme (WESAP)."
These programmes he said are trainee-centred and service-oriented. The sectors and activities covered include agriculture, agricultural value chain services, vocational skills-based microenterprises and cottage enterprises.
Furthermore, the training and mentoring processes aim beyond raising entrepreneurs to produce leaders and managers that have high levels of personal responsibility and effectiveness. I am pleased to let you know that after six years of faithful implementation of these programmes, we have trained and given business support packages to several thousands of youths.
Following the success of these interventions and other efforts in promoting technical education, Delta State was ranked the Best State in Human Capital Development in the 2017 States Peer Review by the National Competitiveness Council of Nigeria.
Also in 2020, Delta was adjudged to be the Second Least Poor State, coming only after Lagos, Nigeria's business hub, according to the Nigerian Bureau of Statistics (NBS).
From the above observations, it is obvious that he (Okowa) in my view is a Presidential material the nation needs to exit the unemployment crisis and economic retardation. However, in order not to be accused of indulging in hasty conclusions, this piece will go beyond the Governor's wealth creation and employment generation prowess, to x-ray his efforts in other sectors.
To Be Continued.
Jerome-Mario Utomi is the Programme Coordinator (Media and Public Policy), Social and Economic Justice Advocacy (SEJA), Lagos. He could be reached via jeromeutomi@yahoo.com/08032725374.
The Effects of Home Loans on the Cost of Living Post-COVID
COVID-19 has been a disaster for many people globally, one reason being the effect of the pandemic on the cost of living.
As the cost of living is rising while wages remain stagnant, it's becoming apparent that many people are struggling to pay off their existing commitments. As a result of such obligations, more and more people seek refinancing options to lower their mortgage rates and reduce monthly expenses.
This post will cover how COVID-19 has affected home loan rates and the part it plays in the rising cost of living.
How Has COVID-19 Stressed Out The World Economies?
While it's inevitable that no country can escape the effects of a global pandemic, some countries have weathered the storm better than others. For example, as you can see in the image above by Compare The Market Refinance Quotes, the US, Australia, and Denmark seem to be the least financially stressed of world economies, with manageable home loan rates being a significant factor. This has allowed these countries to cope with the negative effects that COVID-19 has had on the cost of living.
Other countries may be able to copy the decisions made by these governments to help restore their economies. Nevertheless, many individuals of these countries and others still find it challenging to pay their bank loans and mortgages.
How Are Home Loans Affecting The Cost Of Living Post-COVID-19?
In March 2020, many countries worldwide implemented a debt moratorium to alleviate household debt burdens due to the coronavirus pandemic. These moratoriums have already expired in many places, which raises some tough questions regarding what additional policies should be adopted to address the pandemic's lingering effects.
With people facing the challenge of prioritizing their payments, especially when considering the rapid increase in inflation that many countries are experiencing, many have turned to various financial tools such as refinancing to get them through these difficult times.
What Is Loan Refinancing?
Loan refinancing is when you take out a new loan to replace the old one. There are many reasons why you might want to refinance your loans; you may not be happy with how much money you are spending each month on your monthly payments, or maybe you have another loan with a higher interest rate that will save you money in the long run. In these uncertain times, refinancing is becoming more popular.
However, it's important to note that refinancing only works if you have good credit and still owe some of the original balance of your original loan. Not all types of loans can be refinanced, but here are five loan types can:
Student loans
Credit card balances
Auto loans
Mortgage
Various bank loans
In conclusion, the effects of home loans on the cost of living are pretty significant for many people, not just in the US but also worldwide. This has caused many to use refinancing as the cost of inflation rises.
Latest News on Business Post