Canada Troubled By South Africa's Withdrawal From ICC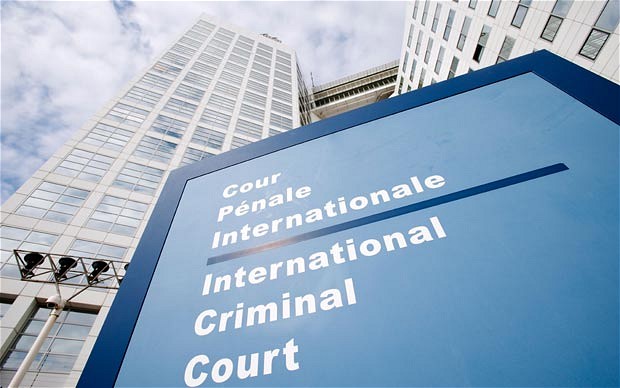 By Dipo Olowookere
Canadian Minister of Foreign Affairs, Stéphane Dion, on Monday, expressed her country's concerns over the withdrawal of South Africa from the International Criminal Court (ICC).
In a statement, the Minister said Canada was "deeply troubled" that South Africa had written to the UN Secretary-General, Mr Ban Ki Moon, that it was leaving the ICC.
Canada said "South Africa played an important role in the development of the court", and its efforts in seeing to the end of "impunity for the most serious international crimes", saying it remembered the words of "Nelson Mandela in 1998, when South Africa joined the court."
The North America nation quoted late Mandela as saying, "Our own continent has suffered enough horrors emanating from the inhumanity of human beings towards human beings. Who knows, many of these might not have occurred, or at least been minimized, had there been an effectively functioning International Criminal Court.
"All victims, including African victims, have a right to justice. The ongoing contributions of African states in support of the court are invaluable to make this justice a reality."
Canada said the "steadfast support is more important than ever today" and urged "South Africa to reconsider."
It said the ICC cannot be abandoned because it may not be perfect. Our answer must rather be to improve and strengthen it.
"We must not forget the thousands of children, women and men who have been victims of unimaginable atrocities and for whom the International Criminal Court, as a court of last resort, offers the only hope of justice," the statement said.
EFCC Declares MBA Forex Owner Wanted Over N231bn
By Modupe Gbadeyanka
Mr Maxwell Chizi Odum, the founder and chief executive of MBA Trading and Capital Investment Limited, otherwise known as MBA Forex, has been declared wanted by the Economic and Financial Crimes Commission (EFCC).
A statement issued by the Head of Media and Publicity of the EFCC, Mr Wilson Uwujaren, confirmed this development on Wednesday.
According to the anti-graft agency, the self-acclaimed investor is wanted for allegations bordering on fraud to the tune of N213.0billion.
Members of the public with vital information that could lead to his arrest have been urged to make them available. His last known address, the EFCC said, was in Port Harcourt, Rivers State.
"The general public is hereby notified that Maxwell Chizi Odum, a.k.a. Mba Trading And Capital Investment Limited, whose photograph appears above, is wanted by the Economic and Financial Crimes Commission (EFCC) in an alleged case of conspiracy, obtaining money by false pretence and money laundering to the tune of N213,000,000,000.00 (Two Hundred and Thirteen Billion Naira) only.
"Odum is a native of Ikwerre in Obio-Akpor Local Government Area, Rivers State. His last known address is at 7, Odum Street, Elekahia, Port Harcourt, Rivers State.
"Anybody with useful information as to his whereabouts should please contact the commission in its Benin, Kaduna, Ibadan, Sokoto, Gombe, Maiduguri, Makurdi, llorin, Enugu, Kano, Lagos, Gombe, Port Harcourt and Abuja offices or through these numbers 09-9044751-3, 08093322644, 08183322644, 070-
26350721-3, 070-6350724-5; its e-mail address: info@efccnigeria.org or the nearest Police Station and other security agencies," the statement stated.
Recall that about nine months ago, MBA Forex claimed it has been unable to refund funds of investors to them because of the actions taken by the Central Bank of Nigeria (CBN).
The firm, which is involved in foreign exchange (forex) trading and investment in capital investment, said the banking sector regulator in Nigeria "suspended any dealings in our [bank] accounts."
According to the chief executive of the organisation, Mr Maxwell Odum, "All other payment gateways we normally use for the easy payout of funds have also [been] blacklisted."
He disclosed that this has made it quite difficult for some investors to get their money back from the company.
Mr Odum explained that the apex bank said it blocked the company's bank accounts "to carry out some checks to ensure that we have been acting lawfully."
However, the MBA Forex chief assured that those who invested in the firm would get their funds back as the "process has already commenced while some have already received their funds."
AfDB 2021 Electricity Regulatory Index Ranks Nigeria 21
By Adedapo Adesanya
Nigeria's electricity sector emerged as the 21st best regulated across a number of key metrics, according to the African Development Bank's (AfDB) 2021 Electricity Regulatory Index.
The 2021 Electricity Regulatory Index, an annual report, covered 43 countries, up from 36 in the previous edition, and assessed their impact on the performance of their electricity sectors. The index covered three countries in the North Africa region; 14 in West Africa; 6 in Central Africa; 7 in East Africa; and 13 in the Southern Africa region.
According to the report, Nigeria has an index between 0.600 to 0.799 which indicates a substantial level of regulatory development. This means that many elements of a supportive regulatory framework are established, although there are weaknesses that do not permit the regulator to have a strong capacity, legal and institutional structures.
Meanwhile, the Ugandan electricity sector is the best for the fourth consecutive year while other strong performers include East African neighbours, Kenya and Tanzania, as well as Namibia and Egypt.
Among the 2021 report's key highlights are that regulatory independence is one sub-indicator where African countries have room to improve: in 93 per cent of sampled countries, governments, and stakeholders exercise influence over regulatory authorities.
In terms of regulatory substance, participating countries scored lowest on the adequacy of their tariff setting and frameworks, as well as licensing frameworks when compared with best practices.
According to the report, the average performance of economic regulation has continued to decline since 2018. A third of countries surveyed indicated they lack methodologies to determine tariffs; another 40 per cent rely on tariff methodologies that do not include key attributes such as automatic tariff adjustment and tariff indexation mechanisms and schedule for major tariff reviews.
Speaking on this, Mr Kevin Kariuki, the AfDB's Vice President for Power, Energy, Climate and Green Growth said, "The unprecedented participation of so many countries shows the commitment to strengthen the countries' regulatory environment with a view to improving the performance of the respective electricity sectors".
On his part, Mr Wale Shonibare, AfDB Director for Energy Financial Solutions, Policy and Regulation, commended the top-performing country.
"Uganda topping the rankings consecutively for four years comes as no surprise to many, as the regulator spends significant time on consultation and analysis, including regulatory impact assessments of key interventions and follow-through to ensure full implementation," he said.
Outside stakeholders also viewed the report's results positively with Mr Abel Didier Tella, Director General of the Association of Power Utilities of Africa, saying, "It is interesting that the utilities in most of the top-performing countries in the Electricity Regulatory Index are listed on their national stock exchanges, which requires compliance with transparency in information sharing and good governance practice."
Since its launch in 2018, the Electricity Regulatory Index has highlighted aspects of electricity regulation that need reform, identified appropriate areas for intervention, and encouraged stakeholders to be proactive in addressing challenges. Since then, the index has been widely adopted by regulators and other stakeholders across the continent as a benchmark for the regulatory environment as well as for ongoing reforms.
Housing Deficit: Sanwo-Olu Promises Developers 50 Hectares
By Adedapo Adesanya
The Lagos State Governor, Mr Babajide Sanwo-Olu, has promised developers within the state 50 hectares of land for the construction of housing units, as part of efforts to reduce the housing deficit in the state.
Mr Sanwo-Olu made the pledge on Tuesday at the opening of the second edition of the Lagos State Real Estate Market Place Conference and Exhibitions themed Lagos: 21st Century Real Estate Investment Hub.
In reaction to developers' demand for land, Mr Sanwo-Olu said that the major problem was that a lot of them do not have the capacity they claimed to have.
"We can test you with 50 hectares of land to see your capacity and viability abound.
"A lot of people are holding on and speculating, but the real capacity is the ones that we want. Real people that are ready to hit the ground running are what we want.
"Once you are able to identify these people, I am saying to you here now, that we will work with your association and we will give you workable timelines so that you won't turn us into speculators.
"Once you are ready, we would also be ready. This is your government that would make sure that we give you everything.
"I believe that the potential of this market is just starting, the potential is enormous, the potential is unbelievable," the governor said.
Mr Sanwo-Olu commended the Lagos State Real Estate Regulatory Authority (LASRERA) for its doggedness, noting that the agency was on the right path.
Reacting, Mr Bamidele Onalaja, Chairman, Real Estate Developers Association of Nigeria, Lagos State Chapter said that the association was delighted with Mr Sanwo-Olu's offer and would not let him down.
"There is little land in Lagos and that is why we want to partner with the government. The government will give us land, we have the money and we'll get the off-takers to buy the houses.
"It is going to be affordable houses to support the government's initiative of affordable housing. We are glad the governor has promised us 50 hectares of land to start with," Mr Onalaja said.
According to him, members of the association will not disappoint the government in its efforts towards reducing the housing deficit in the state.
"When the government partners with us, we will deliver and we will make the governor proud," he said.
Latest News on Business Post