Fitch Assigns African Risk Capacity IFS 'BBB+' With Stable Outlook
By Adedapo Adesanya
Fitch Ratings has assigned African Risk Capacity Limited (ARC Ltd), the commercial subsidiary of the African Risk Capacity Group (ARC Group), an 'Insurer Financial Strength (IFS) Rating of 'BBB+' and a 'Long-Term Issuer Default Rating (IDR) of 'BBB' with a stable outlook.
Announcing the rating on its official website, Fitch indicated that "the ratings reflect the commitment and credit quality of ARC's sponsors, as well as the company's good business profile, very strong capitalisation and leverage."
Continuing, Fitch stated that, ARC Ltd.'s capital position is very strong, and a key strength for the rating level, adding that the company benefits from the treatment of the $67 million of Class C members' returnable capital as Tier 1 capital under the Bermudan Solvency regime; and as equity capital under Fitch's Prism Factor-Based Capital Model (Prism FBM).
As a result, ARC Ltd reported a Bermudan enhanced capital requirement (ECR) ratio of nearly 2500 per cent at March 31, 2020, while the company's score on Fitch's Prism FBM was "Extremely Strong" at end-2019.
Speaking on this development, the CEO ARC Ltd, Mr Lesley Ndlovu noted, "Obtaining an industry rating is an important enabler for our strategy to access new business by taking on inwards reinsurance, thereby allowing us to better meet the needs of countries by supporting national agricultural insurance schemes and providing capacity to local insurance companies."
"Considering that this is the first time ARC Limited is being rated, we are gratified for being ranked among the top-notch insurance companies in Africa. With only one notch lower than Africa Re, we are encouraged more than ever to leverage our competitive edge towards becoming the best disaster risk insurer in Africa in the service of our Member States", Mr Ndlovu concluded.
ARC Ltd is funded by the UK Department for International Development (DFID) and the German Development Bank KfW. Fitch's assessment of these funders' willingness and ability to support ARC results in a one-notch uplift to its standalone credit profile.
In addition to their capital contributions, Fitch believes DFID and KfW provide support to the company that is positive to the credit rating through governance and strategic input, while also facilitating sovereign participation in the business through premium subsidy schemes.
Also sharing his satisfaction with the rating, Mr Ibrahima Cheikh Diong, the Group Director-General, ARC Group, agreed that a BBB+ ranking of ARC Ltd, by an internationally acclaimed agency like Fitch, should boost the faith of ARC stakeholders in the viability of its model relative to meeting set obligations to the Member States.
"Our approach in providing sovereign disaster risk insurance coverage to African Union Member States is anchored on the mandate to ensure that vulnerable populations receive immediate support upon the trigger of the set parameters. Ultimately, we want to become the development insurer of choice for Africa offering multiple products; and a BBB+ by Fitch is a bold step in this quest", said Mr Diong.
By Fitch's assessment, ARC's portfolio diversification is still limited as the company currently offers a single parametric insurance product covering drought risk. Geographic diversification is moderate with the 2019/20 risk pool ('members') covering only 11 African Union Member States out of a possible 34, with the number of members having been volatile in prior years. Fitch expects ARC's business profile to improve through increased diversification as more countries sign up to the ARC project attracted by a broader range of products.
ARC was established to be managed on a commercial basis and achieve very modest profits, but this remains secondary to the company's development goals. Fitch believes a degree of risk tolerance is inherent in the company's underwriting practices as development goals are prioritised over underwriting margins.
The rating actions factored in Fitch's current assessment of the impact of the COVID-19 pandemic, including its economic impact, under a set of rating assumptions outlined on Fitch's website. These assumptions were used by Fitch to develop Pro-forma financial metrics for ARC Ltd that are compared with rating guidelines defined in its criteria. Under the rating-case assumptions, ARC Ltd's credit fundamentals remain good and commensurate with a 'BBB+' IFS Rating.
In just over 6 years of operations, 56 policies have been signed by the ARC Member States with $83 million paid in premiums for cumulative insurance coverage of $641 million and the protection of 64.1 million vulnerable population in participating countries.
From this, ARC Ltd made $60m payouts to the Governments of Senegal, Niger, Mauritania, Malawi, Cote D'Ivoire, the START Network and WFP following droughts episodes in 2014, 2015 and 2019. These funds have gone towards assisting over 2.5 million people whose livelihoods rely on agriculture, preventing the loss of hard-earned developmental gains in addition to 1 million.
Governments have used ARC Ltd insurance payouts to scale up cash transfers, subsidize livestock feeds, replenish depleted food reserves, and distribute emergency food supplies. Recently, in 2020, payouts of $2.13 million were made to the Republic of Madagascar to cover 600,000 vulnerable population; and $1.8m to the Government of Zimbabwe and WFP to support over 500,000 people affected by the drought.
Group Reports Lagos Government to Buhari
By Mohammed Kerimu
The Shangisha/Magodo Landlords Association of Nigeria has petitioned President Muhammadu Buhari over the refusal of the Lagos State Government to execute the ruling of the Supreme Court on the return of 549 plots of land to its original owners by the state.
In a document submitted to the Presidency and sighted by this reporter, the association expressed optimism that Mr Buhari would do justice to the matter he has demonstrated that a strong judiciary is a sine qua non for the operation and sustenance of democracy which he had vowed to defend.
The group further noted that since their story is similar to that of Mr President, who faced several denials in his electoral victories before God intervened in his fourth outing, he will finally lay their matter to rest since he was the Head of States about 37 years ago when they were forcefully evicted from their land.
It will be recalled that after its first judgement, the Supreme Court on March 1, 2016, again voiced out its displeasure with Lagos State Government and the state Chief Judge over their refusal to execute its earlier judgement; warning of the dangers it portends for the state to deliberately refuse to carry out its order concerning the Shangisha/Magodo land.
However, analysts are of the view that the refusal by the Lagos State Government to execute the judgement of the Supreme Court, which is the highest court in the land, is sending wrong signals to foreign investors who needed assurance of a strong judicial system before committing their resources for investment in the country.
They warned that if nothing was done to compel the state to toe the line of law and order, the country may be up for doom as no serious investor will consider a country with a weak legal system in their investment decisions.
Following the refusal of Lagos State to execute the ruling of the Supreme Court on the return of Shangisha/Magodo land which it forcefully acquired from its owners without building any public interest institution on it, the question many are asking is when did Lagos State secede from Nigeria that the ruling of the country's apex court could no longer be binding on it?
We Cater for Over 17.5 Million Nigerian Orphans—SOS Children's Villages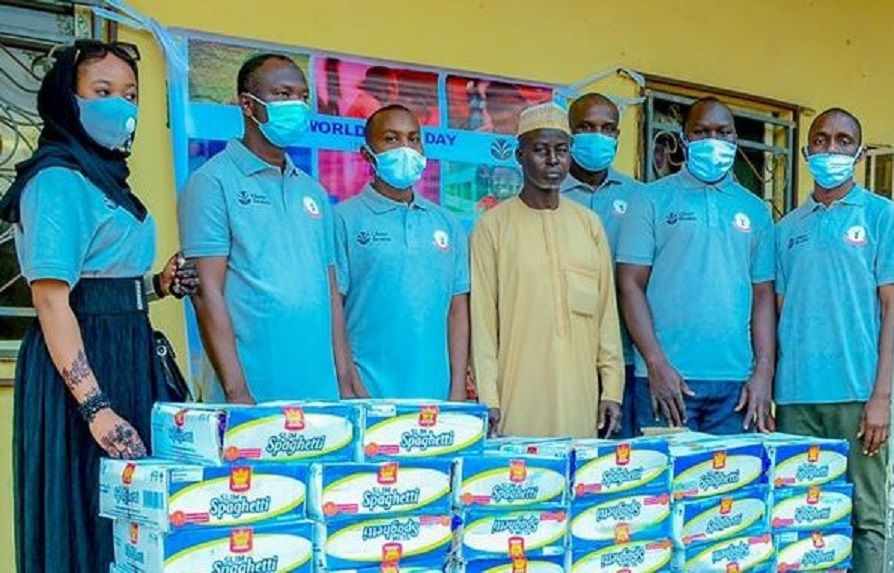 By Ashemiriogwa Emmanuel
Over 17.5 million orphans in Nigeria are being catered for under the watch of the SOS Children's Villages in Nigeria.
The independent, non-governmental, non-profit international development organization, in addition, runs family strengthening programs, where children and families in need benefit from vocational training, care, medical and food assistance.
The National Director of the SOS Children's Villages in Nigeria, Mr Eghosa Erhumwunse, recently disclosed this in Isolo, Lagos, while receiving food items donated by Crown Flour Mill (CFM) Limited, producers of the popular Mama Gold flour and semolina brands and Crown Pasta food products.
Thanking the firm for the humanitarian gesture, he said, "By making this food donation to bring relief to the children at the Villages, Crown Flour Mill Limited has demonstrated that it is a business that values the wellbeing of its host communities.
"We cater for over 17.5 million orphans in Nigeria. Our in-country strategic partners have been instrumental in ensuring the vulnerable segments are able to survive the various shocks of the ongoing global crises and local challenges."
Some of the food items donated included Crown Premium Spaghetti bags of Mama Gold Semolina and Crown Supreme Semolina and a range of sanitary products and toiletries.
In addition to these, a cookout for over 480 students of Biyamusu Primary School, Ajingi, Kano was also organized by the firm along with the donation of food products and toiletries to the wards of Nasarawa Children's Home an orphanage also in Kano state.
These contributions supported by the flour milling firm were in line with its series of activities lined up to commemorate the 2021 World Food Day (WFD) tagged: Our actions are our future – Better production, better nutrition, a better environment, and a better life.
Speaking during the visit, the Managing Director of Crown Flour Mill Limited, Mr Ashish Pande, lamented the gap that exists between many children and their access to a healthy future.
He reiterated the firm's determination in providing consumers, the underprivileged, and people affected by food shortage with access to affordable and nutritious food options.
On her part, the Corporate Affairs Manager at Olam Nigeria, Ms Damilola Adeniyi, said, "No one, most of all children, deserves to suffer hunger or lack access to good food.
"Therefore, we are taking actions that align with the United Nations' Sustainable Development Goals (SDGs) of achieving zero hunger in the world in our business operations, which lay emphasis on food safety, fortification, security, and Corporate Social Investments (CSI) such as this."
200 Retirees in Jigawa to Share N331.7m
By Adedapo Adesanya
No fewer than 200 retirees in Jigawa State will share N331.7 million, the Executive Secretary of the Jigawa State and Local Government Contributory Pension Scheme, Mr Kamilu Aliyu, has disclosed.
Speaking on Wednesday in Dutse, Mr Aliyu stated that the beneficiaries were retired from the service in the state, local government and Local Education Authorities (LEAs).
He said that the payment comprises retirement benefits, death benefits, death pension balance and refund of eight per cent contribution.
Breaking down the figures, Mr Aliyu said that 83 of the beneficiaries were from state service, 72 from local government service and 45 from LEAs.
He said that a total of N331.698 million would be paid to 200 retirees in the disbursement exercise.
"Forty-seven beneficiaries from the state service will be paid N99.709 million as retirement benefit, and 52 retirees of the local governments will receive the sum of N72.653 million, while N26.753 million will be paid to 22 beneficiaries from LEAs.
"For the death benefits, 15 retirees from the state will be paid N38.721 million and 14 retirees from the local government will be paid N27.270 million while 18 others from LEAs will get N47.645 million," he said.
Mr Aliyu said that under the death pension balance, nine beneficiaries from the state would be paid N9.2 million, six retirees from the local government will receive N1.613 million while five others from LEAs will get N6.9 million.
According to him, 12 beneficiaries will receive N1.25 million as a refund of the eight per cent contribution.
The executive scribe reiterated the commitment of the state government to ensure prompt payment of pension and other entitlements to improve the wellbeing of pensioners.
To achieve this, he said, the board had adopted proactive modalities to hasten payment processes of the retirees whenever their number reached about 200.
"We no longer have to wait until we have a large number of retirees.
"This will enable the retirees not wait for long or suffer before they start enjoying their benefits after disengagement from the service," he stated.
Latest News on Business Post