Google Adds More Countries to Flood Hub Platform, Offers 7-Day Forecasts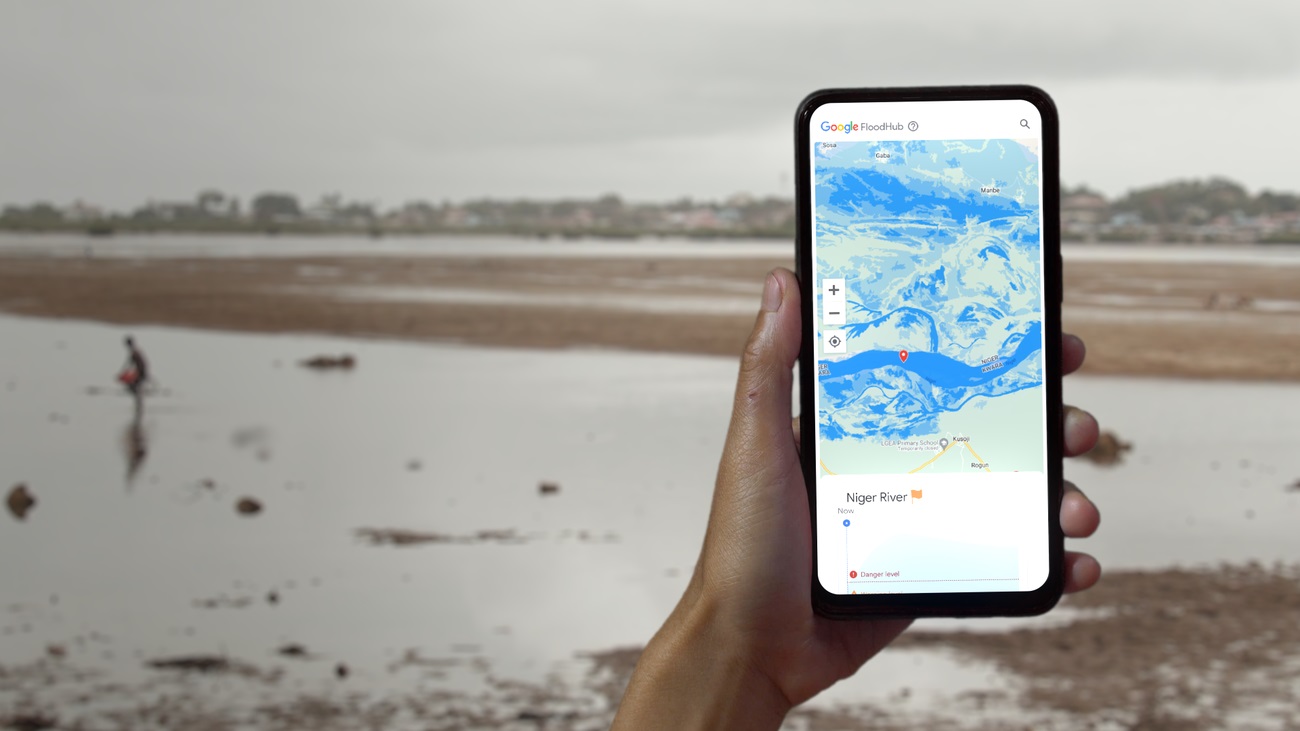 By Aduragbemi Omiyale
More countries have been added to the Google Flood Hub platform to address the devastating impacts of floods and provide critical support to vulnerable communities through Artificial Intelligence.
Floods claim tens of thousands of lives and cause billions of dollars in damages each year across the world. Their impacts are particularly severe in low-resource regions that often lack effective early warning systems.
By equipping governments, aid organisations, and individuals with advanced flood forecasting tools, Flood Hub empowers communities to take proactive measures and make informed decisions to reduce the devastating effects of floods.
To further enhance flood preparedness, Google is expanding flood alerts through Search and Maps notifications, ensuring that individuals have convenient access to timely and critical flood information. This expansion aims to empower more people to take necessary precautions and safeguard lives and property.
The platform is also offering forecasts up to 7 days in advance, benefitting a population of 460 million people globally. This new development extends the reach of Flood Hub's valuable services to countries such as Brazil, Nigeria, Pakistan and Thailand.
The Flood Alerts of Google are available in 23 African countries, including Angola, Burkina Faso, Cameroon, Chad, Democratic Republic of Congo, Ghana, Guinea, Ivory Coast, Liberia, Malawi, Namibia, Nigeria, Sierra Leone, South Sudan, South Africa.
The expansion of the service has included Burundi, Eswatini, Guinea Bissau, Lesotho, Madagascar, Rwanda, Senegal, and Zimbabwe.
According to Google, the inclusion of these countries ensures that a broader range of African communities facing high flood risk and extreme weather conditions can benefit from Flood Hub's accurate and timely flood forecasting services.
"We recognise the significant impact that floods have on communities worldwide, especially in regions with limited resources and vulnerable populations," said Yossi Mattias, VP Engineering & Research and Crisis Response Lead.  "We are committed to expanding the reach of the Flood Hub platform to support these communities and provide accurate flood forecasting that can help save lives and protect livelihoods."
Since 2019, non-profit organisations have been working with Google.org to establish offline alerting networks, acknowledging the limited access to cell phones or the internet in some communities.
These networks are designed to leverage trained and trusted community volunteers who play a crucial role in amplifying the reach of Flood Hub's warnings.
As a result, even individuals without digital connectivity are able to receive life-saving flood alerts, ensuring their safety during times of crisis.
Lagos State Executive Governor Commissions Babajide Sanwo-Olu International Market Ikosi 
By Adedapo Adesanya
***Constructed By Total Value Integrated Services
The Governor of Lagos State, Mr Babajide Sanwo-Olu, recently commissioned the third phase of the Ikosi International Model Market and the Ikosi International Fruits Market Phase 2, delivering on a promise made to the people of the community.
The Governor speaking at the commissioning, which was held amid fanfare and jubilation on Thursday, May 25, stated that commercial activities in markets have had a great impact on the state's economy.
He added that building a befitting environment for traders remained a noble initiative to drive grassroots democracy and socio-economic growth.
The Governor said, "I commend the vision and leadership which facilitated the delivery of these two ultra-modern markets befitting the status of our state and resonate with the vision of a Greater Lagos.
"The impact the markets have had on the economy of Lagos is invaluable, as they serve as focal points of economic activities in the State. These are the real examples of initiatives of grassroots democracy and socio-economic growth."
On his part, Mr Chris Onyekachi, the Managing Director (MD) of Total Value Integrated Services, a conglomerate involved in real estate development, construction, and civil engineering contracting works and the brain behind the construction of the ultra-modern markets with structures named after notable personalities including the Lagos State Deputy Governor, Mr Obafemi Hamzat, Mr Busura Alebiosu, Mr Mudashiru Obasa, et al. revealed that it wasn't easy building a market of the magnitude of the third phase of the Ikosi International Model Market and the Ikosi International Fruits Market Phase 2.
He revealed that the journey to where the market is today began almost two and half years ago when his company came to reconstruct the market, which started from phase one to the third phase.
He said, "It wasn't an easy journey because convincing market traders that we had good plans for them wasn't an easy one. In their minds, they thought we wanted to chase them away. Some people felt that we wanted to use the place to build an estate, but we were lucky to have the leaders in the environment intervene. To the glory of God, we completed the first phase, we allocated it, then we started the second phase, and we also completed and allocated that. This is the third phase, and to the glory of God, we are here today. I thank God for His grace and mercy."
Stating that the shops are affordable, Mr Onyekachi said that Total Value Integrated Services has a timeline for payment for those who can't afford to finish their payment once, noting that once 60 per cent of the first deposit is paid, the remaining balance can be spread as agreed.
"We have our management team that is going to be on the ground to manage all the facilities here. I can assure you that in the next 10 years, whatever you have seen today is going to be in the same condition because we are going to manage them properly. Everything is properly designed, the landscape included. You can see our car parks. We have about 500 car parks here, and it makes it convenient for every person that is coming to buy and trade.
"We have a 300 KVA generator, a fire hydrant in case of fire; definitely we don't pray for that, but we have made provision. All of the shops will be metered; we also have our security house here. We have six mobile policemen that are going to be here day and night, and we also have members of the Odua Peoples Congress (OPC)/that are also going to be here to provide security."
Adding her voice to the narrative, the chairman, Ikosi-Isheri LCDA, Mrs Bada, noted that the markets were built in the quest to improve the standard of trading and to serve as an alternative to the existing markets.
"The markets were built in phases. The first phase was commissioned last year by Mr Governor, which consisted of key-clamp shops (fruit section) where all old occupants and fruit-market shop owners were conveniently relocated, with more than 3,000 units of spacious key clamps.
"Today, I am delighted that the second phase has been completed and is being commissioned by Mr Governor and will be allocated to old users," she concluded.
The event attracted several notable personalities, including the Chairman of Ikosi-Isheri LCDA, Mrs Samiat Bada; Commissioner for Wealth Creation, Mrs Rabiat Arobieke; Special Adviser to the Governor on Works and Infrastructure, and Mr Aramide Adeyoye, among others.
FG Declares May 29 Public Holiday
By Modupe Gbadeyanka
Monday, May 29, 2023, has been declared a public holiday by the federal government to commemorate the inauguration of Mr Bola Tinubu as the President of Nigeria.
Several dignitaries from across the world, including the United States and some African countries, are expected to grace the swearing-in of the country's 16th democratically elected President.
In a statement on Friday, the Minister of Interior, Mr Rauf Aregbesola, commended the citizens for their strident efforts at achieving an unbroken civilian rule and successful change of governments since 1999, appealing for support and cooperation with the coming administration.
"Democracy anywhere is an unfinished business, and the only way it can keep developing and serve its end of being the vehicle to good governance and the welfare of all the people is by adhering to its tenets of the rule of law, support for democratic institutions, promotion of free and responsible press and advancement of the frontiers of freedom for all the people," he said.
The Minister commended Nigerians for their faith in democracy as expressed in the nationwide elections that produced the President and his Deputy being inaugurated and indeed in all elections across the nation, enjoining Nigerians to continue to support and promote democracy through adherence to the rule of law and uphold all democratic institutions.
In the statement signed by the Permanent Secretary, Mr Shuaib Belgore, the Minister urged Nigerians also to continue to promote ideals of peaceful coexistence and love for our neighbours, noting that we can only practice democracy and enjoy its dividends in a peaceful environment.
Mr Aregbesola charged Nigerians to shun any form of violence and other untoward acts, saying all hands should be on the deck for the brightness of the future of Nigeria.
Schneider Electric Reinforces Support to Partners in Achieving Energy Management Goals
By Adedapo Adesanya
Schneider Electric, a global leader in digital energy management solutions, recently held an event for its valued partners with a focus on industry trends, challenges, and the future of energy management.
The event provided a platform for attendees to network and share critical insights, including the latest market trends and Schneider Electric's newest offerings in energy management.
Present at the event were the Country President, Schneider Electric, West Africa, Mr Ajibola Akindele, official distributors, retail partners, panel builders, Marketing and Communications Manager, Schneider Electric, Omobolanle Omotayo, Channel Sales Director, Schneider Electric, Nurudeen Oyedeji, amongst others.
It featured engaging discussions and presentations that explored the current and future trends in the industry, as well as how Schneider Electric can better serve its customers' evolving needs while showcasing the company's latest products and services.
Expressing his gratitude to their partners, Mr Akindele said, "Our partners' satisfaction is crucial to enhancing our individual efforts, and we are thankful for their unwavering support. Their partnership has been instrumental in our success as an organization, and we remain committed to working collaboratively to achieve our shared goals."
Speaking further on working collaboratively with partners, he mentioned that Schneider Electric had developed a programme targeted at empowering electricians for the safe installation of energy management solutions.
"At the core of Schneider Electric is a passion for people. To guarantee the safety of our customers, an initiative has been created to equip electricians with products and technical skills for safe installation."
On his part, Channel Sales Director, Nurudeen Oyedeji highlighted a few of Schneider Electric's latest offerings in energy management, "We have Electrical Vehicle (EV) Chargers, flexible design switches, circuit breakers, switchboards, Building Management Systems (BMS) and other energy solutions designed for residential and small businesses, buildings, data centres, and industries.
"We look forward to a continuous collaboration with our partners to drive innovation and create sustainable energy solutions for the future."
Schneider Electric is driving digital transformation by integrating world-leading process and energy technologies, endpoint to cloud connecting products, controls, software, and services across the entire lifecycle, enabling integrated company management for homes, buildings, data centres, infrastructure, and industries.
Latest News on Business Post