Hairdresser, Phone Seller, Emerge Millionaires at Mega Games Promo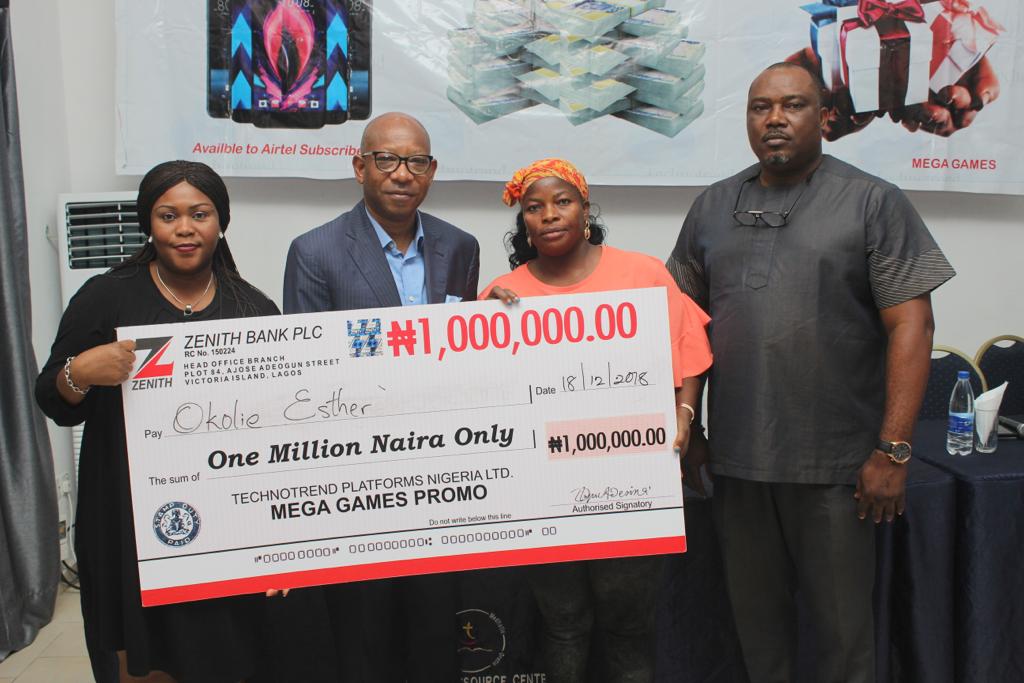 By Dipo Olowookere
The lives of six lucky Nigerians and an Arabian turned around for good recently at the Mega Games Promo organised by a technology company, Technotrend Platform Nigeria Limited, under the platform of Airtel Nigeria Network.
During a presentation ceremony held at the Lagos Resource Center in Victoria Island, Lagos, the seven lucky persons became N1 million richer. They were Rosemark, Mike Chikodo Okoro, Emmanuel Egbo, Ikade Michael Dan, Okoli Stella Yemisi, Adebayo Oyeyipo and the Arabian named Rafaqat Ali.
One of the beneficiaries of the N1 million cash, Rosemark, a hairdresser, said she was surprised and initially didn't believe she could win when she was called and received text. She thanked organisers of the Mega Games Promo for matching their words with Action.
For Mike Chikodo Okoro, a retail phone seller, a friend urged him to play the game, which he reluctantly did, not expecting to become a millionaire in 2018.
"I am so happy today as Mega Games Promo has made my day. I was planning to travel to the east but I received a call and had to postpone the trip. This money means so much as I hope to use it to settle some medical bills because I had an accident last year and has been treating my leg. The fund will be used to boost my business. Just keep on playing the game, forget about the N1 million. Just keep on playing it," he said.
Another winner, Stella Yemisi Okoli, who came from Akure, Ondo State, was full of smiles, saying "I lost hope I thought it was not for real. Mega Games Promo has made my day as this fund came handy during the yuletide season. I am overwhelmed."
Managing Director of Technotrend Platform Nigeria Limited, Mr Doyin Adeshina, said Mega Games Promo, which started barely three months ago, has rewarded players with a total of N22 million, the top prize being a million naira.
He added that the trivia game draws are done daily after five questions are answered via the Airtel SMS platform attracting just N20 per day which must accrue to 6,000 points qualifying the player for a daily draw. A million naira cash prize and ten smartphones are won every week.
During the event, some people won smartphones, which were presented to them in the presence of officials of Nigeria Lottery Regulatory Communication (NLRC), Mr Jude Ughwujabo and Consumer Protection Council (CPC), Madam Suzie Onwuka.
Mr Ughwujabo commended Technotrend Platform Nigeria Limited for the milestones, noting that the commission regulates promotions both from the end of regulators and even those of you that participated and won.
He added, "We make sure you get your prizes. We commend Technotrend and we hope they will come with new ideas next time for the Promotions."
Suzzie Onwuka of Consumer Protection Council urged the participants to have faith in the process, as they can see the delivery of the organizers on their promise.
"The council is out to protect the people. If there is anyone unsatisfied with the promo, reach out to us at CPC and we take it from there," she said.
Technotrend Platforms Nigeria Limited (TPNL), a technology company that offers wholesales wireless (Mobile) access services to telecom subscribers through the mobile networks recently presented cash prizes of N1 million and smartphones each to lucky subscribers, who participated and won its on-going Mega Games Promo, which is principally designed to better the lives of Nigerians. The offer is available to Airtel subscribers only. In the past few months, the firm has handsomely rewarded its customers with cash prizes worth over N12 million; ranging from N1m daily prizes and smartphones via the mega game's promo, which is anchored on a point-based system where customers accumulate points to increase their chances of winning by performing any network-based mobile activity.
Lagos Joins Eight Other Cities to Improve Air Quality
By Adedapo Adesanya
Lagos State has signed the C40 Clean Air Cities Declaration alongside Abidjan, Accra, Addis Ababa, Dakar, Ekurhuleni, Freetown, Johannesburg, Nairobi, and Tshwane to improve air quality.
Governor Babajide Sanwu-Olu in a statement revealed that he was committed to improving air quality for its citizens, adding that it is the responsibility of every citizen to maintain it because together it can be achieved.
He explained that he was happy to join the mayors and governors of nine other African cities in making an unprecedented, ambitious commitment to improve air quality with the signing of the C40 Clean Air Cities Declaration.
"The need to breathe clean air is more important than the licence to pollute it.
"Lagos has committed to improving air quality and I appeal to the responsibility of every citizen because together we can," he said.
The statement also revealed that by signing the C40 Clean Air Cities Declaration, the governor of Lagos State recognises that breathing clean air is a human right, and commits to working toward safer air quality.
Mr Sadiq Khan, the Chair of C40 Cities and Mayor of London, in his remarks, said that: "With COP27 being held in Africa later this year, I am delighted to welcome 10 new African signatories to the C40 Clean Air Cities Declaration.
"As Chair, I am determined to do more to support cities in the global south, who are on the frontline facing the worst consequences of climate change."
Mr Khan also said he was focussing C40's resources to help cities around the world accelerate their efforts to tackle climate emergencies, reduce toxic air pollution, and address inequalities.
He lamented that the world was at a crossroads, adding that efforts must be made to allow cities around the world to become greener, fairer, and more prosperous for all.
On his part, Mr Michael Bloomberg, United Nations Special Envoy for Climate Ambition and Solutions, President of the C40 Board and 108th Mayor of New York City, in his remarks noted that many of the world's fastest-growing cities are in Africa.
"We believe that the ten mayors can help show cities everywhere how to protect public health, fight climate change, and expand economic opportunity all at the same time.
Mr Bloomberg also added that cities play a vital role in the fight against climate change.
"This new commitment is an important step to help build momentum and highlight Africa's leadership in the lead-up to COP27 in Egypt later this year," Bloomberg said.
The statement read in part: "Under the Clean Air Cities Declaration, Lagos is improving public transport as a key component of Lago's strategy to reduce air pollution.
"The city will expand the bus rapid transit (BRT) network, installing new terminal hubs and lines allowing for additional users and trips."
"A low-emission bus pilot, replacement of older vehicles by 2025, and improved fuel quality standards will reduce public transport pollution."
"Improved walking and cycling infrastructure by 2025 will increase active mobility, further reducing demand for private transport."
"Other actions include rehabilitating three illegal waste dumping sites, increasing the uptake of LPG for cooking, and promoting solar photovoltaic systems on buildings."
It read: "Air pollution has become the second largest cause of death on the African continent, due in part to rapid urbanisation and industrialisation.
"Approximately 1.1 million deaths per year have been linked to air pollution across Africa, according to a Global Burden of Disease Study."
"Approximately 59 million people across the ten African cities stand to benefit from cleaner air and improved health through commitments that are estimated to prevent as many as 10,000,"
"Early deaths linked to air pollution exposure, as well as more than 300,000 hospitalisations, resulted in US$ 9.4 billion in annual savings from averted deaths and hospitalisations.
"If Lagos reduces its PM2.5 concentration to 35 μg/m3 (World Health Organisation (WHO) Interim Target 3) by 2030, it could prevent 2,800 deaths and 155,000 hospitalisations per year."
"This would save $2.3 billion annually (from avoided deaths and hospitalisations)."
According to it, if Lagos reduces its NO2 concentration to 10ppb (WHO Air Quality Guideline), it will prevent 2,300 asthma incidences per year.
"This will save U.S.$ 200 million annually in related healthcare costs.
"Swift, unprecedented and collaborative action is needed to address the sources of pollution that are harming our health and heating our planet," the statement read
SERAP Wants INEC to Publish Financial Details of Political Parties
By Adedapo Adesanya
In its latest move, the Socio-Economic Rights and Accountability Project (SERAP) has urged the Independent National Electoral Commission (INEC) to publish the reports on the accounts and balance sheets of every political party submitted to the National Assembly since 2015.
The group called on Mr Mahmood Yakubu, the Chairman of the body, to make available the request in a letter dated May 21, 2022, signed by SERAP deputy director, Mr Kolawole Oluwadare.
SERAP urged him to "urgently examine the books and records of financial transactions of political parties, and to make public the outcome of any such examination."
It also urged him to "provide details of the guidelines, and steps that INEC is taking to prevent vote-buying in the forthcoming elections in Ekiti and Osun states and 2023 general elections, and to prosecute vote buyers and other electoral offenders."
Recently, the All Progressives Congress (APC) collected N100 million for its presidential form while the opposition Peoples Democratic Party (PDP) collected N40 million for the same purpose for the 2023 elections.
The organisation also alleged that some leading political parties and politicians also spend between N250 to N14,000 to buy votes.
The organisation said: "Nigerians have the right to know about the accounts and financial transactions of their political parties, especially the major parties with a strong possibility to assume government in the future."
According to SERAP, "transparency and accountability of political parties is important to achieve greater transparency in public life, curb the influence of money in politics, promote a level playing field, and remove the risks to the independence of political actors and would-be public office holders."
SERAP also said, "It is both immoral and illegal to pay citizens to vote for a particular political party or candidate. Unpunished cases of vote buying and related electoral offences would continue to undermine good governance, the rule of law, moral values, as well as hinder citizens' participation in elections."
The letter, read in part: "When a political candidate decides to buy the support of the people rather than contest fairly for their votes, there are possibilities that such candidate will show a disregard for democratic rules and a disposition to adopt illegal means becomes inevitable.
"Vote buying and related electoral offences encourage poor governance and weaken citizens' capacity to hold their elected officials accountable for their actions.
"SERAP urges you to urgently take measures and to collaborate with appropriate anti-corruption agencies to ensure the effective prosecution of any outstanding cases of vote buying and related electoral offences allegedly committed in the context of the 2019 general elections.
"We would be grateful if the recommended measures are taken within 14 days of the receipt and/or publication of this letter. If we have not heard from you by then, SERAP shall consider appropriate legal actions to compel INEC to comply with our request in the public interest.
"The lack of transparency and accountability in political finance is seriously undermining the legitimacy and credibility of the democratic and electoral processes, and invariably contributing to denying the citizens the right to effective participation in their own government.
"The failure of political parties to comply with transparency and accountability frameworks would undermine citizens' trust in their political parties and lack of trust will inevitably destroy confidence in the system and decrease citizens' interest and participation in the democratic process.
"Elections are only one part of the democratic process, and a fair and effective electoral system must be founded in an adequate democratic infrastructure and responsibility of political leaders.
"According to our information, several political parties have for many years failed to submit their annual financial statements to INEC. Many political parties have failed to submit election expenses reports, and to disclose material contributions received from individuals and corporate bodies to the Commission.
"The Commission has also been apparently unable or unwilling to monitor, examine and publish these financial statements."
"Also, some leading political parties, politicians and other political actors reportedly paid between N250 to N14,000 to buy votes. For many years, allegations of vote buying (the payment of cash or gifts in exchange for voting) and related electoral offences have characterised elections and party primaries in the country.
"SERAP is concerned that despite several provisions of the Electoral Act (as amended), anti-corruption laws, and the country's international anti-corruption obligations, suspected perpetrators of vote buying and related electoral offences frequently escape justice for their crimes.
"However, INEC has consistently failed to exercise its powers and to provide the leadership that would promote collaboration with appropriate anti-corruption agencies to facilitate and ensure thorough, transparent and effective investigation of cases, and the arrest and prosecution of suspected perpetrators.
"Section 86(1) of the Electoral Act 2022 requires every political party to submit to INEC a detailed annual statement of assets and liabilities and analysis of its sources of funds and other assets and statement of its expenditure. Failure to comply is an offence under Section 86(2), which is punishable by imprisonment for a term of six months or a fine of N1,000,000 or both.
"Under Section 86(3)(4) INEC has the power to examine the records and audited accounts kept by any political party, and to publish the report on such examinations and audit in two national newspapers and Commission's website within 30 days of receipt of the results.
"Section 226 (1) of the Electoral Act 2022 also requires INEC to prepare and submit a report every year to the National Assembly on the accounts and balance sheet of every political party. Under Section 225(5), INEC has the power to give directions to political parties regarding their books or records of financial transactions.
"The Nigerian Constitution and international standards guarantee and protect the right of all qualified citizens to vote, in state as well as in general elections.
"The right to vote freely for the political party and candidate of one's choice is of the essence of a democratic society, and any restrictions on that right strike at the heart of representative government.
"The effective exercise of the right of qualified Nigerians to have a voice in the election of those who make and enforce the laws under which, as good citizens, they live can contribute to the enjoyment of other human rights, including to corruption-free public services, freedom of expression and digital and data rights.
"Public confidence in voting systems serves as an indispensable feature of a full and healthy democracy.
"Persistent failure to arrest and prosecute suspected perpetrators of vote buying and related electoral offences may ultimately undermine public confidence, the integrity of the country's elections, and lead to widespread disaffection with the electoral process."
LASEMA Combs Collapsed Lagos Island Building for Survivors
By Aduragbemi Omiyale
The Lagos State Emergency Management Agency (LASEMA) has commenced search operations in the 3-storey building that collapsed on Saturday in Lagos Island.
The agency is combing the debris of the property for survivors. Already, two adult males have been rescued in the rubbles of the collapsed Lagos Island building located at 4, Alayaki Lane, Lagos Island.
The house caved in today during the heavy rainfall and trapped some occupants.
The two rescued persons have been given pre-medical treatment by the agency's paramedics, while two corpses recovered from the debris have been handed over to the State Environmental Health Monitoring Unit (SEHMU) for onward transfer to the morgue.
A statement signed by the Permanent Secretary LASEMA, Dr Olufemi Oke-Osanyintolu, claimed that the building was already in violation of safety protocols and had been captured by the Lagos State Building Control Agency (LASBCA) District Office and served with all statutory notices, sealed at District and Central Enforcement Level, but the developer had continued clandestine operations mostly at nights and at weekends.
It was gathered that Dr Oke-Osanyintolu is in charge of the search and rescue operations, which are still ongoing as an unconfirmed number of people are trapped in the rubbles.
Latest News on Business Post