How to Obtain SCUML Registration from EFCC With Ease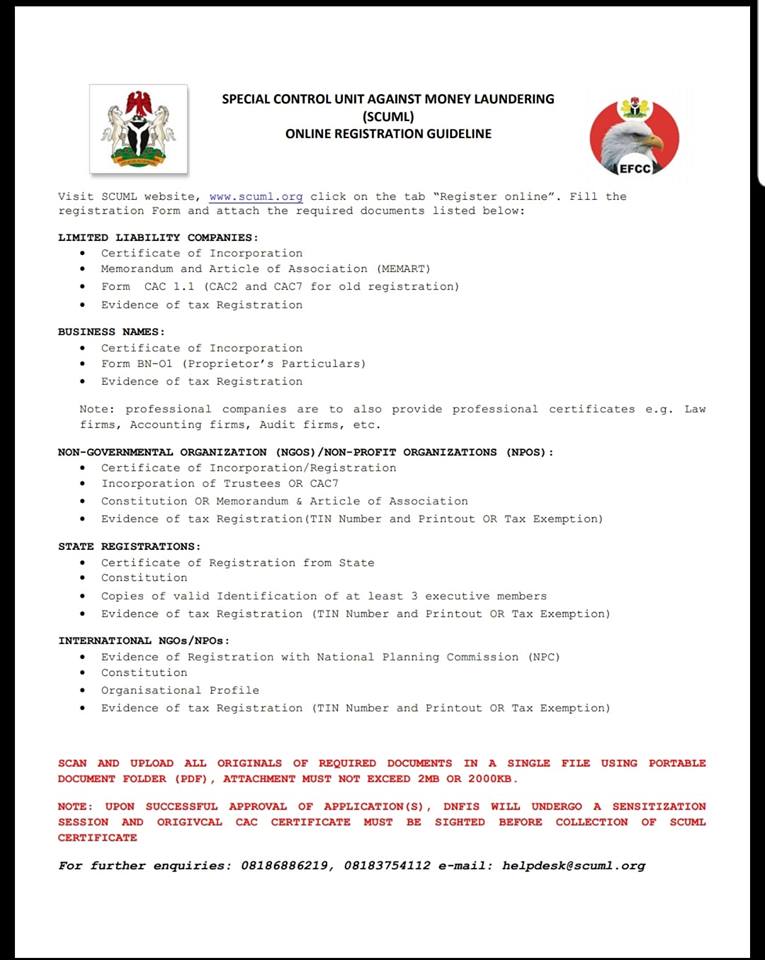 By Modupe Gbadeyanka
For those who have tried to open a corporate bank account in Nigeria, they must have come across the word 'SCUML.' In some cases, without this document in your possession, banks cannot complete the account opening process for you.
SCUML is an acronym for Special Control Unit Against Money Laundering and it is issued by the Economic and Financial Crimes Commission (EFCC).
If someone had in the past told you that obtaining the SCUML certificate costs a lot and difficult to obtain, we are here to let you know that all you need is a computer, internet access and a scanner to scan your documents, which must be less than 2MB and merged as one file.
SCUML is charged with the responsibility of monitoring, supervising and regulating the activities of Designated Non-Financial Institutions (DNFIs) in line with the Money Laundering (Prohibition) Act ML(P)Act 2011 and the Prevention of Terrorism Act (PTA) 2011.
Who are Designated Non-Financial Institutions?
Section 25 of the ML (P) Act defines DNFIs as dealers in jewellery, cars and luxury goods, Precious stones and metals, Real estate, Estate developers, Estate surveyors and Valuers, Estate Agents, Chartered accountants, audit firms, tax consultants, clearing and settlement companies, hotels, casinos, supermarkets, Dealers in Merchanised Farming equipment and machineries, Practitioners of Mechanised farming, Non-Governmental Organisations (NGOs) or such other businesses as the Federal Ministry of Trade and Investment or appropriate regulatory authorities may from time to time designate.
Does SCUML registration attract any fee?
No! Registration can be done on the SCUML website at NO COST.
What is a suspicious transaction?
A suspicious transaction is a transaction in which a DNFI suspects that it may involve proceeds of any of the offences specified in the Money Laundering (Prohibition) Act 2011 as amended, regardless of the value involved; or
(a) Appears to be made in circumstances of unusual or unjustified complexity; or
(b) Appears to have no economic justification or lawful objective; or
(c) Gives rise to suspicion that it may involve financing of terrorism.
STR has no threshold; it could be based on any amount. This report should be submitted to the Nigeria Financial Intelligence Unit (NFIU) solely.
What is Currency Transaction Report?
A CTR is a report that Designated and Non-Financial Institutions (DNFIs) are statutorily required to file with the Nigeria Financial Intelligence Unit (NFIU) on transactions that involve amounts in excess of N10,000,000 (Ten Million Naira) and N5,000,000 (Five Million Naira) for corporate bodies and Individuals respectively. However, based on the Memoradum of Understanding between Special Control Unit against Money Laundering and the Nigerian Financial Intelligence Unit, DNFIs are to report CTRs directly to SCUML.
What is Cash Based Transaction Report? This is a report that Designated Non-financial Institutions are required to file with the Special Control Unit against Money Laundering (SCUML) for each deposit, purchase or sale and other payments , by a customer to the DNFI, which involves cash transaction in excess of $1,000 or its equivalent in Naira or other currencies.
Akinwumi Adesina Turns Down Requests to Become Next Nigerian President
By Adedapo Adesanya
The President of the Africa Development Bank (AfDB), Mr Akinwumi Adesina, has ruled himself out of the 2023 presidential race in Nigeria.
Mr Adesina made his position known in a statement on Tuesday after months of calls for him to join the contest after a group bought the presidential nomination form of the All Progressives Congress (APC) for him at the cost of N100 million.
In the statement, the banker emphasised that his current desire is to continue to hold the office of the president of the AfDB which he won reelection for last year.
However, he expressed appreciation for those who found him worthy of leading his country at this critical time it is undergoing different challenges ranging from economy, security and others.
"While I am deeply honoured, humbled and grateful for all the incredible goodwill, kindness, and confidence, my current responsibilities at this time do not allow me to accept to considered," the statement read in part.
"I remain fully engaged and committed to the mission that Nigeria, Africa and all the non-African shareholders of the African Development Bank have given me for Africa's development.
"I remain fully focused on the mission of supporting the accelerated development and economic integration of Africa," Mr Adesina added.
Less than two weeks ago, a coalition of 28 groups purchased the N100 million APC presidential forms for the former Agriculture Minister.
The coalition consists of groups such as the Youth Arise Movement, Nigerians in Diaspora, One Nigeria Group, Prudent Youth Association of Nigeria, women groups, farmers, and other civil society groups.
Sanwo-Olu Promises Justice for Sound Engineer David Imoh
By Modupe Gbadeyanka
Governor Babajide Sanwo-Olu of Lagos State has promised to ensure that the late Sound Engineer killed by a mob in the Lekki area of the state last week gets justice.
The Governor gave this assurance through the Commissioner for Information and Strategy, Mr Gbenga Omotoso, in a statement issued on Monday night.
Last week, after boarding a commercial motorcycle, an argument ensued between Mr David Imoh and the okada rider over N100 and attracted other riders, who then lynched him.
There have been calls for justice for the deceased and in the statement today, the state governor said this would be done.
He condemned the mob attack and said the police are interrogating four suspects at the State Criminal Investigation Department (CID), Panti in connection with the incident, while two survivors of the act are in hospital.
According to Mr Sanwo-Olu, the government will address the root cause of this and similar incidents, which have caused public anxiety, appealing to residents to remain calm as police continue to investigate the matter.
"Lagos has no room for savagery and anybody found to have been involved in this barbarism will surely face the law.
"We condemn and will not condone any kind of jungle justice, no matter who the perpetrators are," the statement stressed.
N80bn Fraud: EFCC Arrests Accountant General of the Federation Ahmed Idris
By Modupe Gbadeyanka
The Accountant General of the Federation (AGF), Mr Ahmed Idris, is cooling off in the custody of the Economic and Financial Crimes Commission (EFCC).
He is having talks with the agency, explaining what he knows about an alleged diversion of N80 billion belonging to the federal government.
He was picked up by operatives of the EFCC on Monday, May 16, 2022, after allegedly failing to honour invitations by the commission to respond to issues connected to the issue.
In a statement issued on Monday night, the anti-money laundering organisation claimed that Mr Idris, through verified intelligence, "raked off the funds through bogus consultancies and other illegal activities using proxies, family members and close associates."
"The funds were laundered through real estate investments in Kano and Abuja," another part of the statement disclosed.
The AGF has been in the news lately over an audit report, which indicted some ministries, departments and agencies (MDAs) of the federal government of fraud.
Latest News on Business Post