NSE Hosts Seminar to Mark 2017 Int'l Women's Day
By Modupe Gbadeyanka
A programme will hold on Wednesday, March 8, 2017, at the Stock Exchange House, Lagos to mark the 2017 International Women's Day.
The event, themed 'Transcending Gender Limitations', is organised by the Nigerian Stock Exchange (NSE) in partnership with Sustainable Stock Exchanges Initiative, United Nations Women, United Nations Global Compact, International Finance Corporation, the World Federation of Exchanges and Women in ETFs.
Business Post gathered that the half-day symposium is headlined by the first female Professor of History in Nigeria and author of 'Nigerian Women Pioneers & Icons.' Professor Bolanle Awe.
The event will also feature a panel discussion on 'Transcending Gender Limitations,' while the panellists comprise women from various spheres of social and economic activity, who have shattered the glass ceiling to succeed in their chosen profession.
Some of them are Mrs Ronke Sokefun, Commissioner for Urban & Physical Planning in Ogun State; Ms Ngozi Edozien, founder and Managing Director of Invivo Partners Limited; Mrs Betty Irabor, Founder and Publisher of Genevieve Magazine; Ms Tinu Awe, General Counsel and Head, Regulation, NSE; Ms Pai Gamde, Acting Head, Corporate Services Division, NSE and Mrs Mojisola Adeola, Council Secretary, NSE.
These women will share their unique journeys with participants while engaging in a focused deliberation that will further increase knowledge and awareness of the challenges and responses to gender equality in Nigeria.
The symposium id in its third consecutive year and is aimed to celebrate the social and economic achievements of women in many spheres of life and discuss avenues to accelerate gender parity.
Attendees at the event are drawn from corporate, education, government and non-governmental sectors.
According to the Chief Executive Officer (CEO) of the NSE, Mr Oscar Onyema, promoting gender equality and empowering women is a priority for the Exchange.
"At the NSE, we promote a working environment that is inclusive for all as we believe that achieving gender equality is paramount to developing the society.
"We have a female to male employees' ratio of 1:2 and we are working towards improving the number.
"We are proud to host this symposium that allows us every year to bear witness to an exchange of stimulating stories of women's achievements as well as celebrate what women can do and what women have done."
"As a member of the Sustainable Stock Exchanges Initiative (SSEI), the Exchange is playing its part to accelerate the achievement of the United Nation's Sustainable Development Goal (SDG) 5 which seeks to achieve gender equality and empower all women and girls by 2030," he said.
Mr Onyema further stated that "The Exchange will join other exchanges around the world on the 'Ring the Bell for Gender Equality' drive, by using our Closing Gong ceremony to highlight the business case for women's economic empowerment and also to highlight opportunities for the private sector to advance gender equality and sustainable development".
"Reinforcing our commitment to eliminate gender inequality, we will be launching an Economic Dividend of Gender Equality (EDGE) campaign aimed at educating our listed companies and dealing members on the significance and economic importance of bridging gender equality.
"In addition, we will inaugurate NSE Gender Equality Men (GEM), a group of men who will support women in NSE towards achieving their potentials and help them to navigate work place challenges".
Across the globe, International Women's Day on March 8 represents an opportunity to recognise and celebrate the achievements of women, encouraging effective action while calling for greater equality.
Attendees at the NSE event will be able to win gift prizes provided by the following supporters of the event – Taos Cosmetics, B​Natural Spa, Ethnik by Tunde Owolabi, Luxury Bargains, Keekx, Vane Beauty and Studio 24 Nigeria, Olori Cosmetics.​
LASEMA Battles to Curtail Fire Outbreak at Balogun Market
By Modupe Gbadeyanka
The Lagos State Emergency Management Agency (LASEMA) has said it was working tirelessly with other agencies to put out the fire at 3/5 Gbajumo Street, Balogun, Lagos Island.
In a statement issued on Thursday, the organisation said it received a distress call from concerned persons in the wee hours of today over the unfortunate incident.
It was gathered that a 5-storey building at the Balogun Market was gutted by fire, destroying properties worth millions of Naira.
Giving an update on the situation, LASEMA said the joint teams, which rushed to the scene of the inferno, were having a constraint preventing the fire trucks from having direct access to the source of the fire, which are the shops constructed on the road blocking all routes.
"The agency received a distress call around 12:30 am today, Thursday, January 26, 2023, regarding a fire outbreak at No 3/5 Gbagumo street Balogun market, Lagos Island, which prompted the immediate activation of the Emergency Response Team to the scene of the incident.
"Consequent upon arrival at the scene of the incident, information gathered revealed that some shops (rubber shoes and clothes are stored) on the first floor of a 5-storey building was gutted by fire. However, the cause of the fire could not be ascertained.
"Fortunately, there is no loss of life or casualty involved in the incident.
"Collaborative efforts to put out the fire are ongoing by the agency's Response Team and its fire unit, alongside Lagos State Fire and Rescue Service, Federal Fire Service, Police Force, CBD, LASAMBUS, LNSC and NEMA.
"However, the joint teams have a constraint which is preventing the fire trucks from having direct access to the source of the fire, which are the shops constructed on the road blocking all routes.
"Efforts are still ongoing to prevent the spread of the fire to nearby buildings. Operations are also still ongoing," the statement said.
Tinubu Never Blamed Buhari for Fuel Scarcity, Others—Onanuga
By Modupe Gbadeyanka
The Director of Media and Publicity of the All Progressives Congress (APC) Presidential Campaign Council (PCC), Mr Bayo Onanuga, has said the party's presidential candidate, Mr Bola Tinubu, did not blame President Muhammadu Buhari for the current challenges in the country.
On Wednesday, during his campaign in Abeokuta, Ogun State, Mr Tinubu accused some powerful persons were behind the current scarcity of petrol in Nigeria, as well as the scarcity of the new Naira notes.
President Buhari is the Minister of Petroleum Resources, and fuel scarcity has remained for months under his watch. He also approved the redesigning of the Naira when Mr Godwin Emefiele, the governor of the Central Bank of Nigeria (CBN), brought the proposal to him.
But while speaking yesterday, Mr Tinubu said, "We will use our PVCs to take over government from them. If they like, let them create a fuel crisis; even if they say there is no fuel, we will trek to vote.
"They are full of mischief, they could say there is no fuel. They have been scheming to create a fuel crisis but forget about it. Relax, I, Asiwaju, have told you that the issue of fuel supply will be permanently addressed," he said at the campaign rally.
"Whoever wants to eat the honey embedded in a mountain won't worry about the axe. Is that not so? And if you want to eat palm kernel, you would bring a stone and use it to break it; then the kernel will come out. It's not easy to…
"Let them increase the price of fuel, let them continue to hoard fuel, only them know where they have hoarded fuel, they hoarded money, they hoarded naira; we will go and vote, and we will win even if they changed the ink on Naira notes. Whatever their plans, it will come to nought," he added.
His comments generated mixed reactions, with some commentators saying he was indirectly indicting Mr Buhari for the crisis facing the country.
But Mr Onanuga rebuffed this, saying the opposition Peoples Democratic Party (PDP) was plotting to "create a wedge between our presidential candidate and President Muhammadu Buhari."
According to him, the former Governor of Lagos State was only empathising "with the Nigerian people facing the dual crises of fuel and new Naira notes scarcity."
"For the records, Asiwaju Tinubu, during the APC campaign rally at Abeokuta on Wednesday, in his statement, did not mention, blame or accuse President Muhammadu Buhari for the current challenges in the country.
"Asiwaju Tinubu was only adverting the government's attention to the sabotage being carried out by some Fifth Columnists in the system, possibly working in cahoots with the PDP.
"The CBN officials, including Governor Godwin Emefiele, have said many times that enough new Naira notes have been supplied to the banks, yet our people complain that they have not been able to get the new notes.
"In recent days, many ATMs are either not working, or when working, they are dispensing the old notes, just a few days to the  January 31 deadline.
"Similarly, Asiwaju Tinubu is aware of the salutary efforts by President Buhari to end the fuel queues by chairing a 14-man panel. Yet the queues and agony continue.
"For a presidential candidate, who cares about the suffering of our people, he has a duty to warn the government that its efforts to make life better for Nigerians are being sabotaged on several fronts.
"Our presidential candidate only re-echoed what is well known and acknowledged, even by President Buhari himself, at different fora: That there are Fifth Columnists in and outside of government who often throw spanners in the works against good intentions and programmes of the government.
"How does an advisory genuinely made by Asiwaju Tinubu to protect and create goodwill for the government of his party become an attack? It can only be so in the jaundiced view of the PDP," a part of the statement issued on Thursday said.
DLM Capital Sponsors Employee's Philanthropic Projects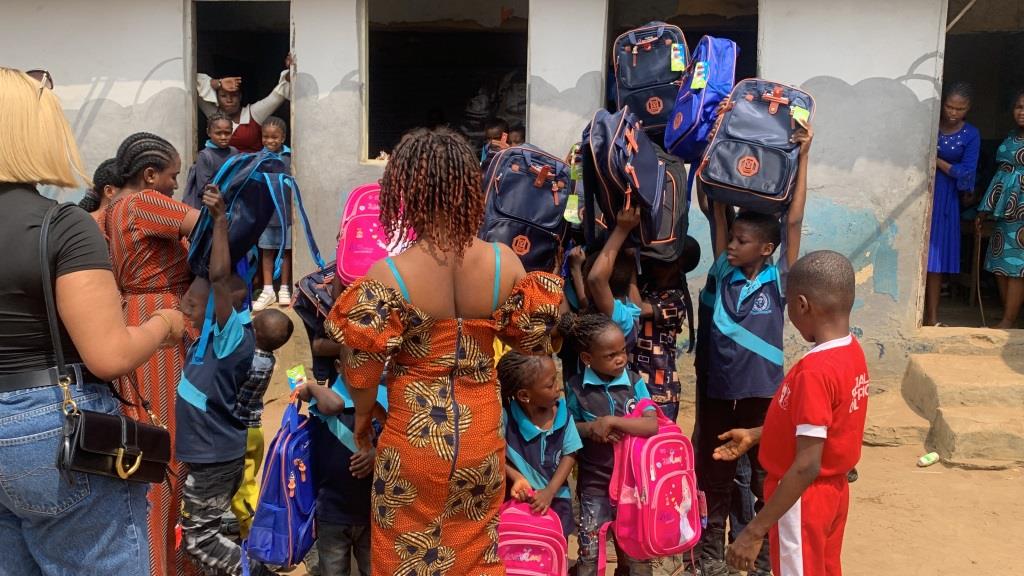 DLM Capital Group, a development investment bank, partnered with the Shile Akinjo Charity Foundation (SACF) on two of its charity initiatives: "Love Feast on the Street" and "Back-to-School Project."
Shile Akinjo, a corporate finance associate at DLM, started SACF in 2022 to support low-income families and the less privileged to fight poverty, receive decent health care, and achieve a basic education.
The "Love Feast on the Street" was held on the 17th of December 2022 to celebrate Christmas with over 400 kids at Makoko Slum, Yaba, Lagos. The day's highlights include face painting, a dance competition, popcorn, food, drinks, and the gifting of party packs to the kids.
The "Back-to-School Project" was held on the 20th of January 2023 at The Light School and Boanerges School at Akesan, Alimosho, local government. All the pupils in basic 1–5 were given school supplies such as school bags, socks, notebooks, pencils, biros, erasers, rulers, crayons, water bottles, and snacks.
Shile Akinjo commented on the initiative, stating, "Happiness is as essential as food if a child is to develop into normal manhood or womanhood." Being able to put smiles on these kids' faces is fulfilling, and we will continue to carry out initiatives that support these goals. I am grateful to Mr. Sonnie Ayere and DLM Capital Group for their full commitment to these projects. I feel lucky to work for a company that supports and encourages its employees to do good things for the community.
In a statement highlighting DLM's sponsorship of the projects, Chinwendu Ohakpougwu, Head of Corporate Communications, said: "At DLM, we are committed to impacting human lives. The management of DLM will continue to support good causes that promote the welfare of others."
Latest News on Business Post