Sultan of Sokoto Sues For Peace In Africa
The need to embrace peace and unity in Africa has been emphasised by the Sultan of Sokoto, Alhaji Sa'ad Abubakar III.
Mr Abubakar, while receiving the Liberian Vice President, Mr Joseph Boakai, at his palace in Sokoto on Sunday, said "Nigeria will continue to do everything humanly possible to ensure that stability stays in Africa."
He further said, "We will also continue to work together to entrench peace, unity, democracy and inter-faith harmony in Africa.
"The Federal Government is also committed to lending support to Liberia, at all times."
The respected monarch said Nigeria had committed men and resources to ensure that peace and unity were restored during the "dark days" of the country.
He said peace was the most veritable tool of development and stability, globally.
"Nigeria and Liberia share a lot in common and the visit will strengthen our existing bond of unity.
"Nigeria will continue to strengthen this strong bond of relationship and brotherhood," he said.
Earlier, Boakai acknowledged the tremendous sacrifice Nigeria had made to restore peace and unity to Liberia during its civil war.
"Since independence and when we came into hostilities, Nigeria was the first African country to come to our rescue.
"The sultan was part of this history and Nigeria had made ultimate sacrifice in restoring peace to our nation.
"During the Liberian civil, the brave military men and women of Nigeria were the first to set their foot on the Liberian soil," he said.
Boakai further said that most banks and insurance firms in Liberia were owned by Nigerians.
He also said that many Nigerian Medical Doctors and University Lecturers were currently operating in Liberia.
"Nigeria stood with Liberia even during the difficult Ebola days".
The Deputy Governor of Sokoto State, Alhaji Ahmed Aliyu, who led the Liberian Vice President to the Sultan's palace, described Sokoto as one of the most peaceful states in Nigeria.
FCFA Tasks Nigeria to Adopt Sweden's Tobacco Harm Reduction Model
By Dipo Olowookere
Nigeria has been advised to adopt the model used by Sweden to achieve Tobacco Harm Reduction (THR), which helped the European nation to reduce smoking rates, thereby promoting a healthier future.
Sweden is moving closer to becoming a smoke-free society, as over the past 15 years, smoking rates have plummeted from 15 per cent to 5.6 per cent, making it the lowest rate in Europe.
This has also put the country 17 years ahead of the European Union's target, affirming the effectiveness of the Swedish way of making reduced risks alternative products to smoking widely accessible, acceptable and affordable.
Nigeria can also achieve this feat if necessary steps are taken to work toward this, the Foundation for Consumer Freedom Advancement (FCFA) submitted.
While joining others to celebrate World Vape Day 2023 on May 30, the group said it was fully behind the fight to combat smoking charging African leaders to adopt the Swedish model to save millions of lives across the continent to transform public health outcomes and reduce the staggering toll of tobacco-related diseases.
Nigeria continues to face the devastating consequences of smoking-related diseases. The World Health Organisation, in 2022, reported that nearly 30,000 lives were lost in Nigeria due to this.
According to the Global State of Tobacco Harm Reduction, 4.1 per cent of the adult population in Nigeria are current smokers, representing approximately 4.5 million individuals.
The Global State of Tobacco Harm Reduction reports that while 7.9 per cent of men in Nigeria are current smokers, only 0.3 per cent of women smoke.
These figures underscore the urgent need for the Nigerian government to prioritize THR and learn from the Swedish model, FCFA said, attributing the success of adopting a smokeless oral tobacco product called Snus and promoting diverse alternatives to traditional cigarettes.
The organisation Sweden offered a range of reduced-risk alternatives such as e-cigarettes or vaping products and nicotine pouches, noting that these alternatives are made readily available in convenience stores, supermarkets, and tobacco stores, simplifying the transition process for smokers.
FCFA has called on the Nigerian government to prioritise Tobacco Harm Reduction, stating that through education, regulation and provision of safer alternatives, Nigeria can empower its citizens to make informed choices and transition from traditional combustible tobacco products.
The group promised to partner with "stakeholders in Nigeria to promote Tobacco Harm Reduction initiatives and work towards a smoke-free future."
InTouch, GTP to Unlock Financial Inclusion for African Consumers
By Modupe Gbadeyanka
A partnership targeted at unlocking financial inclusion for African consumers has been entered between GTP, a specialised provider of prepaid and virtual card processing solutions, and InTouch, a leading pan-African fintech.
This collaboration will commence in Senegal and Côte d'Ivoire and expand into the rest of the continent. The goal will be achieved by democratising access to card credentials for millions of African consumers, as it would bridge the gap between digital payment platforms and card-based transactions, giving InTouch customers access to cross-border transactions through Visa credentials.
"With this partnership, we are democratizing access to card payments and enabling international and online payments as well as cash in and cash-outs in our TouchPoint network in Senegal and Ivory Coast and very soon in 16 other African countries.
"Our goal is to offer the simplest and most accessible solutions for digital payments to millions of customers across the African continent," the founder of InTouch, Omar Cissé, said.
Also, the chief executive of GTP, Christian Bwakira, said, "InTouch is an innovative pan-African payments aggregator that has demonstrated consistent innovation in markets in which it operates.
"By working together, we will unlock the power of card credentials for millions of Africans across the continent and make borders matter less for them in the global digital economy."
Access to card credentials plays a pivotal role in Africa's financial ecosystem, opening doors to a wide range of economic opportunities and driving financial inclusion.
Studies currently estimate that 90 per cent of transactions conducted in Africa are still reliant on cash, highlighting the significant gap in digital financial inclusion across the continent.
But McKinsey argues that card-linked digital wallets are already a significant driver of growth in the issuance and usage of cards.
Prepaid cards are decoupled from the traditional banking infrastructure, allowing banks and fintech companies to give more people access to a globally accepted payments method without a need for a traditional bank account.
By partnering with GTP, an MFS Africa company, InTouch aims to democratise access to card credentials for its African customers across its 13 markets. This collaboration will enable users of InTouch's innovative digital platform, which aggregates over 400 services through its API` to seamlessly link their digital wallets to card credentials, enhancing their access to the global digital economy.
Through the integration of GTP's robust prepaid and virtual card processing solutions, InTouch users will be able to tap into the advantages of card-based transactions, including wider acceptance, enhanced security, and seamless integration with global payment networks.
Nigeria's Acute Food Insecurity May Worsen from June— FAO, WFP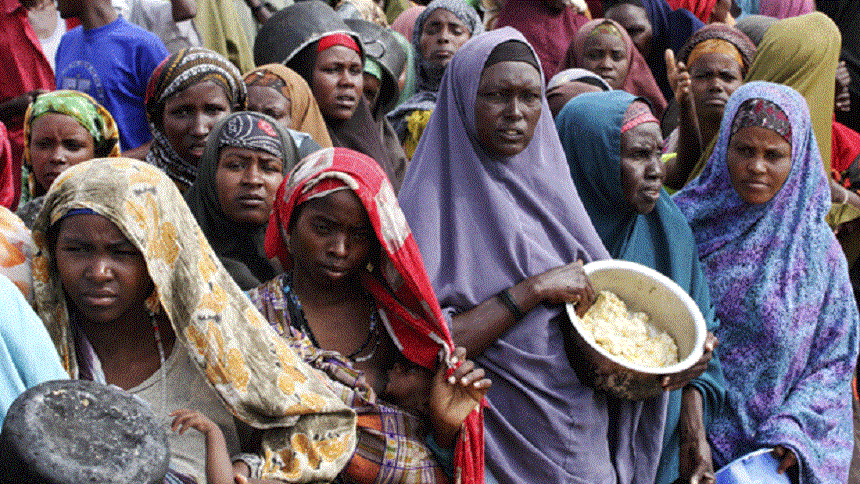 By Adedapo Adesanya
The Food and Agriculture Organization of the United Nations (FAO) and the United Nations World Food Programme (WFP) has warned that Nigeria remains among the highest-level countries facing acute food insecurity, which is likely to deteriorate further during the outlook period from June to November 2023.
For the outlook period, FAO and WFP issued an early warning for urgent humanitarian action in 18 hunger hotspots, including two regional clusters comprising a total of 22 countries.
According to the report, Afghanistan, Nigeria, Somalia, South Sudan, and Yemen remain at the highest alert level. Haiti, the Sahel (Burkina Faso and Mali) and Sudan have been elevated to the highest concern levels; this is due to severe movement restrictions for people and goods in Burkina Faso, Haiti and Mali and the recent outbreak of conflict in Sudan.
All hotspots at the highest level have communities facing or projected to face starvation or are at risk of sliding towards catastrophic conditions, given they already have emergency levels of food insecurity and are facing severe aggravating factors. These hotspots require the most urgent attention, the report warns.
The Central African Republic, the Democratic Republic of the Congo, Ethiopia, Kenya, Pakistan and Syria are hotspots with very high concern, and the alert is also extended to Myanmar in this edition.
All the above hotspots have a large number of people facing critical acute food insecurity, coupled with worsening drivers that are expected to further intensify life‑threatening conditions in the coming months. Lebanon has been added to the list of hotspots, joining Malawi and Central America (El Salvador, Guatemala, Honduras and Nicaragua) that remain hotspots.
In the hunger hotspots, parts of the population will likely face a significant deterioration of already high levels of acute food insecurity, putting lives and livelihoods at risk. Targeted humanitarian action is urgently needed to save lives and livelihoods in all 18 hunger hotspots.
In eight of these – Afghanistan, Haiti, Nigeria, the Sahel region (Burkina Faso and Mali), Somalia, South Sudan, the Sudan and Yemen – humanitarian action is critical to prevent starvation and death.
Speaking on this, Mr QU Dongyu, FAO Director-General, said, "Business-as-usual pathways are no longer an option in today's risk landscape if we want to achieve global food security for all, ensuring that no one is left behind."
"We need to provide immediate time-sensitive agricultural interventions to pull people from the brink of hunger, help them rebuild their lives, and provide long-term solutions to address the root causes of food insecurity. Investing in disaster risk reduction in the agriculture sector can unlock significant resilience dividends and must be scaled up," he added.
"Not only are more people in more places around the world going hungry, but the severity of the hunger they face is worse than ever," said Ms Cindy McCain, WFP's Executive Director.
"This report makes it clear: we must act now to save lives, help people adapt to a changing climate, and ultimately prevent famine. If we don't, the results will be catastrophic," she warned.
The report warns of a major risk of El Niño conditions, which meteorologists forecast to emerge by mid-2023 with an 82 per cent probability. The expected shift in climate patterns will have significant implications for several hotspots, including below-average rains in the Dry Corridor of Central America, and raises the spectre of consecutive extreme climatic events hitting areas of the Sahel and the Horn of Africa.
Latest News on Business Post