VIO Permanently Banned from Lagos Roads—Ambode
By Modupe Gbadeyanka
Governor Akinwunmi Ambode of Lagos State on Tuesday said his administration has permanently banned Vehicle Inspection Officers (VIO) from roads in the state.
Mr Ambode explained that his decision to ban the agency was in line with his administration's resolve to ensure free flow of traffic across the state, noting that activities of VIO were contributing to traffic congestion on Lagos roads.
Speaking at the commissioning of pedestrian bridges, laybys and slip road at Ojodu Berger, the "Distinguished ladies and gentlemen, let me use this opportunity to reiterate that Vehicle Inspection Officers (VIO) have been asked to stay off our roads permanently," he said.
The Governor disclosed that in the alternative, the state government would employ technology to track and monitor vehicle registration and MOT certifications and de-emphasise impoundment of vehicles on the roads.
Speaking on the interventions in Ojodu Berger, Governor Ambode said his administration at inception, identified the axis as one of the major traffic flashpoints that required urgent attention, adding that the decision was informed by the strategic importance of this axis being a major gateway into the state.
"What we set out to achieve with this project was to ensure smooth flow of traffic along the express, safeguard the lives of our people who had to run across the express and project the image of a truly global city to our visitors.
"Today, we are delighted that we have not only succeeded in transforming the landscape of this axis but with the slip road, lay bys and pedestrian bridge, we have given a new and pleasant experience to all entering and exiting our State.
"This project is the product of our innovative team of engineers, architects and town planners who have worked hard to create an innovative solution to tackle the challenges of this axis. I say a big thank you to the staff of the Lagos State Ministry of Works and the contractors – CCECC Nigeria Limited for a job well done," he said.
To improve on the project, Governor Ambode said a food court would be built where people can relax before climbing the pedestrian bridge, as well as an interstate bus terminal within the Ojodu Berger axis for buses coming from outside Lagos to drop and load passengers, while intercity transportation system would move commuters within the city.
Besides, the Governor assured that his traffic interventions would not only stop at the Ojodu Berger axis, but would be an ongoing process to create solutions to traffic congestion in every part of the State.
"If your neighbourhood or community is experiencing traffic challenges, be rest assured that we will soon be there. We will always ensure that promises made are promises kept. We will continue to rely on the support of all segments of the population for regular tax payments, obeying the rule of law and protection of public infrastructure. That is the only way we can progress and achieve our goal of being one of the world's top centres for business, entertainment and leisure," he said.
While alluding to the fact that the state has lived up to its reputation as a land of possibilities, Governor Ambode also expressed confidence that the future prospects of the State was promising and that the journey of the next fifty years has commenced on a very sound and solid footing.
Earlier, in his opening remarks, the State's Commissioner for Waterfront Infrastructure Development, Engr. Adebowale Akinsanya said the project was conceived by the State Government as a response to the yearnings of the people of Ojodu Berger Community for an improved, efficient and grid lock free road network, as well as the need to preserve the sanctity of life of Lagosians who hitherto were endangered by the need to cross the ever-busy Lagos-Ibadan Expressway.
Mr Akinsanya, who is also overseeing the Ministry of Works and Infrastructure, gave the scope of the project to include 98m pedestrian bridges with illumination, 150m length lay-bys on both sides of the expressway, 500m length of retaining wall with varying height from 3.5m to 7m and two multi-by bus park/bus lay-bys on Ogunnusi road with public convenience.
Other scope of the project included 650m slip road connecting traffic outward the expressway to Omole/Olowora Junction, 700m Ogunnusi/Wakatiadura dual road from Kosoko road junction to the expressway, 250m PWC Road to the expressway, street lighting on all the roads and multi-bay bus parks, signalization of all junctions, pedestrian walkway and drainage infrastructure, among others.
2023 Elections: SERAP Urges INEC to Investigate Electoral Violence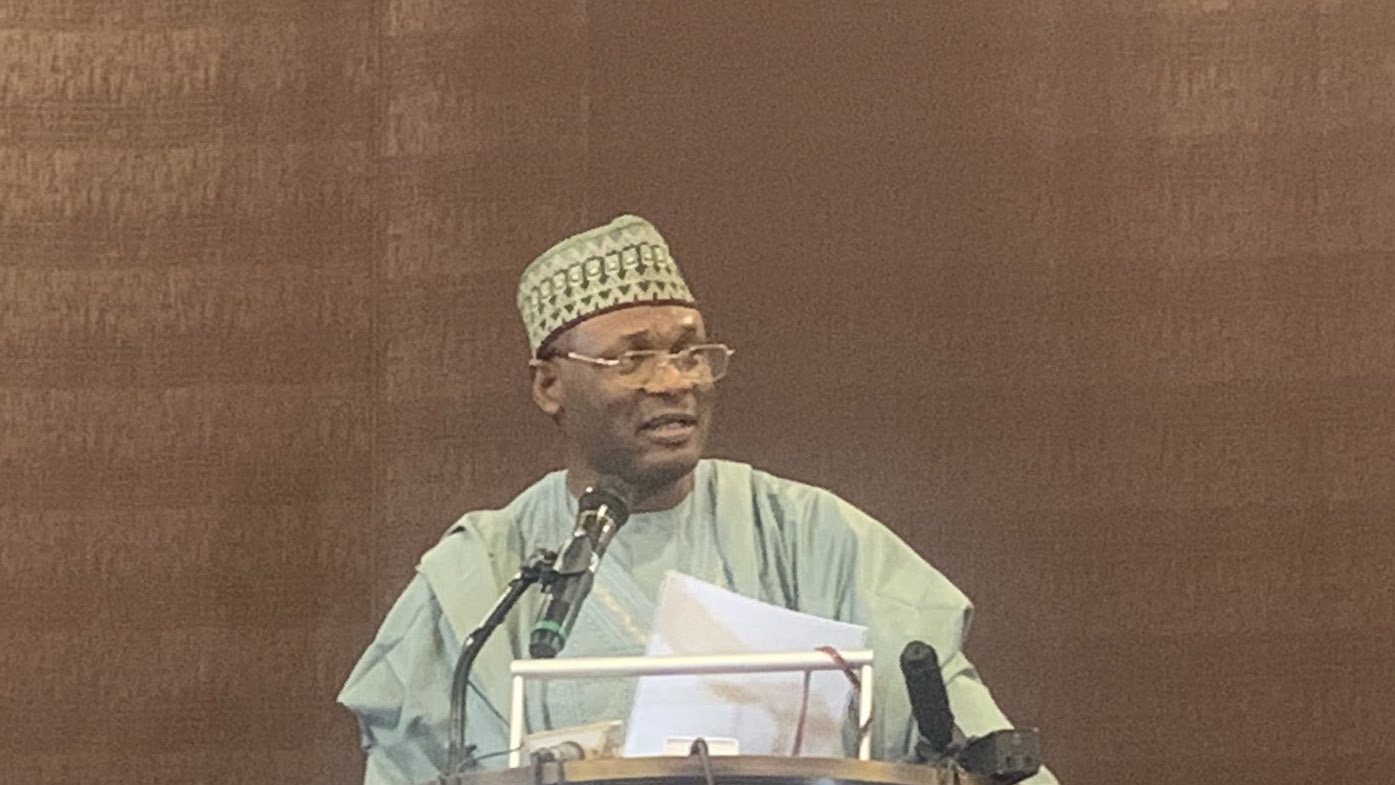 By Adedapo Adesanya
Socio-Economic Rights and Accountability Project (SERAP) has urged the Independent National Electoral Commission (INEC) to investigate allegations of electoral violence and other electoral offences including bribery against any state governors and their deputies during the just concluded general elections.
In the letter sent to Mr Mahmood Yakubu, the chairman of the electoral umpire, the group called on him to "promptly and effectively investigate reports of electoral violence and other electoral offences committed during the general elections, and to identify suspected perpetrators and their sponsors, and ensure their effective prosecution, regardless of their political status or affiliations."
In the letter dated March 25, 2023, and signed by SERAP deputy director, Mr Kolawole Oluwadare, the organisation said: "By allegedly engaging in electoral violence and other electoral offences in so blatant a fashion, suspected perpetrators and their sponsors have clearly acted in violation of constitutional provisions, international standards and the Electoral Act."
SERAP said, "Section 52 of the Independent Corrupt Practices and Other Related Offences Act, allows INEC to seek the appointment of an independent counsel to investigate allegations of electoral violence and other electoral offences such as bribery that may have been committed by any state governors and/or their deputies."
According to SERAP, "INEC should promptly collaborate with the Independent Corrupt Practices and Other Related Offences Commission (ICPC) and other law enforcement agencies to identify any politicians and their sponsors suspected to be responsible for electoral violence and other electoral offences during the elections."
The letter, read in part: "Identifying, arresting, investigating and prosecuting those suspected of perpetrating electoral violence and other electoral offences during the 2023 general elections would act as a deterrent against electoral violence in future elections.
"We would be grateful if immediate steps are taken to implement the recommended measures within 7 days of the receipt and/or publication of this letter. If we have not heard from you by then, SERAP shall consider appropriate legal actions to compel INEC to comply with our request in the public interest.
"Acting swiftly to address the brazen impunity and reports of electoral violence and other electoral offences during the 2023 general elections would also send a strong message to politicians that the INEC under your leadership would not tolerate any infringement of the electoral process.
"Electoral violence is a threat to fair and representative elections. It is inconsistent and incompatible with the principles of democracy, the rule of law, transparency and accountability for politicians to allegedly use violence to disrupt the electoral process.
"When politicians and their sponsors decide to engage in electoral violence and other electoral offences rather than contest fairly for people's votes, there are possibilities that such politicians will show a disregard for democratic rules and a disposition to adopt illegal means becomes inevitable.
"If voting is as important as INEC always claims it is, now is the time to take meaningful steps and action to end impunity for electoral violence and other electoral offences during elections.
"Ending impunity for electoral violence and other electoral offences promote accountability of suspected perpetrators and their sponsors, ensure justice for victims, and ultimately advance the people's right to vote and to participate in their own government, as well as bolster voter confidence in the electoral process.
"Identifying, investigating, naming and shaming those suspected to be involved in electoral violence and other electoral offences during the 2023 general elections will also send a powerful message to politicians and their sponsors that they will not get away with their crime against the Nigerian people.
"Electoral violence and other electoral offences reportedly committed during the 2023 general elections are contrary to the express provisions of the Nigerian Constitution, the Electoral Act and international standards.
"Electoral violence and other electoral offences undermine the ability of INEC to discharge its responsibilities under Section 153 of the Nigerian Constitution and paragraph 15(a) of the third schedule of the Constitution, and the Electoral Act 2022.
"The Nigerian Constitution provides in Section 14(1)(c) that, 'the participation by the people in their government shall be ensured in accordance with the provisions of this Constitution.'
"Sections 121 and 127 of the Electoral Act prohibit electoral bribery and undue influence before, during and after any election. Section 145(2) provides that, 'a prosecution under this Act shall be undertaken by legal officers of the Commission or any legal practitioner appointed by it.' Under section 2(b), the commission 'shall have power to promote knowledge of sound democratic election processes.'
"According to our information, the just concluded presidential and national assembly elections and governorship elections in some states witnessed widespread reports of voter suppression, voter intimidation and the destruction or theft of election materials by political party agents and thugs across all six geopolitical zones.
"According to a report by the Centre for Democracy and Development (CDD), several polling units recorded violence and/or fighting across the country.
"These violent incidents were often focused in political strongholds of opposition or perceived opponents which suggest that the use of BVAS – which limits overvoting when properly used – has resulted in a more concerted effort to stymie citizens casting their votes in opponent's strongholds.
"Similar incidents of intimidation were reported in all geo-political zones.
"In several states, political thugs, apparently with the support of law enforcement officials, disrupted and sent back voters intending to vote for opposition parties. Party agents were reported to be directing people who to vote for while those unwilling to do as directed were denied ballot papers and forced to leave the polling units.
"There were reports of destruction of used ballot papers and vandalization of entire polling units in some states. Violence was also used to target BVAS machines in order to disrupt the process and ensure the cancellation of results.
"According to the CDD, there are reports of vote trading in zones across the country, with both cash and goods used by all political parties in an effort to entice voters to cast their ballots at their direction. The CDD noted vote buying at polling units during the elections across the country."
PDP Suspends National Chairman Iyorchia Ayu
By Modupe Gbadeyanka
The executive of the Peoples Democratic Party (PDP) in Igyorov Ward of Gboko Local Government Area of Benue State has suspended the national chairman of the party, Mr Iyorchia Ayu, over alleged anti-party activities.

The Ward Chairman of the PDP, Mr Kachi Philip, and the secretary, Mr Vangeryina Dooyum, while addressing journalists on Sunday, said 12 out of the 17 members of the ward executives signed the resolution to suspend Mr Ayu.

They accused him of working against the success of the party in Igyorov Council Ward.

"It is on record that, he has also failed to pay his Annual Subscription Fees as provided under Section 8 (9) of the constitution of the PDP 2017 (As Amended).
"Further investigation also revealed that, he did not vote during the Governorship and State Assembly Elections held on March 18, 2023.

"It was also discovered that, most of his closest allies worked for the opposition party, the All Progressive Congress, APC, and hence, the abysmal performance of the PDP in Igyorov Ward.

"In view of the foregoing, we hereby pass a Vote of No Confidence on Dr. Iyorchia Ayu and suspend him as a member of our party with immediate effect. The suspension takes effect from March 24, 2023," they declared.

Recall that prior to the just-concluded 2023 general elections, the governor of Benue State, Mr Samuel Ortom, and four other governors of Rivers, Oyo, Abia, and Enugu State, asked Mr Ayu to resign because of the emergence of former Vice President Atiku Abubakar as the PDP presidential candidate.

They argued that have the presidential candidate and the national chairman of the party from northern region was against the principle of equity, fairness and justice. However, Mr Ayu rejected the call and the governors worked against the party.

Over the weekend, the PDP directed Mr Ortom to appear before a disciplinary panel and suspended Mr Ayo Fayose, Mr Anyim Pius Anyim and two others.
Family Announces Death of General Dipo Diya
By Modupe Gbadeyanka
A former Chief of General Staff, General Oladipo Diya (rtd), has been reported death by his family.

The late military officer was the second-in-command to the late Nigerian Head of State, General Sani Abacha, from 1993 to 1997, when he was arrested for an alleged treason.

In a statement, Mr Oyesinmilola Diya said the former Military Governor of Ogun State died in the early hours of Sunday, March 26, 2023.

However, he did not disclose if the 79-year-old Odogbolu, Ogun State-born army general suffered from any illness before his demise.

In the statement, he only stated that further announcements would be made public in due course.
Latest News on Business Post