Why Governor Obaseki Dozed off at 73rd UN General Assembly—Aide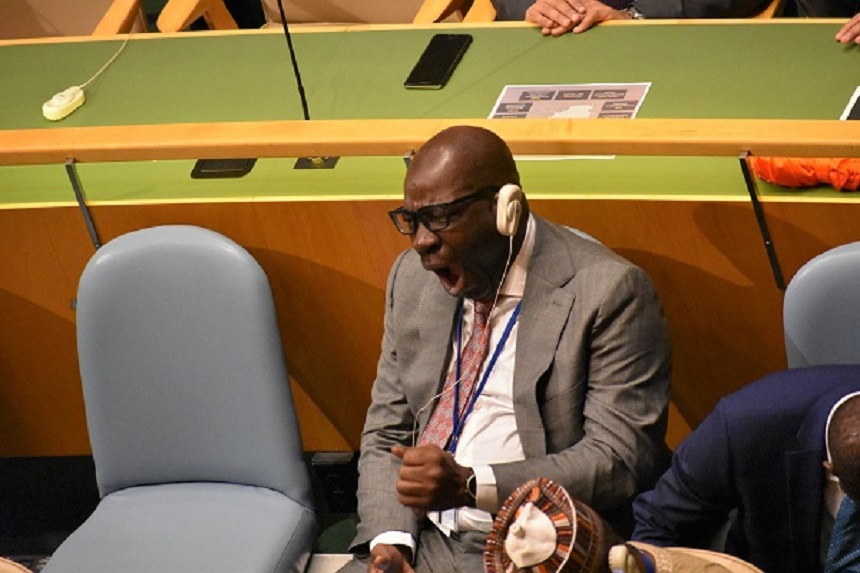 By Dipo Olowookere
A moment ago, pictures of Governor Godwin Obaseki of Edo State yawning and sleeping at the 73rd United Nations General Assembly in New York, USA, started flying in the blogosphere.
This caught the attention of the Governor's Special Adviser on Media and Communication Strategy, Mr Crusoe Osagie, who released a statement to accused mischief-makers of being behind the photographs.
According to Mr Osagie, the Governor only "momentarily succumbed to fatigue after a long flight, preceded by a chaotic itinerary in Edo State before heading to New York for the 73rd session of the United Nations General Assembly, in the United States of America."
He said the "idle hands and mischievous minds behind the smear campaign against governor Obaseki are clearly not people to be taken seriously."
According to him, "Despite Governor Obaseki's rare work culture, unmatched by his peers, we have never portrayed him as a machine. He can experience fatigue and exhaustion, an indisputable fact of life, to which all humans are susceptible."
The media aide said some outstanding world leaders have at one time or the other yielded to fatigue at meetings.
"The list includes the Chancellor of Germany, Angela Merkel; Japanese Prime Minister, Shinzo Abe; former United States President, Barack Obama; his Economic Adviser, Larry Summers; Pope Benedict XVI; former British Prime Minister, Gordon Brown; former Italian Prime Minister, Silvio Berlusconi and the former Austrian President, Heinze Fischer, amongst others," he said.
Mr Osagie noted that, "Those who are familiar with the daily work schedule of Governor Godwin Obaseki have attested to his rare and unique work ethics, devoid of fanfare and trivialities."
"A cursory look at the governor's itinerary between September 21 – 23rd, before he entered the UN meetings in New York, shows the following: Friday September 21, 2018, 9:30am, Swearing-in of members of the Edo State Oil and Gas Producing Areas Development Commission (EDSOGPADEC) Board; 10:30am, Swearing-in of new members of the Edo State Universal Basic Education Board (SUBEB); 12noon, Meeting with Amaju Pinnick, the Nigeria Football Federation (NFF) President; 12-5pm, attended to mails and correspondence; 5-7pm, on the road from Benin City to Irrua in Edo Central.
"Between 7-9pm, he held a meeting with Edo Central Community and Political leaders in Irrua; from 9-10pm, he was on the road from Irrua to Fugar, headquarters of Etsako Central Local Government Area. From 10pm to 12am the next day, he held a meeting with community and political leaders in Fugar.
"On that same Saturday between 12-3am, Obaseki met with overseers of the Health Improvement Programme (HIP) along with his Chief of Staff, Chief Taiwo Akerele; the Special Adviser on Media and Communication Strategy, Crusoe Osagie; Executive Assistant, Ethan Uzamere; in Fugar, Etasko Central LGA.
"The team rested between 4-7am on Saturday and proceeded to Warake to inspect the Primary Healthcare Centre there, which is near completion.
"Between 9-10am, the governor was on the road from Warake to Okpella where he commissioned the Transmission Company of Nigeria (TCN)'s Power Transformer in Okpella.
"From 11am, he headed to St. Ambrose Catholic Church, Emaudo in Ekpoma, for the memorial Church Service of the late Professor Ambrose Alli, former governor of old Bendel State. He was at the late Prof. Ambrose Alli's House for a visit from 4pm and was on the road from Ekpoma to Benin City between 4:30 and 6pm.
"He left Benin City for New York around 6pm and was scheduled to arrive New York between 11-12noon, Sunday (New York time) for the 73rd session of the United Nations General Assembly.
"He was to await President Muhammadu Buhari's arrival between 4-6pm after which he met with the President's aide over the next day's proceedings at the United Nations.
"The governor's activities in the days before his trip to New York give insight into his attitude to work and governance, and followed similar crowded itinerary, in China, where he sealed final investment agreements on the development of the Benin Industrial Park, the Benin River Port and the Modular Refinery project few days before," the statement said.
Facility Managers in Nigeria Empower 25 Technical School Students
By Modupe Gbadeyanka
It was a day of joy for facility managers in Nigeria as they rolled out drums to celebrate the 25th anniversary of the Nigerian chapter of the International Facility Management Association (IFMA).
The celebrants converged on MUSON Centre, Onikan, Lagos on Thursday, May 12, 2022, to mark the day, which coincided with World Facility Management Day.
At the event themed Leading a Sustainable Future, aimed at strengthening goals to achieve an improved facility maintenance culture in Nigeria, five students each from five Government Technical Colleges in Lagos, including Government Technical College, Ikotun; Government Technical College, Ikorodu; Government Technical College, Epe; Government Technical College Agidingbi, were equipped with toolboxes, safety jackets and safety helmets as their discipline of learning falls within facility management. The 25 students were promised employment upon completion of their education by some industry operators in attendance.
In his welcome address, the President of IFMA, Nigeria Chapter, Mr Segun Adebayo, applauded the Federal Ministry of Works and Housing under Mr Babatunde Raji Fashola, for a commendable job in ensuring the assent of Executive Order 11 on National Public Buildings Maintenance.
"The effort of the Ministry of Works & Housing on this laudable achievement has indeed renewed our hope of providing professional attention to the country's numerous facilities and her growing infrastructure. In fact with this feat, I am delighted to say that maintenance culture has fully resurrected in our nation," the President of IFMA Nigeria said.
While speaking on the future goals of the association, Mr Adebayo revealed their readiness to continue to provide leadership and direction in the built environment through innovative initiatives, use of technology, specialized trainings and strategic collaboration that translate to the actualization of a transformative future in the built environment.
According to him, the theme of the event clearly validates the leadership of the association in the industry and also confirms them as a forward-thinking association, noting that, "This you can see in our endless advocacy and strategic collaborations with credible public and private institutions."
He urged everyone present to be steadfast in the practice of facility management in order to lead a sustainable future.
In his keynote address, Mr Fashola reiterated the relevance of facility management, saying, "It is important to mention that facility management is a very expansive area of human activity that involves a diversity of skills whose impact will remain with us for a long time."
He admonished the private sector to take ownership and responsibility for facility management because, according to him, the private sector accounts for the majority of buildings and infrastructure in Nigeria.
Present at the event were professionals across the construction industry, real estate and facility management professionals including Ms Nike Adekanbi, the General Manager, Lagos State Infrastructure and Asset Management Agency; Engr Femi Akintunde, Group Managing Director/CEO, Alpha Mead Group; Professor Modupe Omirin, Dean of Faculty of Environmental Sciences, University of Lagos; Arc. Tina Onokwai, Director of Federal Public asset Maintenance in the Ministry of Works & Housing and other members of the association.
IFMA Nigeria was founded in 1995 by a special group of professionals drawn across the industries within the built environment including Architects, Civil Engineers, Electrical Engineers, and Builders, amongst others who had a burning desire to provide Nigeria with the opportunity of developing a maintenance culture that will shape the future of the country.
The association, in collaboration with the University of Lagos, has pioneered a professional master's degree programme in Facility Management.
Famous Black and White Logos: Features and Benefits
Despite the fact that many consider black and white logos to be old-fashioned and too simple, experience with their use shows their high efficiency and the presence of a large number of advantages. In any case, history knows many cases when black and white logos became super recognizable and turned into a real brand.
You can develop a black and white logo in the logo maker Turbologo for a couple of mipnuts.
What is a logo
A logo is a symbol (containing a picture, an inscription, or both of these elements in any proportions). Its main purpose is to make the company recognizable and distinguishable from firms engaged in similar activities.
A company with a unique and attractive brand name attracts customers. In addition, such brands inspire more trust among the potential audience.
The logo is not just a stylish picture – it has several significant "missions":
 Creation of brand image. A brand name can convey a lot of information about a company. In addition to the specialization of the brand, the logo tells potential customers and the strengths of the products sold and the services provided. A high-quality logo will show the audience that you are responsible for your business;
 Advertising. The emblem presents the brand on the market, increases its significance. With the help of the logo, customers can find out the necessary information about the company and, if they wish, apply for services or goods. It is also effective to use the logo in business correspondence;
 Market identification. The logo helps customers who are already familiar with the brand to recognize it among other companies;
 Protection from unfair competition. Some firms copy products that belong to another (often promoted) brand. And the logo helps to show customers which of the goods is really genuine;
 Reputation building. If a consumer once used the services of your organization and was satisfied, then he is more likely to contact you again;
 Good quality guarantee. Products marked with the brand name are genuine. This protects customers from buying fakes.
Black and white logos are quite popular in the modern world. They have both advantages and disadvantages. They are economical (they do not require large development and printing costs to use), are minimalist, unobtrusive, are associated with luxury service companies (as large companies choose simple logos), and stand out against the background of the color emblems of competitors.
While the combination of different shades in a logo can look great, sometimes a black and white theme gets the point across better.
These colors are powerful in their simplicity, and they are suitable for almost any platform.
It can be printed on a T-shirt.
It can be pasted on a wall, pictured on a billboard, or even printed on a car window.
Instagram profile , or used as a Facebook cover.
It can be printed on the athlete's equipment to promote the brand.
If you want a logo that can fit into any setting, go for the black and white option.
Printing in other colors can be expensive, but binary colors such as black and white are cost effective.
Black and white paints are readily available compared to other colors.
In addition, a binary logo is likely to use less power than a color logo.
Famous black and white logos
Today, dozens of extremely successful black and white brand logos are familiar. This color scheme has significantly increased recognition and has become a real "highlight" of companies such as:
 Nissan is a famous car manufacturer from Japan.
 Sony is a company engaged in the creation of technology, as well as the production of films and video games.
 Bentley is a popular automotive giant from the UK.
 BBC is the most famous news agency in the world, headquartered in London.
 Nike is a giant in the sportswear and footwear industry;
 Wikipedia is an international scientific and educational project known to every person who has ever sat down at a computer and used the Internet.
 Walt Disney is a company familiar from childhood that produces animated films, as well as feature films such as Pirates of the Caribbean.
 Gillette is a world-famous brand that produces blades, razors, creams and other shaving accessories.
 Playboy is a legendary adult magazine.
These are just some of the options for black and white logos that have become famous throughout the world and are known to almost every consumer on Earth. As can be seen from the examples presented, many world-famous brands prefer the combination of black and white to color versions of the logo.
Conclusion
Reducing the color gamut can be a key choice to bring your symbol to high standards, versatility and modernity.
Now is the time to make a black and white symbol that will exalt the brand that has appeared on the market. You can make a black and white logo yourself or by ordering it. The first option is much cheaper, and thanks to the emergence of numerous resources, the logo can be made by yourself, using special designers for this. It doesn't take much time, but the result is amazing.
LandWey to Deliver over 1000 Houses to Nigerians Soon
By Modupe Gbadeyanka
Over 1,000 houses would be delivered to Nigerians by the end of the second quarter of 2022, the managing director of Landwey Investment Limited, Ms Shola Bello, has disclosed.
This is part of the efforts being made by Landwey, which is one of Nigeria's largest residential developers, in reducing the housing deficit in the country.
Ms Bello, in a chat with newsmen on Monday, noted that the company has been able to deploy measures to mitigate the challenges posed by the COVID-19 pandemic and the resultant economic recession in the real estate sector in Nigeria.
"2022 began on a rough note for most real estate developers in Nigeria. This has been made obvious by the growing apprehension amongst some clients over the viability of their investment owing to delayed delivery of housing units and some publications addressing these issues.
"Many developers in Nigeria have openly addressed some of the challenges experienced in the course of construction and delivery of housing projects, a challenge which is largely attributed to the impact of the 2020 Covid-19 pandemic and the resultant economic recession.
"In the past few years, many developers have had to navigate the harsh economy and its severe impact on all businesses across many industries. While it may appear that many of these businesses have recovered from the impact, the story is not quite the same for the real estate industry.
"The industry has felt its huge blow from resultant factors ranging from scarcity of labour, a challenge we have since overcome, scarcity of building materials, unfavourable importation policies, long project approval timelines as well as other environmental limitations.
"However, our clients are always at the forefront of everything that we do, therefore, we have had no other choice but to unearth new and creative solutions in order to mitigate the rippling effects of the pandemic and the harsh realities of the global economy," she told journalists.
The real estate guru lamented that most real estate development companies had to reassess and adjust their operations to acclimate to the "new atmosphere by working and negotiating potential changes in project completion timelines and the management of their internal and external workforce, communicating challenges and progress updates routinely with investors and reviewing supply agreements with suppliers while also determining the impacts of delays in our delivery obligations as well as other potential risk factors."
She added that after what appeared to be a challenging Q1, the company is now making a headway on housing project delivery with a mass delivery of homes scheduled to take place at the end of the second quarter.
"I can assure you, by the third quarter of 2022, we would be well on our way to completing at least 1000 homes," Ms Bello concluded.
Latest News on Business Post