GE Healthcare Partners NSIA for Early Cancer Detection in Nigeria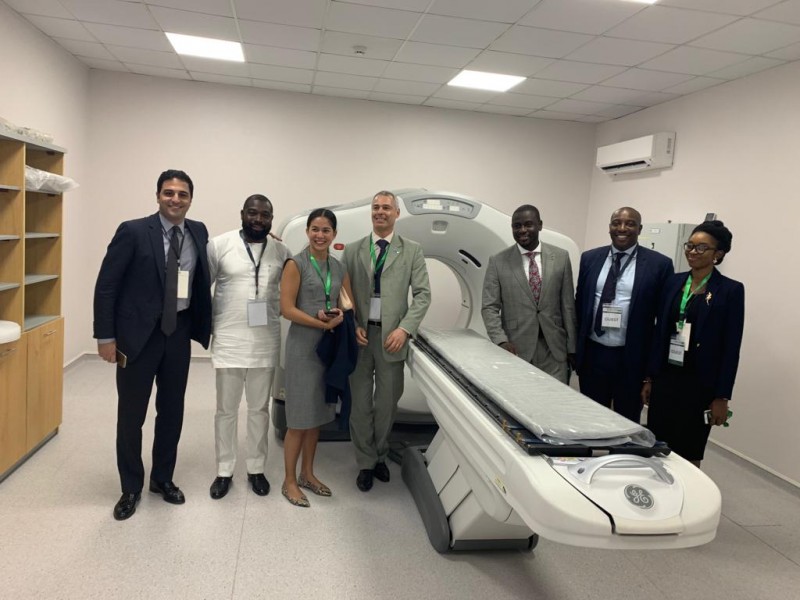 By Dipo Olowookere
GE Healthcare has partnered with the Nigeria Sovereign Investment Authority (NSIA) to supply latest technology in computed tomography (CT), Discovery RT, to Lagos University Teaching Hospital
The partnership will ensure provision of latest technology to enable early diagnostics and better treatment for cancer patients; NSIA- LUTH Cancer Center (NLCC) is the first hospital in West Central Africa to install GE Healthcare's Discovery RT CT.
The Discovery RT, a simulation CT machine, is the first of such technology to be installed in the country. It enables physicians to study the body in detail allowing them to determine the exact location, shape, and size of the tumor to be treated. As part of the partnership, GE Healthcare will also provide servicing of the equipment and deliver hands-on training for the hospital's radiology staff on the new technology.
Nigeria currently has eight public and one private comprehensive cancer care centers to serve its growing population of over 180 million people. Many of the public cancer centers have radiotherapy machines that are outdated, making access to radiation therapy more difficult for cancer patients. The new Radiotherapy Centre will increase access to quality services for the patients across Lagos state. This will help early detection and treatment of cancer, which improves chances of its being cured.
"For many years, GE Healthcare has developed tools that help improve the care of patients through advanced technologies that facilitate the diagnosis as well as help the fight against diseases such as cancer. We are happy to collaborate with NSIA in this landmark achievement for Nigeria in progressing the availability of world-class radiotherapy for cancer patients in the region. This will help improve the overall results in the fight against cancer, as well as in improving the quality of life", said Eyong Ebai, General Manager for West Central and French Sub-Sahara Africa at GE Healthcare.
The World Health Organization (WHO) projects that by 2030, between 10 and 11 million cancers will be diagnosed in low and middle-income countries.
Russia Partners India, South Korea to Produce Vaccines
By Kester Kenn Klomegah
With a strong structured plan and that includes President Vladimir Putin weekly meetings with regional governors and related ministry officials, Russia is making headway in mobilising first its own domestic resources in fighting and controlling the coronavirus pandemic.
Under these time-testing conditions, the Russian government also ponders on the necessity to adopt a concerted approach to the economic sectors related to the public health system, making efforts to strengthen fundamental research in all health disciplines and close the pitfalls in its policy.
Arguably, Russia is really moving with innovative orientations, exploring to find lasting solutions. Without doubts, Russia is far ahead, both in terms of medical tests and vaccines. Currently, it is partnering with India and South Korea in manufacturing vaccines for the immunization of both foreigners and Russians.
"India and South Korea are already producing the vaccine, and many of these enterprises will reach full capacity in April. Thus, this is truly the greatest achievement of Russian science, which is widely acknowledged by the entire world," CEO of the Russian Direct Investment Fund (RDIF) Kirill Dmitriev told Russian President Vladimir Putin during an early April meeting to review developments as well as production and promotion of Russian vaccines.
In addition, he informed the president that RDIF and its partners are actively working with Russian manufacturers, it took three months to build Sputnik Technopolis, one of the largest plants to produce the vaccine, and together with R-Pharm. Russia is setting up international production per agreements with 10 countries and 20 manufacturers, including the world's largest producers.
Beyond that, the Russian Direct Investment Fund is actively implementing a programme, of course, with a focus on vaccinating Russian citizens, but part of the vaccine produced abroad will simultaneously be delivered to foreign markets, according to Dmitriev.
According to his assessment, Russia is not only one of the current leaders in the world in terms of vaccination rate, but it can provide vaccines to all people in Russia who want to be vaccinated before June using the production capacities in Russia and abroad.
"As I understood from talking to experts, our vaccine is effective against all known strains of the virus," Putin commented during the discussion, and Kirill Dmitriev smartly added that "due to the two jabs, it is better than the other vaccines as relates to mutations. We believe that our vaccine is one of the best in the world, including against new strains of COVID-19."
Reports show that Russia has produced 20.1 million doses of the Sputnik V vaccine as of March 17, while 4.3 million people, out of a population of 144 million, have received both shots of the vaccine.
According to data from Johns Hopkins University, at 225,572, the total coronavirus-related death toll places Russia third after the United States, which has reported over 553,000 deaths, and Brazil, with over 325,000.
According to the Russian Statistics Service, this April Russia has recorded over 225,000 deaths related to coronavirus since the start of the pandemic. That Russia has the third-highest death toll in the world.
The Russian Direct Investment Fund (RDIF) is Russia's sovereign wealth fund established in 2011 by the Russian government to make investments in leading companies of high-growth sectors of the Russian economy. Its mandate is to co-invest alongside the world's largest institutional investors – direct investment funds, sovereign wealth funds and leading companies.
The blockchain brings new financing options to the business market. For example, Bitcoin Cash casino has adapted to only using cryptocurrency. This way, it makes it easier for their customers to deposit and withdraw in a BCH casino. Entrepreneurs have taken note of this and are looking to invest more in crypto than in fiat markets.
Latest News on Business Post