Charles O'Tudor Steps Down as CEO of Adstrat BMC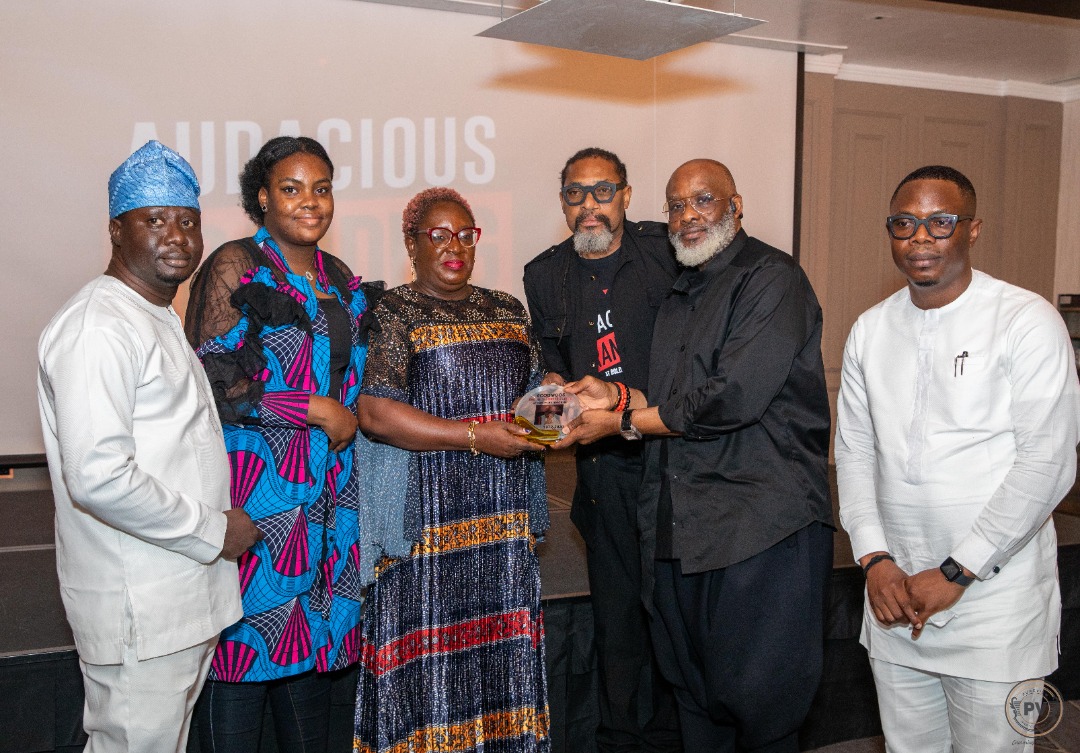 By Modupe Gbadeyanka
The Group Principal Consultant of Adstrat BMC, Mr Charles O'Tudor, has stepped down from his position as CEO/Principal Consultant of the company and has appointed Mr Daniel Victory Momoh, a strategist and conceptual thinker that has worked closely with the brand since May 2019 as the new leader.
He announced this at the Season 05 of the Charles O'Tudor Brand Masterclass held at the Marriott Hotel, GRA, Ikeja on November 27, 2021.
The event was a huge success as brilliant minds and industry thought leaders were present to stimulate the minds of the audience, which was a mix of young entrepreneurs and business moguls in the corporate world.
Thought leads present were Mr Fela Durotoye (President of the GEMSTONE Nation Builders Foundation), Mr Lanre Olusola (Chief Catalyst at Olusola Lanre Coaching Academy), Udo Okonjo (CEO of Fine and Country West Africa) and Olawale Ayilara (CEO/Founder of Landwey).
The masterclass started off with a saxophone interlude, the dexterous Bamise Odusote delivered sonorous tunes to set the mood for the event.
The first presentation on Audacious Branding was delivered by the main speaker and convener Charles O'Tudor highlighting the meaning and essence of being an audacious brand in your industry, which will help set the pace for global positioning.
The next presentation was by Mr Durotoye, who urged the audience to focus on brand beliefs and value add, what your brand believes in will set the pace for what your market will believe in.
Mr Olusola on his part spoke on the importance of wisdom, creating and preserving your name, recognising your gift, using it to serve humanity and solving problems at deep levels.
Mrs Okonjo spoke on developing key strategies to expand market reach. She also said that audacious branding is an idea that helps you choose who and how to play within your industry, identifying and developing the right mindset it takes to win.
Mr Olawale Ayilara stimulated the audience to think beyond their environment, stating that your brand can be present in a particular location but have a mindset that is not tied to or limited to that location. To achieve the status of an audacious brand, you have to define what you want your audience perception to be like.
The main highlight of the event was the presentation of an award plaque to Mrs Unyime King to honour the late Ubong King. The award was presented by Charles O'Tudor, Mr Ayilara and Mr Lanre.
At the event also, the Charles O'Tudor Foundation was unveiled.
Infinity Trust Mortgage Bank Appoints Olumorin as Acting MD
By Aduragbemi Omiyale
In line with its succession planning mechanism, one of the Primary Mortgage Banks in Nigeria, Infinity Trust Mortgage Bank, has appointed Mr Sunday Olumorin as its Acting Managing Director.
He is taking over from Dr Olabanjo Obaleye, whose tenure as the MD of the company has expired, with effect from January 1, 2022, a statement from the firm stated.
Mr Olumorin is not new to Infinity Trust Mortgage Bank as prior to this appointment, he was an executive director in the financial institution, which was why the board chose him for the job.
However, his appointment is still "subject to regulatory approval," according to the disclosure from the company.
"Having held various senior executive roles with the bank Mr Olumorin brings over 20 years of experience of working across all areas of mortgage, finance, investment, consulting and real estate in Nigeria," the statement further said.
Mr Olumorin has headed many strategic departments and units in the bank, including business development, financial control, audit and internal control, operations and information technology, which has helped propel the bank to be one of the leading primary mortgage banks in Nigeria.
The incoming Acting Managing Director holds a Bachelor of Science (B.Sc) degree in Accounting from the University of Lagos and a Master's degree in Business Administration (MBA) from the University of Ilorin.
He has also attended several international seminars and workshops on mortgage financing in the United Kingdom, and the United States of America, including the Wharton School, University of Pennsylvania and MBAN DEVPAR Housing Finance Program in Canada. He is an alumnus of the Lagos Business School.
Bolarinwa Emerges ACAMB President, Vows to Reposition Group
By Dipo Olowookere
The Head of Corporate Communications of Polaris Bank, Mr Rasheed Bolarinwa, has emerged as the new president of the Association of Corporate Affairs Managers of Banks (ACAMB).
He was among the new executives of the group elected at the Annual General Meeting (AGM) of ACAMB held on Thursday, January 19, 2022, at the Bankers' House, CIBN Building, Victoria Island, Lagos.
He and other excos will pilot affairs of the umbrella association of communications and marketing professionals working in Nigeria's banking sector for the next two years.
Others elected were First Bank's Mr Oze K. Oze as the First Vice President, Mrs Lola Egboh of First City Monument Bank (FCMB) as the Second Vice President, while the new Secretary-General is Mr Sipe Babajide of Ecobank.
The position of Assistant Secretary-General was won by Mr Omede Odekina of the United Bank for Africa (UBA), while Mr Patrick Osilaja of Fidelity Bank emerged as the Financial Secretary.
Wema Bank's Mrs Funmilayo Falola was elected as the new Treasurer, Mr Abdul Imoyo of Access Bank will serve as the Publicity Secretary, while Mrs Ozena Utulu of Heritage Bank will assume the role of Social Secretary.
In addition, the immediate past president of the group, staff from the Central Bank of Nigeria (CBN), the Nigeria Deposit Insurance Corporation (NDIC) and the Chartered Institute of Bankers of Nigeria (CIBN) will serve as ex-officios.
In his post-election acceptance speech, the new ACAMB president assured members that he would reposition the association as a foremost professional body they would all be proud of, adding that his vision also includes innovating a post-retirement strategy that ensures members have a sustainable livelihood long after exiting the industry.
"I will be committed to my vision, which is to reposition ACAMB as a foremost professional Association that encourages and ensures every marketing communications professional in the Banks aspires and attains the highest level of professional recognition and fulfilment on the job while at the same time being assured of a sustainable livelihood long after exiting the industry," he stated.
Mr Bolarinwa, who served in the past executive as a two-term Secretary-General, restated his commitment to the upliftment of members in line with his electioneering promises anchored on the four-pillar themed PEAL: Partnership & Platform, Engagement, Advocacy, and Learning & Value-addition (PEAL).
The new President further assured that ACAMB under his leadership would seek partnerships and platforms among strategic institutions and stakeholders with a view to delivering value to members, as well as enhancing professionalism.
He also said his team would embark on advocacy aimed to deepen awareness and knowledge of the banking industry and its contributions to national socio-economic growth.
Earlier, the Chairman of the ACAMB Electoral Committee, Mr Segun Shonubi, said all aspirants for the advertised position had met minimum requirements as outlined in the association constitution and, therefore, qualified to stand for the election.
A 1996 graduate of Mass Communication, Mr Bolarinwa holds a Master's degree from the University of Ibadan and an MSc degree from the UNESCO-certified Mass Communication department of the University of Lagos.
He is a member of numerous professional bodies, including Fellow of the National Institute of Marketing of Nigeria (NIMN); Registered Practitioner, Advertising Practitioners Council of Nigeria (APCON), and Member, Nigerian Institute of Public Relations (NIPR).
He has also attended several high-impact function-specific and leadership training at top business schools in Nigeria and overseas.
Investors Pump $10m into SeamlessHR for Expansion
By Adedapo Adesanya
SeamlessHR, a startup that builds world-class cloud solutions to help organisations manage most HR processes on one platform, has raised $10 million in its Series A funding round which will see it expand to new frontiers in Southern and East Africa.
This funding round was led by TLcom Capital, with significant contributions from Capria Ventures, Lateral Capital, Enza Capital, Ingressive Capital, and some private investors.
The new fund is coming just about a year after announcing a seed round. The fresh capital is expected to further strengthen the company's position as Africa's leading cloud HR and payroll platform.
The new funds will also help the company achieve its vision of helping more African businesses become more productive and successful.
In addition, SeamlessHR will be launching a new embedded finance product to help improve the lives of working people across Africa, and will also add new product functionalities around AI and HR data analytics.
The endorsements of new investors like TLcom and Capria follow investments made by Lateral Capital, Enza Capital, and Ingressive Capital will help it achieve these.
Speaking on this, the company's CEO, Dr Emmanuel Okeleji said, "We are fanatical about customer success, and this funding will enable us to invest in the continuous optimisation of customer experience across all touchpoints, adding new features and functionalities to empower our customers even more."
Adding her input, Ms Andreata Muforo, Partner at TLcom Capital, expressed her "belief in our ability to unlock more value in Africa's business-to-business (B2B) space."
"Over the last few years, SeamlessHR has consistently demonstrated its ability to deliver a robust HR and payroll platform for Africa's medium and large businesses.
"The strong execution shown by Emmanuel and his team is a vital ingredient required to build a successful business, and as they expand their products to include embedded finance and launch their solutions to new markets, we're proud to partner alongside them and strengthen their push to unlock more value within Africa's B2B space.
"At TLcom, we believe SeamlessHR can be the preferred platform for businesses to digitise workplaces and support their personnel," she noted.
Mr Will Poole, the Managing Partner at Capria noted, "SeamlessHR is addressing the needs of African enterprises in ways that the global giants can't compete with by building customer-centric SaaS designed from the ground-up to address complexity unique to the continent.
"Now that they've proven they can address the needs of disparate countries across Africa, we are confident that they will be the solution provider of choice to support their customers that are expanding globally."
SeamlessHR is the only enterprise-grade HR and payroll SaaS company in Africa that fully manages the entire lifecycle on one platform.
Its clientele spreads across multiple sectors and regions in Africa, including renowned brands like PwC, Flutterwave, Sterling Bank, TGI Group, Lagos Business School, AXA, and Chapel Hill Denham.
SeamlessHR was founded in 2018 by Dr Emmanuel Okeleji and Deji Lana – who currently serve in their capacities as CEO and CTO respectively.
The platform equips clients and their people with the cutting-edge tools required to remain ahead of the rapidly changing HR management curve.
Latest News on Business Post