Funke Akindele's Second Marriage Collapses as JJC Skillz Quits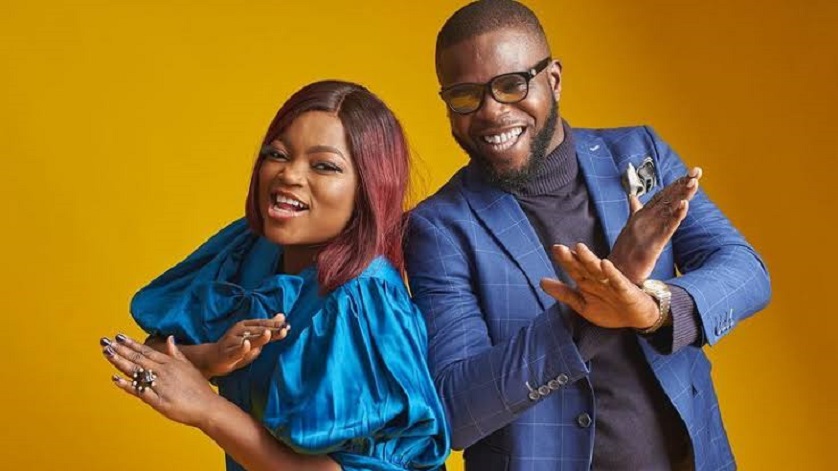 By Dipo Olowookere
After months of making efforts to salvage the situation, the marriage of popular actress, Funke Akindele, to musician and producer, JJC Skillz, has packed up.
JJC Skillz, whose real name is Abdulrasheed Bello, confirmed his separation from his wife via a post on his Instagram page on Thursday morning.
There had been speculations that the union between the two showbiz personalities was in trouble but efforts were made to cover things up. Some weeks ago, at an awards ceremony in Lagos, the couple mounted the stage together and gave a hint that all was well between them.
But in the post today, JJC Skillz, who has two children with Funke Akindele, otherwise known as Jenifa, said it has been very difficult to iron things out with his lover, noting that he has since moved out of their home in Lagos.
"Dear friends and family, I need to let you know that Funke and I have separated. While it lasted, we shared a lot of things together and have created 2 beautiful children.
"The last two years have been extremely difficult for us. I know I have tried my best to fix things but I believe it is beyond repair now. Three months ago and at Funke's insistence, I moved out of the house and apart from AMVCA have not been able to get Funke to sit down in an amicable manner to discuss the future of our relationship.
"I'm making this announcement so that the public is clear that we both are pursuing separate lives. We still have issues that need to be addressed such as the custody and wellbeing of our children which is paramount as well as business interests which need to be disentangled but I have no doubt that these will be resolved one way or the other," the singer wrote.
In 2016, Funke Akindele and JJC Skillz got married and a few years later, they welcome twin children. It was the second marriage for the actress. Her first was with a socialite, Mr Kehinde Almaroof, in 2012, in Lagos.
Nigerian Music Stars in Hot Demand Worldwide—NCC
By Adedapo Adesanya
The Nigerian Communications Commission (NCC) has tasked content creators in the country to take advantage of the many advancements in the nation's growing telecommunications industry, saying much can be achieved through music artists, who are hotcakes globally.
The Executive Vice Chairman/Chief Executive Officer (EVC/CEO) of NCC, Mr Umar Danbatta, stated this in Lagos over the weekend while speaking at the 10th Annual Brands and Marketing Conference of the Brand Journalists Association of Nigeria (BJAN) where the NCC was conferred with the Regulator of the Decade award.
Represented by the Executive Commissioner for Stakeholder Management, Mr Adeleke Adewolu, the EVC noted that the ongoing process, for which arrangements are in top gear, followed the successful auctioning of two bands of the 3.5GHz spectrum in December of 2021.
Mr Danbatta informed the participants at the conference that content creation and consumption had grown around the telecommunications infrastructure provided by technology, which Nigerian entertainers had leveraged to become global brands.
He said,  "Due to heavy leverage on digital platforms, the Nigerian entertainment industry has gone global. Nollywood is one of the biggest movie industries in the world. In fact, more movies are produced by Nollywood yearly in comparison to Hollywood.
"Nigerian music stars are in hot demand worldwide because of their popularity and brand recognition on social media. We should add that many of these global superstars emerging from Nigeria launched into stardom by leveraging caller tunes and other mobile content platforms to grow their brands and huge followers online."
Mr Danbatta declared that, "Digital platforms are fostering different types of systemic change, creating new brands, eroding the value of some brands, whilst at the same time increasing the value of other brands. The innovation-transformation-disruption cycle has come to stay and will be exacerbated as technology continues to evolve."
The EVC  assured that the NCC would continue to aggressively drive the rollout and seamless operation of infrastructure to drive new digital technologies to benefit all sectors of our economy.
"It is our hope that Nigerian brands will continue to leverage robust infrastructure to grow their value and ensure that our country derives maximum benefit from unfolding digital transformation efforts," he said.
Gospel Singer Sammie Okposo Slumps, Dies
By Modupe Gbadeyanka
Reports just filtering in indicate that a popular gospel artist in Nigeria, Sammie Okposo, has passed on.
Details of this unfortunate incident are still sketchy, but it was gathered that he passed away on Friday at the age of 51 after he slumped.
Recall that some months ago, Sammie Okposo was in the news over issues concerning his marriage.
The Wellu Wellu crooner later apologised to his fans and others for betraying their trust, promising to be a better person.
Three years ago, the Delta State-born music star had a close encounter with death after the propeller shaft of his car pulled off while on motion.
More than a Music Streaming Service – Why You Should Allocate Media Spend To Spotify
By Carla Harrison
If I were to pick up your phone right now, there's a very good chance that I'd find Spotify among your apps. It is, after all, the world's most popular music streaming service, with 433 million users (188 million of whom are paid subscribers) in 183 countries. Since its launch in 2008, it's transformed the way the world listens to music and helps launch the careers of artists around the world.
And if you use Spotify, you're probably also aware that it's expanded from just music streaming into podcasting, with some 4 million podcast titles joining its library of 82 million songs. But did you know that it's also a powerful advertising platform with a growing focus on the African continent?
Any brand that's serious about expansion, particularly in high-growth markets such as Nigeria, simply cannot afford to ignore it.
The pros of radio, plus more  
In order to understand what makes Spotify such an appealing platform for advertisers, it's worth first reminding ourselves of the strengths offered by traditional radio. In general, for example, radio ads are more cost-effective than other forms. You can also get away with increased frequency, meaning that your message is more likely to stick.
Spotify offers all the benefits of radio advertising plus more. With growing numbers of people listening to digital audio streaming every day, you're guaranteed an active and engaged audience. At the same time, you're also reaching them while they listen to what they love. And because Spotify's targeting options are so advanced, your brand can reach specific people based on age, gender, music genre, and playlist. Unlike radio, Spotify guarantees 100% completed listens in its reporting. It can also provide metrics around which type of audience engaged with your ad and a companion banner which allows users to click through to a webpage.
The streaming service is an innovator in the advertising space too. Its 3D audio feature, for instance, allows brands to provide premium quality advertising through an immersive, dynamic, and sensory audio experience. As a result, listeners don't just hear an ad; they feel it.
But Spotify offers more than just audio ads. It also allows brands to reinforce their messages with high-impact display and video ad formats. Spotify video ads are actually the best performing in the industry, as they had to be built for viewability. The ads are 100% viewable and 100% audible, and Spotify only charges for 100% completion.
Making an impact in Africa 
It's also worth pointing out that Spotify is seeing significant levels of growth across Africa. While the streaming service has been available in South Africa since 2018, its real expansion into Africa only came in early 2021, when it launched in an additional 40 countries.
But just a year after launching in Nigeria, the number of artists streamed per user had grown by 60%, and Nigerian music fans had created 1.3 million user-generated playlists. Additionally, nearly 21 000 songs had been added to the platform, placing Nigeria as the country with the second most streams after Pakistan in the new markets, with Kenya third in the ranking.
That growth isn't likely to slow down anytime soon, either. According to Statista, music streaming revenues in Nigeria are expected to show an annual growth rate of 12.61% between 2022 and 2027. It's also worth noting that penetration in the overall streaming market currently sits at just 4.1%. With an additional 35 million Nigerians set to come online by 2026 (all of whom will be hungry for the consumer experiences that come with affordable and ubiquitous access), Spotify looks primed for significant growth.
That comes with obvious growth benefits for advertisers, especially when you factor in that 39.6% of music streaming users are in the medium-income group. As Nigeria's economy continues to grow, that income group will become larger and more valuable.
Partnering with the experts 
Brands looking to utilise Spotify as a marketing platform don't have to go in blind, either. By working with experts that have specialist teams, they can get the most out of their campaigns. The right partners will also offer advertisers price transparency, ensuring that they get advertising on the platform at the most affordable rates.
In doing so, they can ensure that they always reach the right audiences at the right time with the right message. Moreover, with Spotify, they're reaching people during the moments they love. And that's always incredibly valuable for any marketer. Small wonder then, that Spotify is seen as the most trusted ad platform among consumers. Factor in the brand safety it offers, and you have a winning combination.
A culmination of factors 
Ultimately then, Spotify represents the culmination of a number of factors that should be of interest to anyone with a media budget that needs to be spent. And as Africa, and Nigeria in particular, that combination of engaged, active audiences, the ability to target specific audiences, and innovative advertising products will only become more important.
Carla Harrison is the East African Sales Manager at Ad Dynamo by Aleph
Latest News on Business Post