I'm Honoured to Join Spotify EQUAL Music Programme—Fave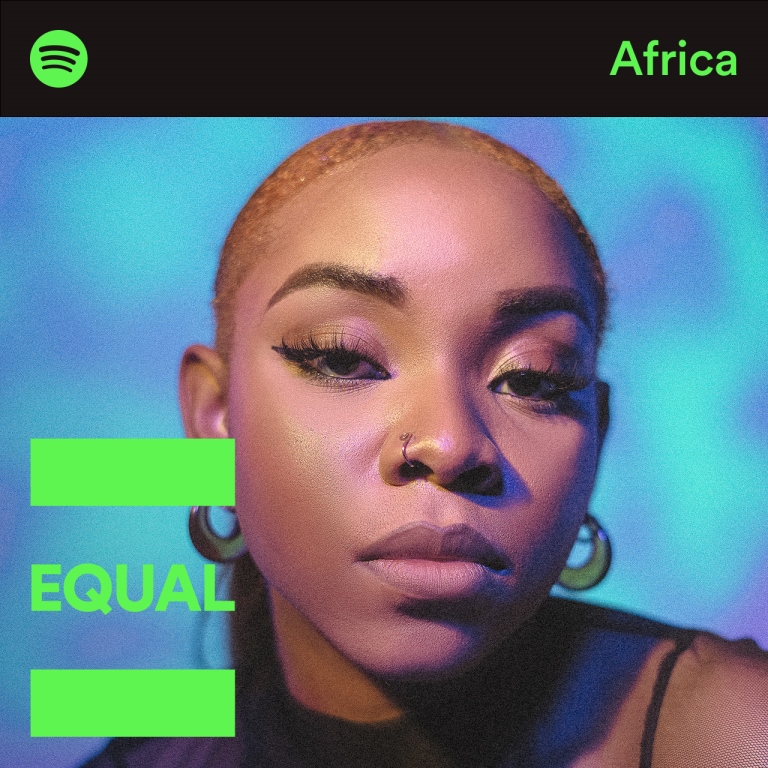 By Modupe Gbadeyanka
Nigerian rising star, Fave, has expressed her joy at being named as the latest EQUAL Africa ambassador of the month by music streaming giant, Spotify.
Fave is joining the EQUAL programme's list of fierce African women making waves in music.
The Spotify EQUAL Music Programme is part of an effort to foster gender equality and provide a platform to celebrate influential female artists in Africa.
Fave has continued to gain fame and popularity since the release of her breakthrough hit single, Baby Riddim in September 2021 via emPawa Africa.
The 22-year-old singer is a burgeoning Nigerian Afro R&B singer whose charming music style is attracting the big guns of the entertainment industry, placing her on the same level as other young female artists like Tems and Ayra Starr (another Spotify EQUAL Artist), who are becoming the next generation of female artists in Nigeria, each bringing with them their own style of music.
She is a talented creative who understands the power of social media and who made her way to the spotlight through it. She hit the spotlight after she posted a freestyle of her song, N.B.U (Nobody But You), a blend of upbeat pop and Afro that soared across playlists and social media during the COVID lockdown. The song received shares across social media and became an instant hit prior to its release.
Commenting on her inclusion to the programme, Spotify's head of music for sub-Saharan Africa, Phiona Okumu, stated that, "Our aim with the EQUAL Music Programme is to shine a light on remarkable young women in Africa who are finding their feet through music.
"We remain committed to levelling the playing field for female creators by giving emerging and established artists equal opportunities on our platform. Fave exudes character and confidence and we are proud to showcase her."
In her reaction, Fave said, "It's easy to come across, or even be directly involved in, a conversation on the subject of female artists and the widely believed stereotype that women cannot give their 100 per cent to music because there are other things that occupy their time, based on societal norms. Like family and kids."
"Stereotypes like this already influence how people in the industry view women. On a broader scale, you almost get the vibe that people think the success of a female artist can only be short-lived. Of course, defects like this are not general but they do exist.
"Male domination, I believe, is something that can only be filtered away by our outstanding success as women in our fields of excellence and talent. I'm honoured to be part of the EQUAL programme with women who plan to change the world," she added.
On his part, the co-founder and Head of Label Services at emPawa Africa, Mr Ikenna Nwagboso, said, "We will continue to seek, recognize and amplify the female voices we have in the African music space so that the next generation of female artists can believe and have many influences to look up to."
With this development, Fave's breakout track Baby Riddim will be featured on the EQUAL Africa and EQUAL Global playlists.
Davido, D'Banj, Others for YouTube Africa Day Concert 2022
By Dipo Olowookere
Music stars from five countries (Congo, Nigeria, Sierra Leone, South Africa and Tanzania) will perform at the YouTube Africa Day Concert 2022 slated for Wednesday, May 25.
The annual concert is a musical homage to Africa, showcasing the vibrant African music stars who are making headlines across the world.
The programme, in its third edition, will be anchored by Hollywood star, Idris Elba and streamed exclusively on YouTube via https://goo.gle/AfricaDayConcert at 19:00 CAT/18:00 WAT.
It will bring together Africans, the Diaspora, and people from across the world together to celebrate a continent that is home to more than 1.5 billion people.
The highly anticipated event will showcase musical performances from D'banj, Davido, CKay, Yemi Alade, Reekado Banks and Mayorkun.
Also performing from the West African region is popular Sierra Leonean recording and performing artist, Drizilik; singer-songwriter and poet, Busiswa Gqulu; and singer and dancer, Kamo Mpela; both from South Africa. They are known for hit songs, SBWL and Nkulunkulu respectively.
Tanzanian singer, songwriter and WCB (Wasafi Classic Baby) artist, Zuchu will be performing her hit songs at the concert while Congolese singer-songwriter, Innoss'B, the Naomi Campbell crooner rounds out the lineup of artists performing this year at the Africa Day Concert.
The Managing Director, Emerging Markets, YouTube EMEA, Mr Alex Okosi, while speaking ahead of the concert, disclosed that, "YouTube as a platform has been mainline for connecting African artists to people all around the world and the Africa Day Concert is an opportunity to reaffirm YouTube's support for African artists as they showcase the vibrant sounds and culture that makes Africa truly unique."
The concert is aimed at commemorating the foundation of the Organisation of Africa Unity on May 25, 1963, by using music as a platform to showcase African culture.
Progress Emerges Nigerian Idol Season 7 Winner
By Aduragbemi Omiyale
Budding singer, Progress, has won the seventh edition of the popular music talent hunt show, Nigerian Idol.
Progress was announced as the winner of the programme at a live event held on Sunday, May 22, 2022.
He defeated another contestant, Zadok, to become the Nigerian Idol Season 7 winner, after raking in the higher number of votes between the pair.
When the host of the reality show, IK Osakioduwa, announced the winner, Progress was shocked and could not hide his emotion.
The announcement was made shortly after Progress and Zadok performed a song with D'Banj, one of the judges.
The winner of Nigerian Idol 6, Kingdom, was also on stage to thrill the audience as well as Pheelz, who performed his hit song, Finesse.
The winner of this edition won prizes worth N100 million.
We Need Entrepreneur-friendly Policies—Daniel Adewoye Olamide
Former Mr Universe 2018, Daniel Adewoye Olamide, is a filmmaker, creative designer, content developer, journalist and among other entertainment engagements, He is also the global head of media for Gtext Homes, a leading real estate firm in Nigeria. In this interview, he talks about his career in the industry. Among other issues, he talks of his plans for the future, and more.
How did you start filmmaking as a journalist?
Well, I didn't start filmmaking or journalism at first, although I had started building the skills. I joined the creative industry as a model and won Mr Universe Africa and then transitioned full time into filmmaking. It started with always wanting to put ideas and scenarios in my head into motion, bringing it to life and being behind the camera.
What inspired you to go into filmmaking and how did it all begin?
It's only in the film industry you can be God and create your scenarios and outcomes. Basically, being the author and finisher of the actor's fate. I like to create my worlds and scenarios that likely won't be something you see in real life at the same it lets you create awareness about important matters and topics.
Did you actually learn it somewhere or how did you start?
No, I didn't intern under anyone as a filmmaker. I am a self-taught filmmaker. Most of my learning resources were from the internet and also I did one or two courses in and outside Nigeria to back up my knowledge and craft.
What is your goal in the film industry?
I want a name crested in the hall of fame, but above all, I want to make an impact with my work, influence and change lives positively.
Apart from being the global head of media at GText Homes yourself, you are also a filmmaker, content developer and graphic designer. How do you handle all of these at the same time?
It all flows together, that's what makes you a manager or supervisor; having an idea of all these things and how they blend into one and work together.
You have continued to remain relevant in GText Homes. What does it take to accomplish that?
Honestly, value plus dedication equals relevancy; so, I think that answers it.
On what platform are you selling yourself?
By selling, I guess you mean promoting. My Instagram page has some of my works. My website is coming up soon with all of my work on there.
What are your hobbies?
I don't have many friends that really hang around me physically. Most of them are creatives and content creators so they are mostly working as well. I watch movies a lot, then music too. I have a very nice set of playlists for different moods. So, yeah, I don't do much, to be honest.
Since you started filmmaking, will you say it has given you some financial independence?
Well yes, it has, but in Nigeria, you don't get rewarded as much as the skill you have.
Like in a month when the business is good, how much do you make?
It depends on your clientele really and the kind of project you do, it's relative.
Where do you hope to take this filmmaking venture to?
The plan is to pass on what I know to the coming creatives. I didn't have it all starting up. I didn't have access to major information starting up. So, I intend to make this easier for those starting up and trying to self learn filmmaking.
What is your plan for growing the brand?
Well, I hope to work with more major brands and create my own piece of ideas and thoughts.
Like how many people do you have working for you?
I have quite a team of skilled photographers and cinematographers, they are partners really because we mostly collaborate to create. There's no boss or employee in the creative field, in my opinion.
How many films have you produced so far?
Technically none, but I have been part of major TV shows and commercials. One of them is The Investment chat in a Rolls Royce, I worked on it as a co-producer and senior editor, and others are coming out soon as well.
What project are you working on currently?
I have a story or should I say a short film I wrote I'm working on with my team. The production is set to start soon, ceteris paribus.
What would you describe as the best aspect of your career?
The fact that you get to put your own imaginations into writing then onto the screen and people can see and feel your work, sometimes even have a different view and spinoff from what you created.
Would you say you have attained some level of perfection now?
To be honest, I am better than I was yesterday. With filmmaking, you can't always be perfect but you can be the best at what you do, there are new things to learn every day.
Who is/are your role model(s) in the film and entertainment industry and why?
I don't have a role model, I have pacesetters; people that set the pace in terms of their creative prowess and thinking capability, and delivery as well.
What brands have you worked on?
I've worked with BBnaija Housemates, Koko by Khloe, Whitemoney, Tega, Jackie B just to mention a few. I handled some of their brand ambassadorial commercials. I did Kennyblaq's UK tour video campaign, Destalker UK tour as well as Seyi Law's recently I got in a fight in UK Tour, Telesoftas, a Lithuania tech company. I have done something for Cantu as well and Dunnie.
I've also worked with Kanayo O Kanayo, Korede Bello, Cosmas Maduka, MD of Coscharis, Aare Dele Momodu, Dr Stephen Akintayo, and Taylor Live magazines, Sanni Danja and Mr Macaroni. My work has really put me in places with a lot of known personalities. These are the few I can remember really.
You directed the 'Sacrifice' commercial that trended, what was it like working with Kanayo O Kanayo?
Well, it was one of those projects that really tested how far I can stretch and deliver under a short timeline. It wasn't till after the shoot I realised what I had just done. I just directed a commercial and it was a veteran I had on set. He was sceptical when he found out I was the director, but in the end, he wasn't disappointed, I guess.
You have been a filmmaker for years now. How far would you say Nigeria's film industry has gone?  
There has been a major improvement even though Nollywood has shitty movies and films that will make you puke, lol but the most important is we are getting better and we have directors that are changing the narrative.
To what extent do you think the film industry has contributed to the economic growth of Nigeria?
I would say it has contributed more to Nigeria socially than it has financially, considering piracy is still at large in Nigeria.
Do you agree that the government doesn't patronize the film industry?
Well, they don't because the people in government don't care about your film, it takes creative and innovative leaders to know the importance of the film industry, our leaders are not informed even the minister of information is not as well, according to news.
What do you think the government can do to promote entrepreneurship?
They need to give the space and create more schemes that allow entrepreneurs to have access to platforms that support what they do and collaborate with industries outside Nigeria that can help entrepreneurs and their establishment and at the same time make entrepreneur-friendly policies, so you don't get frustrated as well.
What is your advice to upcoming filmmakers as well as those with acting potential or intentions?
Don't be about the money first, be about how much knowledge you can acquire. Filmmaking is a straightforward craft, you bill what you can deliver because you can't cut corners; it will always show in your delivery. If you're an actor as well, you need to work on your delivery and be better at it, especially with the expression of emotions. You also have to be versatile. The internet has made it easy to be detectable, you just have to be smart and don't be desperate.
In simpler words, acquire knowledge, build relationships and don't pursue money
Latest News on Business Post