Mr Ibu's Daughter Jasmine Okafor Ends 9-month Marriage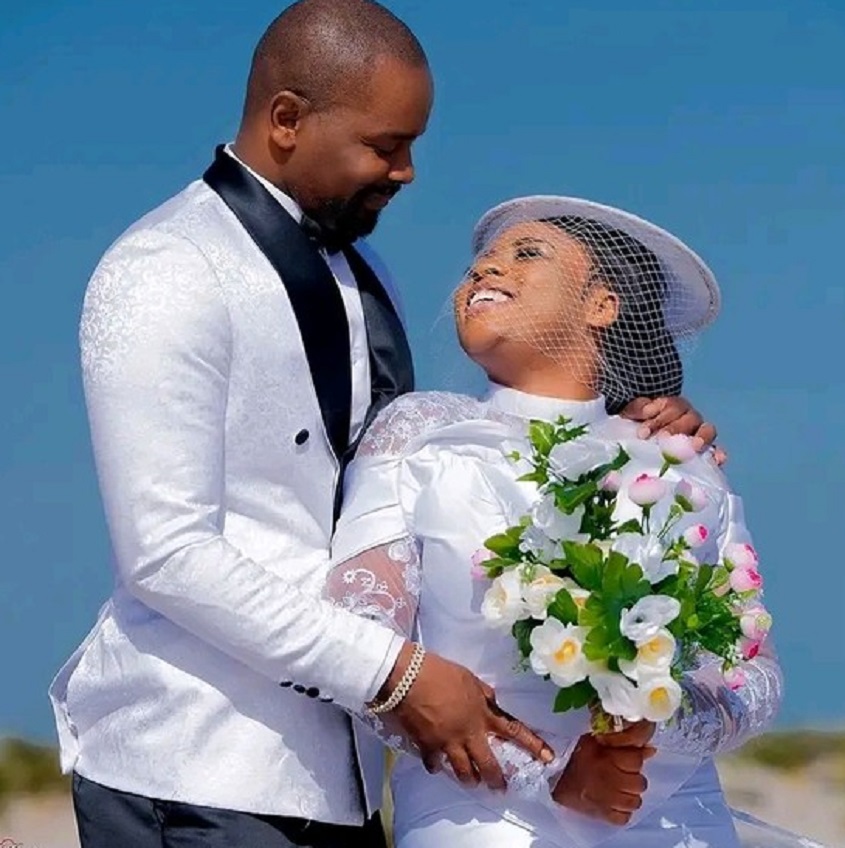 By Aduragbemi Omiyale
Ms Jasmine Okafor, the daughter of Nollywood actor, Mr John Okafor, otherwise known as Mr Ibu, has ended her nine-month-old marriage with her husband.
Recall that In February 2022, Ms Okafor disclosed that she met her then-US-based boyfriend via a popular video-sharing platform, TikTok.
She had said the man flew all the way from the US to Nigeria just to propose marriage to her and that he was planning to finalise the marriage rites almost immediately.
"We met here on tictok 2 months ago ! He was my tiktok glitter! We are set to get married in this month. He flew all the way from USA to Africa for the first time ! Just to marry. A real man won't waste your time," she said, advising single ladies to "hurry now and rush to tictok" to get married.
But barely a year after the two lovers tied the knot, the union has crumbled like a pack of badly arranged cards.
In a post on Monday, the comic actor's daughter claimed she was lied to by her husband, noting that he did not reveal to her about his three grown children from his previous wife.
"A foundation built upon a tiny lie won't stand! I love how you loved me but hate how you never mentioned your divorce not kids to me (sic)!" she said.
Technology's Impact on Fashion Manufacturing Industry
The fashion industry is a very competitive one. There is always someone new designing clothing with a new look. Keeping a collection on the cutting edge and selling to customers is a problem. How can a fashion company track what products are selling well and which ones should be discontinued and replaced with better-selling items? Technology is the way to keep a company running smoothly and on the leading edge of fashion sales.
How Is Technology Used In Fashion Manufacturing?
The clothing manufacturers use technology such as a product lifecycle management system in clothing design, sourcing of materials, collaboration, and supply chain management. The technology available online can help manage stocking and manufacturing processes and tell a company where their product is being marketed and sold and how successful each location is. They can find out what population demographic is buying their fashion products. Companies can also manage their bookkeeping and finances with the software.
The footwear, accessory and clothing industries are dealing with complicated and ever-changing global markets. Customers are demanding smart, up-to-date, personalized, and sustainable products at competitive prices. Companies must also keep track of their competitors. Fashion trends change often, and what is selling well one month may not sell at all in a few months.
The advantages of using technology in the form of product lifestyle management programs include:
Product lifecycle collaboration with everyone in the design, production, and sale of the products. A single source of information for material supplies, size and measurement charts, designs, colour palettes, and other information brings unity to a company.
Reducing the need for the physical sampling of every material used in the fashion design and manufacturing process. Virtual collaboration and viewing of samples will save time and reduce mistakes.
Using this software can make it possible to shorten the time from initial design to getting fashions to the market and customers.
Centralization of a fashion manufacturer's operations is easier. When one set of cloud-based software is used by all parts of a company's manufacturing process, a company can run more effectively with all the parts having an easier time communicating.
The Impact of New Technology on Fashion
All areas of the fashion industry have been improved or affected by technology. Product production has been made easier, faster, and smoother. The new production methods using technology benefits customers as well as manufacturers. It helps with reducing manufacturing waste and costs.
With modern technology, clothing and fashion brands can increase their reach or influence and reach more markets than in the past. They can use websites and social media to get the word out faster and further when a new collection is being introduced.
Technology helps fashion companies research the market and find the materials to use in a new collection faster. Then, they can find out what their potential customers prefer and what trends are strong and which ones are ending.
Fashion manufacturers and retailers can have websites that let customers see new outfits and what they might look like on them using avatars on site. The software on websites can help customers customize their fashion choices from home. This is an advantage when many customers are shopping more from home because of the pandemic and other reasons.
Fashion retailers and manufacturers who embrace the new technology can keep up with today's customers and grow their businesses.
D'Banj in ICPC Custody Over Alleged N-Power Fraud
By Modupe Gbadeyanka
All seems not to be well with a Nigerian pop star, Mr Dapo Oyebanjo, popularly known as D'Banj, as there are reports that he is being held in the custody of the Independent Corrupt Practices and other Related Offences Commission (ICPC).
In a report by Premium Times, which has not been independently verified by Business Post, it was alleged that the entertainer was detained for fraud involving the N-Power project.
The government came up with this scheme in 2016, just a year after President Muhammadu Buhari assumed office, to provide short-term jobs for youths in the country, especially graduates.
In the report, D'Banj was brought into the programme to leverage his popularity among young Nigerians, but he allegedly connived with some government officials to divert funds meant for the successful implementation of the initiative.
According to the report, he was invited by the agency to explain how funds meant for the scheme found their way into bank accounts linked to him, but he reportedly ignored it, giving different excuses.
However, when it seemed it was the end of the road for him, the singer reportedly surrendered himself at the headquarters of the commission in Abuja on Tuesday, and he has not been released despite making efforts to obtain an administrative bail.
Citing sources familiar with the arrest of D'Banj, the reputable platform disclosed that the ICPC is seeking a court order to keep the Kokomaster for a long period, pending when the investigation would be concluded and possibly charged to court for prosecution.
It was alleged that "D'Banj colluded with some compromised government officials to introduce ghost beneficiaries into the payroll of the scheme."
Filmmaker Okey Ogunjiofor Denies Praising Uzodinma for Transforming Imo
By Modupe Gbadeyanka
A Nigerian filmmaker, Mr Okechukwu Ogunjiofor, also referred to Okey Ogunjiofor, has expressed dismay over a report linking him with a purported endorsement of the Governor of Imo State, Mr Hope Uzodinma, for transforming the state.
In a statement, the respected Nollywood icon, who produced the award-winning Amina, said he was not part of the movie practitioners, who visited Mr Uzodinma as reported by one of the leading newspapers in the country.
He described the report as "terrible journalism" and demanded a retraction of the story as he was not in the state as claimed by the reporter.
"My attention has been drawn to a news article circulating on various news and social media platforms in the public domain titled Nollywood stars heap up encoumiums on Uzodimma for Imo state transformation as published by Vanguard newspaper December 4, 2022.
"I, Okechukwu (Okey) Ogunjiofor hereby state as follows:
"1. That I, on behalf my Company Videosonic Studios, and the cast and crew entered our latest film Amina for various categories of the Best of Nollywood (BON) Awards 2022.
"2. That subsequently, BON Awards announced the nominations and Amina got 10 Nominations in various categories.
"3. That due to these Nominations the organisers of BON Awards extended invitation to us to come to Owerri, Imo state (the hosting state for 2022 BON Awards) slated for December 4, 2022.
"4. That although logistics were arranged by BON Awards for Okey Ogunjiofor to represent his office, cast and crew at the event, he was unable to make the journey.
"5. That a slight mix-up in the logistics planning caused him to miss his flight to the awards.
"6. That the organisers called to apologise for the mix-up and offered to make it good by booking another flight but I declined to travel to Owerri.
"7. That we are very shocked and surprised to see the published material stating that I was at the event.
"8. We are therefore stating categorically here that this is a PR job made without our consent or approval.
"9. This report is very unfortunate, and very unprofessional and in bad taste.
"10. That I wasn't anywhere near Imo state on the said date, neither was I in Owerri for the show, yet the paper says I was among those who commended the Imo State Governor Hope Uzodimma for his uncommon devotion to duty.
"11. This is terrible journalism and I hereby demand Vanguard to retract this statement and correct it adequately in their subsequent publications," the statement signed by Mr Ogunjiojor stated.
Latest News on Business Post