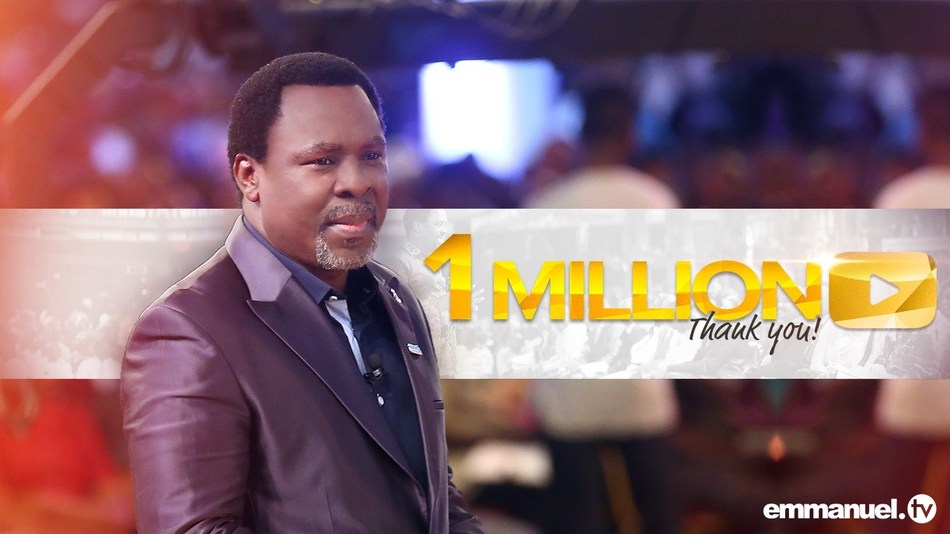 By Dipo Olowookere
A global Christian television station, Emmanuel TV, has reached a subscriber base of over 1 million on its YouTube channel, garnering over 387 million views, making it the most watched Christian ministry, not exclusively focused on music programming, on the platform.
Business Post reports that Emmanuel TV was launched on March 8, 2006 by popular Nigerian cleric, Prophet T.B. Joshua, who is the Senior Pastor and founder of The Synagogue, Church Of All Nations (SCOAN) as well as the Executive Producer of Emmanuel TV.
With viewers from as wide as the Caribbean Islands to the South Pacific, Emmanuel TV has attracted a diverse audience in Africa, Asia, Australia, Europe, North and South America.
Its programs are available in English, French, Spanish, and Portuguese; and each of the languages have their respective YouTube channels.
The global Christian channel has a burgeoning streaming service, which is available both on satellite and online.
Emmanuel TV is notable for the Sunday service transmitted live every week from its headquarters; yet it broadcasts numerous other Christian programs such as: Standard for Life, Prayer for Viewers, World Prophecies, Changing Lives Interviews, Christian Cartoon Series for Children, Musical Renditions from Emmanuel TV Singers and more.
Additionally, Emmanuel TV records and broadcasts documentaries on a wide range of societal issues which include topics on migration and deportation; unemployment and education; foreigners stranded and seeking to return to their home countries; and life stories of Nigerian deportees from Libya.
In addition to television programming to a world-wide audience, Emmanuel TV's humanitarian arm provides charitable assistance to prisons, rehabilitation centers and flood victims all around the world – under the catch-phrase "Straight Outta Emmanuel TV".
Emmanuel TV's programming is premised on three principles: Changing Lives, Changing Nations and Changing the World.