ABI Launches Blockchain Hackathon for Students
By Adedapo Adesanya
The Africa Blockchain Institute (ABI) has launched the Campus Blockchain Hackathon to give students from institutions of higher learning in Africa early exposure to the career and business opportunities being presented by the Blockchain/DLT Digital Innovations.
The Hackathon will create a structured and sustainable community that nurtures and empowers awesome developers by providing and democratising access to knowledge, capital and mentorship.
The contest seeks students from academic institutions of higher learning across Africa to build Blockchain Applications on Free TON that will add value to both the continent and the Free TON network.
FREE TON is as a community of the Open Source (OS) project that was created by the developers of the Telegram Open Network (TON). TON OS is designed as a decentralised operating system to handle decentralised applications.
TON OS has a stack of components which can be used by developers to create powerful applications. By making these components open source, anyone or everyone can view and copy fragments of the code.
Speaking on this, Mr Kayode Babarinde, Executive Director of ABI, said, "The African continent has this year become the new hotbed for peer-to-peer cryptocurrencies trading, as shown by the chain analysis crypto adoption index that places, for the first time, Nigeria and Kenya featuring in the top second and eight of global nations, respectively.
"This presents not only an opportunity, but a call for immediate action in grooming indigenous Blockchain ideation, deploying needed solutions, and driving practical adoption," he said.
Also adding his input, Mr John Kanyiri, FreeTON Africa Representative and the FreeTON Africa Team, explained that the entry of FreeTON into the African continent is by no means an accident.
"Our governance model of a decentralized community-driven initiative resonates well with our African culture where community-driven activities is a norm.
"Transfer of knowledge to the juniors is also a role of the senior members of the community. For that reason, partnering with educational institutions, particularly ABI, in support of our University students is an honour.
"As the African continent endeavours to be part of global innovators and solution providers, FreeTON Africa is committed to engaging and mentoring the continent's blockchain community today and beyond," he said.
The Hackathon is planned to engage the academia on everything and anything they need to know about Blockchain technology.
Topics covered will not only give participants a good understanding of the Blockchain and how it works but will also discuss current and future applications and how they are being implemented to change the world profitably.
Some of these include: Fintech infrastructure/Digital Wallets (to help those who do not have access to banking); Human rights protections; Land ownership and registry; National voting platforms; High tech job creation; and participants are allowed to specify any other applications that best serve the needs of Africa).
The contest is divided into country competition, regional competition, then the continental competition. While the country and regional competitions are virtual, winners of regional competitions will receive an all-expense-paid trip to visit Rwanda for the finals.
The organisers noted that this is not open to only experts as newbies will work with some of the best technical experts in the blockchain community who will be there to help them build their projects.
The grand finale will be hosted at the African Leadership University, Kigali-Rwanda with the application opening today, December 21.
From January 4 – 21, 2021, there would be idea screening and award, while the application deadline has been fixed for January 22, 2021, with the hackathon dates slated for February 1, 2021, to April 8, 2021.
The hackathon program is in partnership with the Rwanda Information Society Authority (RISA); Ministry of ICT & Innovation, Republic of Rwanda; Government Blockchain Association – Africa; African Leadership University; and TON Labs.
Interested applicants can apply here at – https://africablockchain.institute/campus-hackathon/
Nigeria, Others Break Pledge Not to Impose Internet Restrictions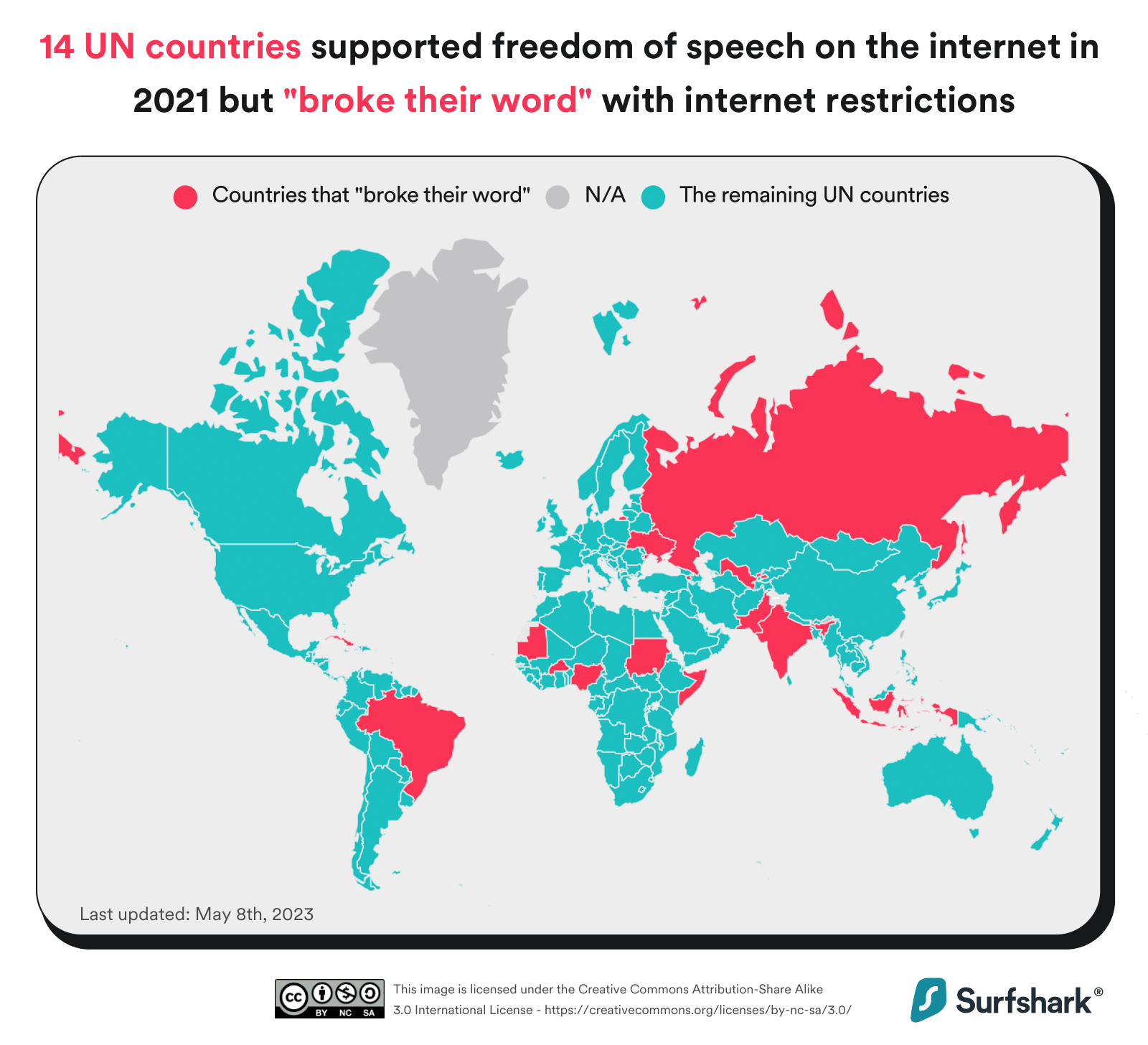 By Adedapo Adesanya
A new study showed that Nigeria was among those that pledged to uphold free Internet according to a 2021 United Nations resolution but yet imposed restrictions.
The UN resolution on human rights on the internet aims to protect and promote human rights online, but some supporting countries have broken their word, according to a study by Cybersecurity company Surfshark, analysing UN countries' stances in the 2021 UN Human Rights Council (HRC) Resolution on the promotion, protection, and enjoyment of human rights on the internet.
It was conducted by comparing countries' stances with data from Surfshark's Internet Shutdown Tracker, Surfshark was able to identify 5 African countries that claimed to support the resolution but "broke their word" by imposing internet restrictions.
On Nigeria's end, it had one ongoing restriction at the time of the resolution's adoption but has had no new restrictions since then.
Nigeria had banned Twitter a month before the adoption, and the restriction lasted until January 2022.
The federal government suspended Twitter on June 4, 2021, after it removed a post from President Muhammadu Buhari that threatened to punish regional secessionists.
The FG told the nation's telecommunication companies to block access to users in Nigeria, leading users to fall to the use of Virtual Private Networks (VPNs). It was not until January 13, 2022, that the suspension was lifted.
Other African countries that supported the 2021 UN resolution but "broke their word" were Sudan, Burkina Faso, Mauritania, and Somalia.
The report noted that Sudan has "broken its word" the most in Africa, with nine internet disruptions that took place after the country supported the 2021 resolution, the first one happening amid the 2021 military coup.
Burkina Faso comes in second, with four restrictions since the resolution's adoption in 2021. The country's 2022 restriction on Facebook is still in place today. Mauritania and Somalia both had one internet restriction since supporting the resolution. Mauritania restricted mobile internet amid a prison riot, and Somalia had an internet blackout after the parliament voted to remove the prime minister.
Speaking on this, Gabriele Racaityte-Krasauske, Surfshark spokeswoman, said, "In today's world, internet shutdowns have become a major concern. Authoritarian governments frequently employ them as a means to manipulate the public and stifle free speech. The UN resolution on human rights on the internet aims to make countries openly condemn these shutdowns and other ways of restricting online speech."
"However, it's concerning that even though 5 African countries publicly supported the resolution, they still imposed internet restrictions. It's important to promote an open and accessible internet and pressure countries to uphold their commitments regarding human rights online," she said.
Nine countries from other continents also "broke their word": India, Cuba, Uzbekistan, Pakistan, Russia, Brazil, Armenia, Indonesia, and Ukraine.
Surfshark's Internet Shutdown Tracker reveals that there were a total of 58 internet disruptions in these 14 countries during or after the adoption of the resolution.
India stands out as the country that has "broken its word" the most, with 19 internet disruptions since the resolution's adoption in 2021, adding that if it included the Jammu and Kashmir region, this number would be even higher.
The Human Rights Council convenes at least three regular sessions annually. The upcoming 53rd session is scheduled for the summer of 2023.
"While the agenda of the specific resolution is currently unknown, Surfshark will keep an eye out for any updates regarding upcoming UN resolutions on human rights on the internet," the firm noted.
WhatsApp to Roll Out Screen-Sharing Feature for Video Calls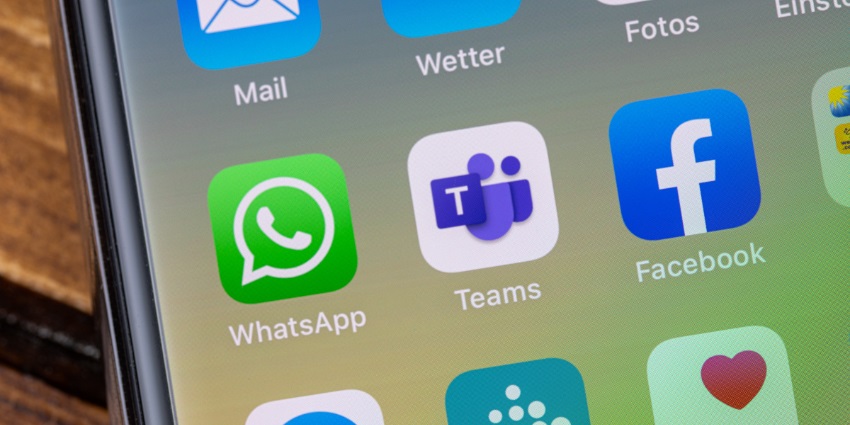 By Adedapo Adesanya
WhatsApp is rolling out a new feature that allows users to share their screens during a video call.
According to WABetaInfo, a WhatsApp reporting blog, this screen-sharing feature is not available to all users yet but is already available to some beta testers who have installed the latest WhatsApp update from the Google Play store.
It could be part of a play to make the company get more acceptance for work meetings and compete with the likes of Zoom, Google Meet, and Microsoft Teams.
Last September, the Meta-owned platform rolled out a new feature that allows users to share a direct link to a call. It also allows up to 32 users during a call session. However, Google Meet, Microsoft Teams, and Zoom allow for large numbers on a call. The first two can take up to 100, while up to 300 people can be on a single Zoom call.
With the soon-to-be-available feature, when users are on a video call, a new icon will be available on the bottom toolbar that will enable users to share everything on their screen with other members of the call.
WhatsApp users will be able to stop screen sharing at any time and will only be enabled with the consent of the sharer.
While the feature is currently only available to Beta testers, WABetaInfo said that it will become available to more users over the coming weeks.
However, "This feature may be unavailable on old versions of Android, screen-sharing may not work in large group calls, and the recipient may be unable to get the content of your screen in case they are using an outdated version of WhatsApp," read the WABetaInfo post.
Screen-sharing functions have been available on online video conferencing services such as Microsoft Teams and Zoom for a while.
The blog also announced that WhatsApp is working on releasing a username function in an effort to facilitate more private communication.
These are the latest in a string of new features available on the Meta-owned messaging application.
WhatsApp recently introduced a feature that allows users to edit WhatsApp messages for up to 15 minutes after sending them.
Nvidia Joins Exclusive $1trn Market Cap Club 
By Adedapo Adesanya
Nvidia has just become a $1 trillion company, making it the first chipmaker to join the exclusive trillion-dollar club in the United States stock market.
With this, the chipmaker has earned a seat at the table with other members of the club, which include Apple, Microsoft, Google's Alphabet, and Amazon.
The rise in valuation was fueled by tech companies, big and small, racing to add generative artificial intelligence tools to their products.
AI tools made up the vast bulk of recent Google I/O and Microsoft Build presentations, and Nvidia's chips make it a key supplier for companies trying to build something with AI.
Over the weekend, Nvidia's Computex 2023 keynote was full of AI announcements, including a demo of games using natural language both for input and for character responses instead of scripts and a new supercomputer built around its latest GH200 Grace Hopper Superchip capable of an exaflop of GPU performance.
Its valuation pushed over the trillion-dollar benchmark as trading opened today at over $400 per share.
According to Reuters, Nvidia's shares rose about 25 per cent last week, sparking a rally in AI-related stocks and boosting other chipmakers, helping the Philadelphia SE Semiconductor index close on Friday at its highest in over a year.
Significantly, Nvidia forecast $11 billion in sales for the fiscal second quarter of 2024 alone. Expected sales were 50 per cent higher than consensus estimates of $7.15 billion.
OpenAI-owned ChatGPT's rapid success has prompted tech giants such as Alphabet and Microsoft to make the most of generative AI, which can engage in human-like conversation and craft everything from jokes to poetry.
Latest News on Business Post