Comviva Introduces Mobile Recharge App for Telcos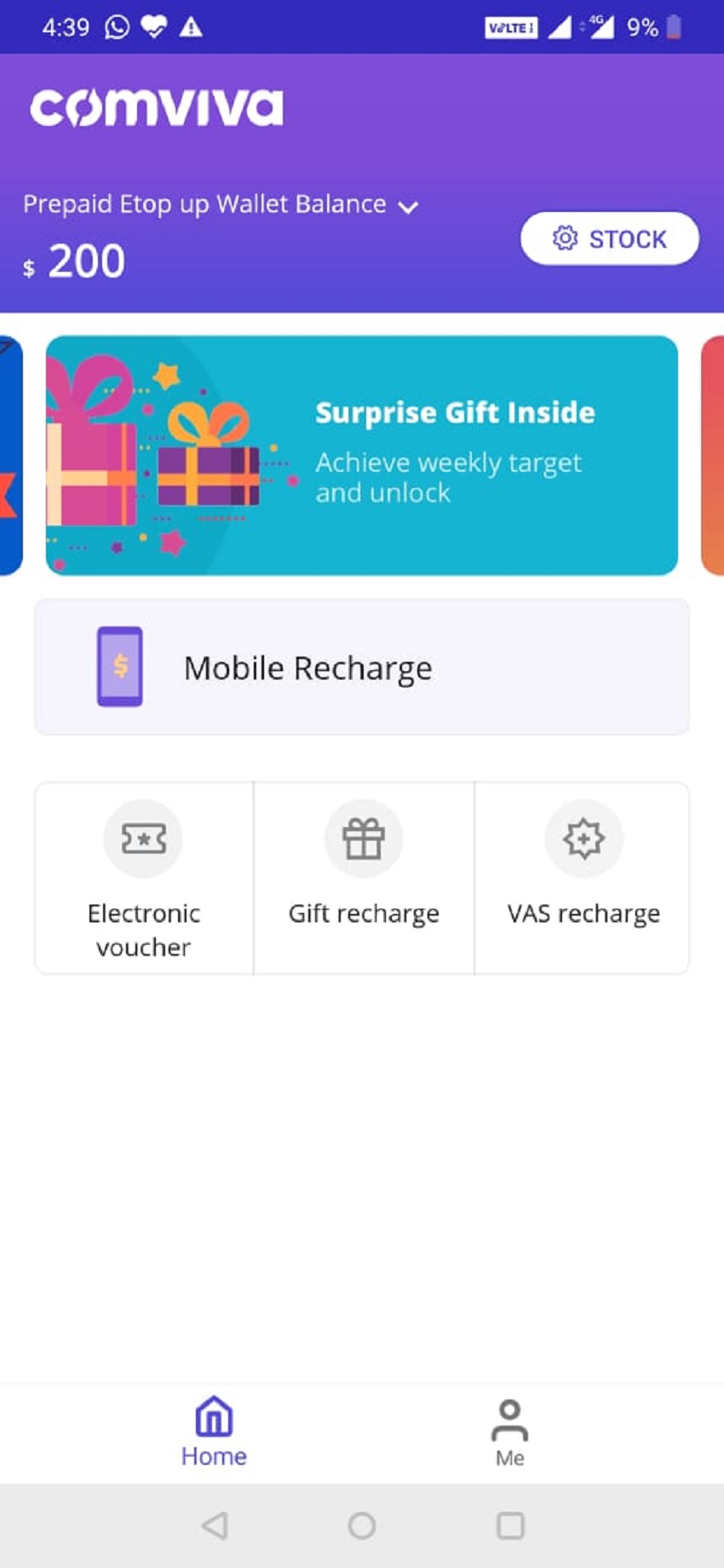 An innovative mobile recharge app to allow operators in the telecommunications sector to increase their distribution network during COVID-19 pandemic has been introduced by Comviva, the global leader in providing mobility and digital solutions.
The platform called PreTUPS Direct Selling Agent enables subscribers to recharge the prepaid mobile connections of other subscribers and earn incentives or cashbacks.
The Direct Selling Agent application is the latest feature of PreTUPS, one of the world's largest electronic recharge and voucher management platforms, which has been deployed by over 60 telecom operators in more than 45 countries.
PreTUPS is a white-labelled offering that can be provided by the telecom operators worldwide to their subscribers allowing community recharge.
Using the PreTUPS Direct Selling Agent application, telecom operators can enrol subscribers as direct agents. After the enrolment, which is a quick and simple self-registration process, subscribers are on-boarded as direct agents and can act as full-fledged retailers and begin transacting.
The direct agents can purchase stock from the telecom operator online and pay via digital channels, such as cards or digital wallets.
Once the stock is purchased, the direct agents will receive incentives or cashback. Once the stock is available with them, the direct agents can recharge the mobile connection of their family, friends and acquaintances.
The PreTUPS Direct Selling Agent application also offers gift recharges, electronic vouchers and value-added services (VAS) recharge.
Excited about the new feature, Srinivas Nidugondi, COO and EVP, Mobile Financial Solutions, Comviva, said "The PreTUPS Direct Selling Agent application benefits all stakeholders.
"First, it will help telecom operators to increase their distribution reach, especially during the on-going COVID-19 pandemic when the availability of recharge retailers and related services have been curtailed due to lockdown and restriction on people's movement.
"Also, the mobile application will help mobile subscribers earn incentives or cashbacks for recharging the prepaid mobile connection of other subscribers. This can provide additional income to many consumers, including students, cab drivers, insurance agents et al.
"Lastly, people, who are unable to visit retailer after their mobile balance or validity has ended, will be able to instantly get recharge and remain connected to their family and friends in these challenging times."
Over the past few months, PreTUPS has added multiple features to ensure that telecom operators can offer e-recharge services smoothly and all customers are able to recharge their prepaid mobile connections, particularly during the COVID-19 pandemic.
One such service is Find My Retailer, where telecom operators can SMS customers a list of their favourite retailers (a maximum of five) and their mobile numbers. Subsequently, customers can contact the listed retailers to recharge their accounts.
Telecom operators are also leveraging PreTUPS to offer emergency credit to retailers. This is aimed at ensuring that retailers have adequate stock on hand to offer e-recharge services during the lockdown. PreTUPS also facilitates auto-replenishment of stock for retailers, in case the same reaches below a defined minimum threshold.
The mobile app is a proven prepaid account management solution that helps telecom operators to offer electronic recharge services to its consumers through a flexible distribution network with multiple channel hierarchies.
Beyond assisted electronic recharge, PreTUPS also entails the ability to deploy self-service recharge and deliver innovative value-added offerings.
It also enhances the delivery and distribution of traditional voucher-based products through its voucher management solution that includes generation of voucher pins, activation, distribution, tracking and voucher reporting.
Whether it is an assisted recharge via a retailer or a self-recharge via channels such as SMS/USSD, the web, ATM and kiosk – PreTUPS delivers reliable and consistent customer experience, helping telecom operators diversify their prepaid portfolio, shrink go-to-market time and achieve growing business targets.
What's Next for the African Tech Revolution?
By Kay Akinwunmi
In many parts of Africa, a tech revolution is underway. It's predicted 475 million people will be mobile internet users by 2025.
Devices, networks and emerging forms of technology are proliferating, not least in Nigeria which, through R&D, has the potential to become a regional leader in AI and Blockchain.
Driven by an exploding population, (the average age of which is just 19.7 years old), Africa can become a tech powerhouse.
According to the World Economic Forum, between 2015 and 2020 tech start-ups receiving financial backing was six times faster than the global average. Despite the challenge of retaining later-stage funding, it's an exciting time to be an African tech start-up, whose strength lies in retaining a local identity.
When Uber launched in Nigeria, it was forced to change its payment options to include cash, and this is a small example of a much bigger truth: in Africa, models that work elsewhere can rarely – if ever – be replicated without some adjustments having to be made to cater for local tastes and modes of behaviour.
This is not unique to Africa: China's WeChat, described as an "app for everything", has an interface many Westerners would find awkward to use, ugly, or undesirable; the same is probably true of Western apps looked at from a Chinese point of view. And this is one reason why anyone starting a business for the African market must have a presence on the ground in Africa: so that whatever they build looks and feels local.
But it is also one reason why the tech boom is so exciting: it gives Africans the power to develop African products that are uniquely, visibly African. Africans are best-placed to identify African opportunities, as well as African problems. Through tech, they can develop solutions in a distinctly African way.
And this is something that has been denied to Africans for a long time. The reality is that big corporations can have a homogenising effect as they expand overseas, diluting local cultures.
Tech, though innately international and borderless, celebrates diversity by giving power to the individual, wherever they happen to be. And that means that over time, through tech, Africa will be able to shape its own commercial identity: its own principles around user experience, brand and design.
By giving companies and the products they produce a uniquely African identity – an identity that reflects African people and culture – tech can strengthen that culture and showcase it to the world.
Tech also has the power to help Africa address a wealth of more serious issues, some of which have not just been persistent but seemingly intractable.
EdTech, for example, provides a solution to limited access to education for Africans, especially in poorer rural areas. Start-ups like PataTutor, based in Kenya, connects students with qualified private or online tutors, while uLesson, based in Nigeria, sells digital curricula through SD cards.
HealthTech, too, could give Africans the means to speak to medical professionals via video call or assess any symptoms they might have. In 2020, capital for health tech start-ups on the continent rose 257.5 per cent from 2019, according to a Disrupt Africa report, spurred in part by the pandemic, which shed light on the gap in healthcare services and forced healthcare providers to adjust their models and digitalise quickly.
Increasing internet penetration also means that remote working is likely to increase across Africa, and that may mean that those working abroad can return home. Some in the diaspora are returning home already. And as the cost of data comes down and the internet gets faster, the tech wave will build and roll over more of the continent.
We may not even be able to conceive at this stage of the kinds of brands, products, services and new forms of technology that might emerge out of a bustling and uniquely African tech scene. And with all this comes greater foreign investment in Africa and less brain drain, which strips Africa of some of its most talented people.
There is still a way to go before Africa's tech industries become sustainable and world-leading. Significant problems remain later-stage funding, supply chain disruption and cybercrime:
Nigeria has more tech hubs than any other country on the continent but is also plagued by mobile malware. But through innovation and the need to diversify its economy, Africa will advance. At Zazuu, we're proud to be part of Africa's growth, using tech to meet the needs of African people.
Kay Akinwunmi is the co-founder of Zazuu
NCC Denies Renewing Airtel Nigeria's Operating License
By Adedapo Adesanya
The Nigerian Communications Commission (NCC) has refuted claims by the Managing Director/Chief Executive Officer of Airtel Nigeria, Mr Olusegun Ogunsanya, that the company's operating licence has been renewed.
Mr Ogunsanya was quoted in the media last week as saying that the 10-year operating licence of Airtel Nigeria had been renewed by the agency, which regulates the telecommunications industry in the country.
But in a statement issued on Sunday by the NCC Director of Public Affairs, Mr Ikechukwu Adinde, the commission categorically said this was totally untrue.
Though the NCC admitted that Airtel Nigeria has applied for a renewal of its licence, it was yet to approve this as it was still under scrutiny.
It was reported that Mr Ogunsanya made the claim when he spoke with newsmen in Lagos on Wednesday, July 14, 2021, during the media launch of Airtel's corporate social responsibility programme, Touching Lives 6.
"The attention of the Nigerian Communications Commission (NCC) has been drawn to a recent statement on an online publication credited to the Managing Director/Chief Executive Officer of Airtel Nigeria, Mr Olusegun Ogunsanya, to the effect that the mobile operating licence of Airtel has been renewed by the Commission for another period of 10 years.
Mr Ogunsanya was said to have made the statement while speaking in Lagos on Wednesday, July 14, 2021, during the media launch of Airtel's corporate social responsibility programme, 'Touching Lives 6'.
"The commission wishes to state that while Airtel Nigeria has applied for the renewal of the Unified Access Service (UASL) Licence granted to it by the Commission, the application is yet to be approved as it is still undergoing [the] required regulatory process.
"This statement is issued for the guidance of our stakeholders," the full statement read.
Comviva Introduces mobiquity Pay X
By Modupe Gbadeyanka
A platform designed to enhance all aspects of digital financial solutions called mobiquity Pay X has been introduced by Comviva, the global leader in mobility solutions.
A statement from Comviva said the new next-generation platform comes with enhanced security, simpler user lifecycle management & experience, among others.
The mobiquity Pay X is said to be completely built on microservices-based architecture with fully independent and reusable components.
The enhanced modularity facilitates faster time to market and greater scalability and has enabled Open APIs to easily integrate with third-party systems and extended financial ecosystem.
To enhance user experience, the platform now offers a revamped slicker mobile app for consumers, agents, merchants and other business users and provides an advanced User Management System (UMS) that allows back-office users to easily manage the complete lifecycle of consumers, agents, merchants, and other business users seamlessly. Its intuitive user interface, predefined templates and real-time feedback help quickly perform operations.
mobiquity® Pay is amongst the world's largest digital financial services platforms, powering over 70 digital wallets and payment services for 130+ million consumers and processing over 7 billion transactions exceeding $130 billion annually in more than 50 countries.
"COVID has significantly accelerated the growth of digital financial services and the entire financial ecosystem is growing at its fastest pace ever.
"Customer demand and public health priorities are pushing contactless payment adoption and our next generation mobiquity Pay X platform shall help financial service providers scale their digital wallet and payment services faster and seamlessly.
"With this new platform, Comviva has completely automated the software delivery process. The time to market has improved significantly with continuous product development, integration, testing, release and deployment," the EVP and Chief Growth and Transformation Officer at Comviva, Srinivas Nidugondi, said.
Latest News on Business Post