Samsung Unveils Latest Tech Trends at Annual Africa Forum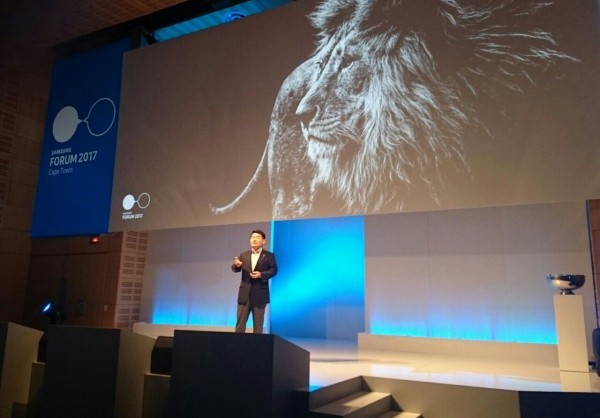 By Modupe Gbadeyanka
Leading electronics firm, Samsung, will be showcasing the latest range of products at the 8th Annual Samsung Africa Forum happening at the Cape Town International Convention Centre this week.
With the expected continuous growth of this market in 2017, Samsung Electronics aims to lead the continent's development in the consumer electronics space.
The Samsung Africa Forum 2017 is the ideal platform to demonstrate Samsung's smart technology, products and design for the year ahead, as well as highlight the company's commitment and unifying vision to its African partners and media.
"Africa is a vital part of Samsung's global business and the company will utilise this event to present products selected specifically for the unique needs of our customers," says Sthe Shabangu, Lead: PR, Public Affairs and Corporate Citizenship at Samsung Africa Office.
The Lion is known as the 'king of the jungle' in Africa and its family, or pride, works as a unit for the betterment of all its members. In much the same way, the theme for this year's event is 'One Pride' and represents how Samsung and its partner network continue to work together to be the leaders in the region's consumer electronics market.
The theme is also symbolic of the genuine pride the company takes in its world-class devices and appliances.
Samsung's motto has always been pride and passion. As such, the company is proud of its innovative, world-class products that feature innovative designs and technology created to benefit consumers.
Samsung is passionate about a shared vision to improve the lives of African customers and eager to drive positive growth for its partners across the continent.
Concludes Shabangu: "Samsung Electronics values building strong relationships with our customers, partners and stakeholders in order to succeed and grow in this unique and exciting consumer landscape.
"The 8th annual Samsung Africa Forum affords us the opportunity to share our vision, commitment and world-class innovations in technology and design with our partners across the region. More crucially, it allows us to demonstrate that together, we can move forward with pride, passion and profitability."
Biometrics Player iiDENTIFii Secures $15m to Fund Expansion
By Modupe Gbadeyanka
The goal of an innovative biometrics tech firm, iiDENTIFii, to expand its operations across Africa is coming to fruition as it has obtained a funding package worth $15 million for this purpose.
iiDENTIFii is a world leader in biometric authentication. Its advanced face authentication technology securely authenticates users within seconds via their cellphones or PCs.
The company operates across several industry verticals and its services are used by the largest pan-African banks, insurers and mining houses for customer and employee authentication.
Its customers include Standard Bank, ABSA Bank, and Investec Bank. Investors in the round alongside Arise are growth-stage private equity firm Sanari Capital and veteran US tech entrepreneur Bill Spruill.
The major contributor of the new $15 million injection was an African investment company, Arise, whose cornerstone investors include Rabobank Partnerships, Norfund, NorFinance and FMO.
In a statement, iiDENTIFii said it would use this investment to fund its expansion across Africa, especially at a time cybercrime within the financial sector is a growing threat to the continent.
The consequences of attackers exploiting security vulnerabilities are particularly severe for financial services and banking apps that process sensitive financial information.
The use of iiDENTIFii's biometric authentication to protect access to this sensitive financial information makes iiDENTIFii's solution an integral part of financial inclusion, digital inclusion, and identity inclusion on the continent.
"I'm incredibly proud of our engineering team and our growth as a company over the past three years," says iiDENTIFii Founder and CEO, Gur Geva. "This investment validates our central business thesis that we are the preferred partner for enterprise-grade identity in Africa. We're excited to put the investment to work as we close in on our goal of authenticating every face in Africa. With this new funding and the networks of Arise, Sanari, and Bill – we confidently continue our mission of stopping identity theft in Africa."
"In addition to complementing Arise's portfolio of bank investments across Sub-Saharan Africa, this investment heralds our foray into the African fintech market," says Arise CEO Gavin Tipper. "We are excited about our partnership with iiDENTIFii, which will allow us to offer their unique technology to banks in Sub-Saharan Africa, strengthening digital anti-money laundering practices and advancing financial inclusion."
"At Sanari, we place a strong emphasis on digital and human enablement to unlock business potential," says Sihle Gumede of Sanari Capital. "iiDENTIFii is, therefore, a great addition to our investment portfolio and we look forward to being part of its ongoing growth journey. We are excited about co-creating a scalable and sustainable pan-African biometrics business."
"As an entrepreneur and investor, I've had a significant amount of experience with transformative technology," says Bill Spruill "The work being done by iiDENTIFii is particularly exciting and I am excited to see the impact it has on the African continent."
iiDENTIFii recently won KPMG's Tech Innovator in Africa award and will compete for the global title in Lisbon, Portugal in November 2022.  It has previously, amongst other awards, won MTN App of the Year and Microsoft Independent Software Vendor (ISV) Partner of the Year.
Financial Phishing Cyberattacks Jump 79% in Nigeria
By Adedapo Adesanya
The number of financial phishing attempts in the African regions increased significantly with Nigeria recording a 79 per cent jump in the second quarter of the year.
According to Kaspersky's Financial Cyberthreats report, attacks in the financial sector are becoming increasingly corporate-oriented and shifting away from consumers as banks, payment systems, and e-commerce websites were attacked massively.
Imperfections in the transition to remote/hybrid work continue to pose a huge threat to businesses. On top of that, economic issues caused by the pandemic have further aggravated the problem. Driven by poverty and unemployment, cybercriminals have continually intensified malicious activities against customers and bank infrastructure.
Financial phishing is a deceptive way of stealing information and is gaining momentum in the region. Phishing is a type of online fraud where the scammer sends fake alerts from banks, e-pay systems and other organisations to trick consumers into sharing their financial details.
The alerts sent by the scammer can be related to loss of data, update credentials or system breakdown, which results in theft of passwords, credit card numbers, bank account details and other confidential information.
According to the Kaspersky telemetry, in Q2 of 2022, a total of 61,344 financial phishing attacks aimed at organisations were detected, an increase of 79 per cent compared to the first quarter.
Giving a breakdown, the largest share of attacks was mostly directed at e-commerce websites with 52 per cent, with payment systems hit by 42 per cent, while banks received about 6 per cent.
It was higher in Kenya, one of Africa's booming economies, as a total of 100,192 financial phishing attacks aimed at organisations were detected in Kenya, a 201 per cent increase compared to Q1.
The largest share of attacks was directed at e-commerce websites (58 per cent), with banks (21 per cent) and payment systems (also 21 per cent).
Speaking on the report, Mr Emad Haffar, Head of Technical Experts at Kaspersky, said, "A life without the Internet is strange to us. So much so that our financial life is now digital. This is the magic of digitisation. But we also need to be aware of an unprecedented wave of challenges.
"Financial threats are one such challenge which is becoming more advanced in exploiting human behaviour and will only continue to grow. Businesses trying to stay ahead of such evolving, complex cyberattacks should make fraud prevention a focal point to control fraud transactions, eventually reduce fraud risk in the future and avoid reputation damage."
Kaspersky highlighted certain recommendations to help businesses stay ahead of financial threats and phishing attacks, including companies needing to educate employees as they are considered the first line of cyber defence. This needs to be a continuous learning experience as well as teaching them about the red flags they need to keep an eye out for.
Similarly, organisations need to extend the dos and don'ts of cybersecurity to customers to protect themselves against phishing fraud.
It called on companies to capitalise on the Kaspersky Fraud Prevention solution, which proactively analyses and detects whether a customer's device is infected with malware in real time.
Organisations were also charged to rely on Kaspersky Threat Intelligence to increase visibility and feed their security operations with advanced insights.
Meta Introduces WhatsApp Call Links to Rival Zoom, Google Meet
By Adedapo Adesanya
WhatsApp is rolling out a new feature that allows users to share a direct link to a call, just as it is planning to allow up to 32 users during a call session in a move that can see the Meta-owned platform rival other platforms.
The Call Links feature will start appearing on WhatsApp this week and can be accessed through a banner at the top of the Calls tab. WhatsApp users who want to try the Call Link feature will need the latest version of the app, which can be updated through the app store.
Mr Mark Zuckerberg, CEO of Meta, while announcing the feature on Facebook, said WhatsApp users will be able to share a link to a call with "a single tap."
The ability to share a call link with up to 32 users was teased in April during the announcement of another upcoming feature, WhatsApp Communities.
The WhatsApp Call Links feature will support both audio and video calls. Mr Zuckerberg also confirmed that encrypted video calling is currently being tested for group calls with up to 32 people, which is notable, as WhatsApp currently caps video calls at eight users.
The expanded call capacity sets up WhatsApp as a competitor for Google Meet, Microsoft Teams, or Zoom. These rival offerings have a far greater caller capacity (100 for Google and Microsoft Teams and 300 for Zoom).
However, they include restrictions like call duration for free accounts and might not be the first choice for the billions of people already chatting for free on WhatsApp.
WhatsApp did not mention any restrictions on call duration, which could place it as one of the best free video calling applications for smaller teams and personal networks once the feature is widely available.
Latest News on Business Post