Air Passengers Vote Emirates as Best in In-Flight WiFi, Food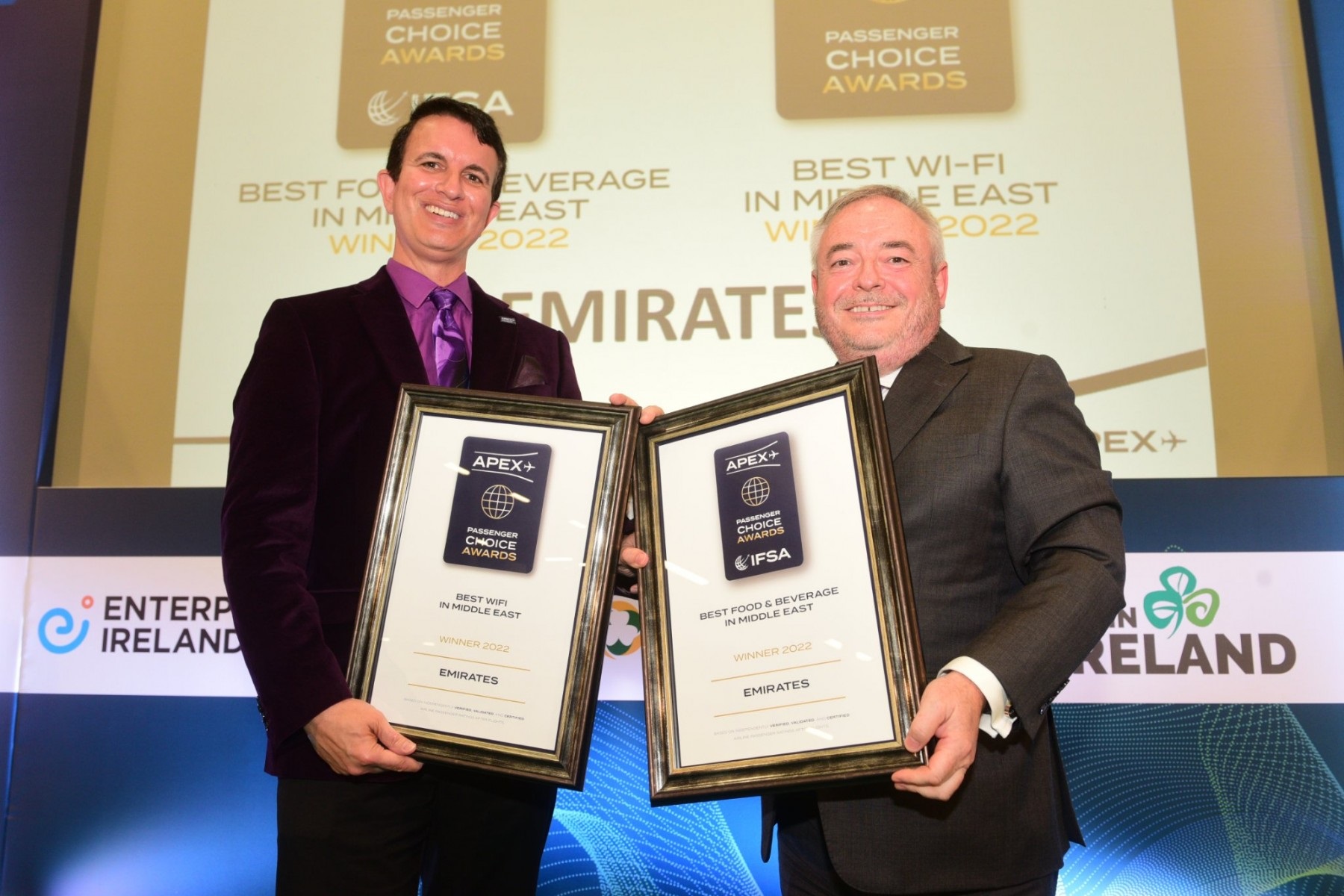 By Modupe Gbadeyanka
The decision of the management of Emirates to give its customers quality value-added services has finally paid off as air passengers across the world have voted the airline operator as the best in in-flight WiFi and food.
At the 2022 APEX Regional Passenger Choice Awards® ceremony held in Dublin, Ireland held recently, Emirates was announced as the winner of the Best Wi-Fi and Best Food & Beverage awards in the Middle East.
The organisers received votes from verified passengers flying on over one million flights on nearly 600 airlines from around the world. They were asked to rate their airline experiences in five subcategories: seat comfort, cabin service, food and beverage, entertainment, and Wi-Fi.
The two awards crown Emirates' continual efforts to deliver the best possible customer experiences on board and take the total count of APEX awards presented to Emirates, to 30, since the awards' launch in 2010.
The Best Food & Beverage award recognises Emirates' consistently high-quality, regionally inspired cuisine and extensive drinks menu. The airline's attention to detail ensures a clockwork operation where over 110 meals from close to 4,600 recipes that cater to every palate are loaded onto its flights each year.
Emirates also pays special attention to its beverage offering which ranges from fresh mocktails and vitality boost drinks, to a wide selection of hand-picked teas and coffee, alongside the very best champagnes and special vintages of wines and spirits that any sommelier would envy.
Staying connected is an everyday essential on the ground and also in the skies. Emirates was the first airline to equip its entire fleet with mobile phone connectivity, in 2007, and now every aircraft is equipped with Wi-Fi services.
Free connectivity options are available to all Business and First-Class passengers, and Skywards Platinum and above. Great value plans are available for full flight internet or chat. Last year, Emirates replaced MB limited plans with unlimited plans or timed plans – simplifying the options available as few users understood the MB consumption on a session.
In total, Emirates' award-winning ice inflight entertainment system, with over 5,000 channels, including up to 150 channels dedicated to family and children, presents an unmatched breadth of content in 40 languages to cater to its global customer base.
It also offers more than 4,000 hours of movies and TV, and close to 3,500 hours of music and podcasts to choose from, along with 5 channels of live TV including major sports events for sports lovers. New, exciting and exclusive content will be available onboard ice with something for everyone travelling this summer and beyond.
The APEX Passenger Choice Awards® recognize excellence in seat comfort, cabin service, food and beverage, entertainment and Wi-Fi. Partnering with TripIt® from Concur®, the world's highest-rated travel-organizing app, anonymous passenger feedback is gathered based on neutral, third-party passenger feedback and insights.
Quickteller Delves into Transport Business for Better Travel Booking Experience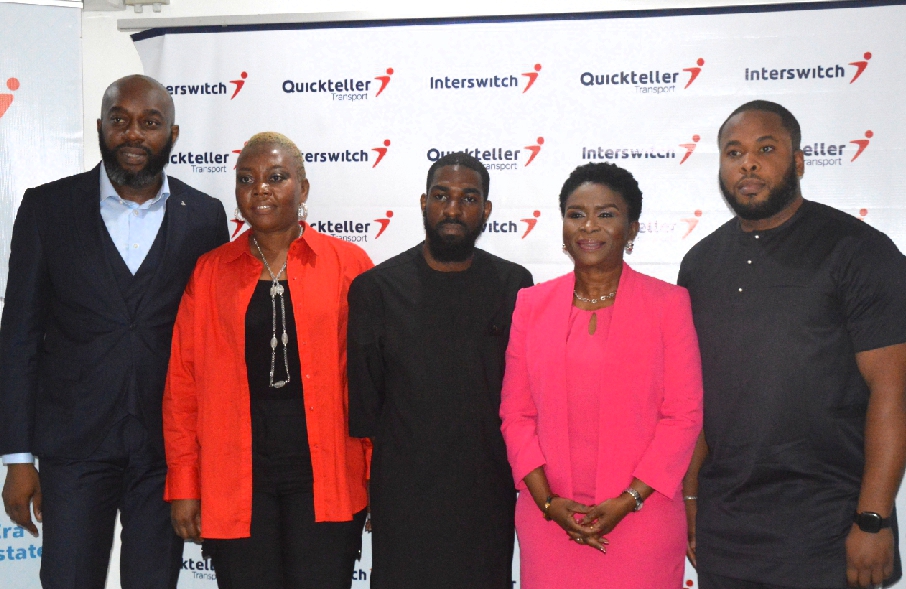 By Aduragbemi Omiyale
The desire to make life easier for people has made Quickteller venture into the transport business, designing innovative services to enrich the travel booking experience.
The company has launched Quickteller Transport to allow users to easily search and book inter-state trips from multiple travel operators across Nigeria.
Quickteller Transport is embedded as a service on Quickteller Web and Mobile app and is available for use by both new and existing Quickteller customers.
Users will also be able to filter their search to specific or preferred operators and compare fares based on vehicle type, departure point and time, and specialised access functions provided by transport operators, including seat selection and preferred pick-up location option, all at their convenience.
According to the consumer digital lifestyle and payments platform powered by Interswitch, Quickteller Transport was created in line with its mission to develop technology solutions that connect and empower individuals, businesses, and communities across Africa.
The Quickteller Transport Service is another step in the company's continued commitment to providing its customers with convenient access to lifestyle and payment services, the Managing Director of Interswitch Industry Ecosystems Division, Ms Chinyere Don-Okhuofu, stated.
"Transportation is a necessary aspect of human life, enabling social and economic interactions. In keeping with our culture of driving innovation and positively impacting consumer lifestyle in society, we developed our Quickteller Transport service to provide added travel booking and payment convenience to our over 5 million customers.
"Built as a multimodal offering, we will be rolling it out to include other travel and transportation modes such as trains and ferries, working with operators across Nigeria.
"We are ecstatic to be launching this service. And as we launch our suite of new complementary services, Quickteller customers can be assured of our commitment to providing an excellent experience using Quickteller to access all their lifestyle and payment needs," Ms Don-Okhuofu added.
10 Ways to Make Sure Your Holiday Rental Stands Out
Anyone who owns a holiday home or flat would love to have it fully booked all through the year. With travelling abroad still seen as risky, many Nigerians will be holidaying locally during the coming holidays instead of going overseas. How do you make your vacation rental stand out so that people notice it when they're booking online? And once they've stayed there, they'll love it so much they'll definitely recommend it to others?
Ideally, you'll want your holiday rental to grab attention but also look like a welcoming space where people can relax and enjoy being together. You want every aspect of their stay there to ooze memories and good times.
First impressions count
The front of your holiday house is the first thing guests will see when they arrive, so it's integral to making a great impression. A pretty welcome sign, the name of your holiday home or painting the front door a cheerful colour will all give an instant holiday vibe. Planting flowers, or having them in pots, at the front door will also create a welcoming feel.
A warm welcome
Have a welcome pack with a small selection of treats and visitor information waiting for guests upon their arrival. They'll love it, and will remember it in their recommendations of your property to others. Fresh bread and milk in the fridge for the first night's stay will be so appreciated, as will little touches like dog snacks for pet-friendly homes and mini-toiletries in the bathroom.
Create a guide with expert tips on your area – great coffee spots, bakeries and delis, must-try restaurants and wine bars, shopping hotspots and touristy must-sees. A handy list of close by supermarkets, doctors and pharmacies will be convenient, too. Try an online design programme like Canva to put your guide together and make it look professional.
Nobody wants ordinary
When you're decorating a space for holiday guests, it's tempting to tone it down so that the décor will appeal to all, but remember that people want wow. Guests want a space that feels like a home from home, but they're also paying for an experience. Colour, beautiful art, a stand-out furniture piece, deep-pile rugs in the bedroom or a luxe addition like a log fireplace or a jacuzzi will be memorable (and romantic!). If your home is surrounded by beautiful scenery, invest in floor-length glass windows or doors for views that will really sell your holiday home. Never fall into the trap of choosing cheap décor items, or worse still, decorating a space with the things you don't want at home. Old, cheap and boring are to be avoided at all costs. When people walk into your holiday rental they want to find the equivalent, or better, than what they have at home.
What guests want
Evaluate every part of your holiday space and think about what you can do to make your guests' experience memorable. The living room must have a cosy place where they can relax and read a book or watch a movie and, if possible, a smart TV. In the kitchen, make sure there's everything that guests need to be able to self-cater easily. If you can, add in luxe touches such as an espresso machine or a smoothie maker. It's things like this people will tell their friends about.
Superior service
Holidaymakers want to relax and spend their time making fun memories, so make sure they get the time to do that at your rental by providing a cleaning service. Ad hoc bookings may mean you don't need a regular service, so opt for one like SweepSouth, a handy on-demand home service that allows you to book reliable, trustworthy cleaners when you need them. Gardeners to spruce up your outside area and even handymen to fix niggles can be booked on their Connect app, too.
Create a photo-worthy backdrop
People love taking photos of themselves in a beautiful holiday setting and sharing them with those back home. Create an appealing photo-worthy scene in one of the main living spaces. It can be a stylish area with smart wallpaper and an ornamental mirror, a serene space in the garden or a quirky corner at the entrance featuring something that resonates with the location you're in, like a local artwork or an attractive grouping of photos of local landmarks.
A bedroom sanctuary
Spending time and effort on making your master bedroom into a tranquil sanctuary is well worth it. You want a guest to feel pampered the moment they walk in and see plush pillows and plump quilts on a big, comfy bed that promises a fantastic night's sleep. Buy the best mattress you can afford, and provide soft-to-the-touch quality linen and bedding. Make this haven of relaxation that much more luxurious with air-conditioning, block-out curtains or blinds, soft rugs and laundry hampers. Think about your guests' expectations and exceed them.
Light it right
Done right, lighting can add so much to the feel of a room. Fabulous lamps or wall sconces in the bedroom, charming pendants in the kitchen and a large standing lamp in the sitting room will add real presence.
Outdoor delight
If you have an outdoor space, make it an oasis for guests to spend time in. Even small areas can be made delightful with the addition of water features, hammocks, daybeds and canopies. If you can care for it, plant a vegetable or herb patch that guests can help themselves to.
Photo Perfect
Lastly, get great photos of your rental. When people scroll through listings on holiday accommodation sites, think about what your photos will look like and whether they'll catch the eye of a holidaymaker, resulting in more bookings. It's worth getting a professional in to take the shots when you first list.
The above pointers may require some spending, but they're all features you can highlight when advertising your rental and are therefore worthwhile investments.
NCAA Suspends Operating Licence of Azman Air
By Modupe Gbadeyanka
The operating licence of Azman Air has been suspended by the Nigerian Civil Aviation Authority (NCAA).
As a result of this development, all flights operated by the airline operator have been cancelled.
It was learned that the NCAA, the regulatory agency for the aviation industry in the country, grounded the airline on Thursday over its failure to renew its Air Operator Certificate (AOC).
Azman Air and other operators in the industry, have been finding it difficult to operate optimally as a result of high operating costs caused by the scarcity of foreign exchange (forex), the rising price of aviation fuel and others.
According to reports, before the suspension of the licence of Azman Air, a department of the NCAA, the Directorate of Air Transport Regulation (DATR), wrote a reminder letter to the management of the firm and issued a 30-day ultimatum to comply with the industry standards.
However, when the team did not receive favourable answers, the NCAA went ahead to suspend the licence of the company in order to safeguard the safety of air passengers.
It was gathered that the AOC of Azman had expired in the first quarter of 2022.
Latest News on Business Post