Growing The Rural Communities Through Sustainable Tourism
By Olukayode Kolawole
The responsibility to grow our rural communities is a shared one. In fact, majority of the tourism sites in Nigeria are located in most of the rural areas. Developments in these areas are not as fast-paced as urban communities.
Every year, rural development always finds its way to the government's shopping list but somehow doesn't make it to the priority list. Reasons for this might include, but not limited to, insufficient budget, lack of proper planning and measurable goals.
Most of the tourism sites in the country domicile within these rural communities. It is therefore surprising why we are investing hugely to develop these communities, considering the fact that we are making conscious efforts to grow our tourism and travel industry into a melting pot.
Sustainable tourism implies that a tourist who visits a place tries to make positive impact on the environment, society and economy as well.  There are a good number of ways to do this: respect the people who call the location home, their culture and customs and the socio-economic system in the area.
While it is not surprising that often times people tend to confuse sustainable tourism with ecotourism, whereas ecotourism is actually an aspect of sustainable tourism; this article will focus on the economic importance of ecological tourism (ecotourism).
Tourism has many merits, no doubt. One of its demerits is that it causes damage on the environment.
Ecotourism, on the other hand, seeks to promote responsible travel to natural areas that protect the environment and advance the prosperity of the local people. It aims to provide a fun, relaxing vacation while protecting the surrounding ecosystem.
It often works to train and engage the participants in an eco-friendly lifestyle. The adverse effects of hotels, trails and other infrastructure are reduced through the use of either recycled supplies or abundantly existing local building materials, recycling, renewable sources of energy and safe disposal of waste and refuse.
If well managed, ecotourism will contribute actively to the maintenance of natural and cultural heritage, namely, inclusion of local and indigenous communities in its planning, development and operation, which reduces poverty and enhances intercultural & environmental understanding.
As a responsible traveller who is interested in minimizing the negative impacts of his tour and if you take special interest in local nature and cultures, ecotourism should appeal to you.
Remote areas, whether populated or unpopulated and are typically under some kind of environmental protection at different levels are destinations for ecotourism. Regulating the number of tourists and type of behaviour will ensure limited damage to the ecosystem as well as contribute to the minimization of its impact.
Tourists and residents of nearby communities need to be educated before departure through reading materials about the country they are visiting, location and the people, as well as a code of conduct for both the traveller and the industry. This information helps prepare the tourists.
Well-trained, multilingual naturalist guides serve to educate members of the neighbouring community, students and the larger community in the host country. To do so, entrance and lodge fees for nationals must be reduced and free educational travels for indigenous students and those living near the tourist attraction should be encouraged.
In addition, it also helps increase funds for ecological protection, investigation and education through a selection of apparatuses, including park entrance fees, tour companies, hotels, hotel booking portals like Jumia Travel, airlines and airport taxes and voluntary contributions.
National parks and other conservation areas will only subsist if there are "happy people" around their borders. The inclusion and participation of the local community is critical to the success of ecotourism.
These communities should receive proceeds and other physical benefits (potable water, roads, hospitals, etc.) from the conservation area and its tourist amenities.
Campgrounds, hotels, chaperon services, restaurants and other enterprises should be run by or in partnership with communities surrounding a park or other tourist destinations.
For ecotourism to be seen as a tool for rural development, total economic and political control must be given to the communal, township, cooperative, or entrepreneur.
This is the most challenging and time wasting idea in the economic equation and the one that foreign operators most often let it slip through the cracks or that they follow only partially or formally.
Tourism helps in building international understanding and world peace although this does not happen automatically; frequently in fact, tourism strengthens the economies of repressive and high-handed states.
Mass tourism pays scarce attention to the political structure of the host country or struggles within it, unless civil unrest escapes into outbreaks on tourists. Ecotourism demands a more holistic method to travel, one in which participants try to respect, study about and profit both the local environment and local communities.
In many emerging countries, rural residents around national parks and other ecotourism attractions are sealed in contests with the government and transnational corporations for control of the assets. Eco-tourists should therefore be sensitive to the host country's political environment and social climate and need to contemplate the merits of global boycotts called for by those supportive of democratic reforms.
Olukayode Kolawole is a Head of PR & Marketing at Jumia Travel NG
Akwa Ibom Wants Modular Refinery for Aviation Fuel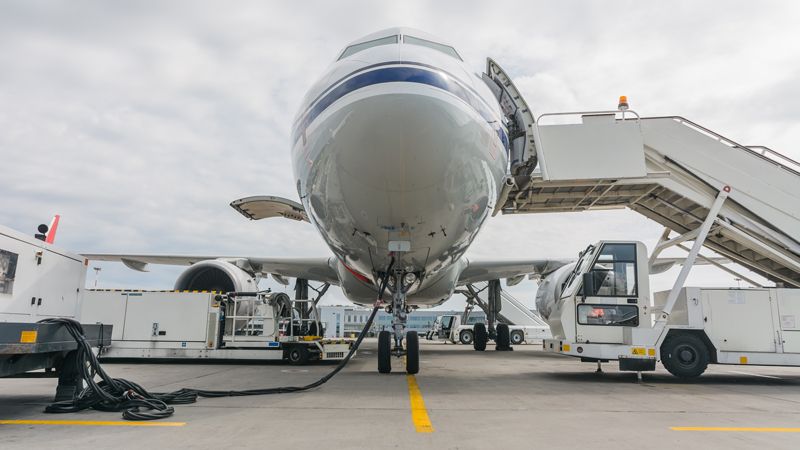 By Adedapo Adesanya
As part of continued efforts to get an increased share of Nigeria's oil and gas revenue, the Akwa Ibom State Government has sought for a partnership with the Nigerian National Petroleum Corporation (NNPC) Limited for the refining of aviation fuel in the state.
Governor Udom Emmanuel made a request for a license from NNPC Limited for the establishment of a modular refinery for aviation fuel to service the state's growing aviation industry and the country at large.
Mr Udom said the request was imperative as the state was currently constructing an international airport with a smart airport terminal, which when completed would make the state a major aviation gateway.
Speaking while playing host to the management of NNPC Upstream, led by the Group Executive Director, Mr Adokiye Tombomieye, recently, the Governor decried that despite having the largest crude oil and gas reserve in the country, Akwa Ibom State lacks significant oil and gas presence.
He maintained that in line with his administration's industralisation drive, the state cannot wait for the license for a big, conventional refinery but a modular refinery just for aviation fuel.
"We are looking at all the gateways that can promote tourism and development and we need the support of NNPC and everybody including product marketers. Right now, we are building the smartest terminal building in Africa that will process one million passengers every year.
"We need a depot there for aviation fuel we might not wait for a big refinery, just license for a modular refinery. We don't have a single presence of the oil and gas in Akwa Ibom," the Governor disclosed.
Business Post had earlier reported that the Governor also appealed to NNPC to relocate the corporate headquarters of some of its subsidiaries to occupy a smart office accommodation at the Dakkada Towers in the state.
"We are appealing to NNPC to relocate the headquarters of some of its subsidiaries to occupy the smart office accommodation at the Dakkada Towers. Four floors are there for the entire group, NUPRC, NAPIMS, NNPC," he had said.
Emirates' Resumption of Flights to Nigeria Delights Passengers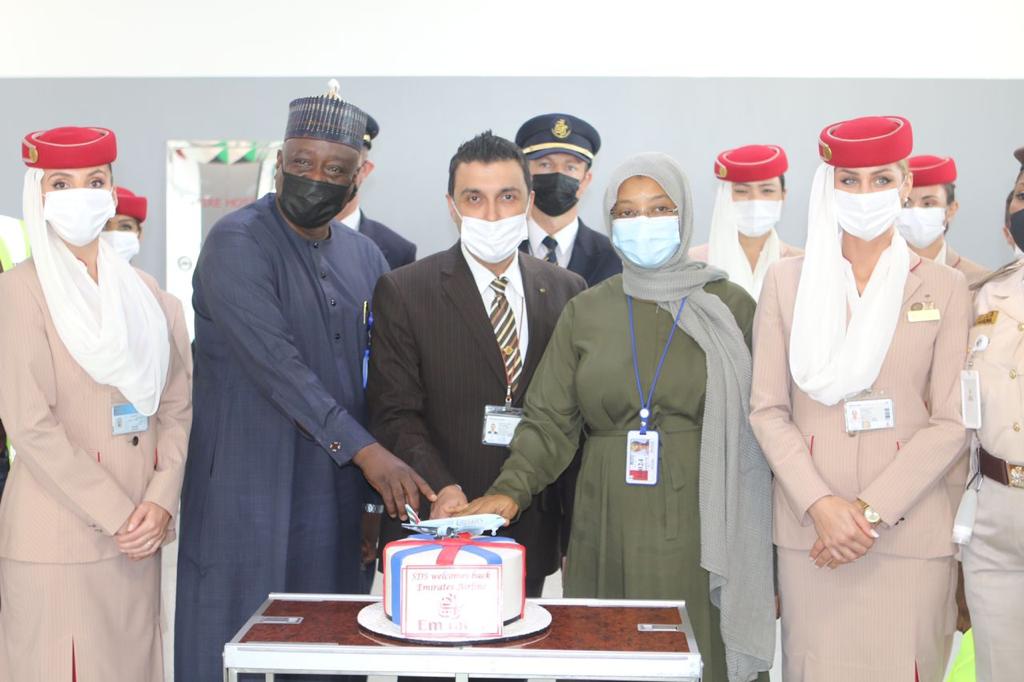 By Aduragbemi Omiyale
The resumption of flights to Nigeria by Emirates is already thrilling passengers, who have waited for a long time to have this happen.
On Sunday, two planes flew from Dubai to Nigeria and touched down at the Murtala Mohammed Airport, Lagos and the Nnamdi Azikwe International Airport, Abuja and were received with a spectacular water cannon welcome.
The arrival of the flights signalled the restart of daily services to Nigeria from Dubai. Both flights from Dubai, EK 785 to Abuja and EK 783 to Lagos, upon arrival, witnessed a cake cutting ceremony.
"We are delighted to resume operations to and from Nigeria and are pleased to see strong interest from our customers, reflected in robust forward bookings from the time of our announcement, as well as today's full flights from Dubai to Abuja and Lagos.
"The services will also give our customers the opportunity once again to safely experience Emirates' superior product and service, offering them convenient travel options to Dubai, an already popular destination for Nigerian travellers, as well as seamless connectivity other key cities across our network," Paulos Legesse, Country Manager Nigeria said.
The aircraft being deployed to both Nigerian cities is the three-class Boeing 777-300ER which offers 8 luxurious First Class suites, 42 generous Business Class seats, and over 300 seats in Economy Class.
Customers across all classes were able to enjoy the airline's regional delicacies onboard, as well as its renowned in-flight entertainment system, ice, featuring over 4,500 channels of on-demand entertainment, including Nollywood films and content.
Emirates operates to Abuja with EK 785 and 786. EK 785 departs Dubai at 1100hrs, arriving in Abuja at 1540hrs.
The return flight, EK 786 takes off from Abuja at 1900, arriving in Dubai at 0435hrs the next day. Emirates flight EK 783 to Lagos departs Dubai at 1030hrs, arriving in Lagos at 1540hrs. The return flight EK 784 departs Lagos at 1810hrs, arriving in Dubai at 0415hrs the next day.
Ensuring the safety of travellers, visitors, and the community, COVID-19 PCR tests are mandatory for all inbound passengers arriving to Dubai, including UAE citizens, residents and tourists, irrespective of the country they are coming from.
Travellers coming from Nigeria must hold a negative COVID-19 PCR test certificate for a test taken no more than 72 hours before departure.
Additionally, the Nigerian Centre for Disease Control (NCDC) has specified designated laboratories for passengers departing Nigeria and travellers must obtain their certificate from one of the labs listed here to be accepted on the flight. Travellers coming from Nigeria will also need to take another Covid-19 PCR test on arrival at Dubai International Airport.
Since it safely resumed tourism activity in July 2020, Dubai remains one of the world's most popular holiday destinations, especially during the winter season. The city is open for international business and leisure visitors. From sun-soaked beaches and heritage activities to world-class hospitality and leisure facilities,
Dubai offers a variety of world-class experiences. It was one of the world's first cities to obtain the Safe Travels stamp from the World Travel and Tourism Council (WTTC) – which endorses Dubai's comprehensive and effective measures to ensure guest health and safety.
Dubai is currently hosting the world for Expo 2020, happening between October 2021 and March 2022. Through the theme of Connecting Minds, Creating the Future, Expo 2020 Dubai aims to inspire people by showcasing the best examples of collaboration, innovation and cooperation from around the world.
Its programme is packed with experiences to suit all ages and interests, including a rich line-up of themed weeks, entertainment, and edutainment. Art and culture fans, as well as food and technology enthusiasts, can explore exhibits, workshops, performances, live shows and more.
Emirates continues to lead the industry with innovative products and services and recently took its customer care initiatives further with even more flexible booking policies which have been extended to May 31, 2022.
FG Lifts Suspension on Emirates Airlines
By Adedapo Adesanya
The federal government has lifted the ban it placed on Emirates Airlines from flying into Nigeria without conditions.
This was disclosed over the weekend by the Minister of Aviation, Mr Hadi Sirika, in Abuja in a statement signed by Mr James Odaudu, the Director of Public Affairs in the  Ministry of Aviation.
Business Post had reported that the federal government barred Emirates from flying into Nigeria over discriminatory policies on Nigerians as regards COVID-19 protocols by the United Arab Emirates (UAE).
According to Mr Sirika, the move came in response to the yearnings of Nigerian travellers and after painstaking negotiations with the UAE, the Emirates Airlines home country.
The Minister further said that the UAE had also removed all travel restrictions on Nigerians.
"We have received communication from UAE removing some of the conditions of travel of which we had concerns about. Having done so, we feel we should lift the ban on the suspension of Emirates Airlines.
"All the impediments on Emirates have been lifted and that the airline can now operate in Nigeria," he said.
Mr Sirika lauded the understanding of Nigerians in spite of the hardships experienced as a result of the spat between the two countries.
Also speaking, Minister of Foreign Affairs, Mr Geoffrey Onyema, noted that Nigeria recognised that UAE had a responsibility to protect the lives of its citizens.
He added that whatever measures the UAE had taken was for the best interest of her citizens.
He said that the negotiation that led to the renewed relationship was a balanced one and was a win-win for both countries.
Mr Onyema, who reiterated that though Nigeria had always had an excellent relationship with UAE, added that the negotiations had made the relationship even stronger.
On his part, the National Incidence Manager of the Presidential Steering Committee on COVID-19, Mr Muktar Mohammed, commended the leadership provided by members of the Committee in ensuring resolution of the impasse.
Mr Mohammed also disclosed that the committee was watching closely the developments within the Southern African regions with regards to the discovery of a new variant of the virus.
He added that necessary measures to prevent its entrance into Nigeria would be done.
Latest News on Business Post