Hilton to Unveil First Details of Burgeoning French Pipeline at MIPIM 2017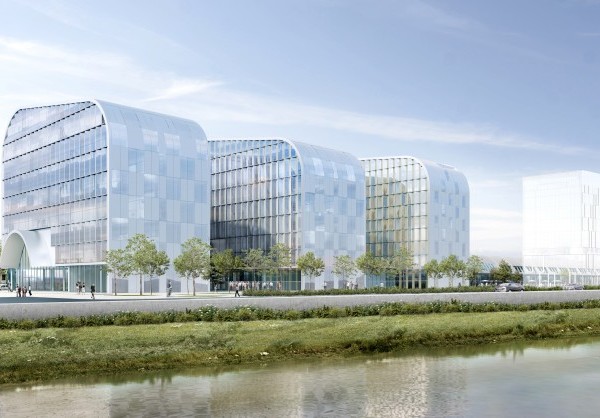 By Modupe Gbadeyanka
Ahead of this year's MIPIM conference in Cannes, Hilton has announced new projects in France, following a franchise agreement with NAOS to introduce three hotels under three distinct brands.
Following an active year of development in 2016, Hilton now has a total pipeline of nine projects across France, which are expected add more than 1,000 rooms to its portfolio in coming years.
The confirmation of these three properties being developed with NAOS are expected to be the first of several announcements in coming months and are indicative of a multi-layered growth strategy across mid-market, upscale and collection brands that extends from the capital city of Paris out to key regional locations.
Together Hilton and NAOS will launch Hilton's midscale Hilton Garden Inn and Hampton by Hilton brands in France, at locations in Bordeaux and Clichy respectively. Central Paris will see a second hotel join Curio – A Collection by Hilton, a collection of upper upscale hotels, each with its own unique character and identity.
Patrick Fitzgibbon, senior vice president, development, Hilton said: "Growing our portfolio in France is a strategic focus for Hilton.
With a dedicated French development team based in Paris and Nice we are focused on extending our portfolio beyond the flagship Hilton brand, we're bringing new brands to Paris and key regional cities.
This agreement signals our commitment to work with key partners such as NAOS who can identify further opportunities for expansion."
The three hotels will each be managed by NAOS, which already operates a portfolio of several properties across France. NAOS's expertise lies within focused service projects and in carrying out creative adaptations of existing buildings to boutique hotels.
Pascal Lemarchand, CEO, NAOS said: "We are pleased to be able to confirm these three projects ahead of MIPIM.
"In Hilton we feel we have a strategic partner whose wide ranging portfolio enables us to fit the best brands to the sites and projects we specialise in developing.
"It is particularly exciting for us that we are launching two brands in France both of which have global footprints of thousands of properties, which underlines the potential for further growth."
Normalcy Restored at Lagos Airport as Aviation Workers Suspend Strike
By Aduragbemi Omiyale
Normalcy was restored at the Murtala Mohammed International Airport (MMIA) Lagos on Monday afternoon after workers of the Nigerian Aviation Handling Company (NAHCO) Plc disrupted flight operations this morning.
The aviation workers had embarked on an indefinite strike action to ask for a better welfare package from the management of the company.
Their action left many air passengers stranded on Monday morning, with operators suspending their flights in the process.
But the industrial action was later called off by the leaders of the Air Transport Services Senior Staff Association of Nigeria (ATSSSAN) and the National Union of Air Transport Employees, which promised to enter into talks with NAHCO, with a view to resolving the matter.
The aggrieved employees of NAHCO asked the management to increase their salaries after hike air fares by 100 per cent. They claimed that the company was being insensitive to their welfare.
NAHCO Workers' Strike Paralyses Flight Operations At Lagos Airport
By Aduragbemi Omiyale
Activities at the Murtala Mohammed International Airport (MMIA), Ikeja, Lagos, were paralysed on Monday after some employees of the Nigerian Aviation Handling Company (NAHCO) Plc embarked on an industrial action.
The NAHCO workers protested the failure of the management of the company to heed their demands, including an increase in salaries and better welfare packages.
Air passengers who were at the Lagos airport were left frustrated today due to the demonstration by the aviation workers, with a few international flights disrupted.
It was gathered that most airline operators were caught unawares as they did not have prior notice that the NAHCO staff members were planning to down tools on the first working day of the week.
This led to the abrupt suspension of flight operations by most operators this morning while efforts were being made to resolve this issue in order to reduce the losses that could arise from the action of the workers.
Emirates Resumes Flights to Shanghai, Beijing After Border Reopening
By Modupe Gbadeyanka
Ahead of the New Lunar Year in China and in response to strong travel demand in the country, Emirates is ramping up its operations and has resumed flights to Shanghai, Beijing, and Guangzhou.
Recall that this month, the Chinese authorities removed its stiff COVID-19-related entry restrictions and reopened its borders to international travellers.
Emirates said following this new development, it would resume passenger services to Shanghai starting with two weekly flights operated by an Airbus A380 aircraft from 20 January 2023, with EK302 departing from Dubai to Shanghai non-stop and EK303 making a short stop in Bangkok before returning to Dubai.
This service will ramp up in frequency to four weekly flights operated by a three-class Boeing 777-300ER aircraft from 02 February 2023. During this period, Emirates' flight EK302 will depart Dubai at 03:45hrs and arrive in Shanghai at 15:40hrs. The return flight EK303 will depart Shanghai at 17:40hrs and arrive in Bangkok at 21:45hrs before taking off from the Thai capital at 23:20hrs and arriving in Dubai at 03:20hrs the next day.
The airline operator said it would further boost its Dubai-Shanghai route from 1 March 2023 with a daily non-stop service. Its flight EK304 will depart Dubai at 09:15hrs and arrive in Shanghai at 21:05hrs. The return flight EK303 will leave Shanghai at 23:00hrs and arrive in Dubai at 05:20hrs the next day.
Starting from 1 February 2023, Emirates will increase services between Dubai and Guangzhou with EK362/EK363 operating as daily non-stop flights with the flagship Emirates A380.
Its flight EK362 will leave Dubai at 10:45hrs and arrive in Guangzhou at 21:45hrs. The return flight EK363 will depart Guangzhou at 00:15hrs and arrive in Dubai at 05:15hrs. Emirates currently operates a non-stop flight from Dubai to Guangzhou as EK362, and a return flight from Guangzhou to Dubai via Bangkok as EK363, four times a week.
Operated by a three-class Boeing 777-300ER aircraft, Emirates' flight EK308/ EK307 will return to China's capital city Beijing with a daily non-stop service from Dubai, starting from 15 March 2023. Emirates' flight EK308 will leave Dubai at 10:50hrs and arrive in Beijing at 22:20hrs. The return flight EK307 will depart Beijing at 00:40hrs and arrive in Dubai at 05:00hrs.*
This will bring the airline's operations in the market up to 21 weekly flights, providing increased choice and flexibility for both business and leisure travellers, and contributing to China's tourism recovery.
Tickets can be booked on emirates.com, the Emirates App, or via travel agents. Travellers are also encouraged to check the latest entry requirements.
Latest News on Business Post