Yacht Charter Market to Hit $50b by 2020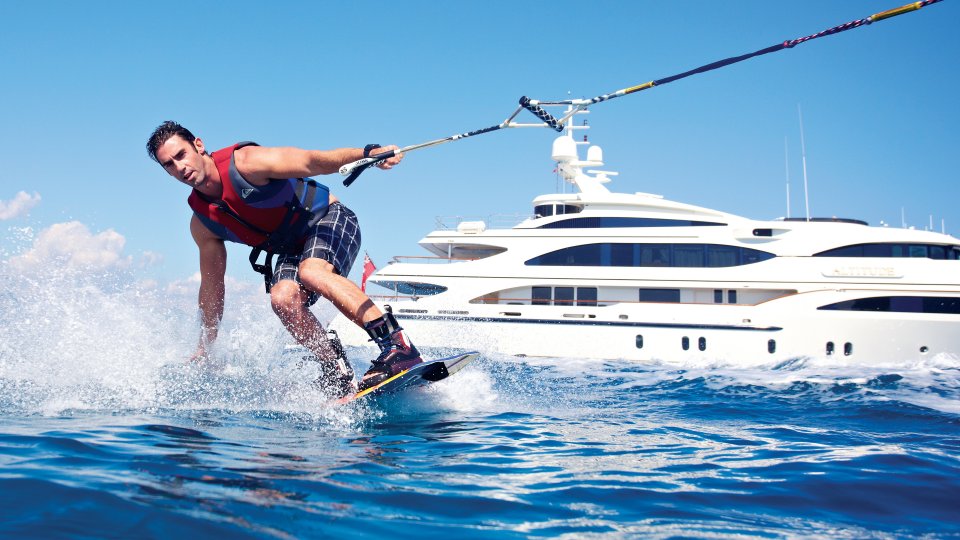 By Dipo Olowookere
It has been predicted that the luxurious yacht charter market will surpass $50 billion mark by the year 2020.
As at 2015, the industry generated about $37 billion.
It is observed that a renewed interest is being witnessed in spending on leisure and entertainment, giving a fillip to the global yacht charter market.
These insights are from "Yacht Charter Market: Global Industry Analysis and Opportunity Assessment 2015-2020" by research and consulting firm Future Market Insights (FMI).
Yacht Charter Market: Drivers and Restraints
The economic downturn of 2007-08 had a dampening effect on the yacht charter market; however, recovery in global economy has revived interest in yacht chartering, with the global market poised to witness annual growth rates of over 6 percent through 2020.
High seasonal pricing, steep taxes, and predatory pricing by unregistered yacht chartered companies are the key challenges that can impede growth of the yacht charter market in the future.
Region-wise Analysis of Yacht Charter Market
FMI's report has studied the global yacht charter market and segmented it into North America, Latin America, Eastern Europe (Russia and Turkey), Rest of Europe (West, North, and South), Asia Pacific, and Middle East and Africa (MEA).
Rest of Europe (West, North, and South) was the most preferred destination for vacationers and corporate travellers alike, accounting for nearly $12 billion in revenues in 2015.
Popularity of yacht charter destinations, such as Athens, Aegean Islands, Cyclades, Dodecanese, and Ionian Island is a key factor driving the growth of the Rest of Europe yacht charter market.
Eastern Europe (including Russia and Turkey) yacht charter market was valued at $9.6 billion in 2015, and it is expected to expand at over 7 percent CAGR through 2020.
Turkey is the most popular yacht charter destination in Eastern Europe, and is expected to witness high number of vacationers in the near future.
FMI estimates Europe to remain the largest market for yacht chartering during the forecast period. Europe is home to some of the most popular yacht charter destinations and development of new destinations is only going to boost its reputation going forward.
Motor Yacht and Sailing Yacht Forecast
Chartered yachts fall under two broad categories – motor yachts and sailing yachts. Revenues from the sailing yacht segment totalled $29.3 billion in 2015, and this segment is expected to increase at over 6 percent CAGR through 2020.
Among the various types of sailing yachts (Sloop, Schooner, Catamaran, Ketch), Sloop and Schooner account for bulk of bookings. FMI estimates demand for these two sailing yachts to remain high during the forecast period.
Yacht Charter Market Segmentation by Consumer Type – Corporate and Retail
In a bid to study the yacht charter market lucidly, FMI has segmented vacationers into corporate and retail.
Retail yacht vacationers accounted for over $ 16 billion revenues of the global yacht charter market in 2015, representing nearly 70 percent revenue share. Bookings by corporate consumers is expected to pick up in the future, increasing at a higher CAGR than retail consumers.
Social Media and Native Advertising Gaining Traction Among Yacht Charter Providers
Leading players in the global yacht charter market are focusing on brand positioning and adoption of latest entertainment features, such as WiFi, LED and OLED screens, exquisite range of cuisines and liquor to gain a stronghold in this robustly expanding market. Use of social media platforms, such as YouTube and Facebook is also growing among yacht charter owners, with native advertising gaining traction as part of the marketing strategy.
Emirates Forward Bookings Remain Robust on Strong Customer Demand
By Modupe Gbadeyanka
The Chief Commercial Officer of Emirates, Mr Adnan Kazim, has said the airline's forward bookings have remained robust amid a strong customer demand, spurring the company to ramp up its operations across continents.
According to him, in the past months, the airline has planned and executed the rapid growth of its network operations, reintroducing services to five cities, launching flights to one new destination (Tel Aviv), and adding 251 weekly flights onto existing routes and continuing the roll-out of service enhancements in the air and on the ground.
It was disclosed that Emirates has continued to scale up its A380 operations with the reintroduction of the iconic double-decker across its network: Glasgow (from 26 March), Casablanca from (15 April), Beijing (from 01 May), Shanghai (from 04 June), Nice (from 1 June), Birmingham (from 1 July), Kuala Lumpur (from 01 August), and Taipei (from 01 August).
"Emirates is working hard on several fronts – to bring back operating capacity as quickly as the ecosystem can manage while also upgrading our fleet and product to ensure our customers always enjoy the best possible Emirates experience.
"So far, four of our A380 aircraft have been completely refurbished with our new cabin interiors and Premium Economy seats, and more will enter service as our $2 billion cabin and service enhancement program picks up pace," Mr Kazim added.
He noted that in the coming months, established routes to Europe, Australia and Africa would be served with more Emirates flights, while in East Asia, more cities are seeing route restarts.
Emirates had upcoming route enhancements by regions, including in Europe,  Australia and New Zealand, East Asia, as well as in Africa which covers Cairo: from 25 to 28 weekly flights by 29 October; Dar es Salaam: from 5 flights a week to daily flights starting 01 May and Entebbe: from 6 flights a week to daily flights starting 01 July.
Mozambique Okays Visa Exemption for 28 Countries, Snubs Nigeria
By Kestér Kenn Klomegâh
A number of African countries are focusing on promoting extensively inbound tourism. They are luring potential external investors to the tourism industry.
The latest in the southern African region is Mozambique, which has approved a visa exemption for 28 countries for tourism and business.
As the Council of Ministers approved the decree in mid-March, the exemption applies to visitors holding ordinary passports and allows for a 30-day stay, renewable to an additional 60 days.
The model adopted by the Mozambican government is similar to the United States visa waiver program in the sense that it requires travellers to register on a platform for pre-screening at least 48 hours before travelling and to pay a processing fee of MZN-650 (equivalent £8.50).
In the list released, Nigeria, which prides itself as the giant of Africa and the largest economy on the continent, was missing.
The approved countries for this programme are Belgium, Canada, China, Denmark, Finland, France, Germany, Ghana, Indonesia, Israel, Italy, Ivory Coast, Japan, The Netherlands, Norway, Portugal, Russia, Saudi Arabia, Senegal, Singapore, South Korea, Spain, Sweden, Switzerland, Ukraine, United Arab Emirates, the United Kingdom and the United States.
The visa exemption is a follow-up to the launch of a platform last December that allowed prospective visitors to apply for an electronic pre-authorization to travel into the country. The introduction of e-visas has seen an increase of over 30 per cent in the number of travellers entering the country compared to the same period in the previous year.
The e-visa platform commits the country to respond to applications within five days, but general feedback places an average response at 24 hours, and the few issues reported are usually created by users not uploading the required documentation.
 President Filipe Jacinto Nyusi, since August 2022, has taken steps containing 20 reform measures aimed at delivering to visitors and potential investors a path for a more competitive and more accessible country. Mozambique, with an approximate population of 30 million, is one of the 16-member Southern African Development Community.
Foreign Airlines Unable to Repatriate $743.7m from Nigeria
By Adedapo Adesanya
The International Air Transport Association (IATA) has said that foreign airlines' blocked funds in Nigeria have risen to over $743.7 million.
In a letter dated March 14, 2023, and signed by the Area Manager for West and Central Africa, Dr Samson Fatokun, it was disclosed that the blocked funds rose from $549 million in December 2022 and $662 million in January to $743.7 million.
IATA noted that for over a year, Nigeria had been the country with the highest amount of airlines' blocked funds in the world.
According to the association, the increasing backlog of international airlines' blocked funds in Nigeria is a potential threat to foreign direct investment into the country and could affect the operations of airlines leading to job losses.
While appealing to the Minister of Aviation, Mr Hadi Sirika, to intervene in resolving the issues, the association also called on President Muhammadu Buhari to clear all airlines blocked funds before leaving office.
Meanwhile, at a meeting with the IATA and foreign airlines operators in Abuja to discuss the issues, Mr Sirika said the issue of blocked funds sits with the Central Bank of Nigeria and is not what the ministry can handle alone.
He urged international airline operators to be very considerate when dealing with the issues bearing in mind the effects of COVID-19 and the recession the country had experienced.
Recall that in August 2022, IATA's Regional Vice-President for Africa and the Middle East, Mr Kamil Alawahdi, expressed his disappointment with Nigeria over the amount of airline money blocked from repatriation by the Nigerian government, which was around $464 million then.
"IATA is disappointed that the amount of airline money blocked from repatriation by the Nigerian government grew to $464 million in July.
"This is airline money, and its repatriation is protected by international agreements in which Nigeria participates. IATA's many warnings that failure to restore timely repatriation will hurt Nigeria with reduced air connectivity are proving true with the withdrawal of Emirates from the market," he said.
Latest News on Business Post