Again, Governor Sanwo-Olu Bans Okada in Lekki, Ikeja, Others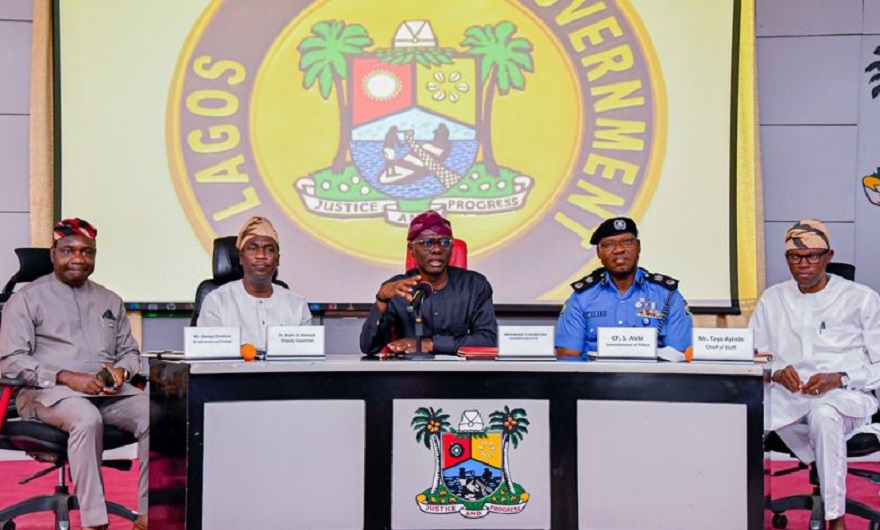 By Aduragbemi Omiyale
The Governor of Lagos State, Mr Babajide Sanwo-Olu, has announced a total ban on operations of commercial motorcycles, popularly known as Okada, in Lekki and other places.
At a meeting on Wednesday, he said the directive will become effective from June 1, 2022, and affects six Local Government Areas (LGAs) and nine Local Council Development Areas (LCDAs) of the state.
According to him, okada riders will not be allowed to ply highways in these areas, which include Eti-Osa, Ikeja, Surulere, Lagos Island, Lagos Mainland, and Apapa.
The action of the governor followed the growing menace and nuisance constituted by commercial motorcycles in the state, including the lynching of a Sound Engineer, Mr David Imoh, in the Lekki area of the state last week.
This is not the first time Mr Sanwo-Olu is restricting operations of commercial motorcycles as in February 2020, he banned Okada operations in the state.
At the meeting with the Commissioner of Police, Area Commanders and Divisional Police Officers (DPOs) at the State House in Alausa today, the Governor said the state government would not condone any security formation that relaxes the new ban in its jurisdiction.
"After critical review of our restriction on Okada activities in the first six Local Government Areas where we restricted them on February 1, 2020, we have seen that the menace has not abated. We are now directing a total ban on Okada activities across the highways and bridges within these six Local Governments and their Local Council Development Areas, effective from June 1, 2022.
"This is a phased ban we are embarking on this period, and we expect that within the short while when this ban will be enforced, Okada riders in other places where their activities are yet to be banned can find something else to do. We have given the notice now and we expect all commercial motorcycles plying the routes in the listed councils and areas to vacate the highways before enforcement begins. The enforcement will be total," he said.
Mr Sanwo-Olu advised residents patronising Okada riders on highways to embrace the alternative transport schemes already provided by the government to plan their journey.
He said the government had provided last mile buses, medium-capacity and high-capacity buses in the affected areas for the convenience of commuters.
The Governor insisted that Okada riding on the highways remained unsafe and would no longer be tolerated, noting that the state government had been ramping up construction work on its two rail line projects to further increase the choices of commuting for residents.
"We have provided last-mile buses in the affected areas; they are working and effective. We also have medium-capacity buses and high-capacity buses working in these areas. Before the end of the year, we are also bringing the rail along these corridors with their terminals. We have provided jetties as well to provide alternatives.
"We will not sit back and watch criminally-minded people use that mode of transportation (motorcycles) to perpetrate crimes and criminality in Lagos.
"Lives are being lost on a daily basis, preventable accidents are happening every day and the riders are not respecting any of our traffic laws. The situation has led to a complete breakdown of law and order. This ban has come to stay and we will not tolerate any weakness in enforcement," he said.
The Commissioner of Police, Mr Abiodun Alabi, directed his men to ensure complete enforcement of the Governor's order in the listed councils and areas.
Abuja-Kaduna Train Service to Resume Operations Monday
By Adedapo Adesanya
Almost a month after the Nigeria Railway Corporation (NRC) announced the proposed resumption of the Abuja-Kaduna passenger train service, the facility will start running on Monday, December 5, 2022, with only two return services.
The announcement by the Managing Director of the NRC, Mr Fidet Okhiria, said the first train would depart Rigasa train station in Kaduna State to Abuja by 8:00 in the morning while from Abuja, the first train will depart Idu train station to Kaduna State by 9:45 in the morning.
The NRC management also revealed that as part of the new security measures, it is now mandatory for passengers to present their National Identity Number (NIN) and valid boarding ticket before they will be allowed to board.
It also says the purchase of tickets by proxy is only limited to minors and a specified number of adult passengers.
It explained that online and mobile app ticketing would be available from 8:00 in the morning on Sunday, December 4, 2022, while the ticket offices at the train stations will open from 6:30 in the morning on Monday, December 5.
Recall that the NRC suspended the Abuja-Kaduna train service along the route after Boko Haram terrorists attacked a moving passenger train in Kaduna on March 28, 2022.
The insurgents had blown up the rail track and bombed the moving train, killing some and abducting more than 60 passengers. The unprecedented attack attracted international and national outrage.
The terrorists who attacked the Kaduna-bound train released hostages in tranches, with the last release coming on October 5, 2022.
Before the hostages were completely released, distraught family members had protested several times to demand the release of their loved ones.
SafeBoda Flees Nigerian Market Due to Harsh Economy
By Adedapo Adesanya
Ugandan bike-hailing startup, SafeBoda, has announced that it is exiting Nigeria.
After the Lagos State government banned ride-hailing services from the metropolis, the company forayed into Ibadan in December 2019 but began only operations in March 2020.
This March, the company announced that it had completed over 3 million rides, and 50,000 deliveries with over 10,000 riders and 100,000 passengers.
In just a little over one year since launch, the startup crossed the one million rides milestone, growing at an impressive 150 per cent month-on-month. In another 11 months, it tripled its traction to three million completed rides, cementing its dominant position in the region.
However, due to the reality facing the business now, the organisation wants to leave Africa's largest economy to focus on bringing the company to profitability by deepening its core transportation offering in Uganda, its largest market.
In a statement, it said Nigeria "in its current state is not economically viable and unfortunately requires significant investment at this challenging time in the global economic landscape."
This will make Nigeria the second market, but first in West Africa, it is exiting after it left Kenya in November 2020, less than two years after expanding its services to the east African country.
The firm said this was due to the negative effects of COVID-19 on its operations.
It is not clear the next step for its other businesses but in August 2022, SafeBoda announced a car-hailing service, SafeCar, in Kampala and one month after, it also launched in Ibadan, Nigeria.
It was reported that SafeBoda claims its car-hailing business has grown 40 per cent weekly since its launch in early September.
Bolt Promises to Improve Welfare of Drivers
**Gives Cars to Driver's League Challenge Winners
By Aduragbemi Omiyale
The popular ride-hailing platform, Bolt, has promised to improve the welfare and overall experience of its drivers through the introduction of initiatives that will reward their loyalty.
The Regional Manager for Bolt in West Africa, Ms Ireoluwa Obatoki, said this when the company rewarded two drivers on the app with brand new cars after they emerged winners of the Bolt Driver's League Challenge.
"We congratulate the winners of this year's challenge and appreciate their dedication and loyalty to Bolt and its riders. Bolt recognises and cherishes the essential role drivers have played in expanding our brand in Nigeria and ensuring the continued sustenance of our operations.
"Through our Driver's League Challenge, we are building a community of drivers dedicated to delivering the utmost service quality.
"We use this as an opportunity to celebrate their hard work and efforts throughout the year. We remain committed to the welfare of our drivers and promise to continue introducing initiatives that will improve their overall experience," she said.
The scheme was established by the leading mobility platform in 2020 in recognition and appreciation for service excellence. It celebrates top-performing drivers on the platform.
In addition, it showcases Bolt's commitment to advancing and easing mobility in Nigeria while supporting drivers with extra earning opportunities.
This year's edition was the third and was held for eight weeks. Drivers in Nigeria were rewarded with prizes worth about N20 million, including brand-new cars and various home appliances.
The 2022 Bolt Driver's League competition was divided into the Premier League and Championship League, which catered to existing drivers on the platform, and the Rookie League, dedicated to new drivers.
Drivers were evaluated by unique criteria, including finished trips, online hours and maintaining a high driver score at the end of the eight-week campaign.
Eligible participants were given goals in the form of rides finished and ratings by riders to qualify to win tokens towards the prizes.
Drivers who had accumulated enough tokens were entered into a raffle draw which determined the winners. The challenge recorded outstanding participation nationwide and saw Mr Ajibade Ademola from Lagos and Mr Kazeem Shehu from Abuja victorious in their respective categories.
Expressing his excitement at winning the Premier League and being awarded as the Overall Top Driver in Lagos, Mr Ademola thanked Bolt for the initiative.
"When I got the call that I had won, I was so happy that I shouted and called my family to celebrate. I thank Bolt from the bottom of my heart; only God can reward them for this. This is the first time in my life I have been the owner of a brand-new car, so I am very grateful. My birthday is in four days, so this is the best gift I could receive from anyone," he enthused.
On his part, Mr Shehu, who triumphed in the Championship League, also thanked Bolt for the reward.
"My vision in life has always been to become a transporter and open a company of such. I want to help others as Bolt helped me, who just joined their platform four months ago.
"This win has proved that destiny can only be delayed but not denied. My appreciation to Bolt is not just because of the car, but because Bolt has allowed me to be my own boss," he said.
Latest News on Business Post